I received this product for free from the sponsor of the Moms Meet program, May Media Group LLC, who received it directly from the manufacturer. As a Moms Meets blogger, I agreed to use this product and post my opinion on my blog. My opinions are completely my own.
Since I began blogging, I have been learning more and more about the green living movement. I have also been paying a lot of attention to the ingredients that are in the products we use and the foods we eat. I cannot believe some of the things I have been using to clean my home and fill our bellies! As a result, I have slowly been cleaning out the more toxic items as I find more natural alternatives.

Over the last year or so, I have been hearing about a line of natural products that can be found exclusively at Walgreens. Now Walgreens is definitely not the first place I would think of when looking for natural products, but sure enough, that is exactly what their Ology line is. In fact, it is actually a very large line including cleaners and detergents, paper towels, toilet paper and tissues, shampoo, hand soaps, paper plates, napkins and much more!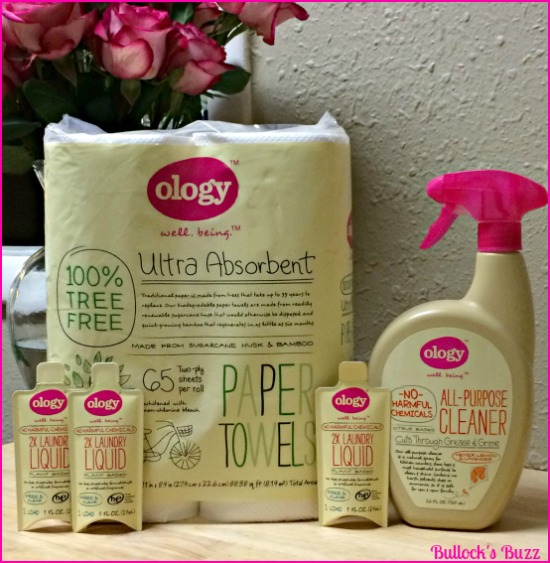 Walgreens' Ology products contain no ammonia, bleach, formaldehyde, phosphates, parabens, phthalates, triclosan, DEA, TEA, SLS/SLES, artificial fragrances or dyes! Plus they are tree-free, never tested on animals and contain no animal by-products. a The products are all plant-based and mineral-based raw materials, with bottles made from 100% post-consumer materials. The paper products are made from sustainable plants such as sugarcane husks and quick-growing bamboo. In fact, the entire Ology line is endorsed by endorsed by Healthy Child Healthy World, a national leading independent nonprofit organization, dedicated to the protection of children from harmful chemicals.
At first I didn't think they'd work as well as their non-natural counterparts, but after using some of the items for several weeks, I discovered that they work just as well, if not better.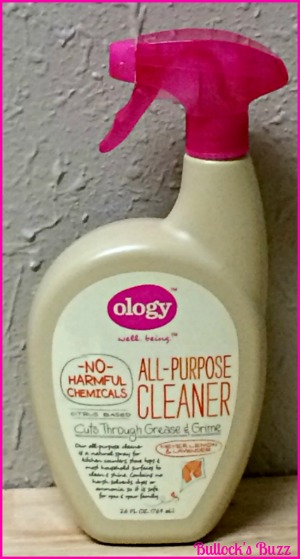 The All-Purpose Cleaner has a pleasant, slightly citrusy scent and does a great job cleaning counters, glass, metal and tile. It easily cuts through grease and dirt, and is non-abrasive making it safe for use on counters, stovetops and most household surfaces. I love that it contains no harsh solvents, dyes, ammonia, or artificial fragrances, and a bottle retails for just $3.99!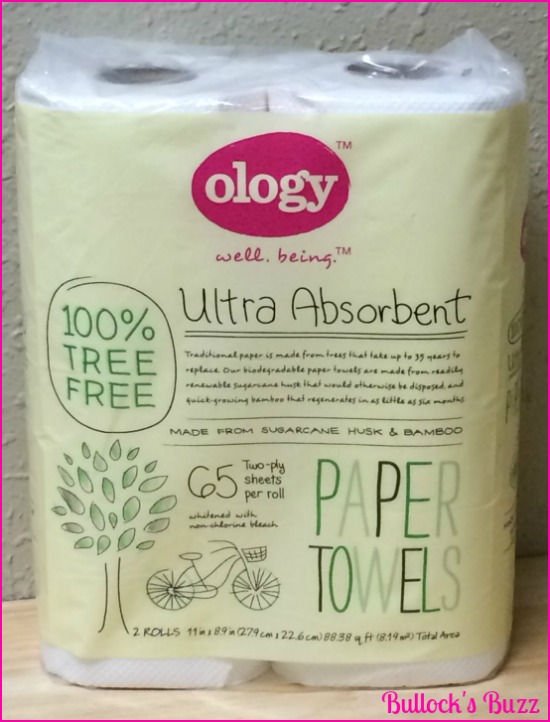 The Ology Ultra Absorbent Paper Towels are made from sugarcane husk and bamboo, are whitened with a non-chlorine bleach, and are completely biodegradable. Though a bit thinner than what I am used to, they do their job well cleaning up spills, drying hands and wiping down counters and windows without shredding or falling apart. One roll has 65 two-ply sheets, and each sheet is around 11″ by 8.9″. A two roll pack will cost you $3.99.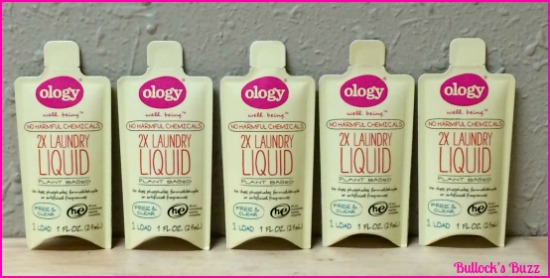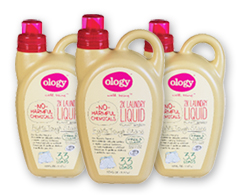 The Ology 2X Laundry Liquid is completely plant-based, and is gentle on your clothes and on your skin. It works in both HE and regular machines, and can be used for delicates, woolens and regular washings. Certain detergents irritate my skin, but I am able to use the Ology Laundry Liquid without any problems. It cleans my clothes, sheets and towels very well, and even did a good job cleaning my husband's clothes – and he works in construction! The Ology Laundry Liquid is available in a Free & Clear formula, and a Spring Lavender Vanilla formula which I bet smells heavenly! Both formulas are derived using only natural ingredients—nothing artificial. A bottle of Ology detergent retails for around $6.79.
The products worked so well, I can't wait to try some more! The Ology line fits perfectly into my family's goal of living a more green and healthy lifestyle. I love that they are good for both my family and the environment, and that they are very cost effective.easy on my wallet. You can find Walgreens' Ology products right on the aisle with their counterparts. They are comparable in price to other products, and as I am sure you already know, Walgreens offers some great sales helping you save even more.
Be sure to connect with Walgreens online to see their latest products and get access to discounts and special offers! Plus, visit them on both Facebook and Twitter for even more information, deals and more!
The Pledge to Create a Healthy Home Sweepstakes
Has Ology inspired you to make positive changes in your home? If so, you can submit a pledge for a chance to win a $100 Walgreens gift card! To learn more about the Pledge to Create a Healthy Home sweepstakes, visit greenmomsmeet.com/ologypledge.