I've always wanted a porch swing, but wasn't sure which one I wanted. In fact, I didn't even realize that there are so many different types of porch swings from which to choose. Here's what I've learned and hopefully it'll help you find the perfect one for you and your home.
There is so much to love about a porch swing! It's easily the best way to enjoy a few moments of peace while gently swaying back and forth. You can enjoy a good book or unwind at the end of the day. Porch swings also add a decorative touch to the front of your house. What many people don't know, is that there are several different kinds of outdoor porch swings from which you can choose.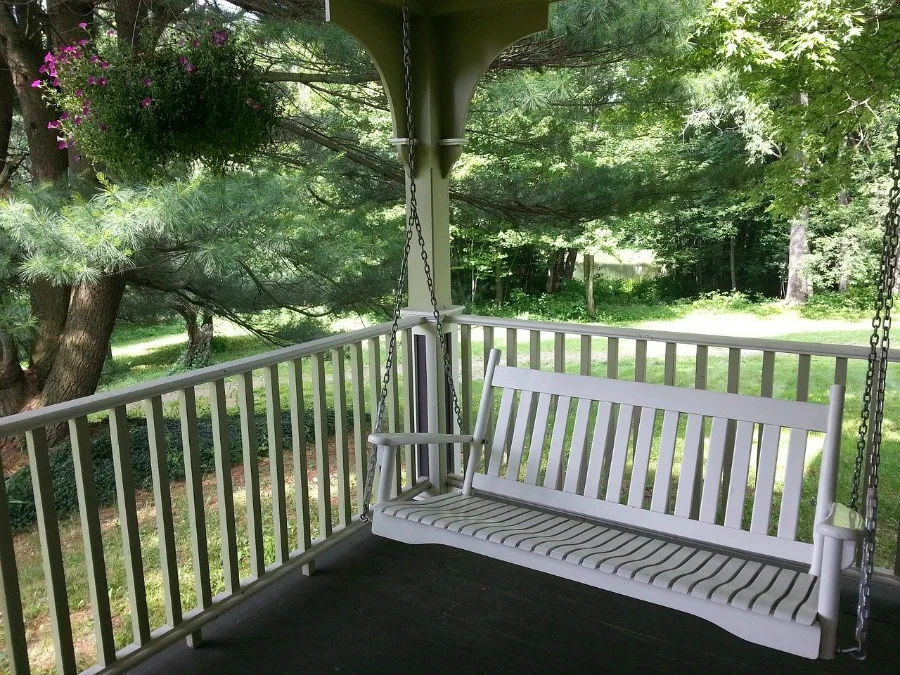 Here is a brief look at the different types of porch swings to help you pick the right one for you and your house.
CLASSIC PORCH SWING
Most likely, the classic porch swing is the one that you're most used to seeing because it's the most common of the different types of swing porch swings. It's also the most simple design you'll find in a porch swing.
Classic porch swings are typically made from oak, cypress, or red cedar. They are very durable and can last a lifetime. You can have it painted or leave it unpainted. That depends on your personal preference. With time, this swing ages slightly, giving it a lived-in, but not old, look.
When choosing a classic style swing, make certain you are selecting hardwood that will also last.
AMISH PORCH SWING
Another popular porch swing style is the Amish swing. The Amish have been making swings for centuries and are known for their attention to detail. Each swing is built with tradition and skill. These swings are usually made from pine or hardwood. Some Amish swings are made with more modern materials, such as synthetic wood and recycled materials.
ROLLBACK SWING
A rollback porch swing has a rolled back and front. They also have thinner slates that match the shape of your spine. And the seat is rounded, providing comfort while you sit and swing. This type of swing is meant to fit the counters and shape of your body, therefore giving you a more comfortable swing. These swings can be enhanced with a design or even accessories.
ADIRONDACK PORCH SWING
An Adirondack porch swing is also one of the most popular types of porch swings. These timeless porch swings can be made from various materials and come in many colors. Most often, you will find them made of cedar, pine, aspen, or synthetic materials. If you want to put this swing in your yard instead of on your front porch, you can get it with an A-frame for sturdy swinging.
CONSOLE PORCH SWING
A console porch swing is a great way to swing and hold extra items. As you might expect, a console swing has a console to hold your drink or snack. The console can fold up when you need it, and you can put it away when you are not using it.
As with the other types of porch swings, you can leave it natural, paint, or stain it depending on your personal preference. It can also come in different sizes.
A console can typically be added to any type of porch swing. So if you prefer a certain style, you can add a console to it and give it an extra special touch.
PORCH SWING CHAIR
If you do not want a full swing, you can get a porch swing chair. This gives you the relaxing luxury of a swing but on a smaller scale. These chairs are a miniature version of the swing. This allows for only one person to sit in the chair at a time. It gives you the benefit of a swing in a smaller space. You can even hang these chairs from a strong tree branch.
GIVING YOUR PORCH SWING A PERSONAL TOUCH
And speaking of special touches, pretty much all types of porch swings can be customized to fit your style.
For example, you can have your porch swing engraved for a special touch that makes it all your own. You can have designs or your name carved into the back of your swing. You can also have any type of design painted onto the swing, or you can paint an engraving.
Keep in mind though; if you plan to sell your house with the swing as a selling feature, you may not want to put your name across the back of it. Most likely, a potential buyer will not want a swing with your name on it.
HOW TO CHOOSE THE RIGHT PORCH SWING FOR YOU
With so many options, it can be overwhelming to pick the right swing. You may want to test out different types of porch swings before you make a final decision.