A simple New Year's Eve recipe. Rich buttery toffee over crispy saltine crackers covered in white chocolate and dusted with golden sprinkles makes this fun and festive New Year's Eve White Chocolate Toffee Bark irresistible!
It's hard to believe that the year is almost over and it's almost time to celebrate a new one! Start off the new year on an extra sweet note with a simple, yet delicious New Year's Eve recipe: White Chocolate Toffee Bark. It's the perfect treat for your countdown party and is sure to impress your guests!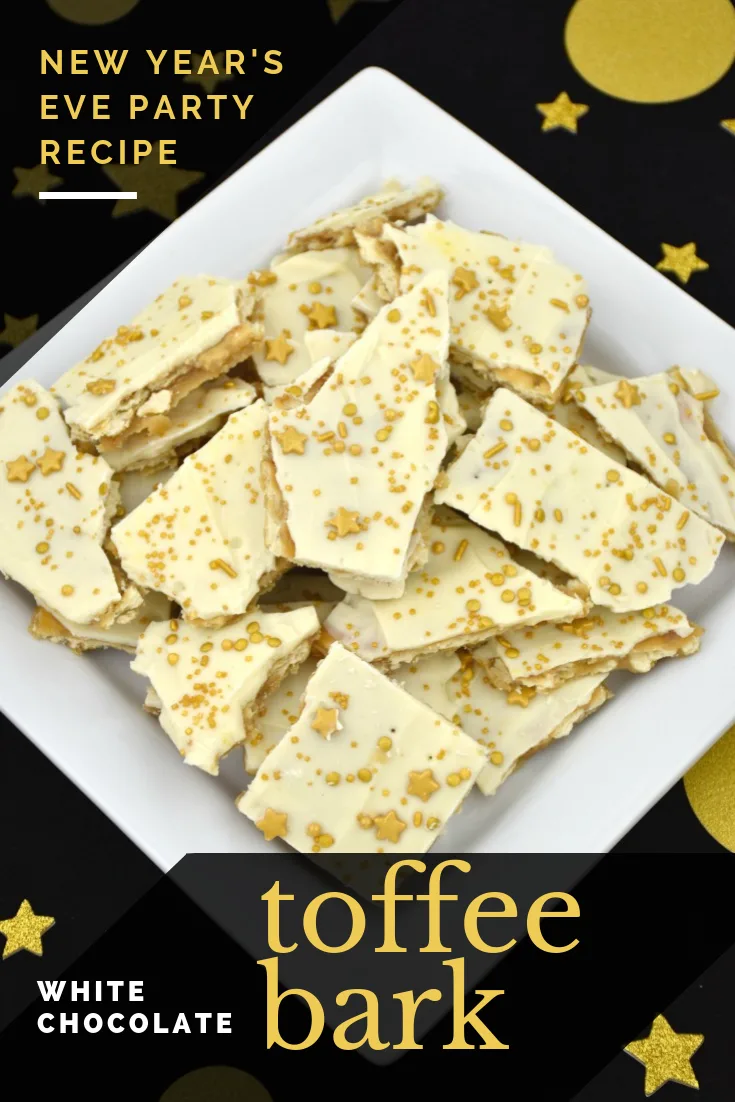 When it comes to New Year's Eve desserts, this White Chocolate Toffee Bark just can't be beat. The sweet toffee and white chocolate contrast perfectly with the salty crackers – and it's incredibly quick and easy to make. In fact, the hardest part is waiting for the chocolate to set!
This New Year's Eve dessert idea may actually look familiar. It goes by many names – saltine cracker toffee, cracker candy, saltine cracker candy, saltine cracker bark, cracker cookies, crack candy, and even Christmas crack. Whatever you choose to call it, one thing remains the same, this stuff is seriously delicious!
It's sweet and salty, chewy and crunchy. And, it only takes 15 minutes to make! You simply cook up some butter and brown sugar on the stove, then pour it over a prepared tray of saltine crackers.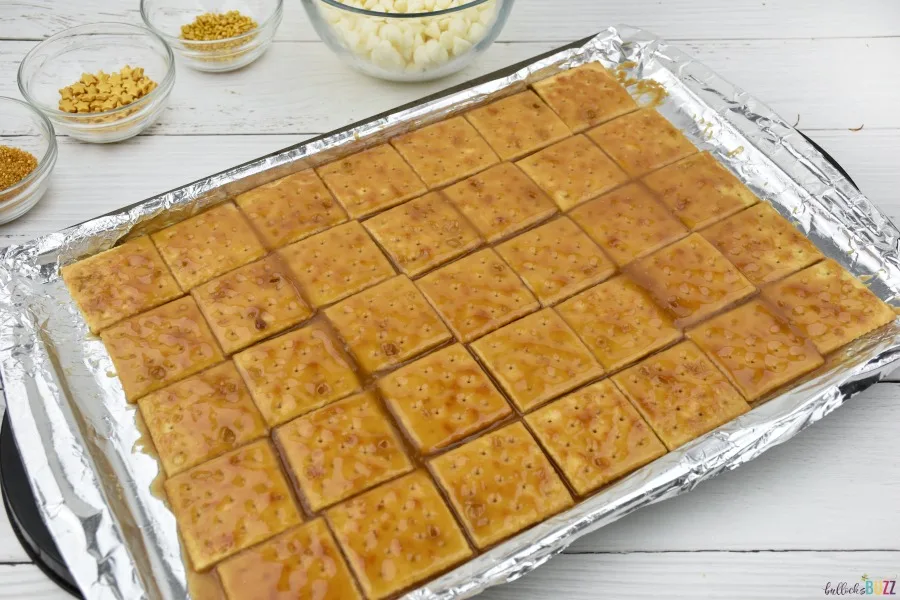 Toss it in the oven for about 5 minutes, then cover it with melted white chocolate.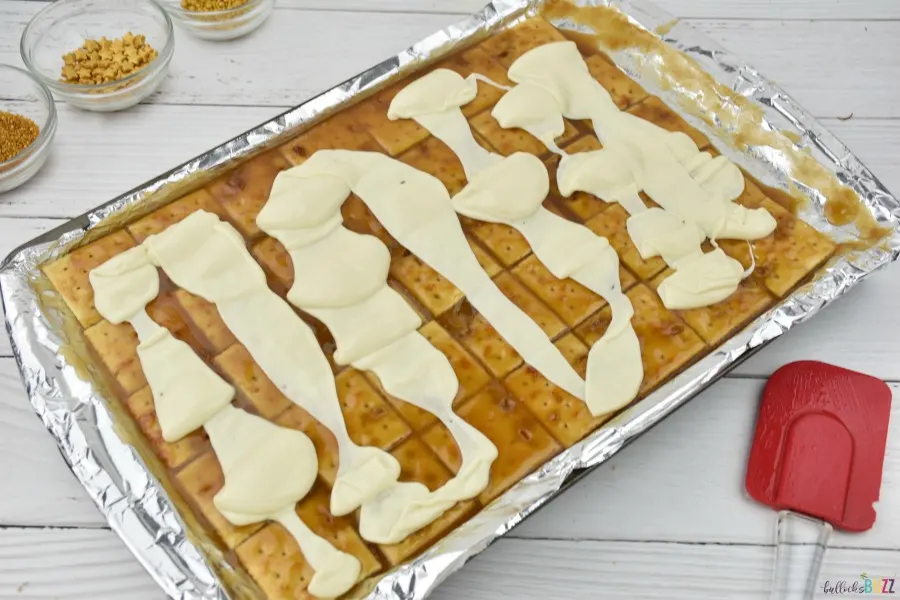 Spread the melted chocolate around evenly….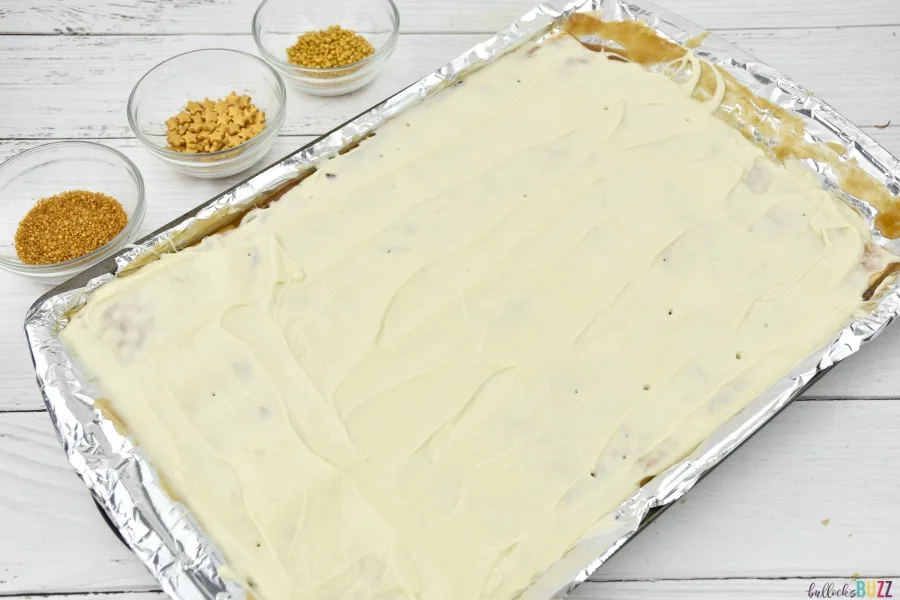 …and add some festive sprinkles. Pop it in the fridge to set….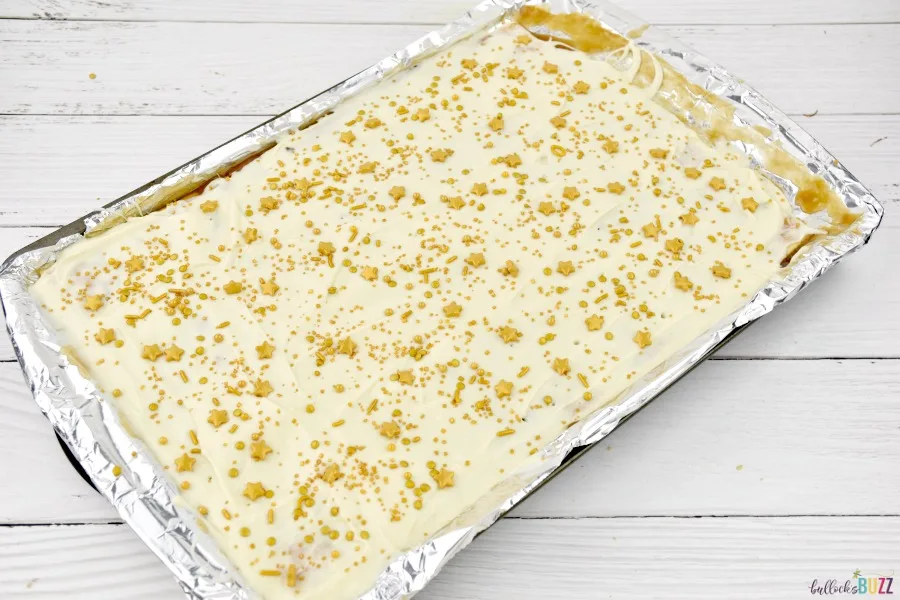 …then break it up into pieces. It's so simple and delicious–no wonder it is all over the internet!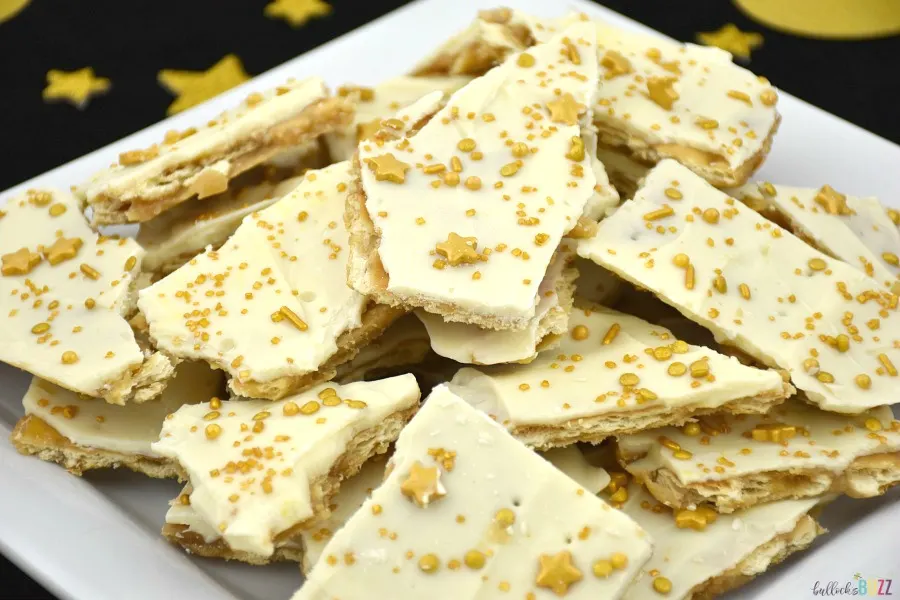 A Few Tips to Make White Chocolate Toffe Bark Even Easier
When melting the white chocolate, I prefer to use my Wilton Candy Melting Pot. It not only makes it easier, it also keeps the chocolate warm so it doesn't seize up. This way I can start melting the chocolate while I am putting the sugar and butter on the stove to boil. By the time I remove the crackers from the oven, the melted chocolate is ready to go!
Speaking of white chocolate, it can be a pain to melt as it tends to sieze up a lot easier than other chocolates. To help prevent this, always use a high quality white chocolate and add a tiny bit of coconut oil when melting.
Last, but not least, here's the easy-peasy, handy-dandy printable to make White Chocolate Toffee Bark even easier:
Yield: 15 pieces
New Year's Eve White Chocolate Toffee Bark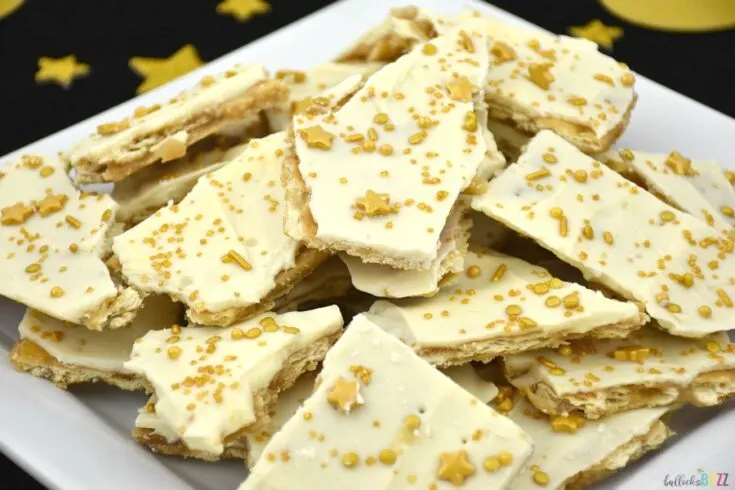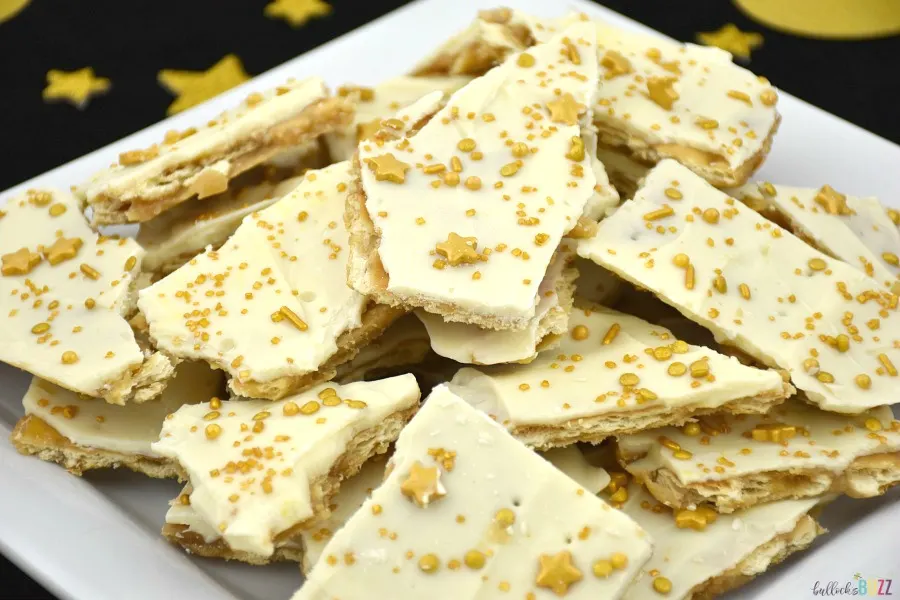 Rich buttery toffee over crispy saltine crackers covered in white chocolate and dusted with golden sprinkles makes this fun and festive New Year's Eve White Chocolate Toffee Bark irresistible!
Ingredients
1 sleeve saltine crackers
1 cup unsalted butter, cubed
1 cup light brown sugar, packed
2.5 cups white chocolate chips, high quality
1 tbsp coconut oil
1/4 cup gold holiday sprinkles
Instructions
Preheat the oven to 425 degrees F. Line a baking sheet with aluminum foil, making sure to fold the foil up the sides of the sheet, too. Spray the foil with a nonstick cooking spray.
Arrange the crackers SALT SIDE DOWN in a single layer on the baking sheet. Set aside.
In a small saucepan, combine the butter and brown sugar and melt over medium-high heat. Bring the mixture to a rolling boil (about 3-5 minutes), stirring constantly. Immediately pour it over the crackers, and use the back of a spoon or a spatula to spread it evenly.
Bake for about 3-5 minutes, until the toffee is bubbling all over. Carefully remove the pan from the oven, and place to the side.
In a double boiler or candy melting pot, melt the white chocolate chips and coconut oil, making sure to stir constantly.
Pour the melted chocolate over the toffee covered crackers, spreading it as evenly as possible.
Top with holiday inspired sprinkles.
Place in the fridge to let chocolate set (about 1.5 to 2 hours). If in a hurry, place it in the freezer for about 30 minutes.
Once chocolate has hardened, peel away the foil and break the toffee bark into pieces. Serve or store in an air tight container.
Notes
White Chocolate Toffee bark will stay fresh in airtight container for 1 - 2 weeks.
Nutrition Information:
Yield:
15
Serving Size:
1 piece
Amount Per Serving:
Calories:

330
Total Fat:

23g
Saturated Fat:

14g
Trans Fat:

0g
Unsaturated Fat:

8g
Cholesterol:

38mg
Sodium:

32mg
Carbohydrates:

31g
Fiber:

0g
Sugar:

30g
Protein:

2g
Nutritional information is automatically calculated with ingredients and serving size and may not be accurate. Please always double check with your own nutritional apps as well.
This sweet and salty toffee bark is simply too delicious to enjoy just once a year, so it's a good thing the recipe is so versatile! White Chocolate Toffee Bark is easily customized for pretty much any celebration or holiday. All you need are some different colored sprinkles and you've got an easy and delicious treat that's perfect for birthdays, anniversaries, weddings, Valentine's Day, Halloween or even the 4th of July!
Paired with these white chocolate dipped pretzels, this White Chocolate Toffee Bark would make a great homemade gift, too!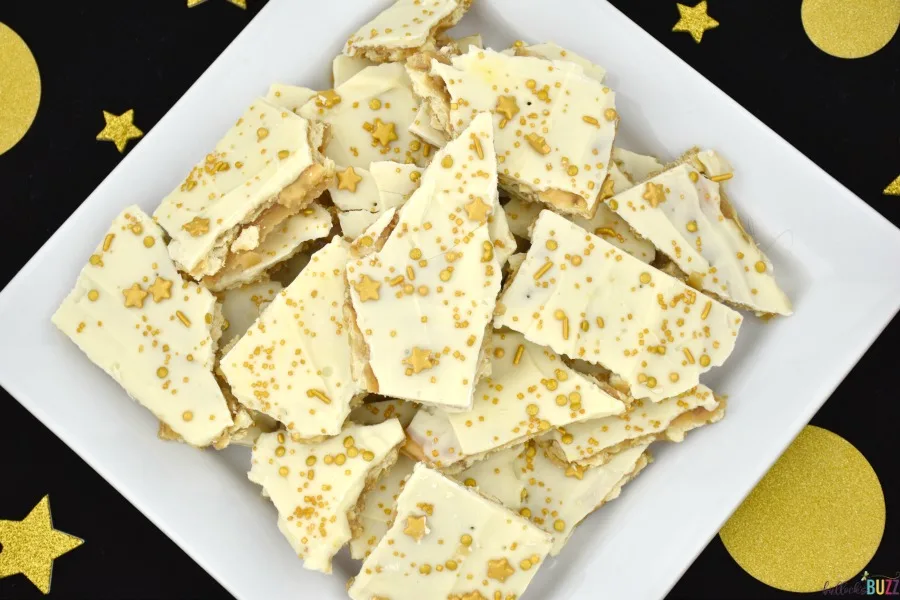 I hope you like festive White Chocolate Toffee Bark recipe! Follow our Pinterest board below with more great holiday recipes! And use the social sharing buttons below the post title to share with friends and family!
Are you looking for some more easy, yet delicious New Years Eve dessert ideas to add to your New Years Eve party food menu? Check these out:
More New Year's Eve Party Ideas
Be sure to check out my other party and dessert ideas for New Years Eve below! Simply click on the links below the pictures to go to that post.