It's hard to believe that April is almost halfway over. Soon it will be May, and school will be out and graduation will be here before you know it! Lost for ideas on gifts to give the graduates in your life? No worries! Today I am sharing 4 awesome graduation gifts they are sure to love!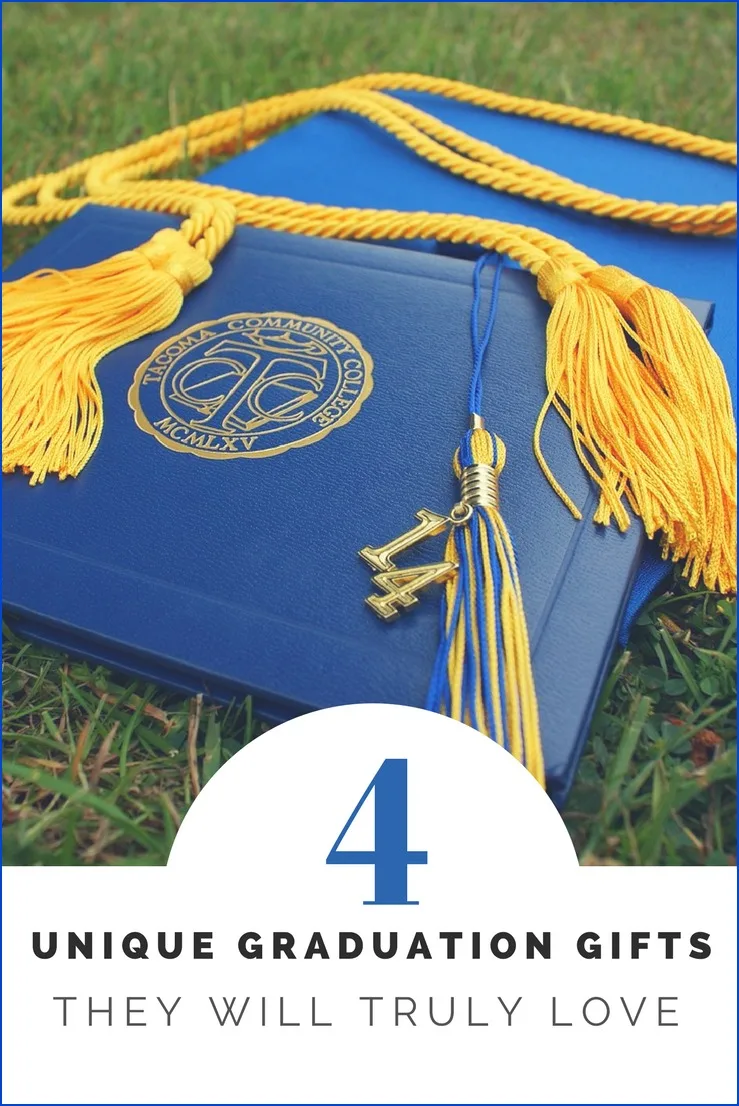 Graduation Gifts for High School and College Grads
Graduation, whether from preschool, kindergarten, high school, or college, is a huge achievement worth celebrating. And when someone you love graduates, you want to give them something special to show them how proud you are.
If you, like me, are on a budget but still want to get a meaningful present, don't fret, there are lots of affordable graduation gifts that are just as wonderful as the graduate in your life.
1. Subscriptions
Subscription gifts can delight a grad month after month, and there are hundreds if not thousands of types you can get. Here are a few ideas:
Season tickets: for favorite sports teams, museums, concerts, movies, and more
Magazine subscription to their favorite magazine
Audible Plus: an all-you-can-listen membership with access to thousands of titles, including audiobooks, podcasts, and originals.
Amazon Prime: get two-day shipping for purchases and free streaming of designated movies, TV, and music
Gift-box subscriptions: hundreds from which to choose including fashion, beauty, sports, beer, wine, craft kits, coffee, gourmet foods, pet products, and so many more!
2. Graduation Kits
Graduation kits are a super fun graduation gift that can be tailored to your grads' likes and wants. You can find plenty of pre-made kits for sale online, or you can make one yourself, adding something they won't get from anyone else. For example:
House-cleaning tools – perfect for the teen headed to college, or the college grad headed out on their own!
Kitchen supplies: stock a kit filled with everything a recent grad would need for their first kitchen. Save money by shopping at big box stores, Goodwill, or even IKEA. Be sure to add the essentials such as pots, pans, glasses, plates, silverware, and cooking tools. Make it extra special by adding a few treats from the grocery store.
Toolbox: buy a toolbox and fill it with the basic essential tools such as a hammer, set of screwdrivers, wrench, nails and screws, WD-40, and a roll of duct tape.
3. Electronics
It's hard to go wrong with the gift of electronics! Some of the most popular electronic gifts for graduates include:
new laptop or desktop for college or work
Headphones
Wireless speakers
Mobile Chargers and batteries
HDTV
new smartphone
Video streamer
Amazon Echo
4. Gift Cards
One of my favorite graduation gifts to give are gift cards! Gift cards often make the perfect gift because there are so many options available. And if you can't decide on the exact one to get, give a general gift card like a VISA or Mastercard – that way your grad can get exactly what they want or need.
To make this graduation gift idea a bit more personal, be sure to place it in a DIY Gift Card Envelope and then add a cute saying or a special greeting card. Here are a few gift card ideas:
VISA gift card
iTunes
restaurant gift cards (Applebees, Outback, Brio, etc)
department store gift cards (Macy's, Kohls, JC Penny, etc)
home improvement stores
movies
What type of unique graduation gifts are you planning on giving the graduates in your life? Let us know by leaving a comment below.