We all admire those who take the time to exercise their artsy-craftsy leanings. "If only I had the time," is something you might say to yourself while feeling twinges of guilt for your own lack of craft project success. But getting creative needn't be the work of weeks or months. These 5 quick craft projects will take just a few minutes of your time, and you'll be proud of the results! Let's get started with some quick and easy arts and crafts projects you'll love!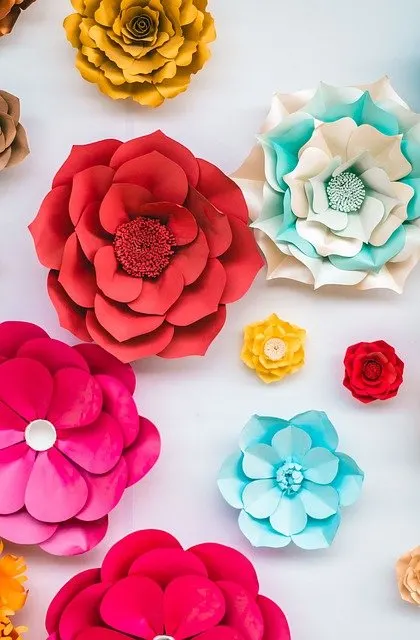 1. Good Taste, Happy Thoughts and a Few Stickers
What could be simpler than slapping a cute sticker on something? This quick and easy arts and crafts project literally takes mere seconds. It's crafty because it allows you to personalize everyday things. It's artsy because good taste dictates just where those stickers will go. And it's tasteful because your choice of aesthetic stickers makes a difference to the results. Have a bit of fun. You know you want to!
2. Make Paper Flowers
Next on our list of super quick craft projects, paper flowers. Grab some colored paper and get crafting. From the super simple to the more complex, you'll be spoiled for choice. The easiest crepe paper flowers take just a minute or two to complete while the more complex variants are more time-consuming and a bit more of a challenge. Whichever of these quick and easy arts and crafts projects you choose, you'll get an opportunity to brighten up your life for next-to-nothing. Need tutorials? They're easy to find!
3. Have Fun With Beads and Charms
From strings of beads you can make up in minutes to more challenging beadwork projects, there are literally hundreds of ways to get your creative mojo going with beads. For a quick craft project, choose a few statement beads and string them together on a leather thong, Do use a proper catch rather than just knotting the thong – you need a "weakest link" that's ready to give in case it gets caught in something! Feeling classy? How about putting together a charm bracelet or necklace using pretty silver charms?
4. Make Yarn Pom Poms
Yarn pom poms are super easy to make and they're a super quick craft project. All you need is two cardboard "donuts" cut to the size you want your pom pom to be. Wrap colorful yarn round and round the paired cardboard discs, snip the yarn around the edges and tie it off before slipping your cardboard donuts out. And that's it. Use this quick and easy arts and crafts project to make mobiles kiddies, brighten up winter clothes, or tie them onto keyrings for easy-to-find-in-the-bag keys. There are tons of possibilities. Have fun with colors and enjoy those fluffy pom poms!
5. Make Friendship Bracelets
Can you tie a half hitch knot? Of course, you can! Now all you need is some creativity, several yarn colors and a clipboard to give you a work surface and hold the threads in an orderly way. The thicker the yarn, the courser the weave, and the quicker it is to get done. Bangles are only one option. I love weaving seashells or beads into the mix and making wind-chimes or hanging potholders. OK, so they're bigger projects, but it all starts with your basic friendship bracelet-making skills. The easiest option? Simply braid colorful fabrics and add a clasp.
Quick Craft Tip: Have a Tools and Materials Box
With quick craft projects, simply getting tools and materials together can take as long, or longer, than the project itself. To avoid this problem, assemble a toolbox with craft paper, yarn or yarn scraps, a pair of scissors, needles and thread, glue, and extras like jewelry catches and beads. Then when the mood for quick and easy arts and crafts projects takes you, you'll have all or most of the materials you'll need on hand. Have fun!