Ever since I was in my 20's I've had to be careful about the type of skin care products I use on my face. Ones that contain mostly or only natural ingredients are the ones I find work the best. And while I have tried several great cleansers, moisturizers and scrubs, I hadn't had much luck finding a mask that wouldn't irritate my skin. Until I tried 7th Heaven face masks.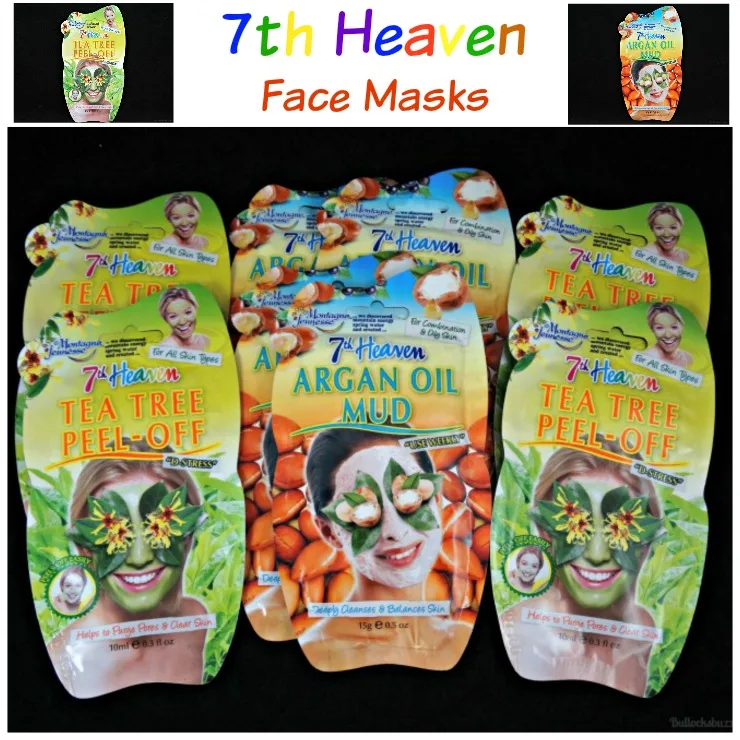 WHO IS 7TH HEAVEN?
7th Heaven, previously known as Montagne Jeunesse, makes a variety of affordable and effective skin care treatments sold in individual sachets.
Why the name change? Well, the year (2015) marked the big 3-0 for Montagne Jeunesse. As a way to celebrate, they changed the name to 7th Heaven based on feedback from their supporters and fans.
For over 30 years this company has been producing skin care products that are well-known, effective, and loved. Even better though, ALL of their products are natural, cruelty-free, and safe for all skin types. Plus, they are Leaping Bunny certified!
WHAT INGREDIENTS ARE IN 7TH HEAVEN FACE MASKS?
Along with the name change, 7th Heaven have also given their masks a makeover, as well as added all natural spring water to their list of natural ingredients.
If you are unfamiliar with their masks, 7th Heaven face masks are made using natural ingredients derived from plant and mineral sources, with minimal processing.
Their products are also vegetarian-certified, never tested on animals, and many are even suitable for vegans.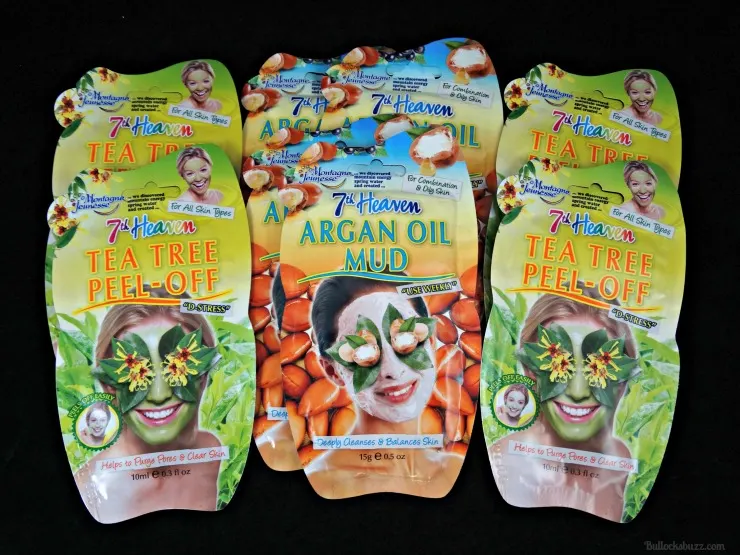 If masks are an integral part of your skin care regimen, then 7th Heaven face masks are definitely worth a try!
TYPES OF 7TH HEAVEN FACIAL MASKS
Currently, 7th Heaven makes 4 different types of masks, each of which are available in a variety of "flavors", and each of which are designed to treat a specific skin type or specific set of skin conditions.
These four mask categories include:
Mud
Peel Off
Self Heating
Sheet Masks
Each mask comes in a single use packet and retails for about $1.99. That is way less expensive than any spa treatment out there, especially since each sachet contains more than enough product to cover your face and neck in a thick even layer!
7TH HEAVEN MASK REVIEW OF ARGAN OIL MUD MASK AND TEA TREE PEEL OFF MASK
So far I've tried the Tea Tree Peel Off and the Argan Oil Mud masks, and I'd be hard pressed to pick my favorite as they both work great!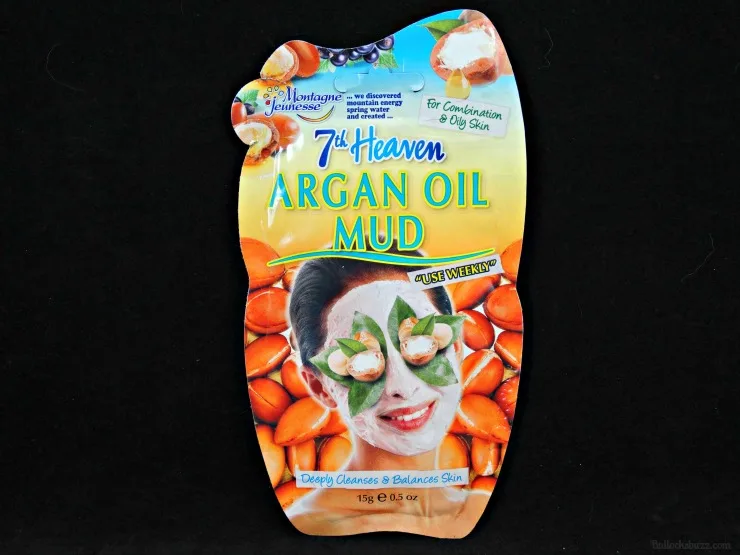 ARGAN OIL MUD MASK
Part of the Mud mask line, the Argan Oil Mud mask is ideal for combination and oily skin. Moroccan Argan Oil and antioxidant rich Acai Berries work together to deeply cleanse pores, balance oils and bring tired, dull skin back to life.
HOW TO USE IT:
Simply cleanse your face as usual, apply the mask, relax for about 15 minutes, then rinse with warm water.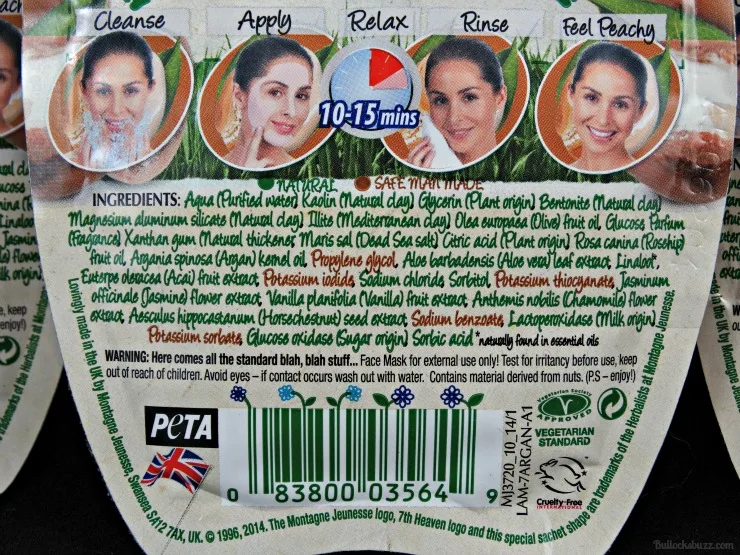 MY THOUGHTS ON HOW WELL IT WORKS
The first thing I noticed when I opened the single use packet was the aroma – a pleasantly clean, sweet scent. The mud mask itself has a nice creamy consistency and there is enough in the sachet to spread an even layer over my entire face and still have enough left for a second treatment.
The 7th Heaven Argan Oil Mud Mask mud mask began drying rather quickly, and was completely dry within 11 minutes. Once I rinsed, my skin looked so clean and fresh, and it felt very soft and supple- without any over-drying!
I've been using this particular mud mask for about 4 weeks now, and I still love the way it leaves my skin looking and feeling!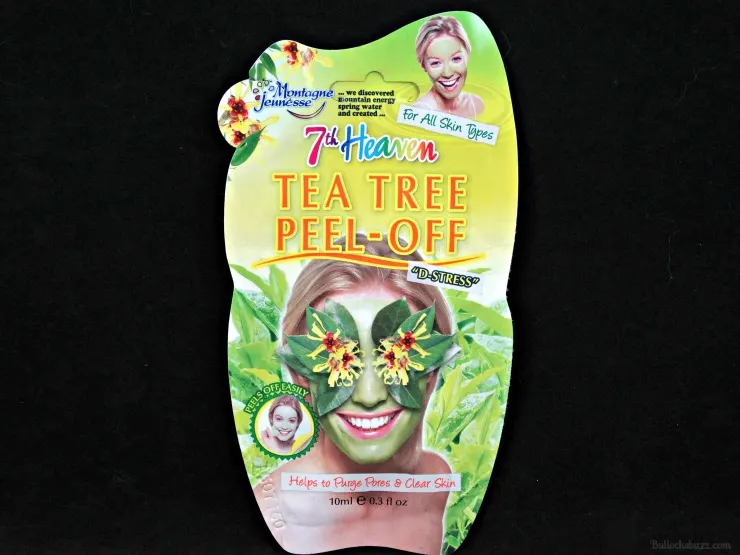 7TH HEAVEN TEA TREE PEEL-OFF MASK
The second 7th Heaven face mask I've been using for a little over a month now is the Tea Tree Peel-Off mask. This super-soothing peel-off mask uses Tea Tree, Witch Hazel & Canadian Willow herb to de-stress and soothe your skin while purging your pores of dirt, oil and other impurities.
It is ideal for all skin types including oily, normal and combination, and works very well at targeting combination skin in ;the T-Zone and other problem areas.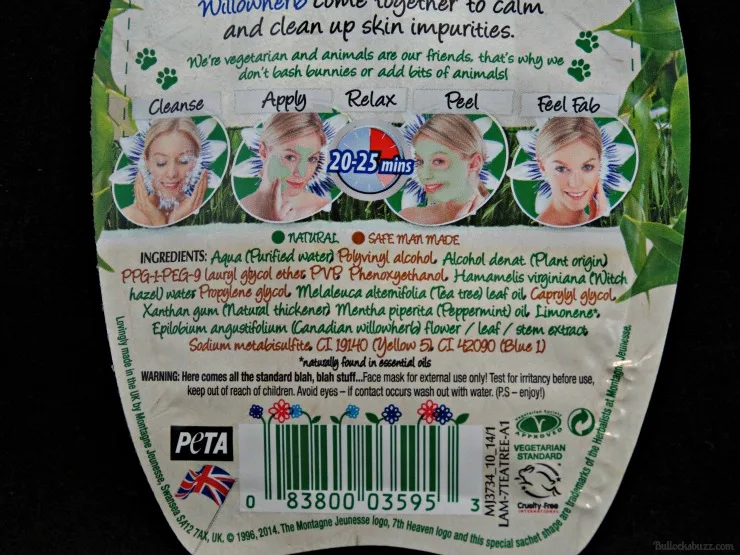 Like the Argan Oil Mud mask, this one has a great scent, too!
HOW TO USE IT
After cleansing simply apply the mask, let dry and work for about 15-20 minutes, then peel it off. It does feel sticky as you apply the mask, but it dries quickly. You'll be able to tell it is working by its super cooling tingle that invigorates the skin, and you'll love how great your skin looks and feels once you peel it off.
MY THOUGHTS ON HOW WELL IT WORKS
This is definitely one of my favorite masks by 7th Heaven. It left my skin feeling so smooth and soft. I could tell it removed a lot of dirt that was deep in my pores – yuck! Even my husband noticed a difference commenting that my skin looks and feels pretty and healthy!
ARE 7TH HEAVEN FACE MASKS BAD FOR YOU?
I get asked this question A LOT. However, since I am not a doctor, dermatologist, or scientist, I cannot say for sure whether they are bad for you. But I honestly cannot see how they would be. Especially since they have such a long history in this industry, and their products are made with only pure and natural ingredients that are 100% cruelty-free.
I personally have never had any negative experiences with any of their products.
WHERE CAN I BUY 7TH HEAVEN FACE MASKS?
After trying these two 7th Heaven face masks, I cannot wait to try more 7th Heaven products. It's like food for your skin. Plus, they are extremely affordable.
Their masks can be found at Walmart, Target and many other stores, as well as online through the 7th Heaven website and Amazon (aff. link).
2021 UPDATES ON 7TH HEAVEN MASKS REVIEW
To date this post remains one of my most popular review posts. So I thought it only fair if I gave you an update — 7 years later. Yes, I am still using 7th Heaven Masks to this day. Now well into my 40's, my skin is still sensitive, yet these masks do not irritate it in any way. They still leave my skin looking and feeling incredible soft and supple.
I still love and recommend these masks! Be sure to check out my other 7th Heaven Face Masks review where you can learn about some other masks I've tried.