Disclosure of Material Connection: This is a "sponsored post." The company who sponsored it compensated me via a cash payment, gift, or something else of value to write it. Regardless, I only recommend products or services I use personally and believe will be good for my readers. I am disclosing this in accordance with the Federal Trade Commission's 16 CFR, Part 255: "Guides Concerning the Use of Endorsements and Testimonials in Advertising."
This is a sponsored post on behalf on ABL Tile & Bathroom Centre. Regardless, all opinions are my own.
All too often, unless you are able to build your own house from the ground up, you may not get exactly what you are looking for when it comes to the bathroom. Maybe the tile is old and outdated, or the color scheme is all wrong, or the hardware is not your style. Whatever the problem, you don't have to strip out the entire room, and your bank account, to have the bathroom you want. Oftentimes a few small changes can make all the difference. Here are five easy and inexpensive bathroom remodeling ideas for transforming your bathroom into one you love.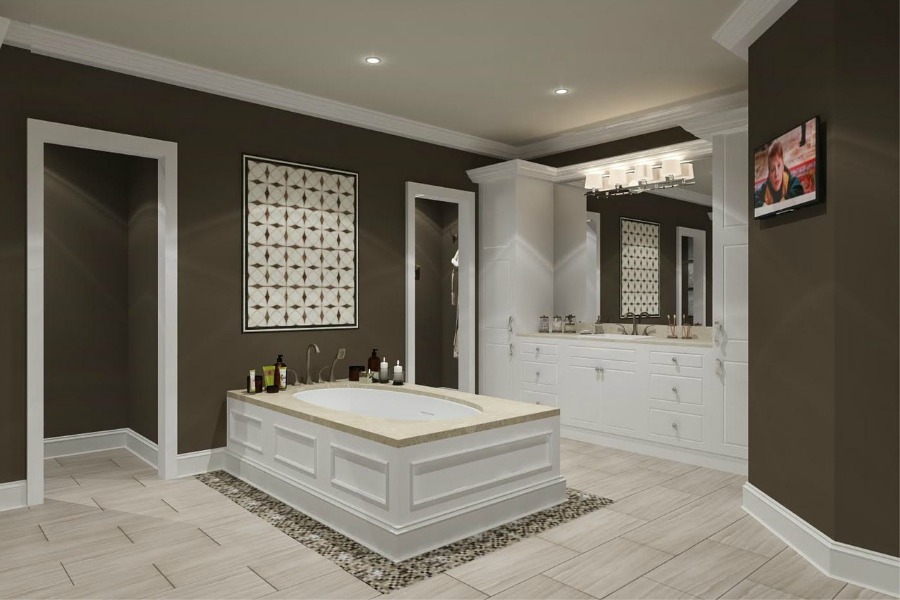 1. Painting the Walls
Whether your walls are plain white or covered in wall paper, making a change in the color can make a dramatic change. If there is old wallpaper that is peeling and water stained, peel it off and paint the walls a color you prefer. Paint the trim around the floor, ceiling doors and windows a different color than the walls for an extra pop. Just keep in mind the amount of moisture found in a bathroom and invest in a good quality satin finish paint, and perhaps even a special paint that will resist mold on the ceiling. Also, since you have to remove the outlet and switch covers to paint, go ahead and replace them with new ones that will compliment the color of the walls. While time-consuming, painting is often the cheapest, and possibly most effective, option that can make a great difference. 
2. Changing the Hardware
You would be surprised at the difference changing the hardware in the bathroom can have. Old and dull faucets can be replaced with shiny and unique pieces that reflect your personal style. Replacing the light fixtures can change the look and feel of the room. Towel racks, drawer pulls, even shelving can all be done for a relatively small investment of time and money. You could even get creative and use old wine racks or ladders in place of the typical shelving and towel racks. 
3. Replacing or Redoing Tile, Grout and Caulk
Replace any cracked or broken pieces of tile. Also, when grout gets grimy, it looks gross. You can make a big difference by simply cleaning the grout, and adding clean, straight lines of caulk around the tub and sink. Both grout and caulk are surprisingly cheap, and all you need is a few minutes and a steady hand. You can also paint tile using a special bathroom tile paint that is long-lasting and waterproof. Get creative with some small stencils and paint, and personalize some of the tiles. If you have the budget, consider re-doing the tile. There are thousands of colors, shapes, sizes and textures from which to choose. Keep in mind, tile can get very expensive. Save a little money by replacing it yourself (it is easy to learn and do) instead of hiring a contractor. Consider that instead of doing the entire floor and the walls in the shower, do one or the other. Perhaps lay a single strip along the wall with tiles then paint the rest. Again, creativity can play a big role here. 
4. Resurfacing the Sinks and Tubs
Replacing sinks, tubs and toilets is where the big money comes into play. Instead of replacing dull and scratched sinks and tubs, resurface them. For small scratches you can use an enamel paste which is applied with a cloth and wiped away. If there are deeper scratches or even chips, you can get a two-part enamel filler which you apply, let dry, then sand smooth. Anything with heavier wear, you will need a resurfacing kit.  These can be purchased at any DIY store, and are much less expensive than hiring a contractor or replacing. As far as the toilet, you can easily change the lid and seat for a new one. 
5. Adding Accessories
Accessories are another small thing that can make a big difference. By accessories I mean shower curtains, towels, rugs, trash baskets, etc. Changing the shower curtain, and adding matching rugs, trash basket, toothbrush holders and soap dishes can pull the entire room together and give it a fresh, new appearance. Consider hanging a couple of pieces of your favorite artwork on the walls. If you have a window or two, add some curtains. Consider adding a houseplant or two, perhaps on a wall shelf, or the windowsill, or even hanging from the ceiling. This is a personal favorite of mine, and it really adds a pop of color and life into the room. Plus, the plant will love the humidity! As far as your countertops, keep them clear from clutter, and add a decorative piece such as a vase with flowers, or another touch of color.
Once you have made your decision on what you want to do, it's time to go shopping. You can spend almost an entire day going from store to store to get everything you need, or you can go to a one-stop shop like ABL Tile and Bathroom Centre, where they have practically everything you need, and offer convenient in-store and online ordering. 
Redoing a bathroom does not have to be a thousand dollar, time-consuming adventure. Juts making a few select changes can really make all the difference in the world.