Cats and cardboard boxes go hand in hand – or rather paw in paw. I cannot tell you how many times I have ordered our cat Sookie a new toy, only to find her loving the box it came in even more! Unfortunately cardboard boxes are a bit unsightly to leave lying around your home for your cat's enjoyment. Now, however, there are Catty Stacks – the perfect, eco-friendly solution to your cats' love for boxes. Catty Stacks are 100% recycled, modular cardboard cubes that can be stacked together in a variety of ways with the use of metal clips.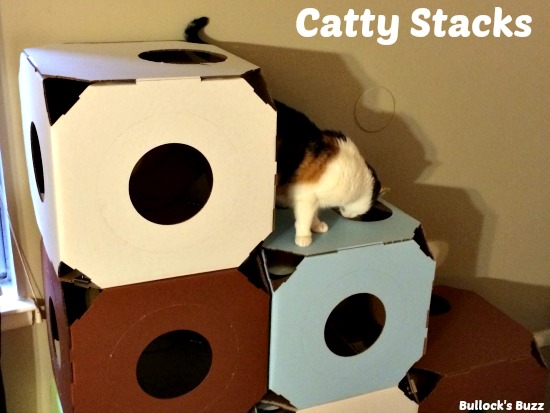 Made of industrial strength corrugated UltraboardTM , each Catty Stack is able to support up to 20 pounds, making them safe for multiple cat homes. They are available in several colors including Pistachio Green, Sky Blue, Snow White, Tickled Pink and Chocolate Brown – the color coming from a vegetable-based ink. They are easier to clean than carpet-covered cat condos, and have no smell. Plus, with their smooth surface they are perfect for letting the kids color or paint using non-toxic materials as a way to occupy them during the long hot days of summer!
Catty Stacks are pretty easy to assemble once you get the hang of it. Unfortunately, the instructions that come with each cube, are not very detailed or descriptive, but once you figure your first one out, you'll quickly get the rest done! Apparently the developers know this because they provide tips and an instructional video on the Catty Stacks site to help! Unfortunately, I was too stubborn to check it out until I was ready to write this review, but I can see how it will definitely help!
Before you get started, you want to make sure you have a good amount of space to work in, either on a table or on the floor. Each cube begins as two pieces of flat cardboard strapped together, so your first step is to unstrap the two panels and unfold them.
Along with the two panels is a box of clips, put these aside for now as you will use them later to attach multiple cubes together. Once you get both panels unfolded, you'll notice tabs and hooks on each of the sides. You need to bend all of these down (towards the inside) on both panels as they are what you use to attach all of the sides to form the cube.
Next you position the panels so the two sides that have the hooks are side by side. Interlock these hooks together so they will be on the inside of the box, the begin folding the sides up and together until you have your cube shape.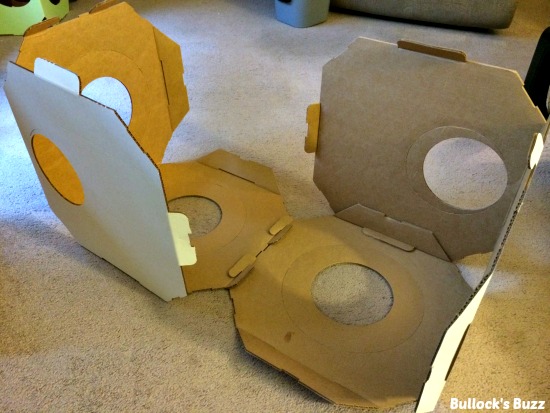 Lastly, you insert the tabs into the slots that were formed when you bent all the tabs down. Continue until all slots and tabs are together and you have a securely made cube.

If you have a larger cat and you are worried about its ability to fit through the holes, don't be! When you look closely around the holes, you will see a perforated line. Using an Xacto knife, you can easily cut through these lines and enlarge the holes. The side holes measure 6.25″ in diameter, but can be expanded to 10.5″, while the top/bottom climbing holes are around 5.5″ and can be expanded to 7″. Once together, the cubes themselves measure approximately 16″ in width, 16″ in diameter and 15″ in height.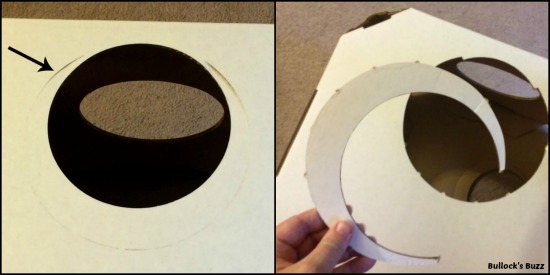 Once you have all of your cubes made, you use the metal clips to secure the cubes together, stacking them into multiple levels or whatever form you desire. Catty Stacks innovative design allows for all kinds of unique configurations that you can easily move around to hold your cats interest. Plus they are modular so you can add or replace boxes as you see fit.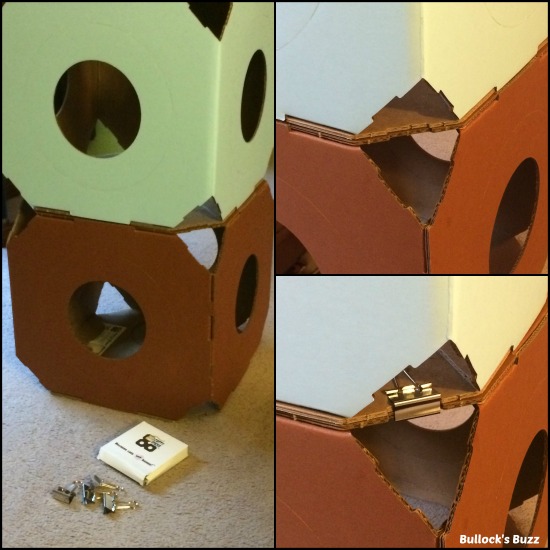 At first Sookie wasn't sure what to make of them. For days she would just walk through the bottom levels never climbing up to an upper level. I made sure to add some old shirts that had my scent, along with some catnip and a few toys into the cubes. Finally, at some point when I wasn't watching, she began using the upper levels. Now the Catty Stacks are her favorite place to play, hide and nap.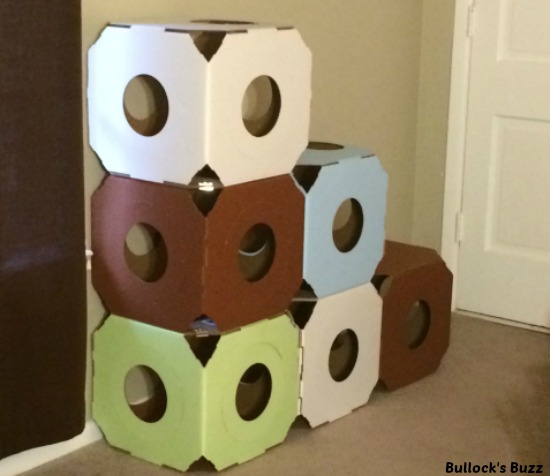 Another awesome thing about Catty Stacks is the price. Other kinds of cat furniture and cat condos can cost over $100, Catty Stacks cost anywhere from $10.99 (on sale now!) to $14.99 based on color. There is a 2 cube minimum, but why would you only want to order one anyway? You can order Catty Stacks either directly through the website, or you can find them at your local Petsmart store.