This is a sponsored post on behalf of Degree and Walgreens for Global Influence. Regardless, all opinions are my own!
Soccer has always been one of my favorite sports. Growing up, I used to love playing, and my friends and I would have a great time watching games on television. So there was no way I was going to miss watching this year's World Cup! Were you cheering for the U.S. Men's Soccer team in Brazil this summer for the World Cup? My whole family watched it from the beginning, and we had a great time cheering on our team!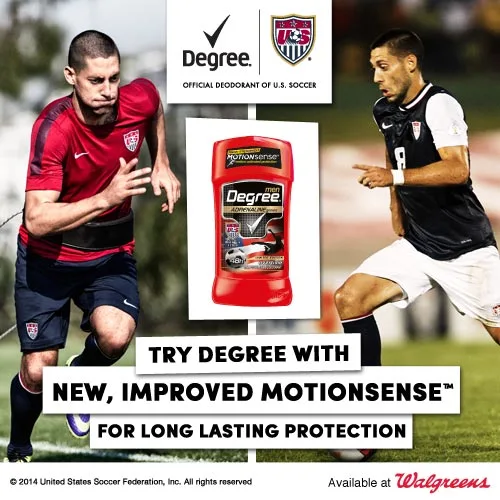 This summer Degree Men and Walgreens are cheering on U.S. Soccer! As the official deodorant of U.S. Soccer, Degree is rewarding fans who DO:MORE with an incredible offer. Head into your local Walgreens between 6/29–7/5 and buy 2 Degree Men Deodorant products, and you'll get 1,000 Balance Rewards points! This is the deodorant my husband prefers to use so this deal is perfect for us – he gets stocked up on his favorite deodorant, and I get 1000 Wellness points – you can't beat that!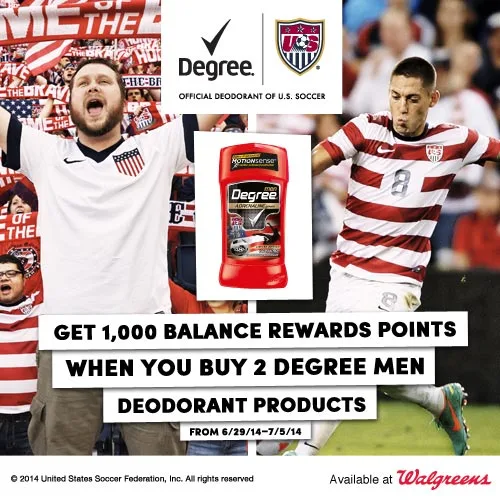 Have you tried Degree antiperspirant with the new and improved MOTIONSENSE™? It's the only antiperspirant that releases extra protection the more you move. Degree with MOTIONSENSE™ was designed to meet the different demands for men and women, responding to your body to keep you feeling confident and cool for up to 48 hours! Perfect for those hot summer days!
This summer, Move More and Do More with new Degree with MOTIONSENSE™!