If you love concerts, then you know that getting a ticket for your favorite concert can be a lot easier than picking the right outfit to flaunt your style! The outfit you wear should not only be trendy but it should also provide minimum discomfort to you while you are having maximum fun! Here are several great concert outfit ideas for your next show.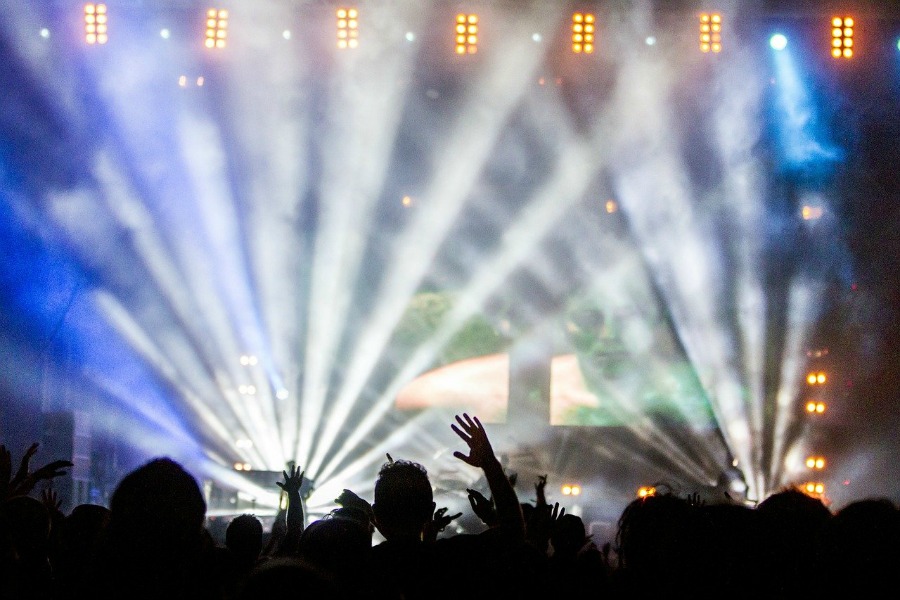 Top, denim shorts and boots
If you are planning to go to a music concert, knowing how to dress for a concert can help you impress those around you. And one of the easiest concert outfit ideas is the denim and top look. Consider pairing a printed top with a pair of denim shorts for a chic, festive look. Add a medium-sized cross-bag to go along with it. The bag not only provides an easy way to carry your stuff, but it can also make you look even chicer. The best footwear for this attire is brown boots. If the place is dusty or cool, wear a button-down to help keep your legs and feet clean and keep you comfortable throughout the day.
White is in
Another great concert outfit idea is wearing a white slim and stylish dress. If there is any perfect time to wear those feminine white dresses it is now during the festival season. The edgier the dress, the better it fits into the occasion. These white dresses can be paired with your favorite leather boots or a pair of silhouettes to look cool without being too dressy. If you are not in the mood for dresses, you can always wear a white tee with black denim jeans along with a pair of metallic heels. With this stylish look, you'll be ready for any kind of concert!
Wear leather
If you thought leather was not an all-season thing, then you are wrong. Leather is not only winter wear, but it can also be carried off in spring and summer too. While it's best to wear leather pants in winter, you could opt for shorts or mini-skirts in the warmer months. Or you can check out the latest festival clothing options from Planet Blue to pick the perfect one. Add a trendy top with a cool print, and you'll rock the concert. Don't forget to pair this outfit with a pair of comfortable booties (if wearing a mini skirt or shorts, wear ankle-length boots). Not only will this concert outfit idea look good, but your feet will also thank you.
Romper with ankle boots
Another concert outfit idea is to wear a romper. Also called a union suit, a romper is a one-piece with a shirt attached to a pair of shorts or pants. They're often referred to as playsuits too. You can show off your well-toned legs with a pair of shorts rompers while staying cool. Or, instead of plain pair, wear a printed one. Add some cool accessories like a cross bag, a pair of sunglasses and flat ankle boots, and you'll be enjoying the concert in comfort while turning a few heads, too!
Poncho wrap
Any stylish wardrobe is bound to have a poncho wrap as it's a trend that doesn't seem to go away. Poncho wraps come in various colors, designs, and fabrics. A lighter one can be worn in summer while the heavier fabrics are a good fit for colder seasons. If still thinking about what to wear to a concert, check out some street style fashion, which suits teenagers and adults alike. It can be worn along with leather pants and a tank top. If you want to look bohemian add black leather boots and a leather bag as accessories to rock concert.
Jeans and a Blazer
Wearing a good-looking outfit to a concert that is being held in winter is more challenging than in summer as you may have to layer for warmth. However, there are plenty of concert outfit ideas that will ensure you are warm as well as stylish. For example, wear slim high-waist trousers with leopard prints; combine it with a turtleneck, a leather jacket, and a pair of ankle boots.
Jeans and a blazer are another great winter concert outfit idea. You can look cool and chic effortlessly with the combination of jeans and blazer. A plain t-shirt with boyfriend-style jeans and an oversized jacket is a no-fuss outfit that also looks amazing. Black denim pants with white-tees and footwear with metallic heels are basic but great. To increase the style quotient, wear a pair of light-colored ankle boots and add some bling jewelry.
Final Thoughts on Concert Outfit Ideas
Half the fun of going to a concert is flaunting your style. With these concert outfit ideas, you will be dressed to impress and ready to have a blast at whatever festival or concert you attend!