Review and Sugar Cookie Recipe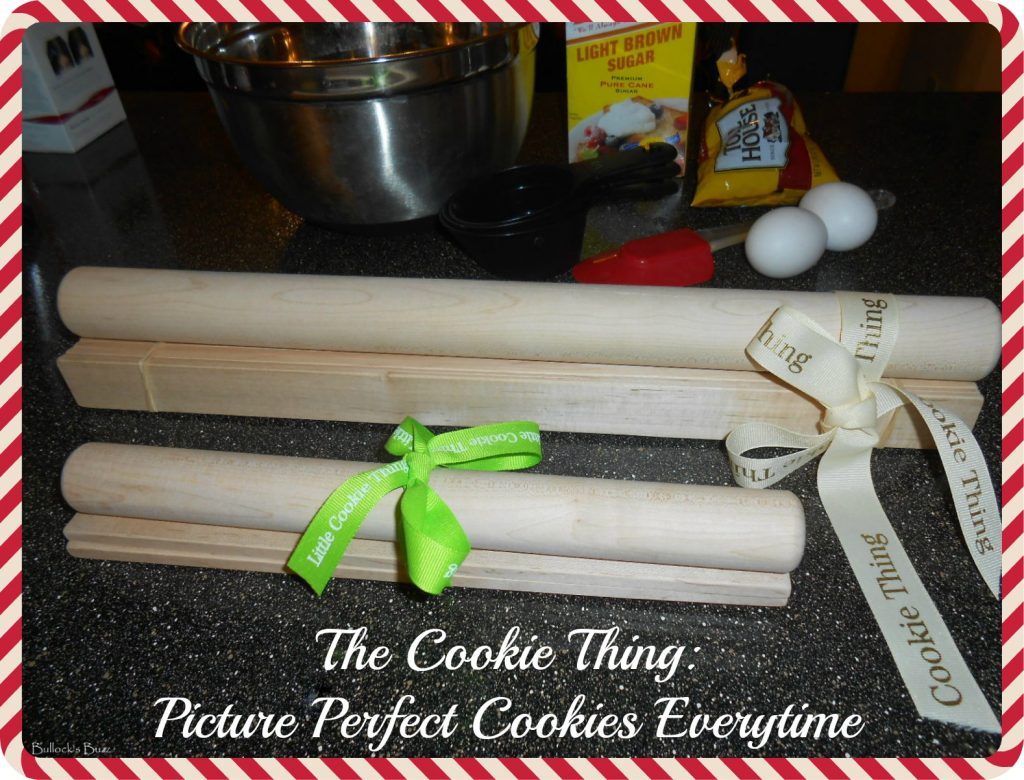 I love baking, and right around the holidays is when I bake the most. One of my favorite things to make is home-made sugar cookies using a recipe that was passed down through my family. Each year I strive to make them look as beautiful as those that you see in the pictures of a magazine, but I can never seem to do it. Instead, they come out lumpy, uneven in thickness, and the surfaces are never smooth. So when I was offered the opportunity to try a new, innovative baking tool called The Cookie Thing, I couldn't wait to start baking!
The Cookie Thing consists of a roller and several sets of smoothly sanded wooden boards that are cut to a specific thickness. When used together they help you make perfectly even, rolled out dough. Instead of you having to measure the thickness of the dough, the boards do it for you. Just choose the size you want, place the roller on top and start rolling; you will get perfectly rolled dough each and every time! After walking through the instructions one time, I quickly got the hang of it, and now I cannot even imagine rolling out dough without it!
The first thing you want to do is make your cookie dough. I have included my recipe below if you'd like to try it, and at the end of the post is a printer-friendly version.
Rolled Sugar Cookies
Serves 18 cookies
Prep Time: 15 minutes
Bake Time 7 to 8 minutes
Ingredients
3/4 cups butter, softened
2.5 cups all-purpose flour
1 cup white sugar
2 eggs
1.5 teaspoons vanilla extract
1 teaspoon baking powder
1/2 teaspoon salt
Instructions
In a large bowl, cream together the butter and sugar until smooth.
Beat in eggs and vanilla extract.
Next, stir in flour, baking powder and salt, mixing until completely blended.
Cover and chill for at least one hour.
Using The Cookie Thing
Once you are ready, place a piece of waxed paper on a flat surface, and scoop out about 1 to 2 cups of the dough onto the paper. Then take another sheet of wax paper and place it on top of the ball of dough, and using your fingers, gently press the ball into a circle about 6″ in diameter and 1″ thick.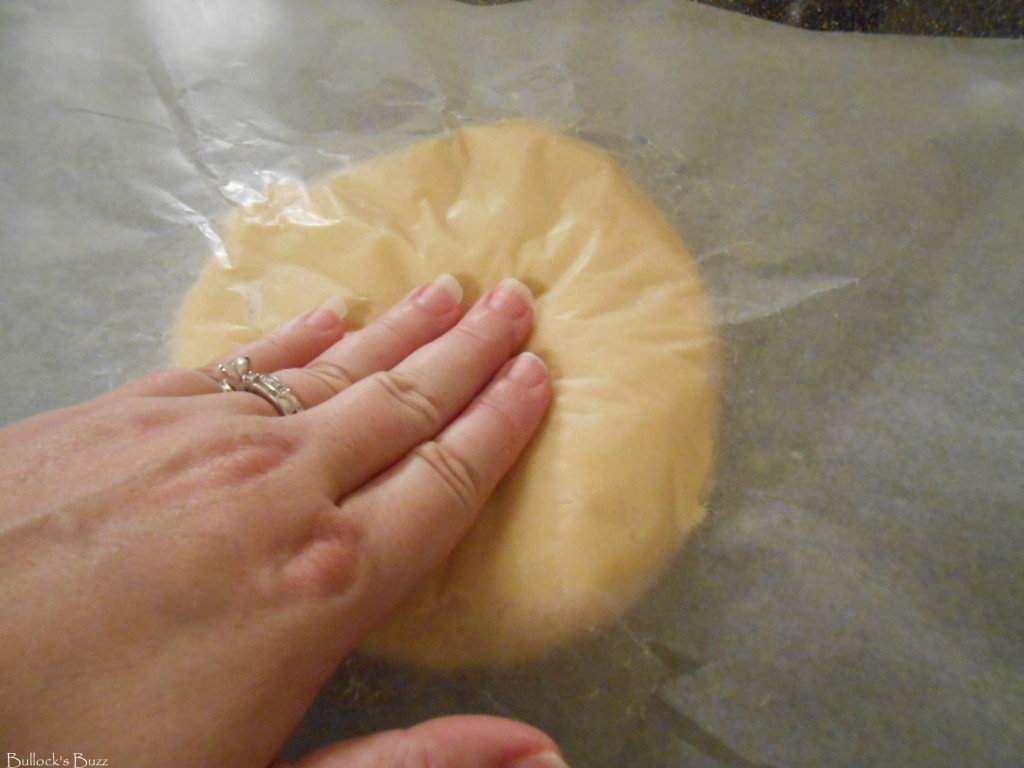 Next select the two Cookie Thing measuring boards that corresponds with how thick you want your cookie dough. I chose to use the 1/4″ thick boards since these cookies taste best big and puffy. Now, take the two Cookie Thing measuring boards and place them vertically on either side of the dough, leaving about 1 1/2″ to 2″ space between the edge of the dough and the board. You want to be close enough to where both ends of the roller can rest on each board, but not so close so that as you roll the dough it gets smushed into the boards.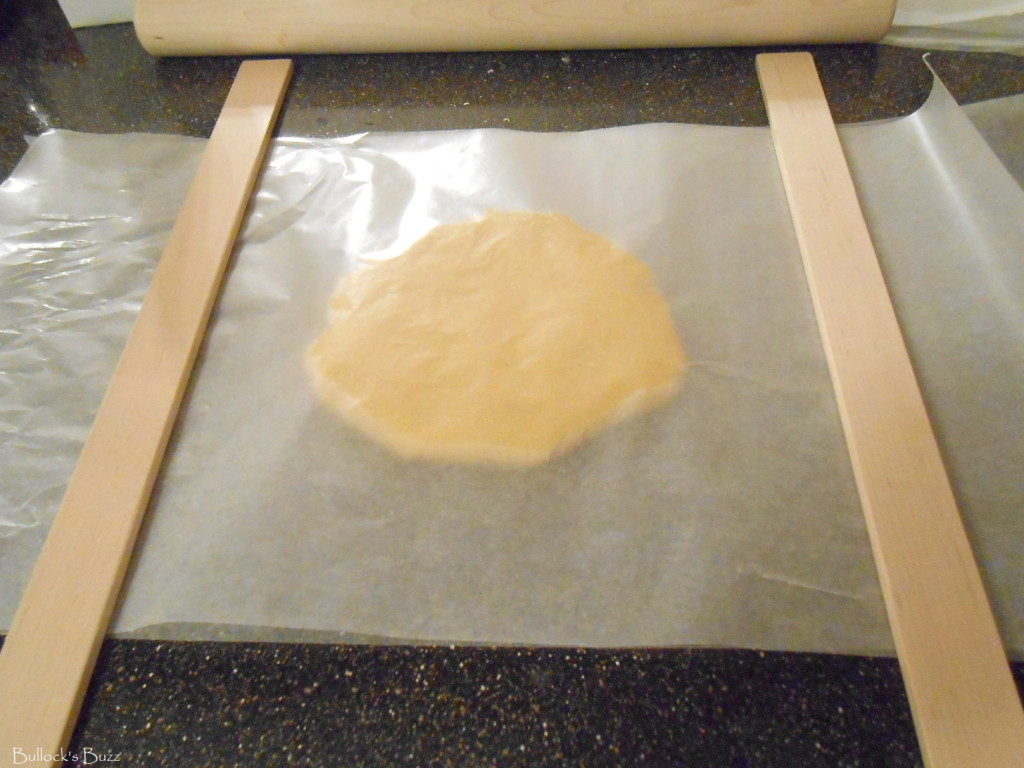 Once the boards are positioned, place the roller with its ends resting on the boards directly in the middle of your dough, pressing down to be sure the roller sits flat on the boards. You are now ready to begin rolling. Placing one hand on each end of the roller, start rolling forward from the middle to the top of the dough, then bring it back. Continue until the dough is completely rolled out. Once finished, you will be amazed to see that the dough is perfectly even in thickness all over!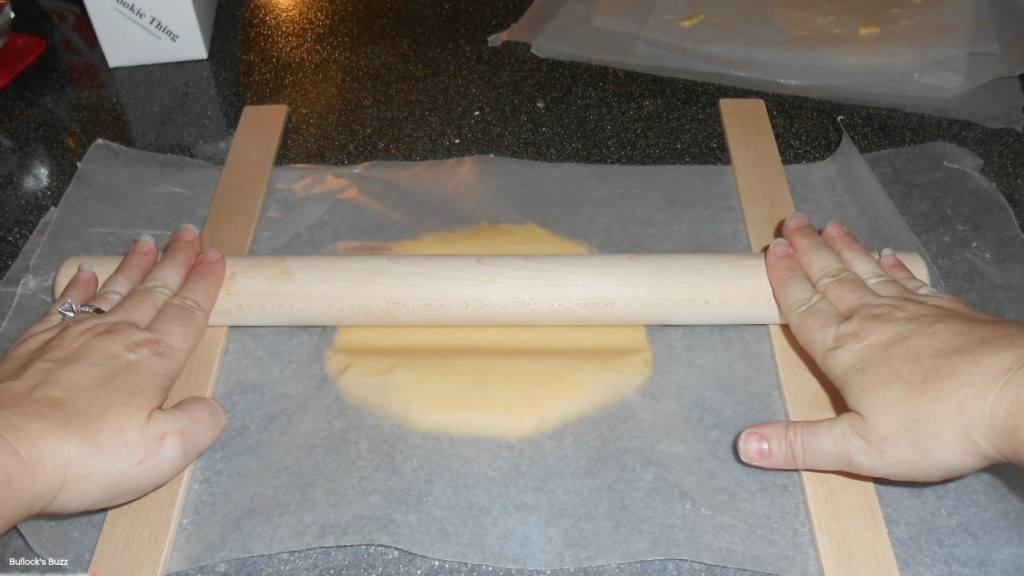 Now, place the dough, still inside both pieces of wax paper, on a cookie sheet and put it back into the refrigerator for about an hour. Once the hour has passed, you are ready to cut out the desired shapes and bake your cookies.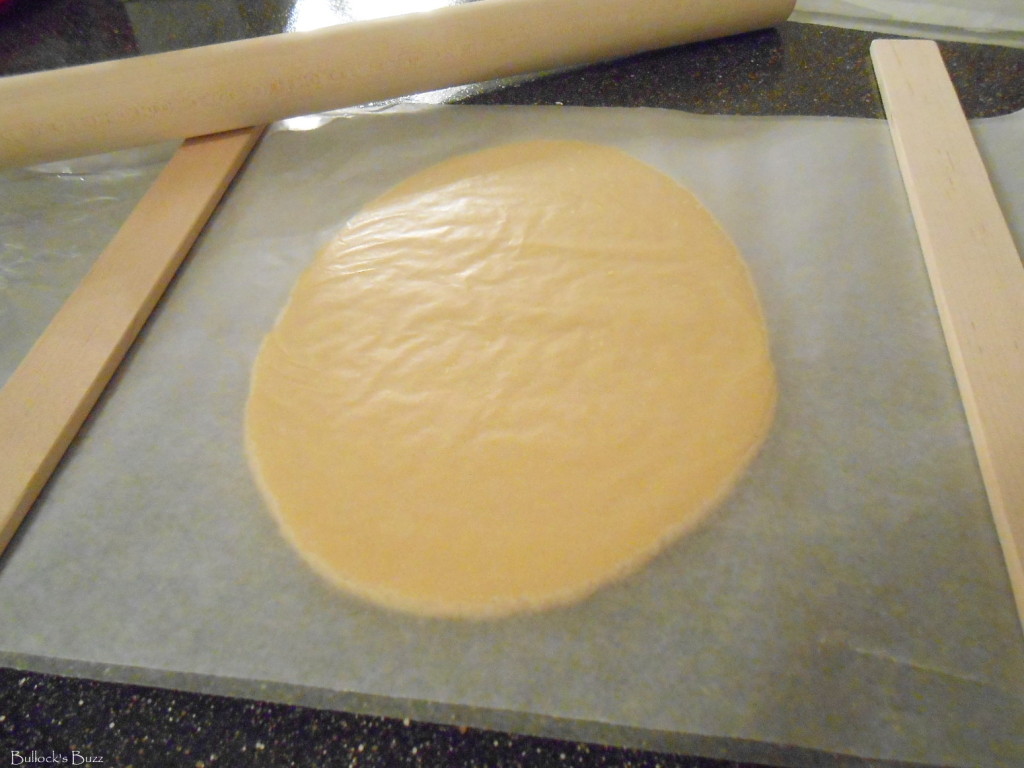 Cutting and Baking Your Cookies
Be sure to lightly flour the surface on which you are going to place the dough. The easiest way to do this is to remove one of your dough packs from the fridge at a time and peel off the top piece of wax paper. Next, flip the dough over so it is on top of the floured surface, peel off the other piece of wax paper, and you are all ready to begin cutting out your shapes. Here's a helpful tip: be sure to flour your cookie cutters as well and they will come out of the dough much easier!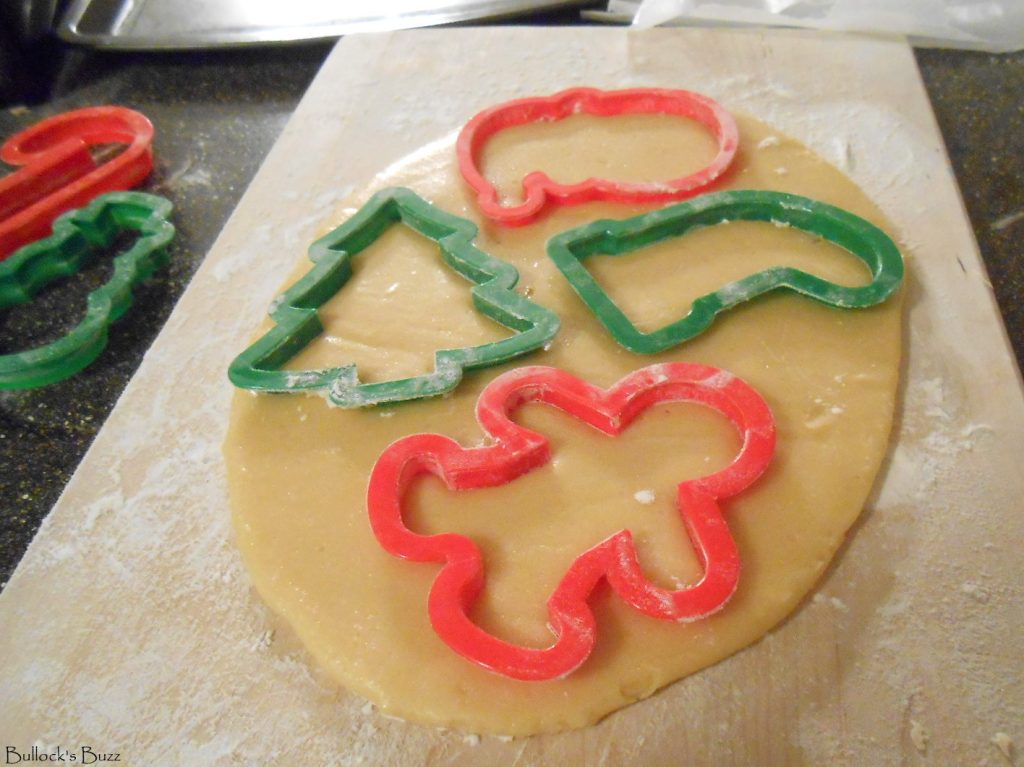 To bake, preheat the oven to 400°
Place cookies on ungreased cookie sheet 1″ apart.
Bake 6 to 8 minutes or until edges begin to brown.
Cool completely before decorating.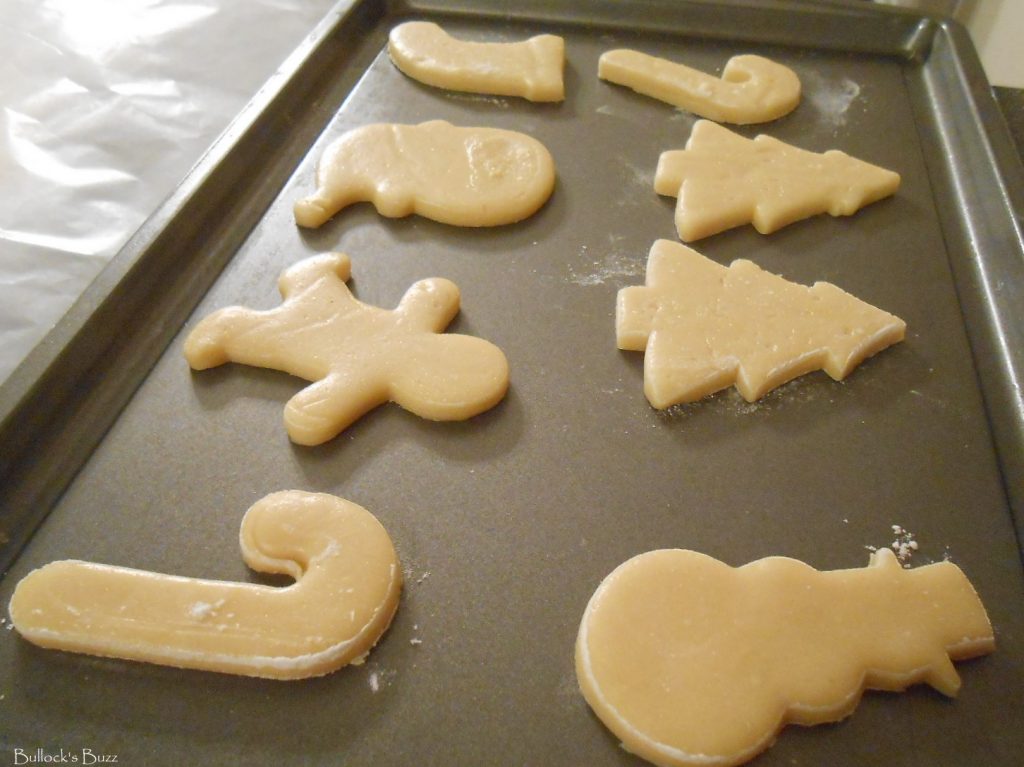 That's it, easy as pie! And speaking of pie, The Cookie Thing can be used for all types of baking including pies, tarts, muffins, bread…basically anything for which you need rolled dough!
My Verdict
I absolutely love my Cookie Thing! I am by no means a professional baker, but using the Cookie Thing makes it look as though I am. Once you get the hang of it, it is incredibly easy to use, and your cookies come out uniform in size and evenly baked. Plus, it cuts the rolling time in half! Before The Cookie Thing, I would never have felt confident about trying to make a homemade pie, now I cannot wait to get started!
The Cookie Thing is available in two sizes: The Cookie Thing and the Little Cookie Thing. Both are made of solid maple wood, and are a beautiful blond color. They are perfectly smooth, feel great to the touch, and have a nice weight. The original-sized Cookie Thing comes with four different-sized sets of measuring boards and a roller. The boards measure in depths of 1/8″, 1/4″, 3/8″, and 1/2″, which are practically all the sizes you need to roll out any type of dough. The Little Cookie Thing is designed for little hands and it comes with one set of 1/4″ depth measuring boards and a roller. Both can be purchased directly through the Cookie Thing website.
Special Promo Code for Bullock's Buzz Readers
For a limited time only, Bullock's Buzz readers can use a special promo code to get 25% off your entire order! When you are ready to check out, simply use the promo code: BAKER. Be sure to use the code exactly as it appears as it is case-sensitive. Also, if you choose to get more than one, wait until you cart is full and you are ready to check out before using the code so you can get the discount on your entire order! With the holidays right around the corner, keep in mind that The Cookie Thing would make a wonderful gift for anyone who loves to bake!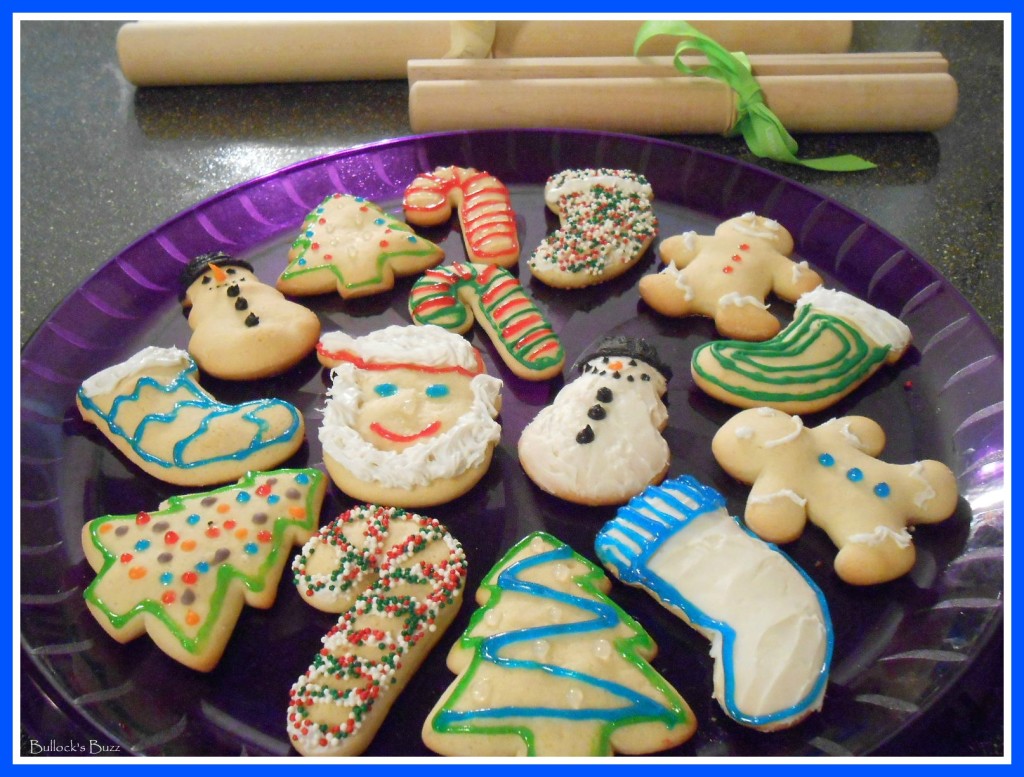 Rolled Sugar Cookies
A simple, yet delicious rolled sugar cookie recipe.
Ingredients
3/4

cups

butter

softened

2.5

cups

all-purpose flour

1

cup

white sugar

2

eggs

1.5

teaspoons

vanilla extract

1

teaspoon

baking powder

1/2

teaspoon

salt
Instructions
In a large bowl, cream together the butter and sugar until smooth.

Beat in eggs and vanilla extract.

Next, stir in flour, baking powder and salt, mixing until completely blended.

Cover and chill for at least one hour.

Remove from refrigerator and follow instructions for rolling out the dough using the Cookie Thing.

Chill rolled dough for another hour.

Remove from refrigerator and use cookie cutters to cut desired shapes.

Preheat oven to 400 degrees.

Place on ungreased cookie sheet about 1" apart.

Bake for 6 to 8 minutes or until edges begin to brown.

Let cool completely before decorating.
Disclosure of Material Connection: I received one or more of the products or services mentioned above for free in the hope that I would mention it on my blog. Regardless, I only recommend products or services I use personally and believe will be good for my readers. I am disclosing this in accordance with the Federal Trade Commission's 16 CFR, Part 255: "Guides Concerning the Use of Endorsements and Testimonials in Advertising."