Spice up Halloween with this fun DIY Halloween Coffee Mug Cricut craft and a delicious Hazelnut Mocha Delight coffee recipe!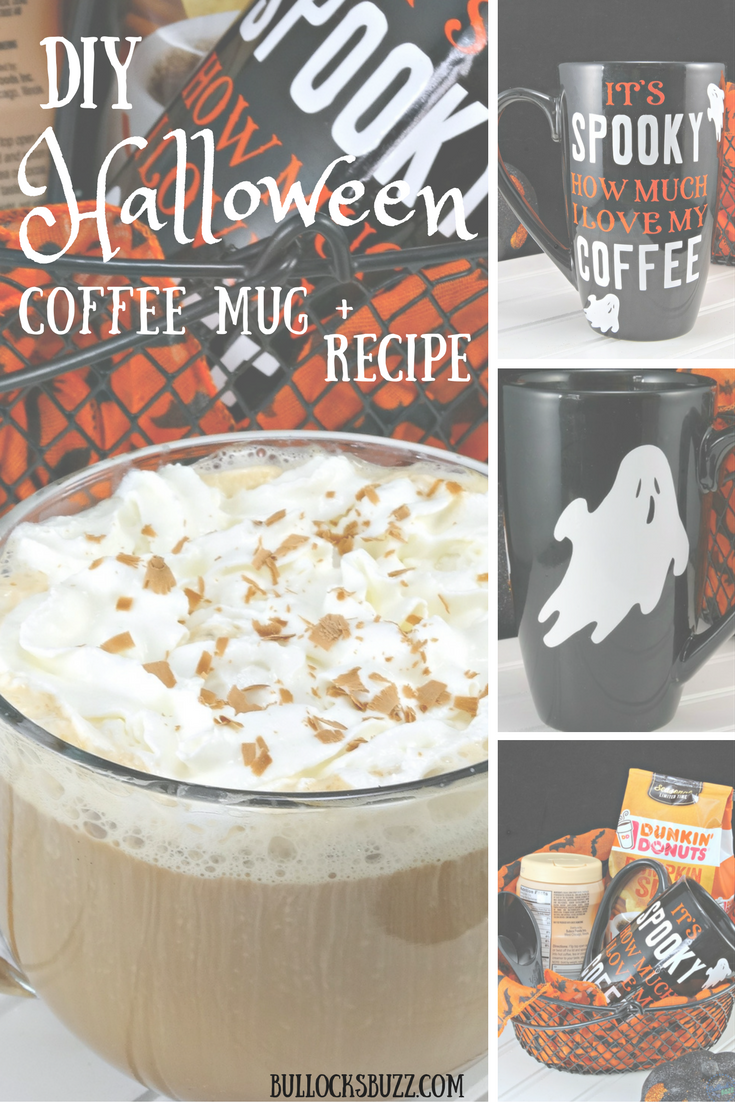 Since today is National Coffee Day, and Halloween is right around the corner, I figured there's no better time to share this fun DIY Halloween coffee mug complete with a delectable coffee recipe made with Dunkin' Donuts coffee!
And to make it even more fun, I'll also show you how to put together an adorable Halloween gift basket that is perfect for coffee lovers, teachers, neighbors, and friends. Ready to get started?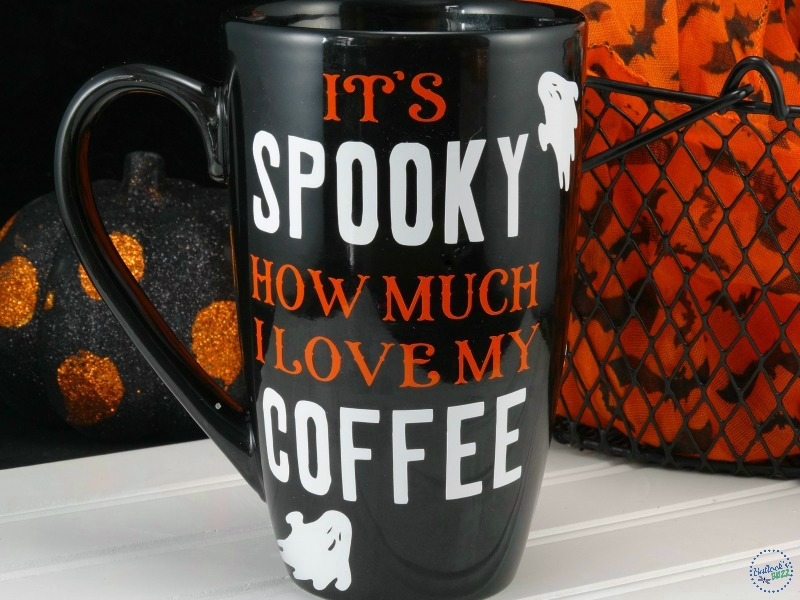 How to Make DIY Halloween Coffee Mug: It's Spooky How Much I Love My Coffee
This DIY Halloween coffee mug is not only cute, it's also eerily easy to make!
Note: I used my Cricut Explore Air, but if you don't have a Cricut or other die cut machine don't worry! You can easily use waterproof craft paint instead. Simply download a few pictures of ghosts, print them on cardstock, then carefully cut them out to use as stencils.
Disclosure: This blog post contains affiliate links for products or services I think you'll like. This means if you make a purchase from one of these links, I may make a small commission at no additional cost to you. P.S. I only recommend products that I use and love.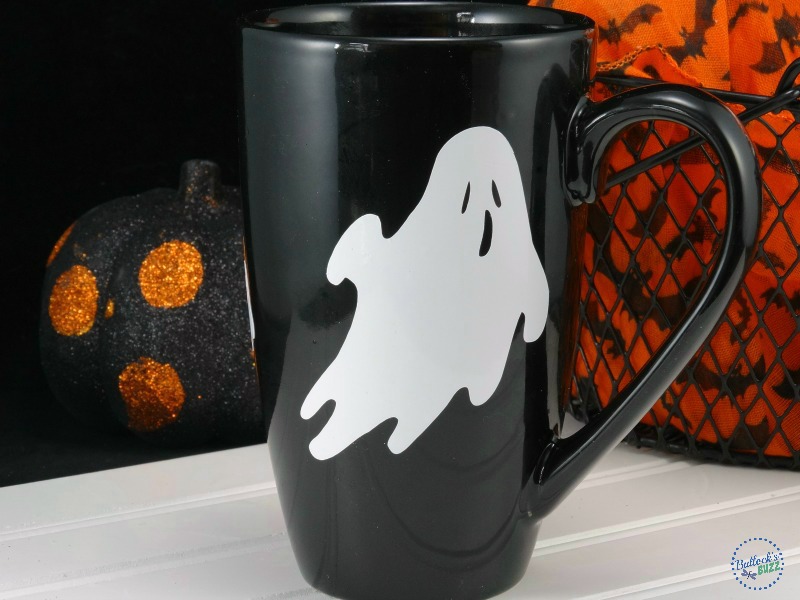 Supplies to Make DIY Halloween Coffee Mug
To make this DIY Halloween coffee mug, you will need the following supplies:
Microwave and dishwasher safe coffee mug
Rubbing alcohol for cleaning the mug
Cricut Explore Air 2 or other die cutting machine
Orange vinyl outdoor waterproof, such as Oracle 651
White vinyl outdoor waterproof, such as Oracle 651
Cricut spatula (burnishing tool)
Cricut image of ghosts (I searched for ghosts in Design Space)
Cricut Font – A Frightful Affair (for the words SPOOKY and COFFEE)
Cricut Font – Anna's Fancy Lettering – Hannah (for all other words)
DIY Halloween Coffee Mug Instructions
Begin by cleaning the mug with rubbing alcohol to remove any grease or dirt. Once it's clean, try to avoid touching the mug anywhere other than the handle.
Next, open up a new project in Cricut Design Space. Begin adding the text in whichever font you'd like. I used A Frightful Affair for the words Coffee and Spooky, and Anna's Fancy Lettering-Hannah for the rest.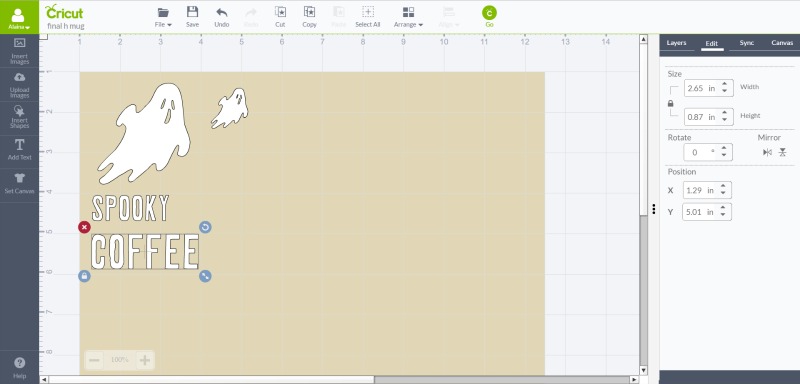 Don't forget to adjust the size of the lettering to fit your mug. Since I used a mug that measures 5.5″ in height and a little over 3″ in diameter, my measurements were:
the words Spooky and Coffee measure 2.75″ wide and 0.91″ tall.
the word It's measures 1.07″ wide and 0.41″ tall.
both How Much and I Love My measure 3″ wide and 0.41″ tall.
Now add the images of ghosts, making sure to adjust the size as needed. For my mug, the large ghost measures 2.28″ wide and 2.5″ tall. The small ghosts measure 0.91″ wide and 1.0″ tall.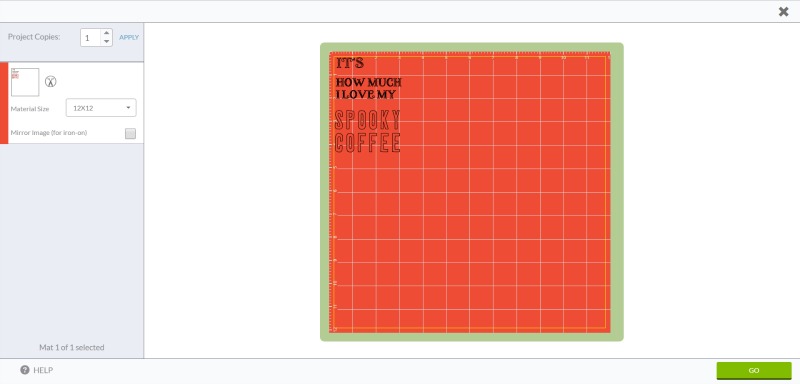 Once your design is ready to be cut, place your vinyl on the mat, make sure your machine is set to Vinyl, and hit 'Go'. Now sit back and let the machine do its thing.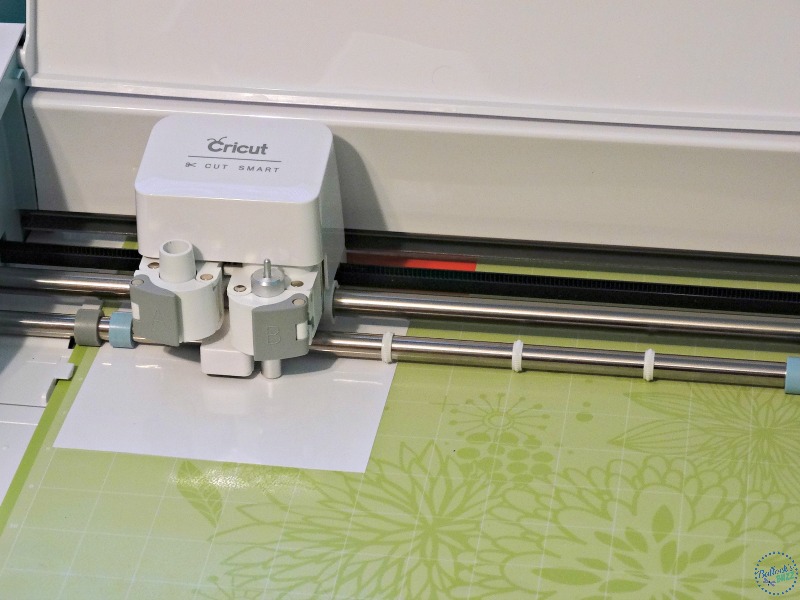 Once everything is cut, gently remove the vinyl from the mat. Then, slowly peel off all of the excess vinyl surrounding the design. Use the weeding tool to remove any remaining vinyl you do not need.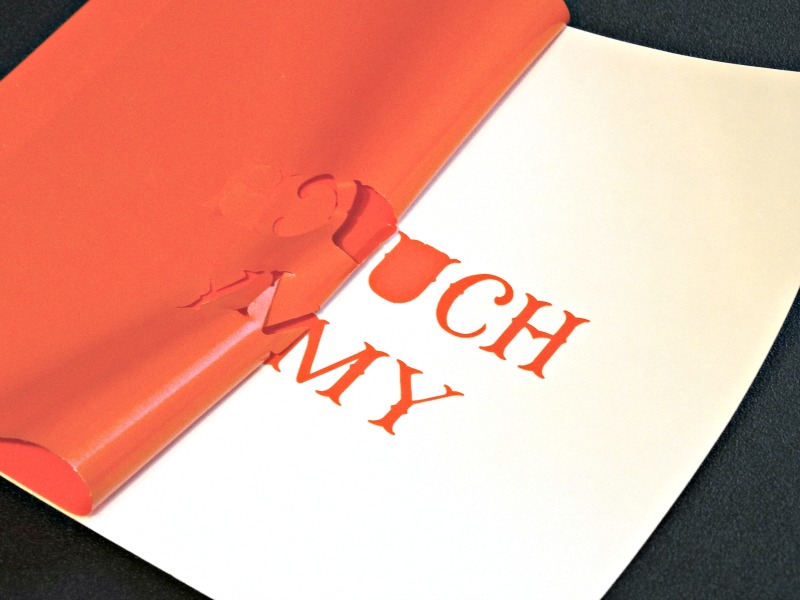 Once you've finished weeding, cut a piece of transfer tape to size. Peel the backing off of the transfer tape and apply the grid-side over each design. Be sure to smooth over your design a few ties to adhere the transfer tape.
Tip: I find it easiest to first cover the entire design with one piece of contact paper, and then go back and cut the design into its individual pieces.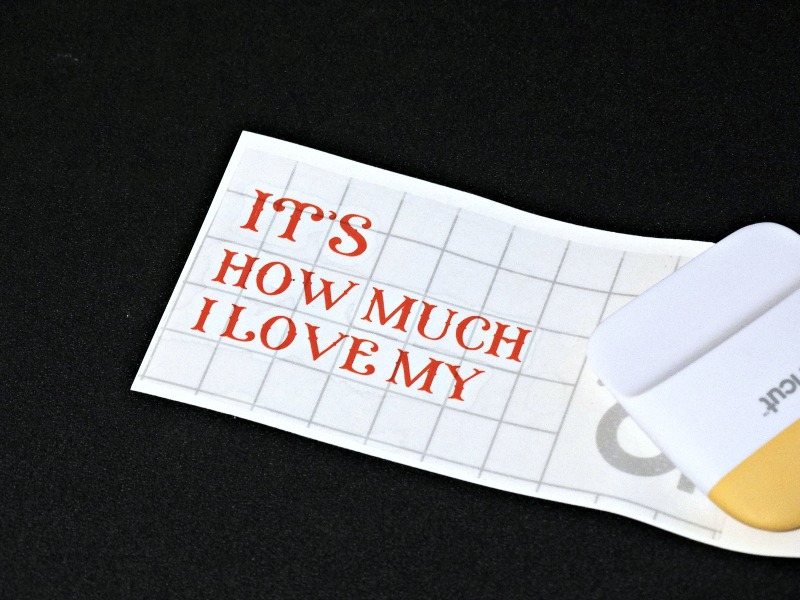 Next, turn each piece of the design over and gently peel the original backing away from the vinyl leaving the words and images imprinted onto the transfer tape. Lay each piece of the design (one at a time) on the mug where you want it.
Go over it a few times using a Cricut spatula or a credit card edge to ensure the vinyl sticks to the mug, and then slowly peel off the transfer tape. Repeat for each piece of the design.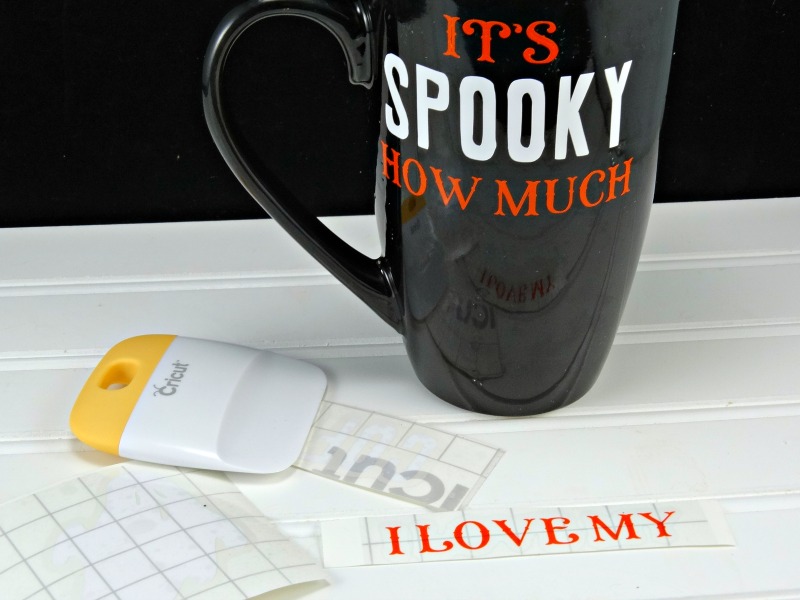 And that's it! Cute, isn't it?! Make sure you wait at least a day before using the mug to give the vinyl time to fully adhere to the mug.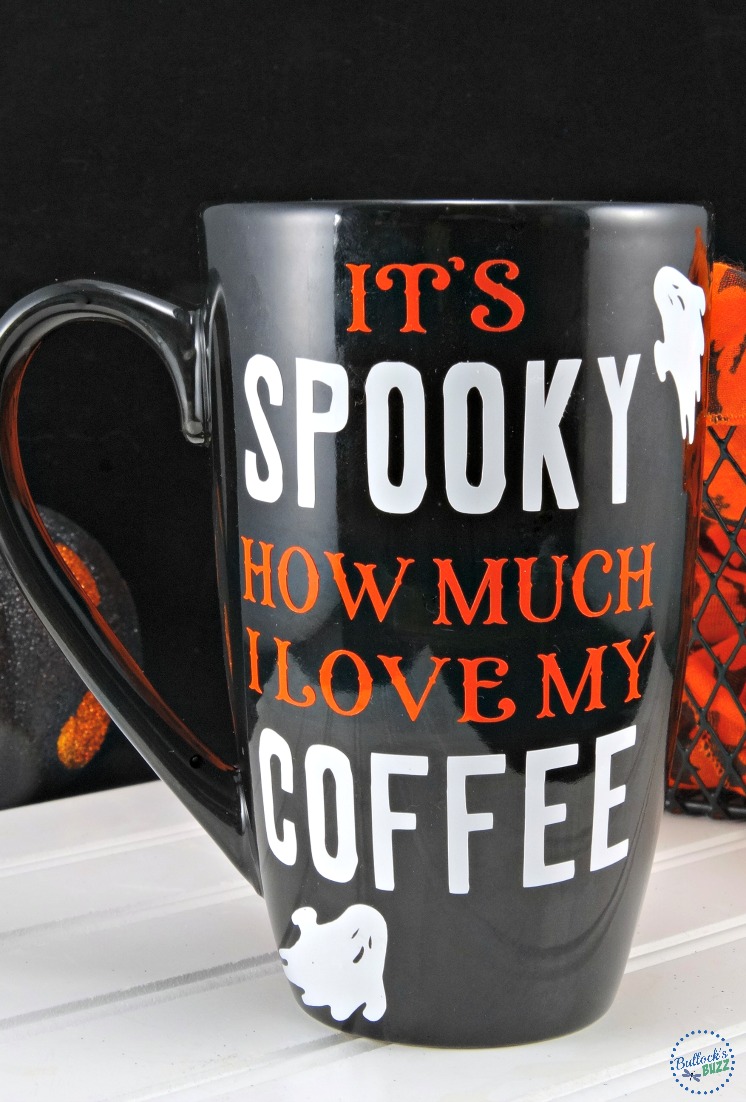 Even though the vinyl is supposed to be dishwasher safe, I recommend hand washing the mug so it will last a long time.
Hazelnut Mocha Delight Coffee Recipe
Now that your Halloween coffee mug is finished, how about a delicious coffee recipe to pour in it? This Hazelnut Mocha Delight coffee recipe is one of my fall favorites. Made with Dunkin' Donuts Dark Roast, chocolate syrup, hazelnut syrup, and a few other tasty ingredients, it's heaven in a mug!
Hazelnut Mocha Delight Coffee Recipe Ingredients
3 tbsp Dunkin' Donuts Dark Roast
2 tbsp chocolate syrup
2 tbsp Hazelnut syrup
1/4 tbsp vanilla syrup or extract
1/4 cup whole milk
whipped cream (optional)
chocolate shavings (optional) Tip: simply use a chocolate candy bar and a carrot peeler
Coffee Instructions
Making this delcious coffee recipe is a breeze! As is, this recipe makes a single mug of coffee.
While the coffee brews, place chocolate syrup, hazelnut syrup, vanilla, and whole milk in a mug.
Microwave for 30 seconds
Add brewed coffee to the mug, stir to combine
Top with whipped cream and chocolate shavings.
Enjoy!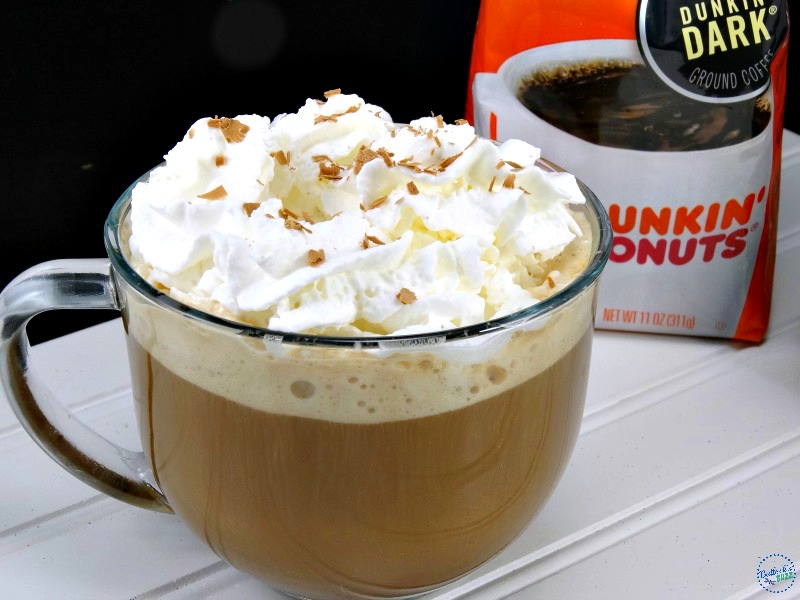 Halloween Gift Basket Idea
If you need a creative Halloween treat, why not make a coffee lover's gift basket using your DIY Halloween coffee mug? Simply find a cute basket, line it with Halloween-themed tissue paper, fabric, or anything else you'd like.
Include the coffee mug, a coffee scoop, and a bag of Dunkin' Donuts Dark Roast or any other tasty flavor! I added Dunkin' Donuts Pumpkin Spice in mine to go along with the Fall/Halloween theme.
Dunkin' At Home
Speaking of Dunkin' Donuts, did you know you can enjoy your favorite signature Dunkin' Donuts coffee from the comfort of your home? I'm talking all of your favorite roasts including Seasonal flavors and even a Bakery Series!
And if you haven't tried the Dunkin' Donuts Bakery Series, you are seriously missing out! There are all sorts of amazing flavors including Cinnamon Coffee Roll, Vanilla Cupcake, Blueberry Muffin, and even Caramel Coffee Cake! It's a liquid dessert in a cup! Dunkin at Home coffees come in both bags and K-cups and can be found at your favorite grocery.
Get Social with Dunkin' Donuts: Website | Facebook | Twitter
Love this DIY Halloween craft? Share it with friends and family by using the social share buttons right below the post title! And then…
Check out these DIY Halloween Craft Candy Treats!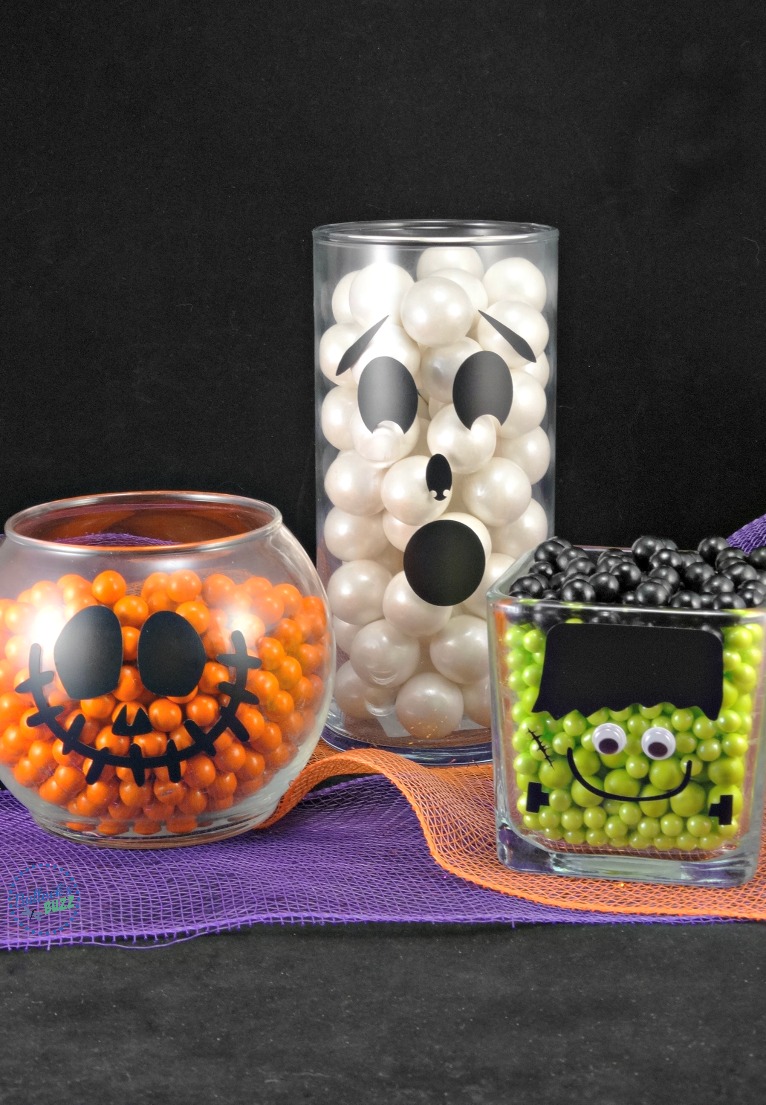 Do you have a favorite coffee recipe you like to make with Dunkin' Donuts coffee? Share with us below!

LET'S BE FRIENDS! STAY UP TO DATE ON ALL BULLOCK'S BUZZ FUN BY FOLLOWING ME ON:
FACEBOOK | TWITTER | PINTEREST | INSTAGRAM | GOOGLE+
Enjoy this post? Subscribe to our newsletter so you'll never miss another!
Subscribe to Newsletter