Filled with candy, these fa-boo-lous DIY Halloween Treat Jars are a quick and easy Halloween craft that can be used as decor, placed on a candy buffet, or given as a sweet treat!
Add some extra sweetness and fun to your Halloween celebration with these fa-boo-lous DIY Halloween Treat Jars!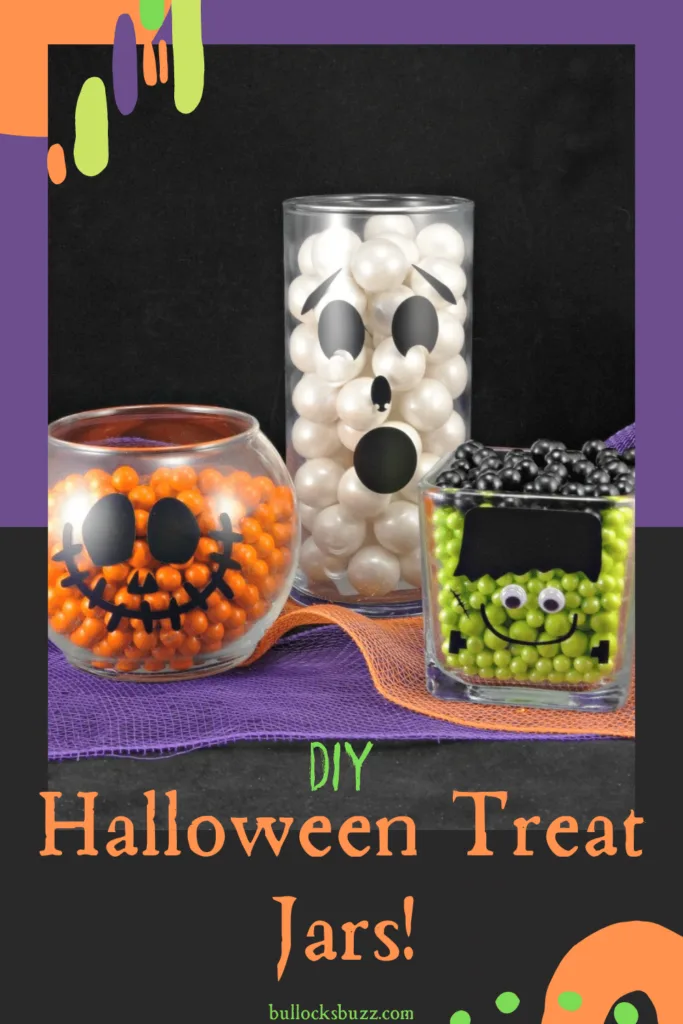 When you think of Halloween, what's the first thing that comes to mind? For me (and my incurable sweet tooth) it's candy!
Candy is definitely the sweetest part of Halloween, especially since you can do more than just eat it. You can also use it to make spooky DIY Halloween treat jars and other crafts, too!
DIY Halloween Treat Jars: Spook-tacular DIY Halloween Craft Tutorial
Below you'll find a spooktacular Halloween craft tutorial on how to make this faboolous set of DIY Halloween Treat Jars along with a list of supplies and directions for making each one. They are perfect for any party, and the best part is they are quick and easy!
Ready to see how to make these DIY Halloween candy jars?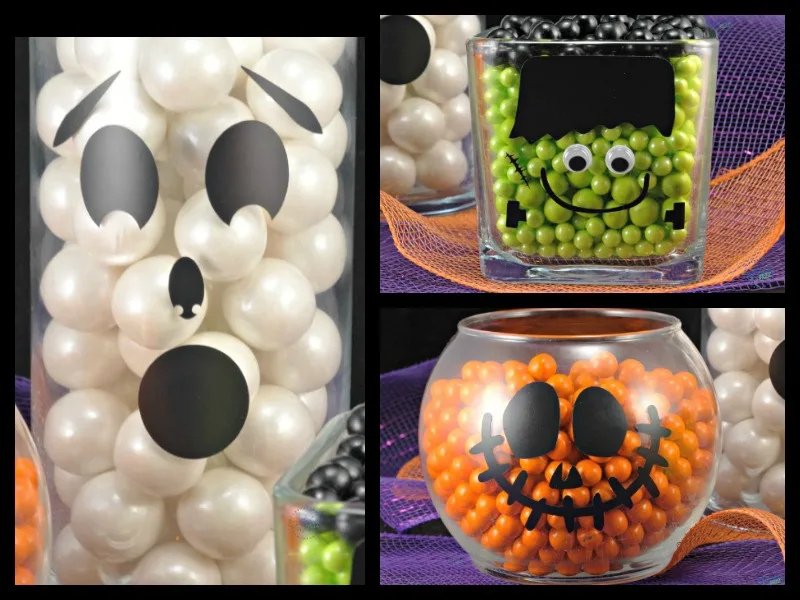 How to Make DIY Halloween Candy Jars
These spooktacular DIY Halloween Treat Jars are so easy to make and fun! They are perfect for Halloween parties, self-serve Halloween Candy bars, or to use as decor. And the best part is, they cost very little to make!
While I used my Cricut machine to make the faces, if you don't have one, no worries! Simply use a black marker or black craft paint instead. You can find all sorts of spooky or silly Halloween face templates online or you can make your own!
Ready to get started?
Disclosure: This blog post contains affiliate links for products I think you'll love. If you make a purchase from one of these links, I will make a small commission at no additional cost to you. As always, I only recommend products that I have (or have had), use, and love.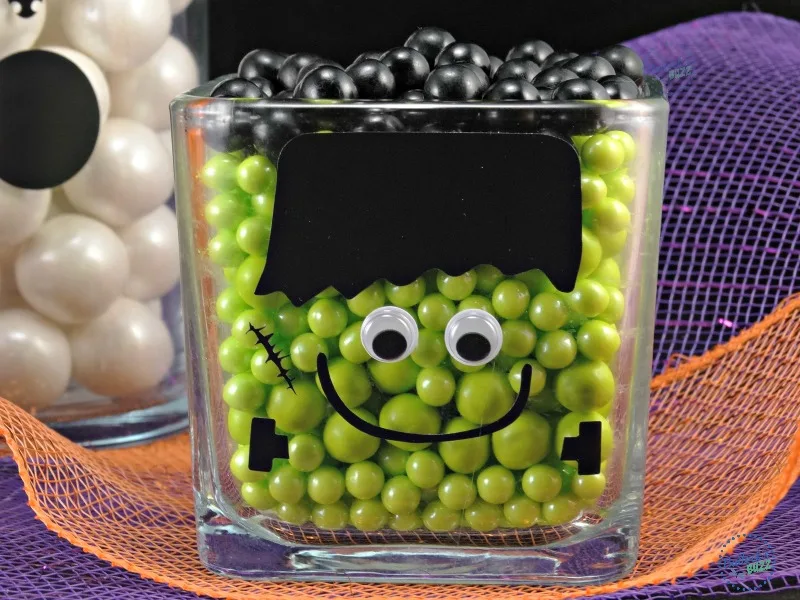 Supplies You Will Need to Make DIY Halloween Treat Jars
To make these cute candy jars you will need some common supplies.
If you are using a Cricut or other machine, keep in mind that I used a few different sources for the faces which I found on Etsy. However, as the years have passed, many of these SVG files are no longer active. But you can easily find similar files by doing a search. To help you out, I linked to some Etsy searches below which will pull up similar SVG design files that you can use.
If you are making the faces by hand, you will need the first five supplies listed above (everything except the vinyl and related tools) plus:
DIY Halloween Candy Jars Instructions
In addition to being easy-to-make, these super cute DIY Halloween Candy Jars take mere minutes to make. In fact, I had mine ready to go in less than an hour!
STEP ONE: CLEAN JARS
Begin by cleaning the outside of your containers with rubbing alcohol to remove any grease or dirt. Once it's clean, try to avoid touching it anywhere other than the inside.
STEP TWO: OPEN NEW PROJECT IN DESIGN SPACE
Next, open up a new project in Cricut Design Space.
Begin adding the images. I used the files listed above.
For Frankenstein, I unattached the image and used his hair, scar, mouth, and eyes only.
STEP THREE: RESIZE IMAGES
Resize the images to fit your specific containers. Most of mine were between 2″ and 3″ in width.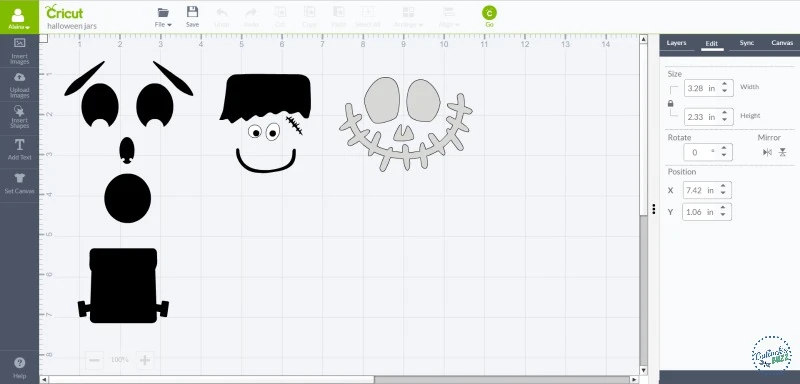 STEP FOUR: CUT VINYL FACES
Once your design is ready to be cut, place your vinyl on the mat.
Set your machine to Vinyl, and hit 'Go'.
Sit back and relax while it does its thing.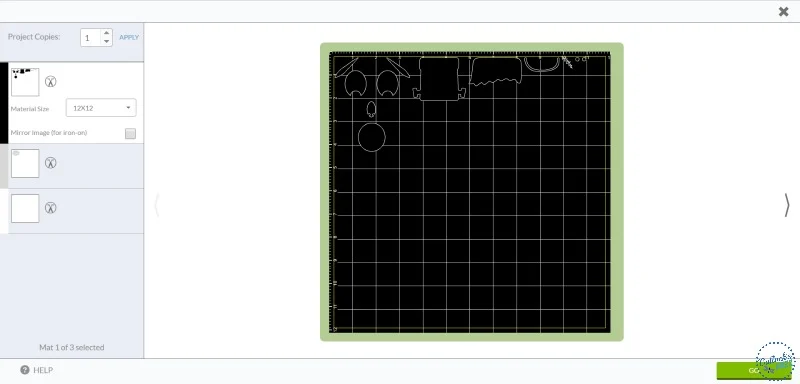 STEP FIVE: WEED VINYL
Once everything is cut, carefully remove the vinyl from the mat.
Then, slowly peel off all excess vinyl surrounding the design you will not need. Use the weeding tool to remove any remaining vinyl you do not need.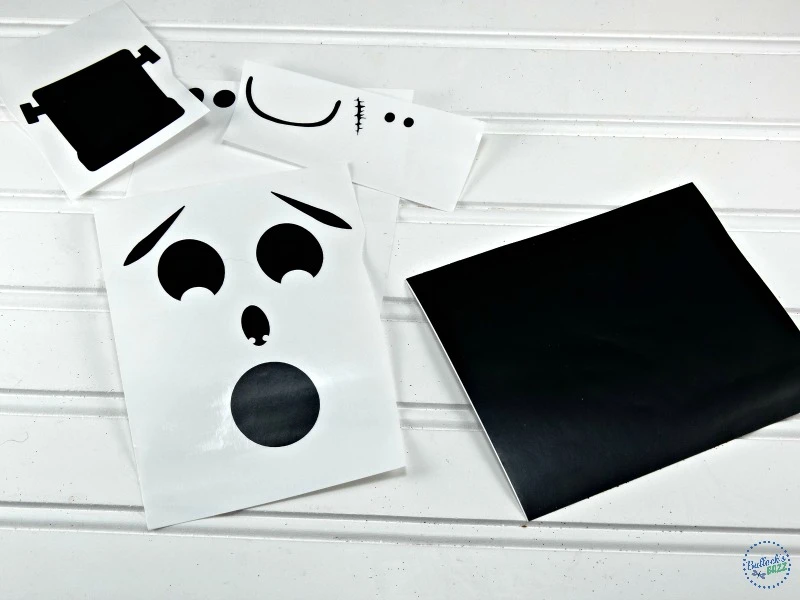 STEP SIX: TRANSFER FACES TO CONTAINERS
Cut a piece of transfer tape to size.
Peel the backing off of the transfer tape and apply the grid-side over each design.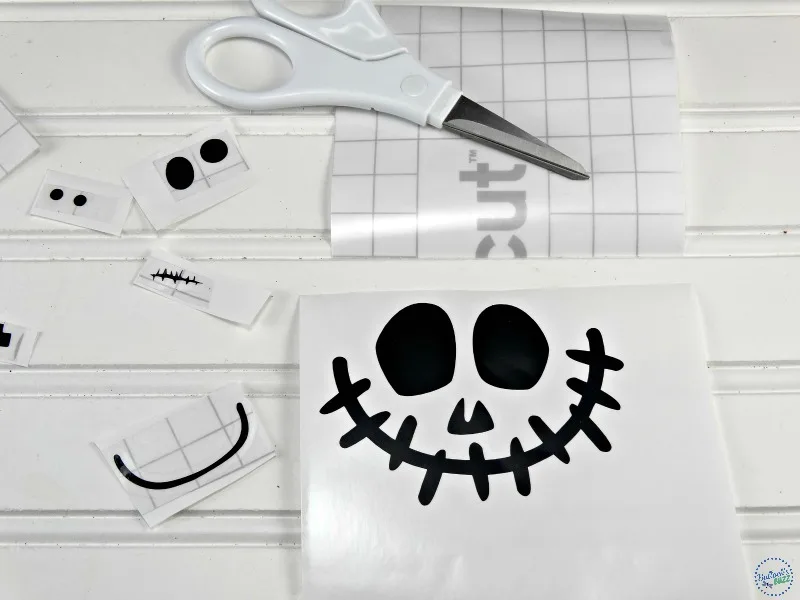 Next, peel the original backing away from the vinyl leaving the images imprinted onto the transfer tape.
Add the images to the containers.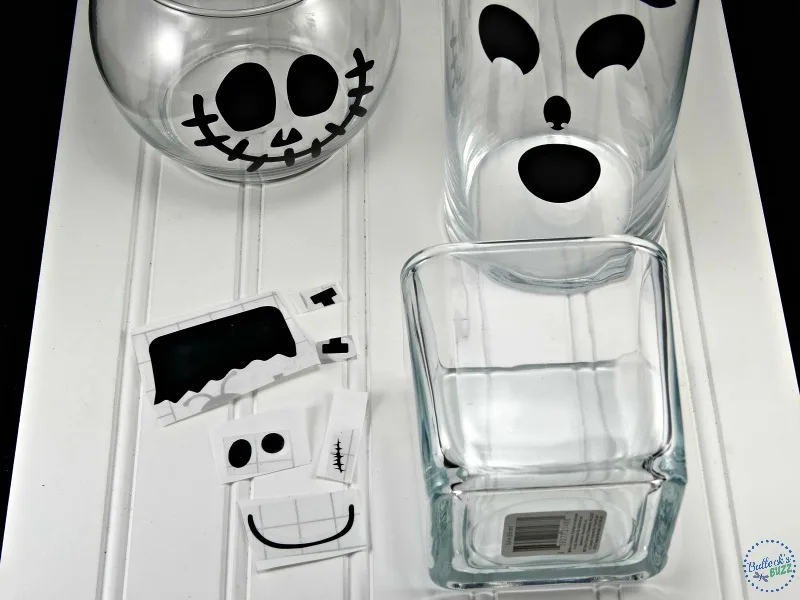 STEP SEVEN: FILL WITH CANDY
Fill the Jack o' Lantern candy jar with orange Sixlets
Fill the Frankenstein candy jar with green Sixlets first, then top off with black Sixlets for the hair
Fill the ghost candy jar with white Gumballs.
Don't these spooktacular Halloween candy jars look fa-boo-lous?!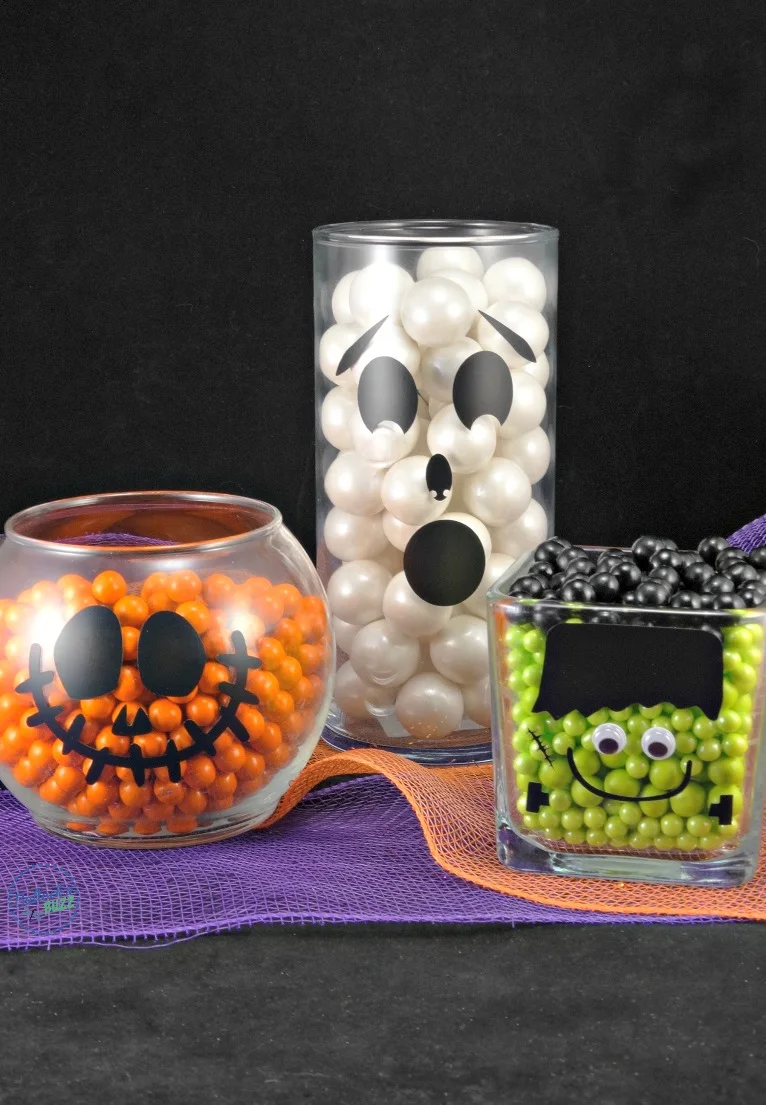 Like It? Love It? Share It!
I hope you love this DIY Halloween Treat Jars craft as much as I do! They are so easy and fun to make! If you decide to make them, I'd love to see how they turned out!
Nothing makes me happier than seeing your take on my crafts. So, tag me at @bullocksbuzz (Instagram and Facebook) or @alainabullock (on Twitter). And be sure to use #BullocksBuzz so I can see your creation and so can everyone else!
If you get a chance, please comment and leave me a ⭐⭐⭐⭐⭐ rating on the printable craft card below!
And don't forget to share this craft with friends and family by using the social share buttons right below the post title!
More Halloween Crafts
if you like these DIY Halloween Candy Jars, then I bet you will love these other Halloween crafts!
And be sure to check out these DIY Halloween Ornaments shown in the picture below, too (post coming soon)!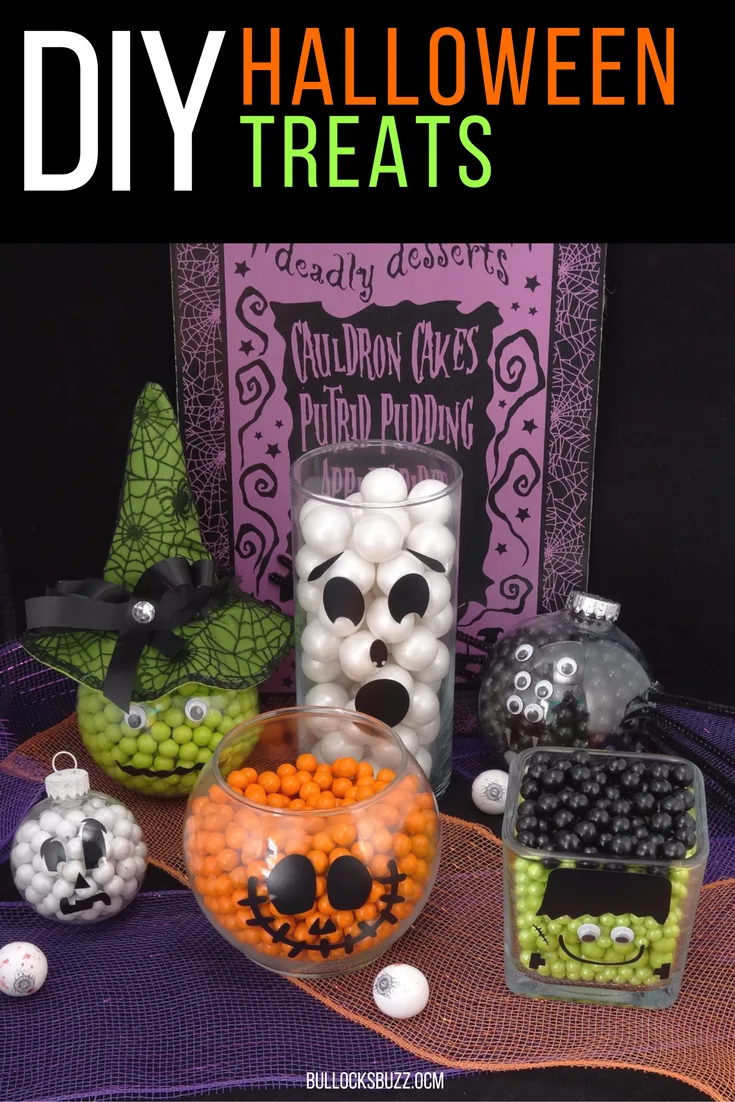 Looking for a similar Thanksgiving craft? Check out these DIY Thanksgiving Turkey Treats!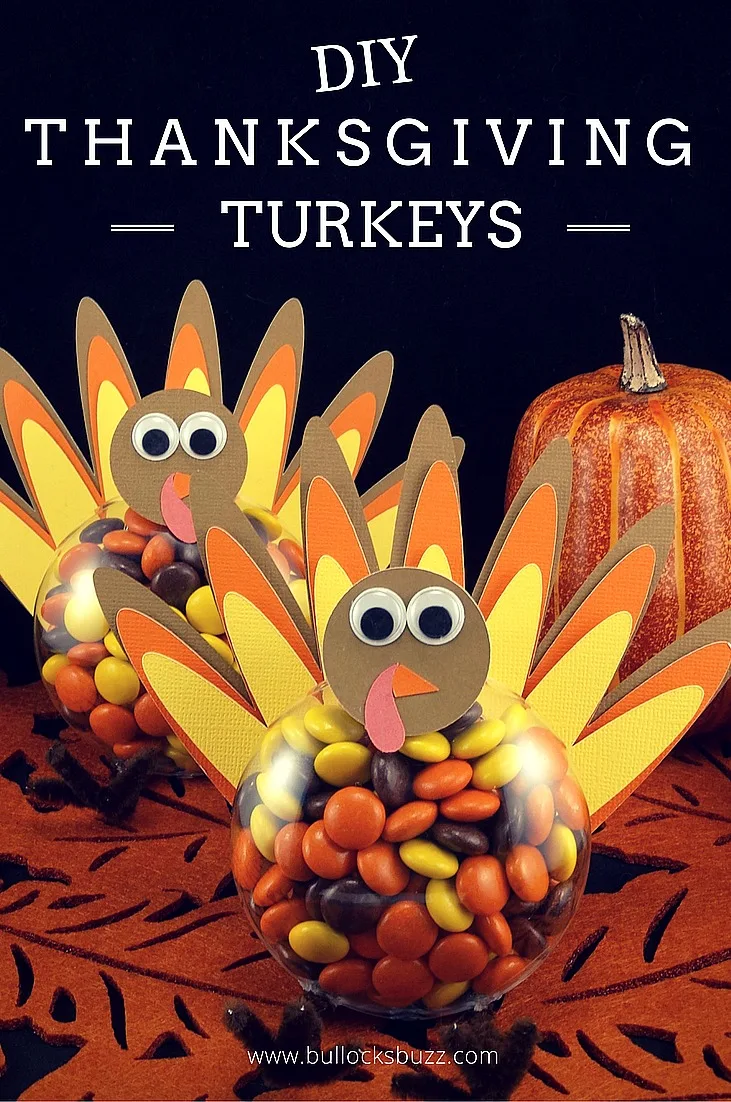 LET'S BE FRIENDS! STAY UP TO DATE ON ALL BULLOCK'S BUZZ FUN BY FOLLOWING ME ON:
FACEBOOK | TWITTER | PINTEREST | INSTAGRAM |
Enjoy this post? Subscribe to our newsletter so you'll never miss another!
Subscribe to Newsletter