DIY Halloween Crafts: Spook-tacular Candy-Filled DIY Halloween Treats Tutorial
Add some extra sweetness and fun to All Hallow's Eve with these fun and simple DIY Halloween Treats!

When you think of Halloween, what's the first thing that comes to mind? For me, and my incurable sweet tooth, it's candy! Candy is definitely the sweetest part of Halloween, especially since you can do more than just eat it. You can also use it to make spooky DIY Halloween treats, too! This year I'm using Celebration by Frey™ and Sixlets® products to make two extra eerie DIY Halloween Crafts!
Celebration by Frey and Sixlets products provide a fun, easy, and affordable way to make your Halloween the most memorable one ever! Not only do their candies taste delicious, but they also make great decor!
Below you'll find two simple DIY Halloween treats along with a list of supplies and directions for making each one. They are perfect for any party, and the best part is you can eat them when you're done!
Ready to see how to make these Halloween treats?
DIY Haunted Halloween Candy Jars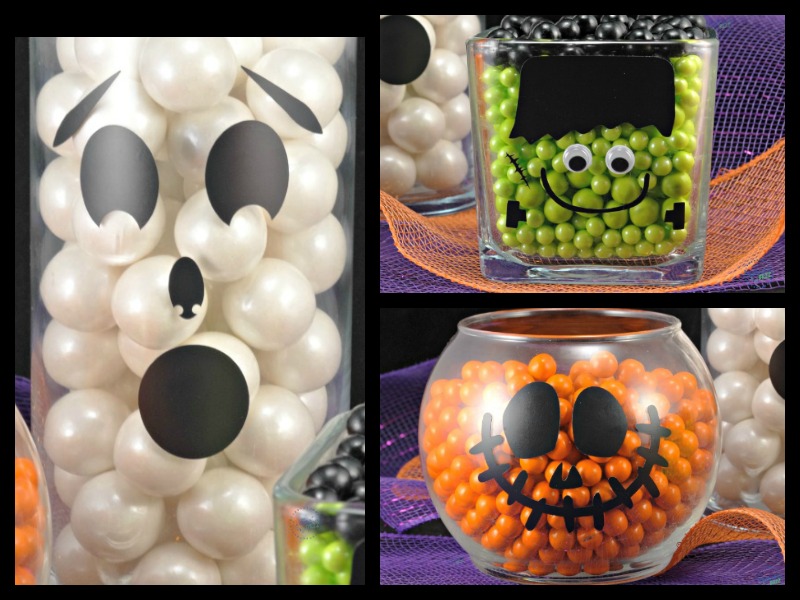 * I used a few different sources for the faces, but you can use whatever you'd like. Don't have a die cutting machine? No problem! Simply use black paint! You can find all sorts of templates online or make your own.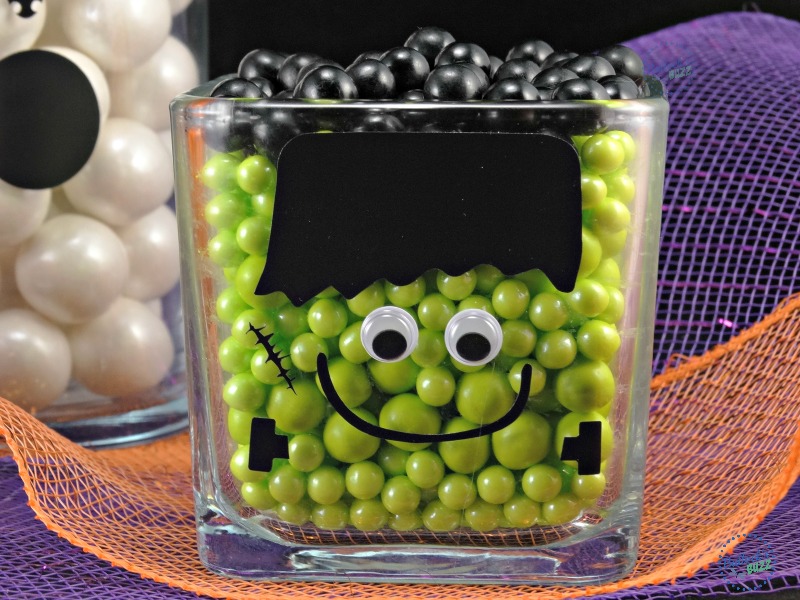 Supplies to Make DIY Haunted Halloween Candy Jars
Please note, I added Amazon affiliate links to make shopping easy. If you make a purchase through these links, I'll make a small bonus at no extra charge to you:
3 glass or plastic containers in your choice of size and shape

Rubbing alcohol for cleaning the glass containers

Cricut or other die cutting machine
Black waterproof vinyl such as Oracle 651

Transfer tape

Cricut Halloween pumpkin face (I searched for Halloween in Design Space)

18 Jack o Lantern svgs Pumpkin Faces Digital File by KellyLollar Designs

Frankenstein's Monster svg Digital File by ESIdesignsdigital

Candy including black, orange, green Sixlets (aff. link)

White gumballs by Sweetworks(aff. link) (aff. link.)
(If you are an Amazon Prime member or like shopping through Amazon, to purchase any of the necessary items, just click them in the above list. I have links embedded in each to make things easier on you! These are affiliate links so if you make a purchase using them, I'll make a small commission at no extra cost to you).
How to Make DIY Haunted Halloween Candy Jars
Begin by cleaning the outside of your containers with rubbing alcohol to remove any grease or dirt. Once it's clean, try to avoid touching it anywhere other than the inside.
Next, open up a new project in Cricut Design Space. Begin adding the images. I used the files listed above. For Frankenstein, I unattached the image and used his hair, scar, mouth, and eyes only. Make sure you resize the images to fit your specific containers. Most of mine were between 2″ and 3″ in width.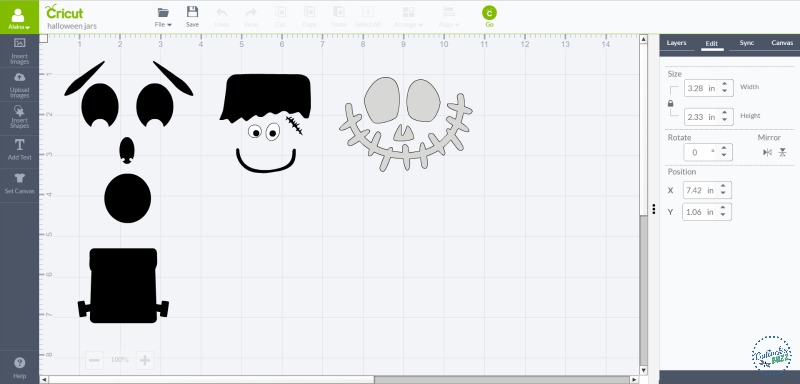 Once your design is ready to be cut, place your vinyl on the mat, set your machine to Vinyl, and hit 'Go'. Sit back and relax while it does its thing.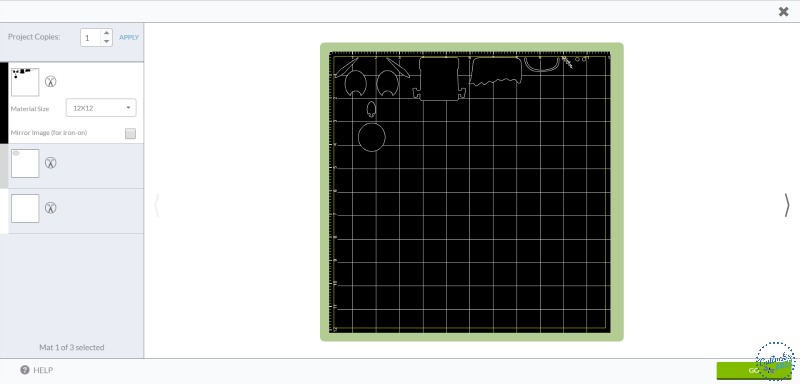 Once everything is cut, carefully remove the vinyl from the mat. Then, slowly peel off all excess vinyl surrounding the design you will not need. Use the weeding tool to remove any remaining vinyl you do not need.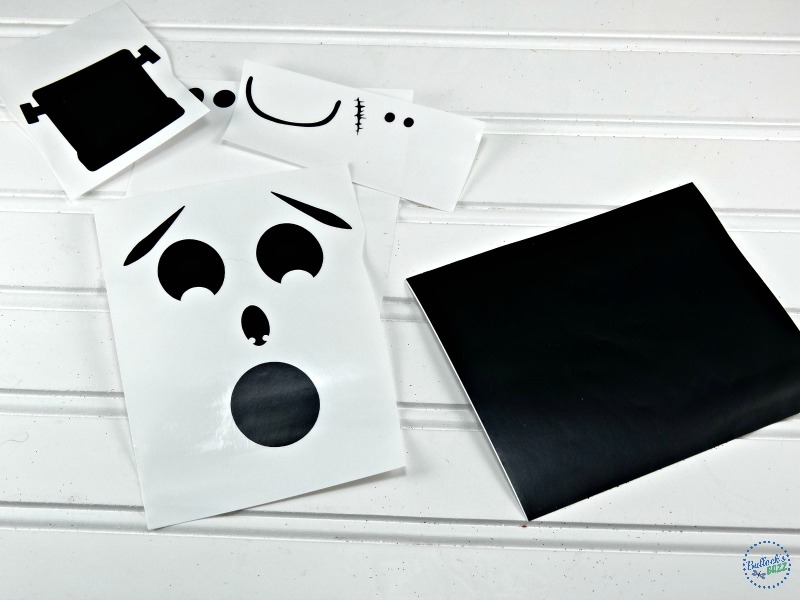 Now cut a piece of transfer tape to size. Peel the backing off of the transfer tape and apply the grid-side over each design.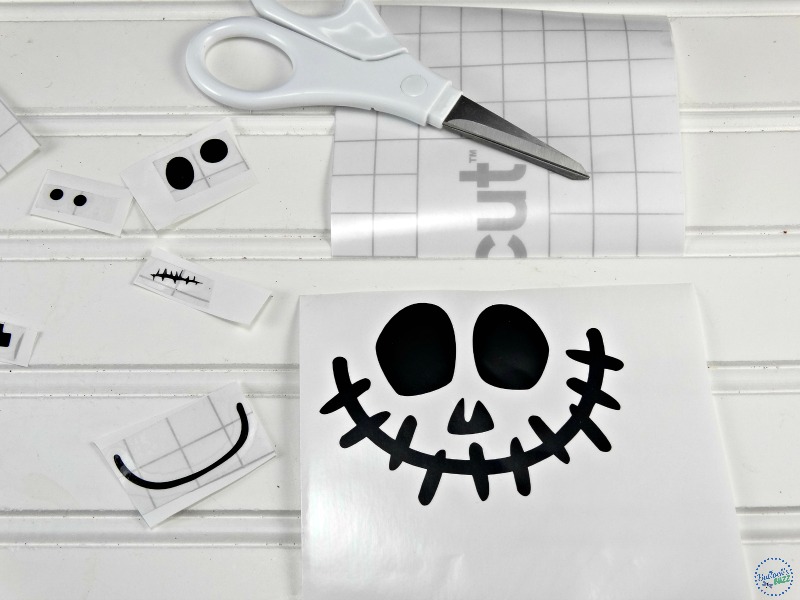 Next, peel the original backing away from the vinyl leaving the images imprinted onto the transfer tape. Now all that's left to do is add the images to the container.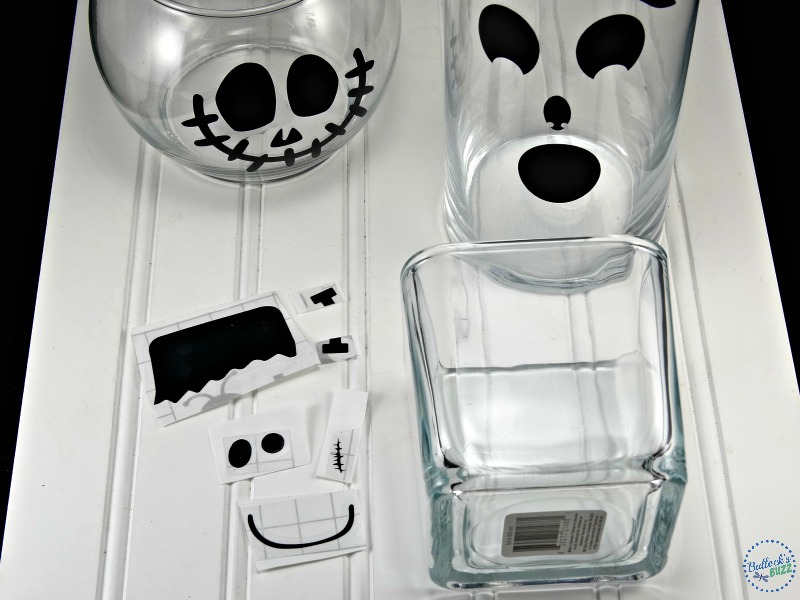 Once finished, fill each container with the candy. I used Orange Sixlets for the Jack O Lantern, Green Sixlets for Frankenstein along with Black Sixlets for his hair. The ghost is Celebration by Frey White Gumballs.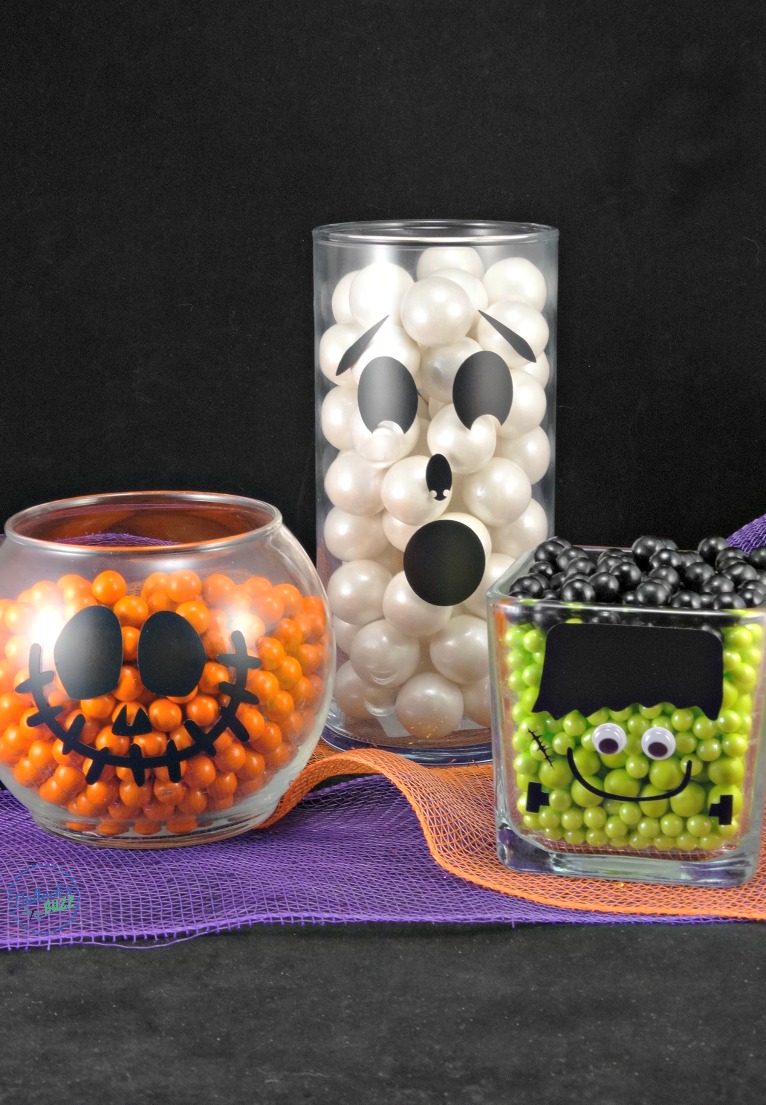 These cute candy jars will look great on a candy buffet! Ready to see how to make the second of our Halloween treats?
Wacky Witch, Ghoulish Ghost, and Silly Spider Halloween Treats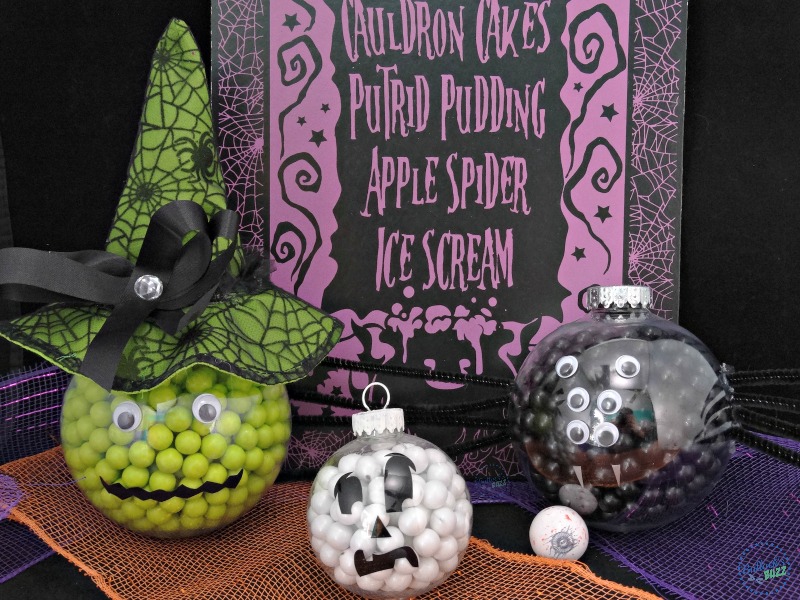 Supplies to Make Candy Jars
Clear plastic ornaments

Wiggly Eyes

4 black pipe cleaners for spider's legs

Miniature witch hat (found mine at the local dollar store. It was part of a headband)

A black marker or die cutting machine to make the witch's mouth

A silver paint pen, silver craft paint, or silver vinyl for spider's fangs

Hot glue gun and glue sticks
How to Make Candy Jars

For The Wacky Witch
Begin by filling the ornament with green Sixlets.

Next, using hot glue, secure the witch hat to the ornaments 'lid'.

Then, using either hot glue or regular school glue (if you want to eat the candy), adhere the ornament's lid in place.

Next, glue on the witch eyes, then either draw the mouth on or use your die cutting machine.
And there's your wacky witch!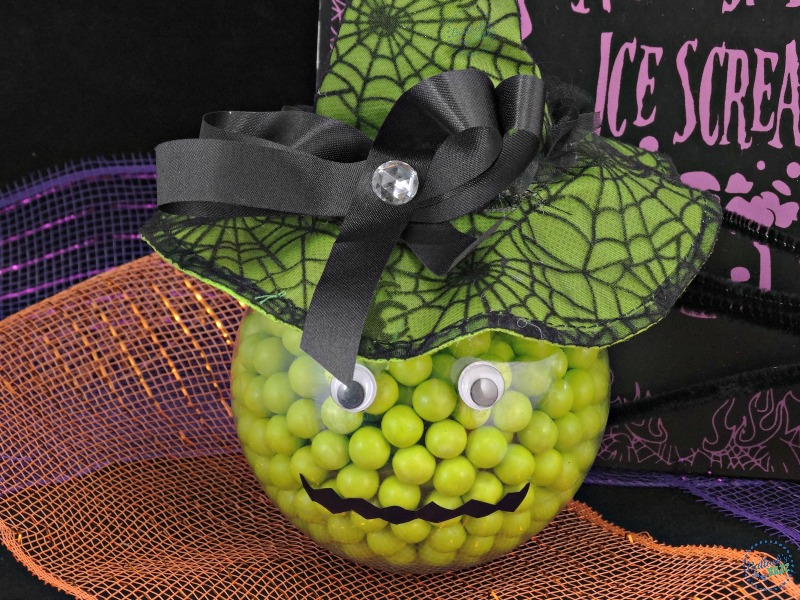 For the Silly Spider
Begin by filling the ornament with black Sixlets.

Next, cut each pipe cleaner in half. Use the hot glue to attach four legs on each side of the spider's body. I found it easiest to make a small 90° bend at the end of each leg and then attach it to the body.

Next hot glue six eyes on your spider.

Last, using either a paint pen or your die cutting machine, add two tiny fangs.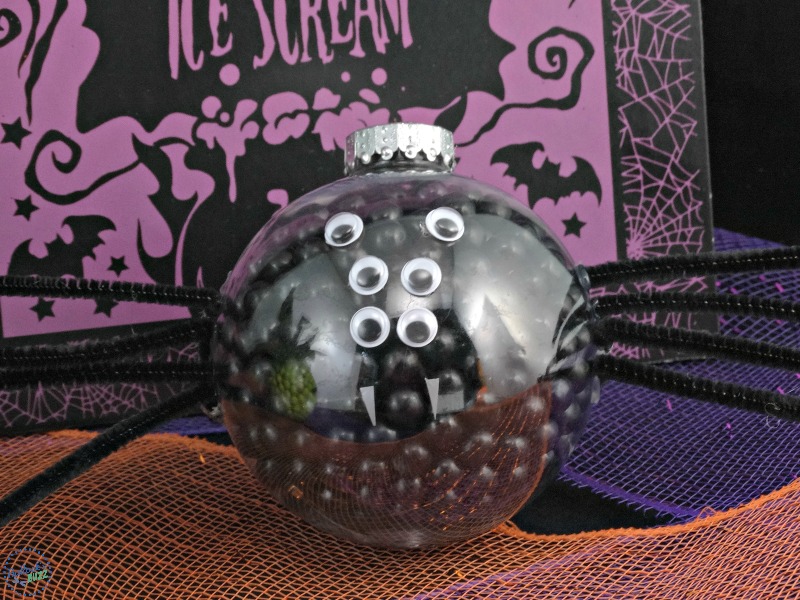 And there you have one silly spider to go along with your wacky witch!
For the Ghoulish Ghost
First, paint the 'lid' white.

While that dries, fill the ornament with white Sixlets.

Next, prepare the face in Cricut Design Space, then use your machine to cut the vinyl.

Now all that's left is to add the vinyl facial features (or paint them on), place the 'lid' back on, and you're finished!
Aren't these candy-filled ornaments adorable?
Check out my other Halloween ornaments here along with step-by-step instructions.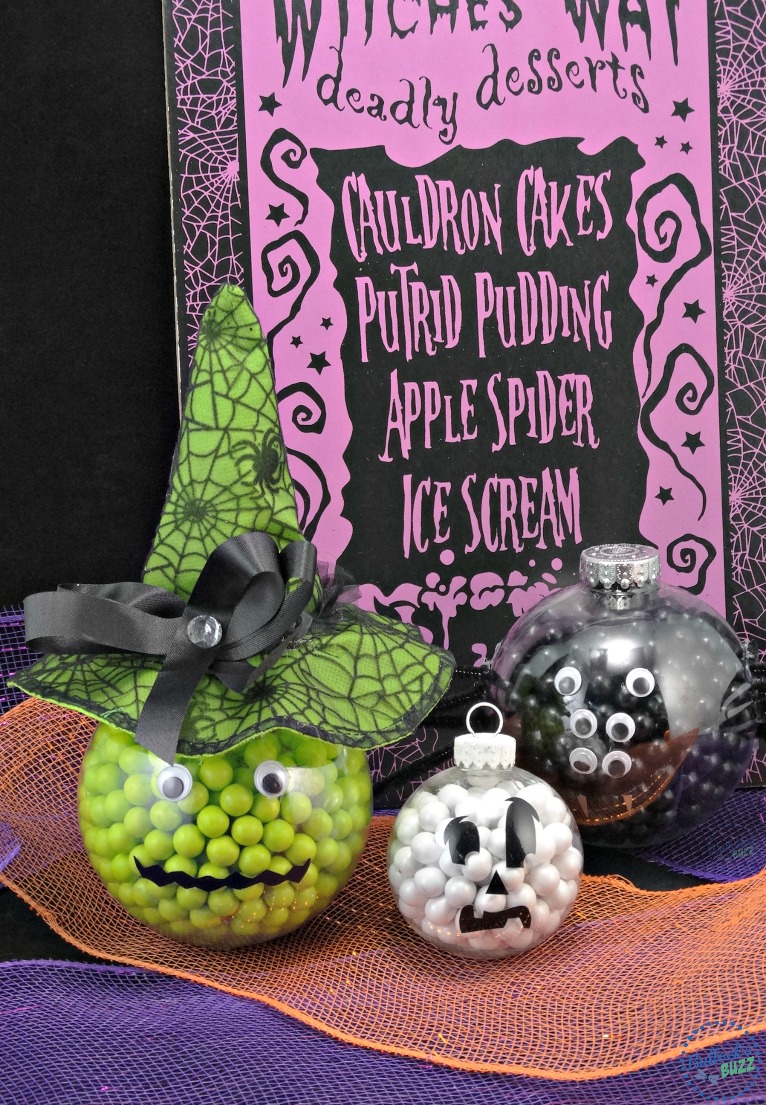 Celebration by Frey offers a huge assortment of candies that are perfect for creating spooky displays and decor that will delight scare your family and friends! You can find the Celebration by Frey™ and Sixlets® candies at your favorite retailers around the country including Walmart, Hobby Lobby, Wegmans, Meijer and many more!
Love this DIY Halloween craft? Share it with friends and family by using the social share buttons right below the post title! And then…
Check out these DIY Thanksgiving Turkey Treats!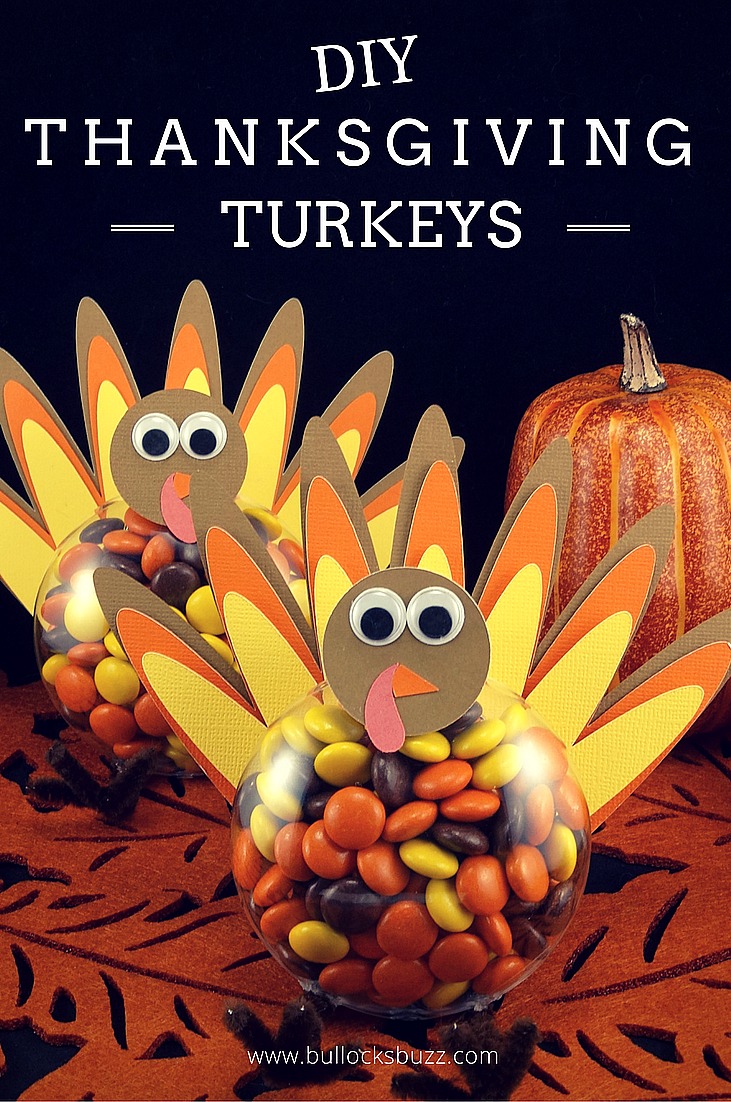 LET'S BE FRIENDS! STAY UP TO DATE ON ALL BULLOCK'S BUZZ FUN BY FOLLOWING ME ON:
FACEBOOK | TWITTER | PINTEREST | INSTAGRAM |
Enjoy this post? Subscribe to our newsletter so you'll never miss another!
Subscribe to Newsletter