SPONSOR SPOTLIGHT
EmoSPARK Upcoming IndieGoGo Campaign

Remember all of those movies you watched as a child about artificial intelligence (AI) and how it seemed like something that was so cool, yet so far away in the future? Well guess what, that future has arrived in the form of EmoSPARK, the world's first Artificial Intelligence Console!
EmoSPARK is an Android-powered WiFi/Bluetooth cube that allows you to create and interact with an emotionally intelligent device through conversation, music and visual media. It enables you to transfer your emotions and desires directly onto a digital platform that is completely empowered by you. It measures your behavior and emotions to create an emotional profile which it uses to improve your mood and keep you happy, and with your interaction, time and experience, EmoSPARK will develop a distinct personality of its own quickly becoming a virtual member of the family.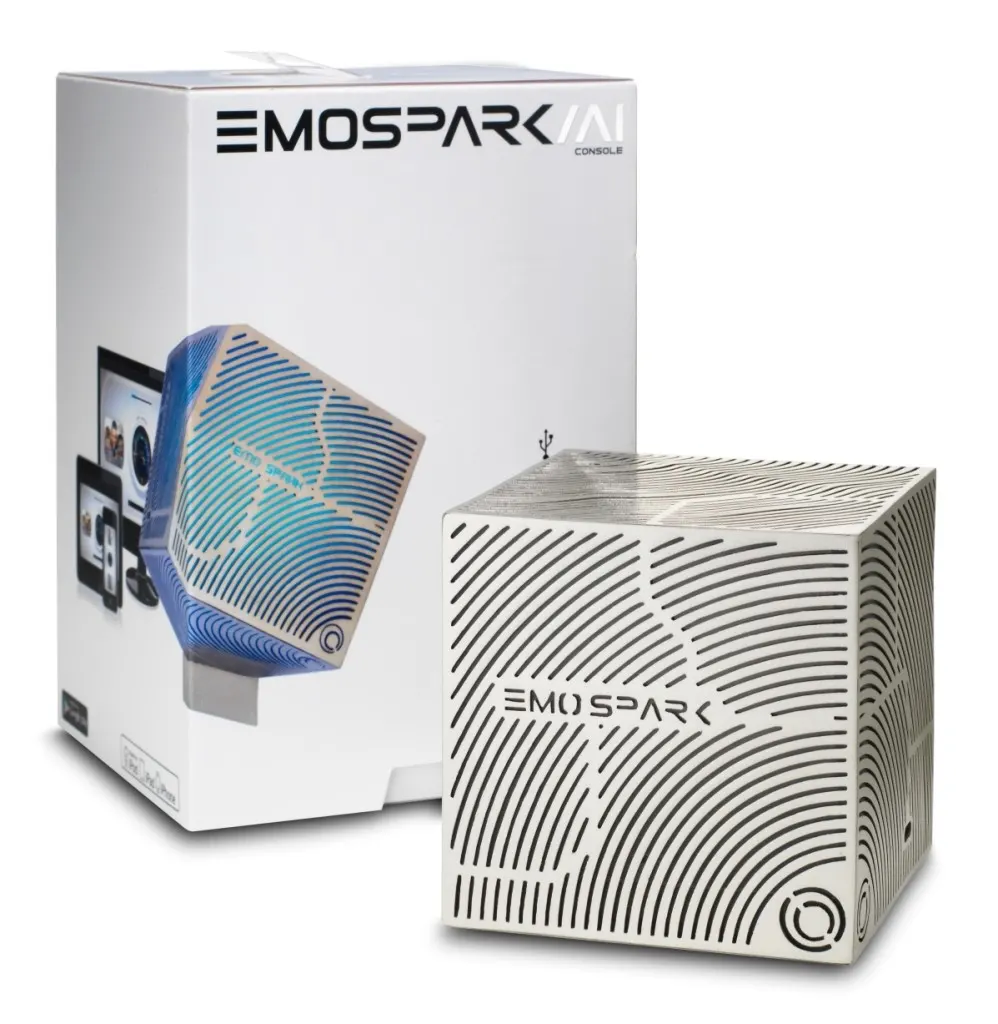 EmoSPARK learns to interact with you and your family on a conversational level, taking note of your feelings and reactions to audio and visual media, learning your likes and dislikes, and recognizing what makes you happy. The more you interact with EmoSPARK, the more it learns.
It has a conversational engine with over 2 million lines of data, and the more you chat with EmoSPARK, the more its understanding develops based on the context of your interaction. As you interact, the cube also takes note of your feelings and your reactions to both audio and visual media. learning to like what you like and to recognize what makes you happy. Feeling down in the dumps? EmoSPARK will eventually recognize this and attempt to cheer you up by playing the music it knows you like or by recalling a photograph or short video of a happier time.
As EmoSPARK learns to recognize you and your family members by face and voice, you too will learn to recognize EmoSPARK and what it is "feeling". Yes, EmoSPARK can actually "feel" an infinite variety of emotions from inside the emotional spectrum that is based on 8 primary human emotions: Joy, Sadness, Trust, Disgust, Fear, Anger, Surprise and Anticipation. With its unique Emotion Processing Unit, you will learn to recognize what it is "feeling" at any given moment by watching the vast array of ever-changing colors that represents how EmoSPARK is "feeling".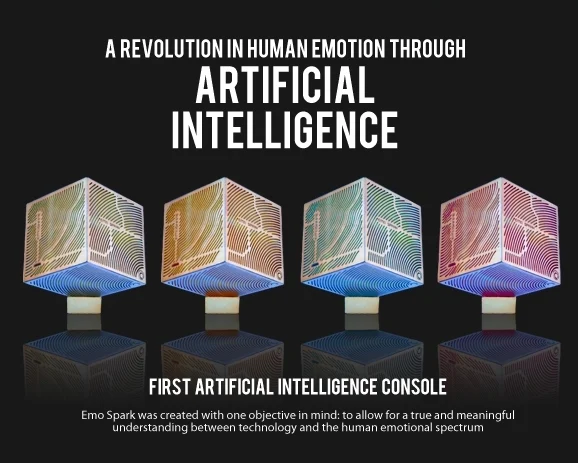 But that's not all. EmoSPARK is also connected to Google, Wikipedia and Freebase via WiFi and is able to answer questions on 39 million topics instantly. It is also connected to the NASA satellite MODIS, giving you to access up to the minute information on global happenings such as such as earthquakes, storm warnings and more. Over time, as you help it 'grow', EmoSPARK will in turn help you out with any piece of information you care to ask making it one of the best sources of information. Just ask a question, and EmoSPARK will provide the answer!
You can even interact with your cube by remote access, using your tablet, smart phone app, computer or television. You can hold meaningful conversations with your cube over your device, as well as share media and much more.
But despite all of this, EmoSPARK would be nothing without you. For every step of the way you are the catalyst that will develop its conversational and emotional skills. EmoSPARK learns through its interaction with you, learning all of its conversational skills, its comments and responses, from you and how you interact with it. You are always in control, every step of the way.
The EmoSPARK IndieGoGo Campaign
And this December, you can play an even bigger role in bringing EmoSPARK to life. In 27 days, the EmoSPARK IndieGoGo campaign will begin. People who are interested and sign up now will receive information about how to get a $25 discount when the IndieGoGo campaign starts, as well as information about becoming one of the 133 members of the EmoSPARK guild.
Sign up and be a part of bringing EmoSPARK to life!