This is a sponsored post by HoneyBaked Ham. I received free product and compensation; however, all opinions are my own.
Easter comes early this year, on April 5th! Are you ready?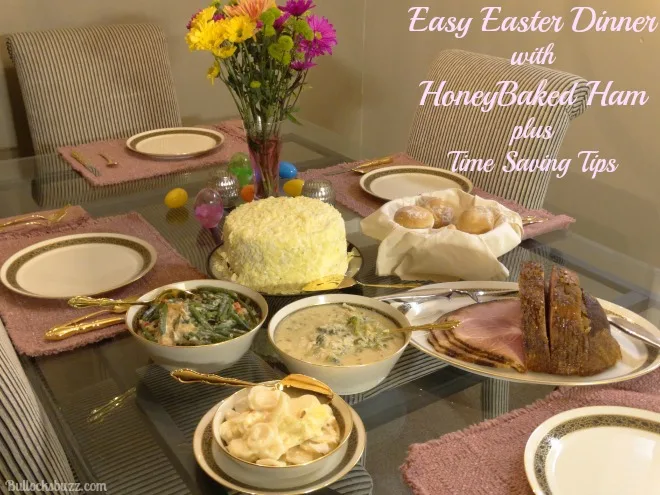 Easter is supposed to be about spending time with family and friends. Yet every year there is just so much to do – setting the table, preparing the food, decorating, dying Easter eggs, hiding Easter eggs, watching the kids – that you spend all of your time running around busy instead. This year save yourself some time and sanity with these tips for an easy and enjoyable Easter!
Plan Ahead
No matter how much time you think you will have to prepare, save yourself the stress and start at least a week early. Sit down with a pen and paper and make a list of everything you need to do. Figure out how many people are coming for dinner, plan your menu, think about your table setting, and make a list of whatever gifts and activities for entertainment you will need to have. A few days before Easter Sunday, head out to the store.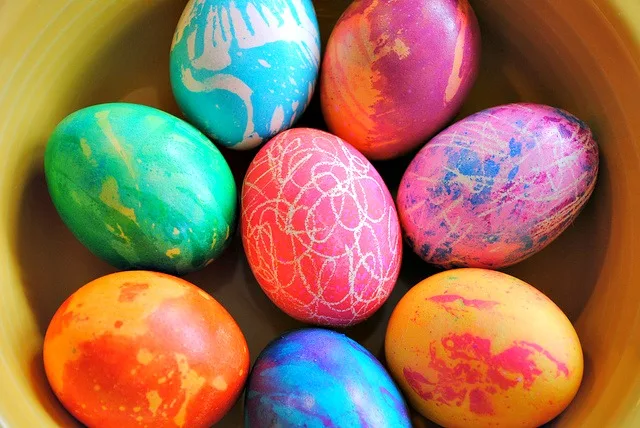 Tip: if you are having an Easter egg hunt, gather the family around a day or two before Easter Sunday, and start dying and decorating the eggs. They will be fine sitting in the refrigerator until it is time to hide.
Keep Decor Simple
I love setting a beautiful table especially for special occasions, but if there is one thing I have learned over the years it is to keep it simple. Less is more, especially when you want the food to be the main attraction.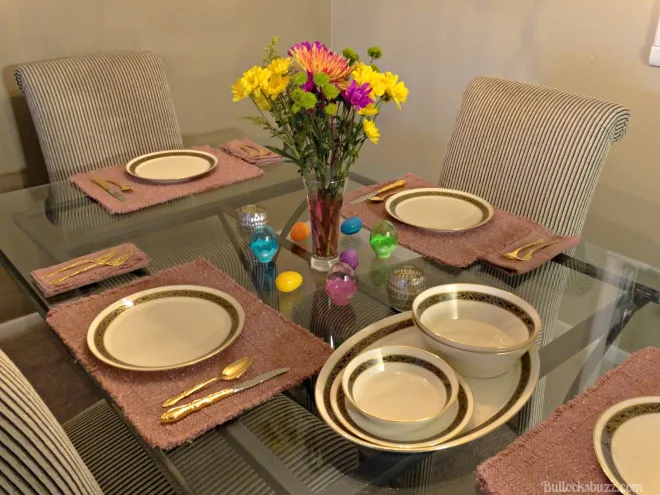 To save time, go ahead and set your table the day before, including whatever serving dishes you know you will need. I prefer to use my nice china together with Spring-colored cloth placemats and napkins. To pull it all together, a simple vase with a $10 bouquet of Spring flowers, surrounded by a few colorful Easter eggs and candles works wonders!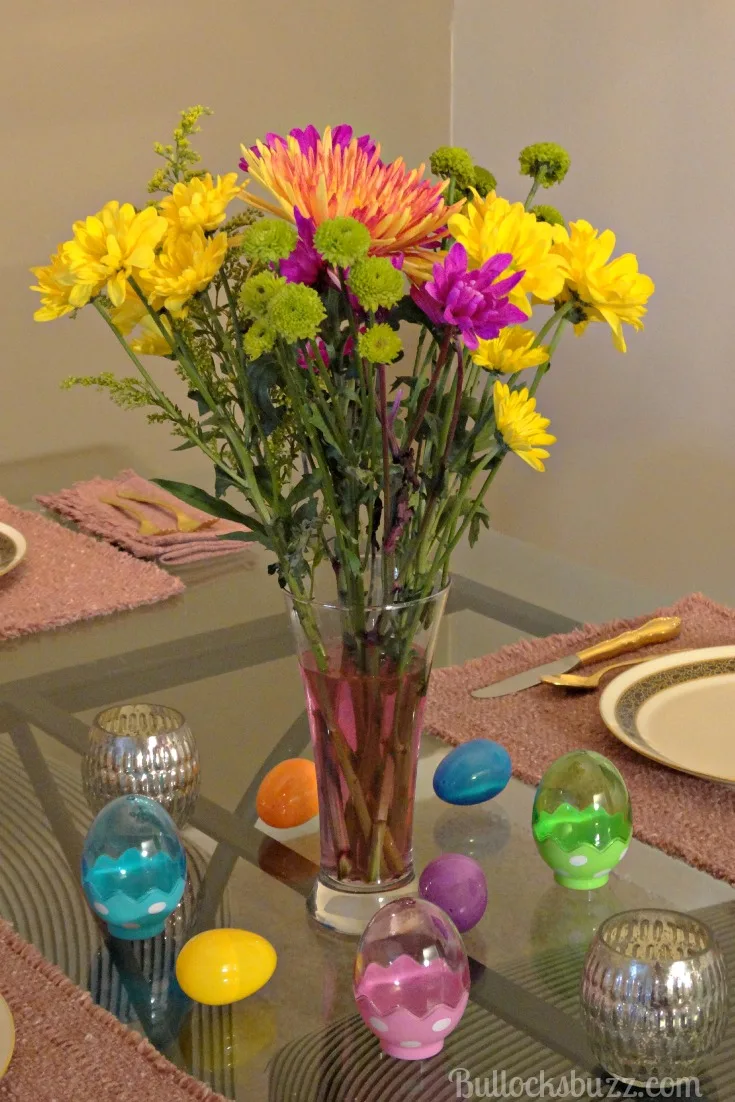 Tip: if you are having a crowd, save yourself the headache and hassle of having tons of dishes to wash and use a nice set of pretty paper plates instead.
Let HoneyBaked Ham Do the Cooking
Easter is a family celebration, so why should you spend all of your time in the kitchen? This year let HoneyBaked Ham help you have an easy and enjoyable Easter! For many, serving ham is an Easter tradition, and HoneyBaked Ham offers the best-tasting ham, that you and your family will love. Each mouth-watering, fully cooked and sliced ham is slow-smoked for more than twenty hours and then hand glazed in-store with their signature sweet, crunchy glaze. Serving sizes include a Half Ham for 12 to 20, a Quarter Ham/Mini Ham for 6 to 8, and ham slices available by the pound. Or if ham is not what you want, they also offer an incredible Turkey Breast which comes fully cooked, sliced and glazed with HoneyBaked Ham's sweet, crunchy glaze, and is large enough to serve 8 to 10 people. In addition they also offer a variety of delicious side dishes and desserts that are simple and quick to prepare (sides and desserts will vary depending on location).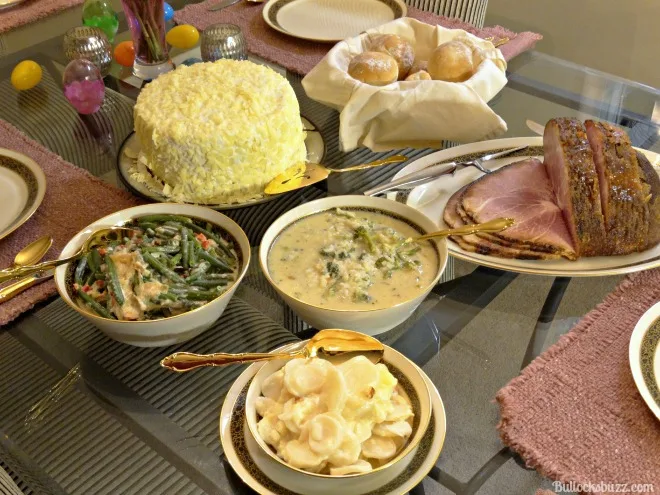 This year we selected a Mini-Ham, and three of their Heat & Serve Sides including green bean casserole, broccoli rice casserole, and scalloped potatoes. We also grabbed a bag of rolls, and a full size, beautiful Red Velvet Cake for dessert. Spiral-sliced and ready to serve, the bone-in ham only had to be unwrapped and placed on the platter. That left the sides, which took around 35 minutes to heat in the oven (or you can use the microwave which takes less time). Once the sides were ready, it took just minutes to transfer them into serving bowls. The bag of rolls was opened and placed in a napkin-lined basket, and we were ready for dinner in under an hour!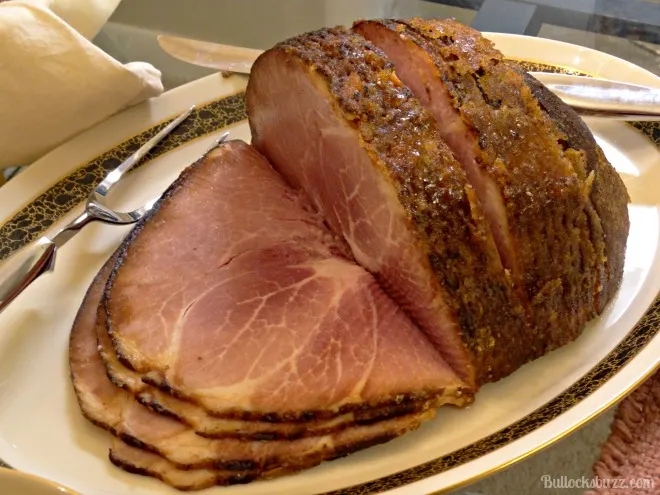 The Mini-Ham was the perfect size for our small family, and it was the most flavorful, moist and tender ham we have ever had! The sides were all cooked to perfection, and tasted simply incredible! And the Red Velvet Cake was moist and sweet! Even better? We still have plenty left for tomorrow!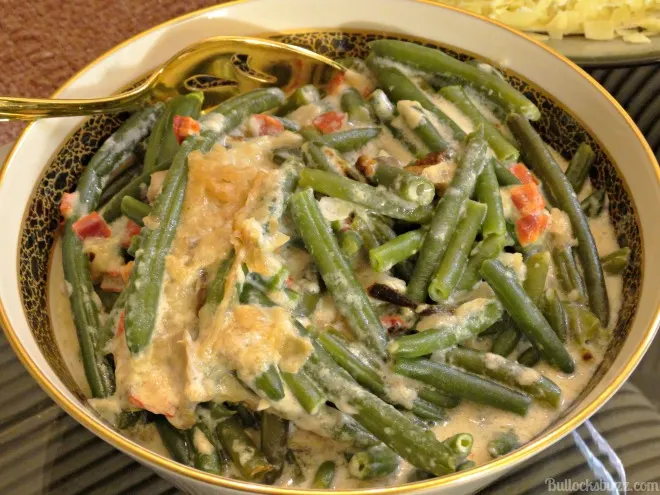 This Easter why not let HoneyBaked Ham do all of the cooking so you can sit down and relax with your family and friends! Head to your local HoneyBaked Ham store and choose from a fabulous selection of ham, turkey, sides and desserts.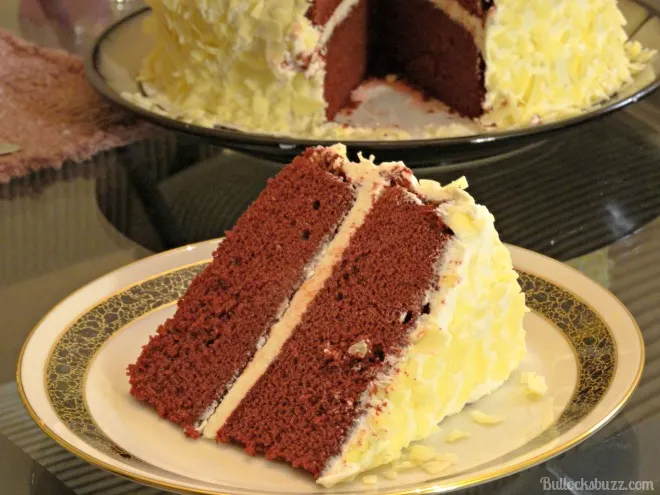 HoneyBaked Ham Coupon
And to make things even easier, right now HoneyBaked Ham is offering this exclusive, limited-time coupon for $5 off any purchase of $50 or more!
Click here to grab your HoneyBaked Ham coupon!
Offer valid 3.14.15 – 4.4.15. Must present coupon at time of purchase to receive offer. May not be combined with any other offer. One coupon per person at participating retail store locations. While supplies last. Find a HoneyBaked Ham near you.
What are some of your favorite tips to help make Easter easier and more enjoyable?
Easter Egg photo courtesy Danielle Rebel via Flickr