With its sweet and salty flavor, this bright and cheerful Rainbow Popcorn is perfect for parties or as an everyday snack. Best of all, it's easy to make!
Are y'all ready for another fun and delicious recipe? Today, I'm sharing a bright, cheerful, and colorful recipe that's both easy-to-make and oh, so good! This colored popcorn, aka "rainbow popcorn" and "multicolored popcorn" is absolutely perfect for parties or as a fun, everyday snack.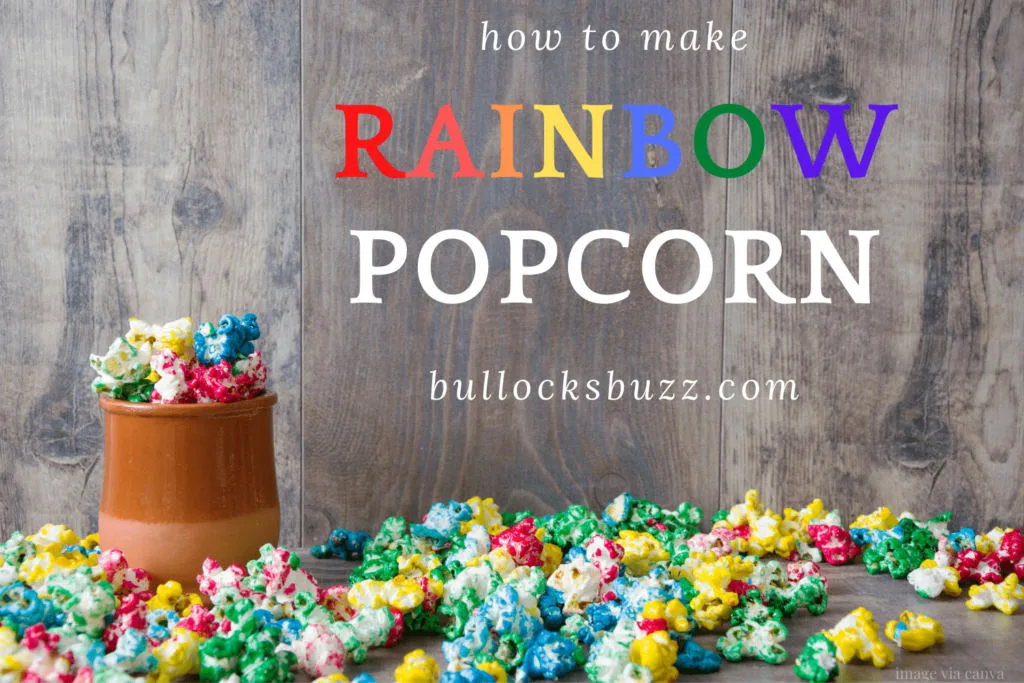 But before we get started on the recipe, I thought it'd be fun to share a few interesting facts. So with that said, let's get to it!
Top 5 Fun Facts About Colored Popcorn
Colored popcorn is also known as "rainbow popcorn" due to its beautiful array of rainbow colors.
Popcorn, including colored popcorn is actually a healthy snack that promotes cardiovascular health as popcorn contains zero cholesterol.
Did you know that rainbow popcorn can be eaten in many different ways? For example, we all love the sweet and salty flavor combo, right? So this salty popcorn goes wonderfully with sweets such as ice cream and even some types of cakes (think my Best Ever Twix Cake). Plus, it goes very well with a variety of drinks including soda, wine, tea, and coffee.
Eating rainbow popcorn may actually help promote weight loss. This is because it has very few calories. For example, beans are one of the foods that are well-known to promote weight loss. An average serving of beans (¼-cup) contains about 168 calories. Whereas a whole cup of colored popcorn has just 119 calories!
Rainbow popcorn is also sugar-free. Remember that popcorn, in general, is listed as a sugar-free snack by the American Dental Association (ADA).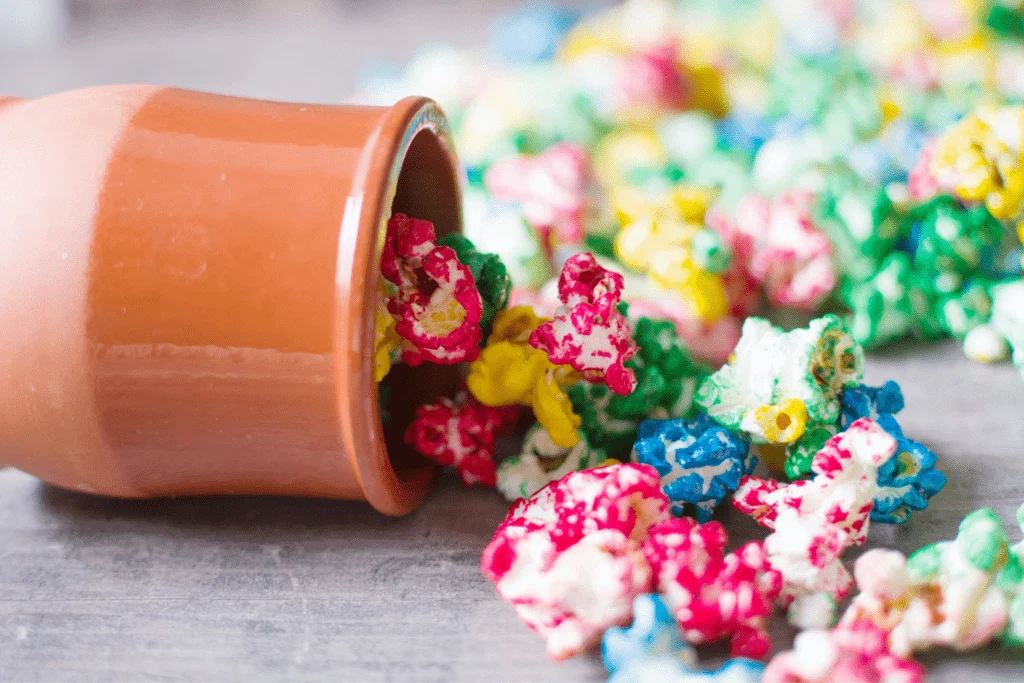 Colored Rainbow Popcorn Recipe
So now that I've shared those facts, let's get to the fun part – the rainbow popcorn recipe! This recipe is very easy to make, and quick too. In fact, it takes about 5 minutes of prep time, and the remaining 30 minutes is hands-off cooking time.
As is, this recipe will make 10 cups(10 servings) of rainbow popcorn.
Kitchen Tools I Used to Make Colorful Popcorn
Disclosure: This blog post contains affiliate links for products I think you'll like. If you make a purchase from one of these links, Bullock's Buzz will make a small commission at no additional cost to you. All products that I recommend are ones that I have (or have had), use, and love.
Parchment paper
Large baking sheet (large enough for 10 cups of popcorn)
medium nonstick saucepan with a lid
1 large bowl
6 smaller bowls for coloring
6 forks
airtight container for any leftovers
Ingredients Needed to Make Colorful Popcorn
In addition to taking very little time, this recipe also calls for just a few common ingredients. You will find the exact ingredients and detailed instructions in the free printable recipe card below.
white popcorn kernels
sugar
coconut oil
gel food coloring in all 6 rainbow colors
kosher salt
Note: I highly recommend using gel food coloring as the colors turn out much brighter and don't fade out. Also, are you using a meal kit delivery service for some of your meals and recipes? If so, you can repurpose some of the ingredients mentioned in this recipe from your meal kit delivery provider.
I love Sunbasket and Hello Fresh because not only do they offer tasty recipes but also because I can repurpose their ingredients in many recipes. Because some say Sunbasket is better than Hello Fresh and others say Hello Fresh is better than Sunbasket, somebody decided to write a great comparison article, highlighting the similarities and the differences between the two companies. I think you should read the article to also get to understand how both companies are similar and different from each other. Plus, the pros and cons of each meal kit delivery service.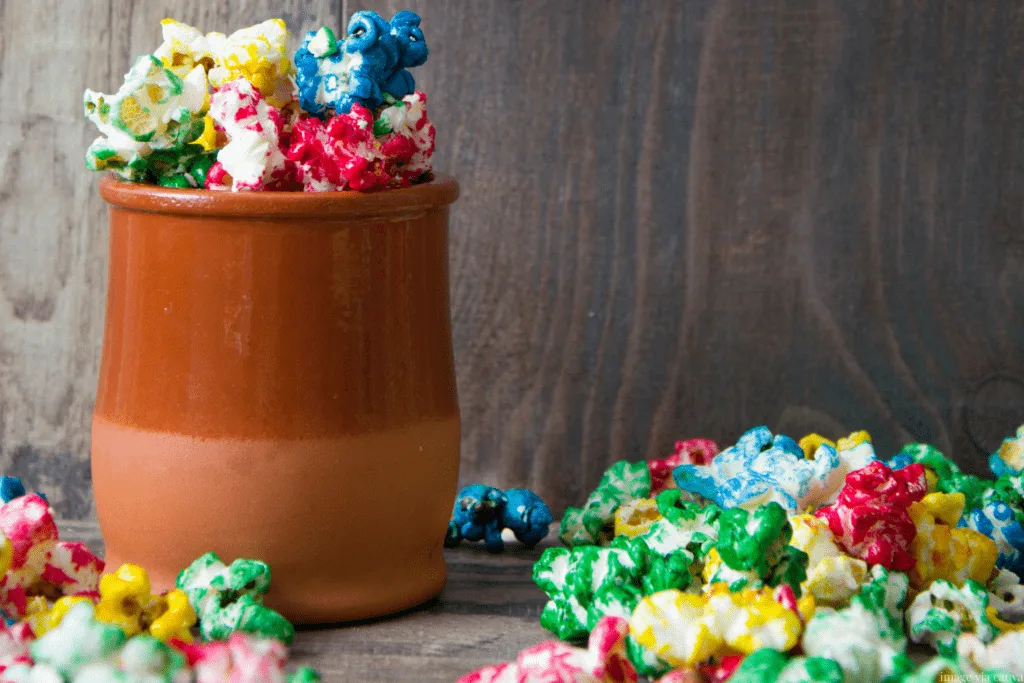 Rainbow Popcorn Instructions
Making rainbow popcorn takes a little bit of preparation, but after that, it's incredibly easy.
Prepare the Pan – cover a baking sheet with parhcment papaer and have more ready to go if needed.
Dye The Sugar– divide sugar evenly beteeen the 6 small bowls, then dye each bowl a different color. Mix to combine.
Pop the Popcorn – add coconut oil and TWO kernels to a medium nonstick saucepan with a lid over medium-high heat. Once kernels pop, reduce heat to medium, then add one bowl of colored sugar with 2 tablespoons of popcorn kernels, cover immediately, shake to combine, then cook over medium-high heat to cook. Shake as cooking to prevent sugar from burning.
Allow to Cool – once kernel popping has slowed to more than 3 seconds, remove from heat and pour out the cooked popcorn to cool on the prepared sheet.
Repeat – repeat the above steps with each color until all colors are used.
Mix – combine all colors in large bowl shaking to mix.
Printable Recipe Card for Rainbow Popcorn
Yield: 10 servings
Rainbow Popcorn
With its sweet and salty flavor, this bright and cheerful Rainbow Popcorn is perfect for parties or as an everyday snack. Best of all, it's easy to make!
Ingredients
12 tbsp white popcorn kernels
12 kernels, additional
12 tbsp sugar
6 tsp coconut oil, divided
1 tube gel food coloring, red
1 tube gel food coloring, orange
1 tube gel food coloring, yellow
1 tube gel food coloring, blue
1 tube gel food coloring, green
1 tube gel food coloring, purple
Instructions
Preparing The Color
Line a large baking sheet with parchment paper.
Then, divide the sugar evenly between the 6 small bowls (2 tbsp per bowl).
Next, dye each bowl of sugar a different color using just 1 to 2 drops per bowl. So, you will add 1-2 drops of purple food coloring to bowl number 1. Then add 1-2 drops of red to bowl number 2, 1-2 drops of orange to bowl number 3, and so on. Repeat with all remaining bowls using one color per bowl.
Using a clean fork for each bowl, stir until the sugars are dyed and become slightly sandy in texture
Making the Popcorn
Begin by adding 1 teaspoon of coconut oil and 2 popcorn kernels to a medium nonstick saucepan with a lid.
Cover with the lid and place over medium-high heat. As soon as the 2 kernels pop, reduce the heat to medium and add 2 tablespoons of popcorn kernels along with 1 bowl of colored sugar. Cover the pan immediately and shake to combine.
Allow the popcorn to cook, continuously shaking the pan to prevent the sugar from burning and to evenly coat the popcorn in color.
Once the popping becomes more than 3 seconds apart, remove the pot from heat. Then carefully remove the lid and pour the popcorn onto the parchment-covered baking sheet.
Evenly sprinkle about ¼ teaspoon salt over the hot kettle corn, then let the popcorn cool completely before transferring it to the large bowl.
Repeat this process with the remaining colors, replacing the parchment paper as needed.
Once all of the popcorn colors have been made, salted, and allowed to cool, combine all of the colors in a large bowl. Shake well to combine and then serve.
Notes
Be sure to use food gel coloring as it works much better than other types.
Nutrition Information:
Yield:
10
Serving Size:
1 cup
Amount Per Serving:
Calories:

93
Total Fat:

3g
Saturated Fat:

2g
Trans Fat:

0g
Unsaturated Fat:

0g
Cholesterol:

0mg
Sodium:

5mg
Carbohydrates:

17g
Fiber:

0g
Sugar:

16g
Protein:

0g
Nutritional information is automatically calculated with ingredients and serving size and may not be accurate. Please always double check with your own nutritional apps as well.
How to Store Rainbow Popcorn
If you have leftovers, you can store them at room temperature in an air tight container to serve later. Rainbow popcorn can be stored for up to a week.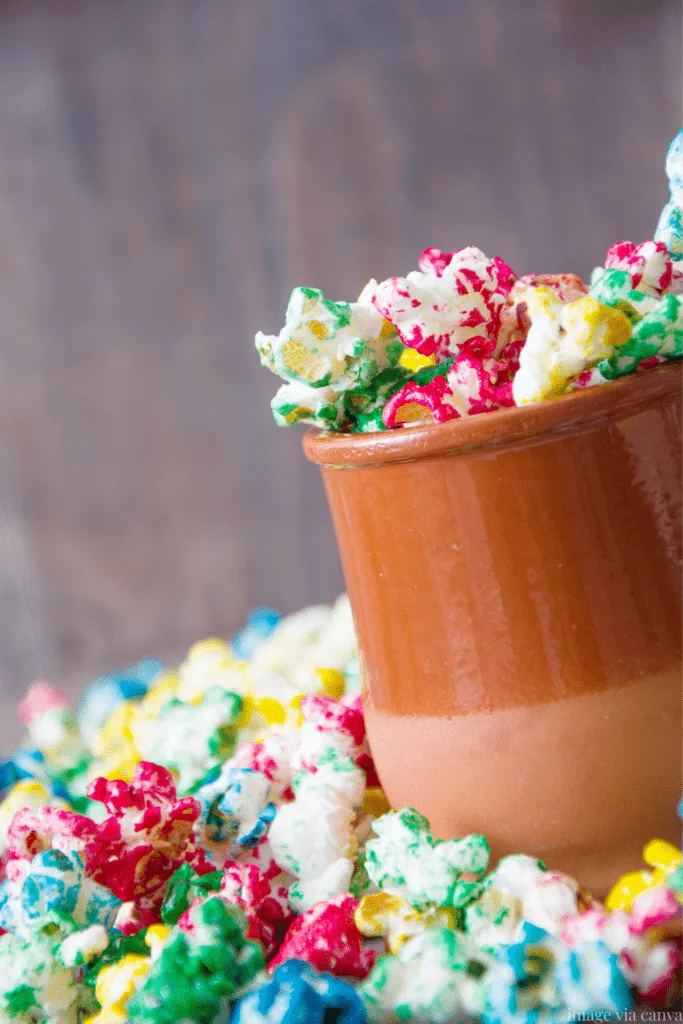 More Popcorn Recipes
Looking for more ways to enjoy popcorn? Check out these popcorn recipes!
Final Thoughts
This rainbow popcorn is definitely more delicious and enticing than regular popcorn. Thanks to its beautiful array of colors and its salty-sweet taste, rainbow popcorn is a treat the entire family will love!