Salty and sweet popcorn sprinkled with a festive mix of M&Ms and Christmas sprinkles, this delicious Candy Claus Christmas Popcorn is fun and festive treat that's quick and easy-to-make!
If you're looking for a fun and festive Christmas treat that's quick and easy-to-make, then look no further than this Candy Claus Christmas Popcorn recipe!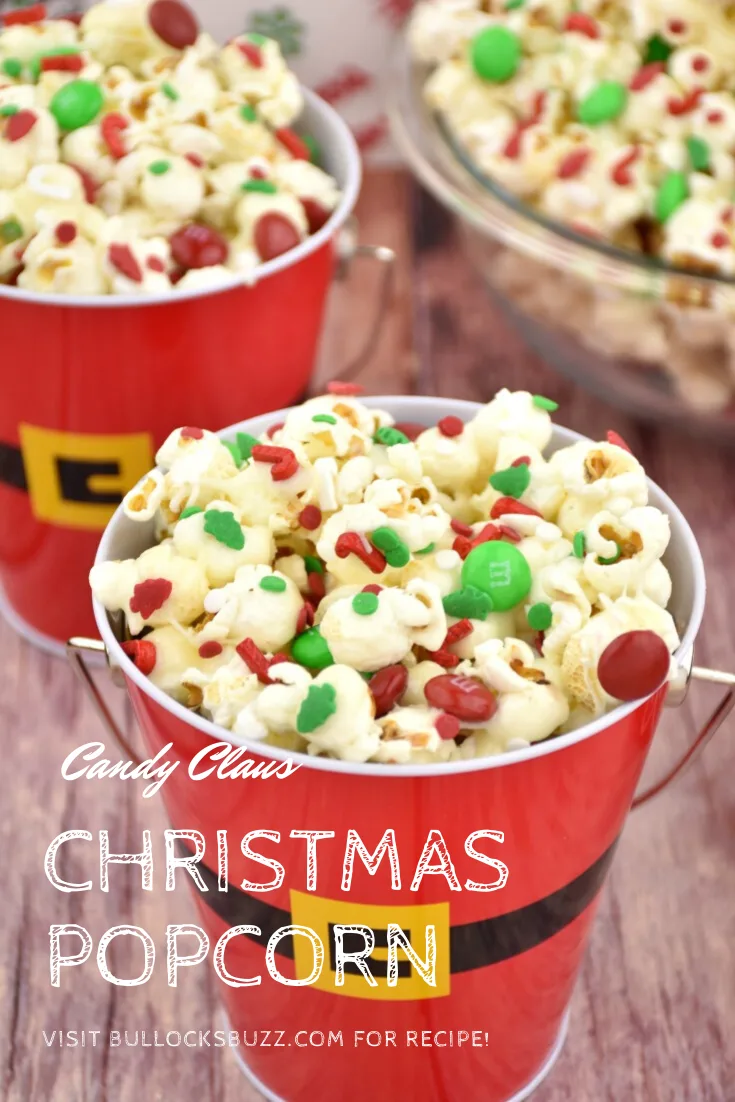 Our Witches Brew Halloween Popcorn was such a big hit that I just knew I had to make it again! And what better time than Christmas?!
Christmas Crunch Popcorn – An Easy Christmas Treat!
Christmas Popcorn is one of those easy treats that's highly likely to become a holiday tradition. Not only is it a cinch to make, but everyone loves it! There is just something SO good about salty popcorn covered in sweet melted marshmallow! It's the perfect combination of salty and sweet.
Plus it's perfect for holiday parties and gifting since it makes enough to feed a crowd. It would also make a special snack for Santa instead of Christmas cookies.
How to Make Christmas Popcorn
This Candy Claus Christmas Popcorn recipe has Christmas M&Ms, candy cane sprinkles, Christmas tree sprinkles, and a scattering of red and green Christmas Confetti Sprinkles. Here is the recipe for this holiday popcorn treat.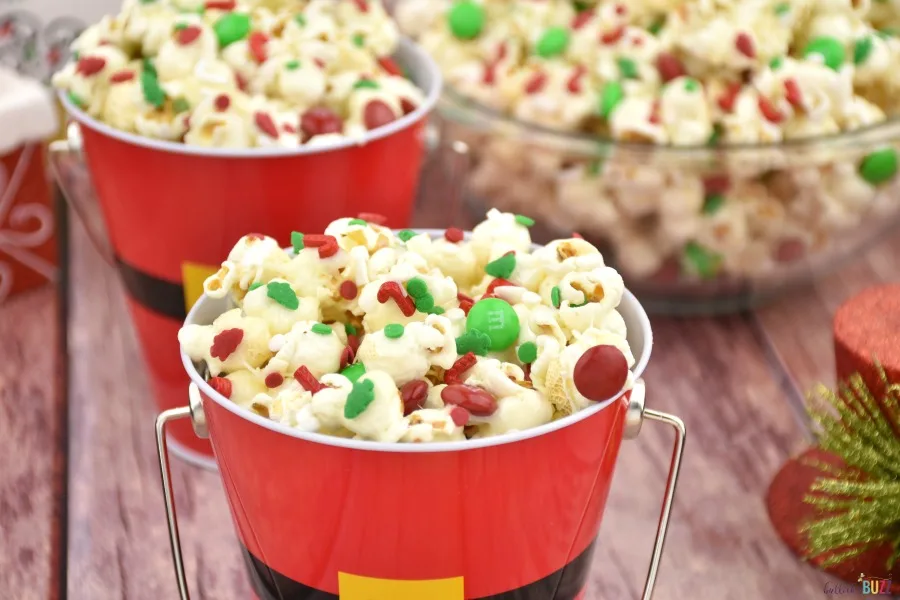 Disclosure: This blog post contains affiliate links for products or services I think you'll like. This means if you make a purchase from one of these links, I may make a small commission at no additional cost to you. I only recommend items I use and love.
Kitchen Tools You May Need
Christmas Popcorn Recipe Ingredients
You only need five simple ingredients to make this festive holiday snack: salted popcorn, butter, mini marshmallows, red and green M&Ms, and Christmas-colored sprinkles (the complete ingredients and instructions are listed in the printable recipe at the bottom of this post).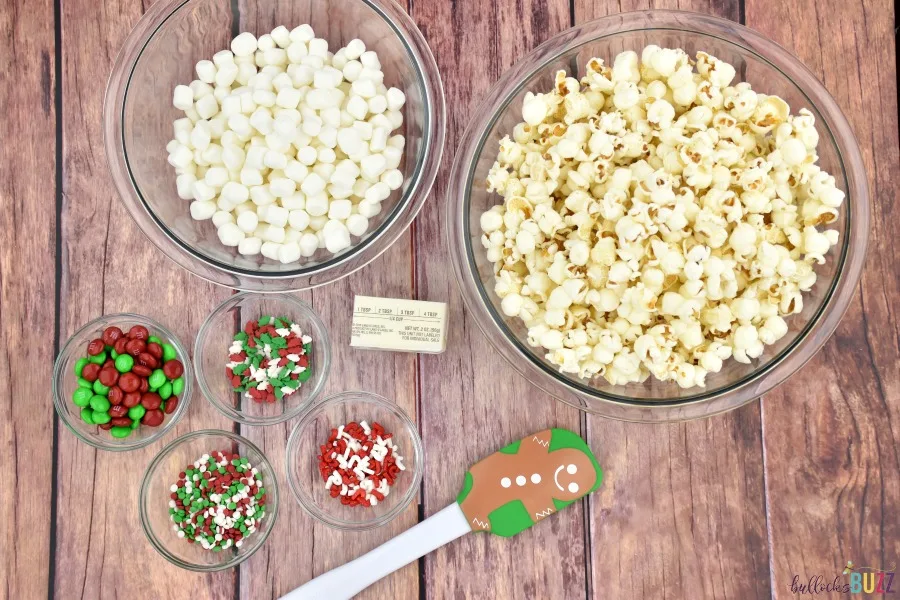 Christmas Popcorn Recipe Instructions
This addictive marshmallow coated treat can be made in less than 15 minutes. In fact, the longest step is melting the marshmallow and butter.
Cover a baking sheet with a Silpat mat or foil.
Add the popped popcorn to a large bowl. Make sure you remove all of the unpopped kernels!
Salt the popcorn liberally.
Melt the butter in a small saucepan, then add in the mini marshmallows. Stir until melted.
Slowly pour about ¾ of the melted marshmallows over the popcorn, gently folding the popcorn with a spatula or spoon until most of the kernels are covered in the sweet and sticky mixture. Hold on to the remaining marshmallow until the next step.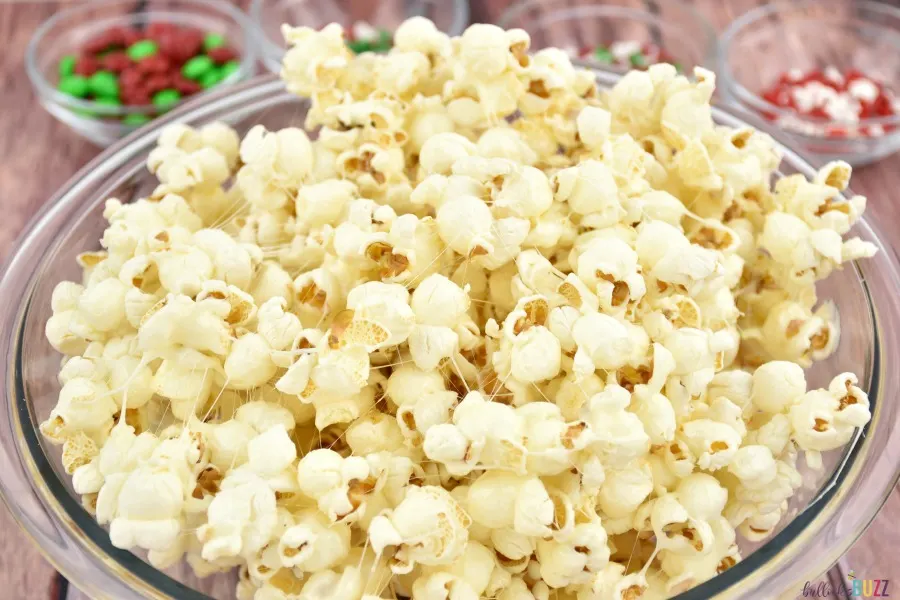 Spread the mixture onto the prepared baking sheet in an even layer.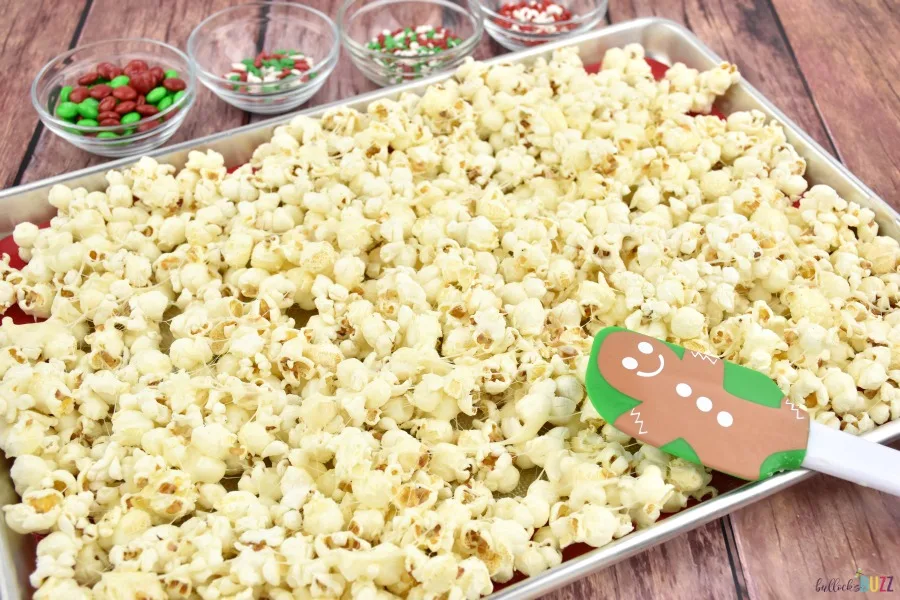 Drizzle the remaining marshmallow over the popcorn mixture.
Then immediately add the chocolate candies.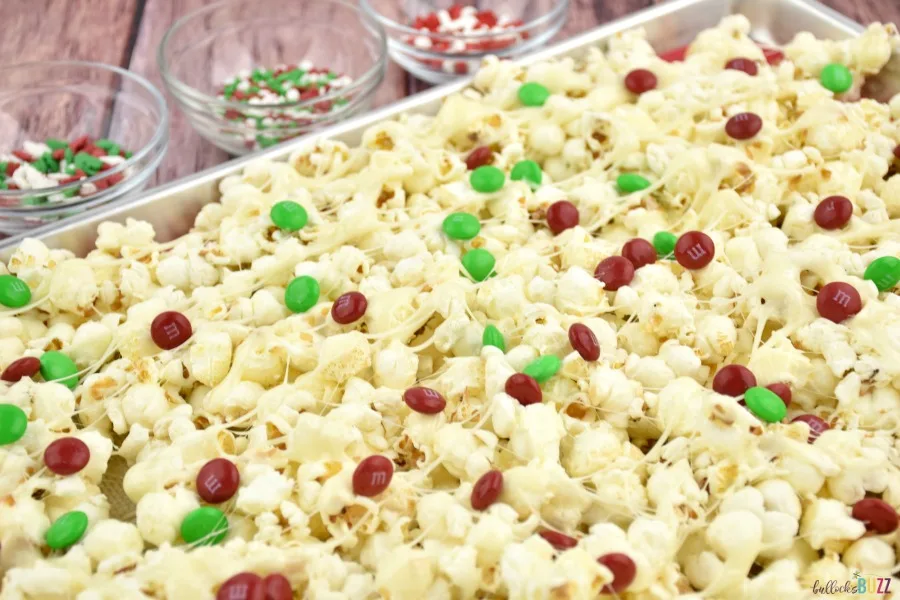 Then add all of the Christmas sprinkles.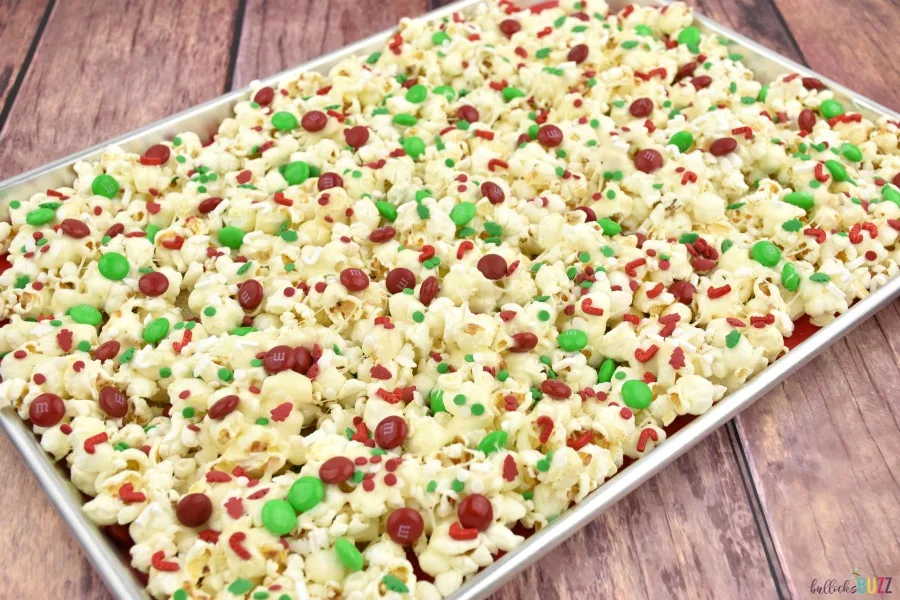 Allow the candied popcorn to cool before breaking it apart to serve.
And that's it. Doesn't it look yummy?!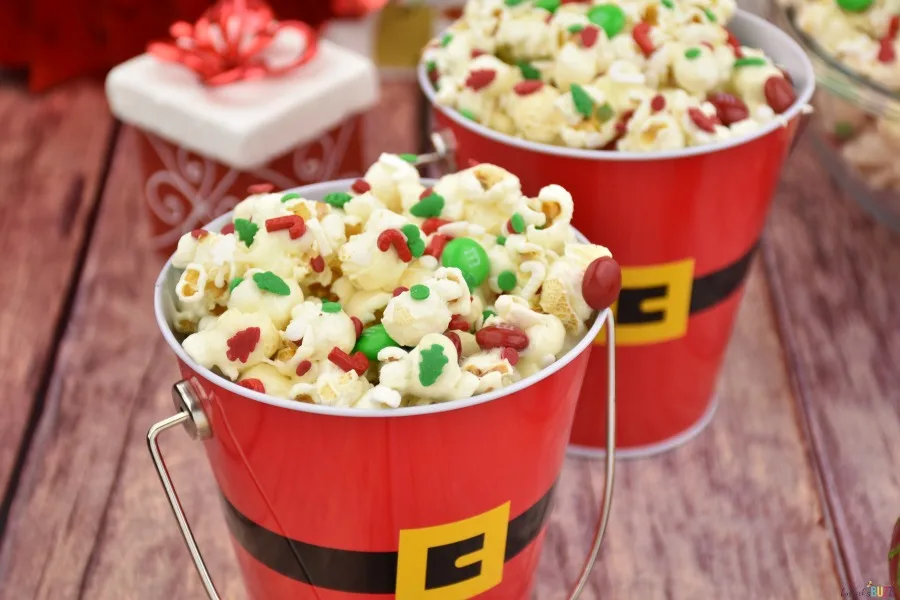 Tips for Making and Storing Christmas Popcorn
Here are some handy tips on making and storing this Christmas Popcorn. If you have any questions I haven't answered, leave them in the comments below, and I'll do my best to answer them.
Candy Claus Christmas
Popcorn Cooking Tips

Want to save even more time making this holiday popcorn? Use a bag of already popped popcorn!

While this recipe calls for adding all of the melted marshmallows to the mixture, how much you add is really up to you.

To make it easier to mix the popcorn and melted marshmallow, first, add a little butter or cooking spray to your spatula.

Re-butter the spatula before using it to spread the marshmallow-coated popcorn on to the baking sheet,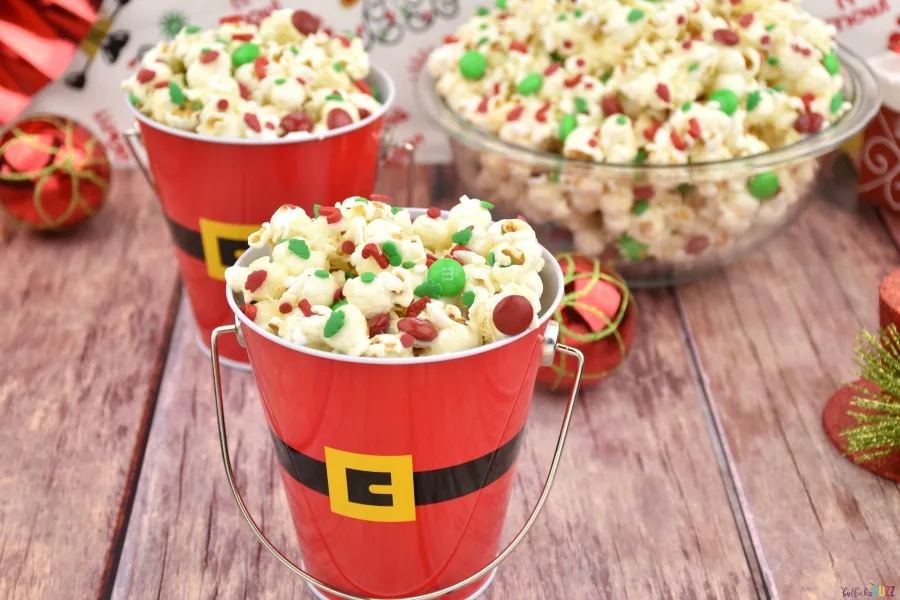 How to Remove Unpopped Kernels
A simple way to remove those pesky unpopped kernels of popcorn is to place a cooling rack over the bowl of freshly popped popcorn, then invert and shake. All of the unpopped kernels will fall through the holes, leaving a bowl full of fluffy popcorn!
How Long Will Christmas Popcorn Last?
This Christmas Popcorn recipe is so good it's hard to imagine that there will be any leftover. However, this recipe does make a lot. Luckily you can keep it for a few days by storing it in an airtight container. Just note, that the longer the popcorn is kept, the chewier it will become as it absorbs some of the moisture from the marshmallow mixture. However, it still tastes great!
If you're planning to give Christmas Popcorn as a gift, make sure you put it in an airtight container that can be resealed. Include a little note about how to store it.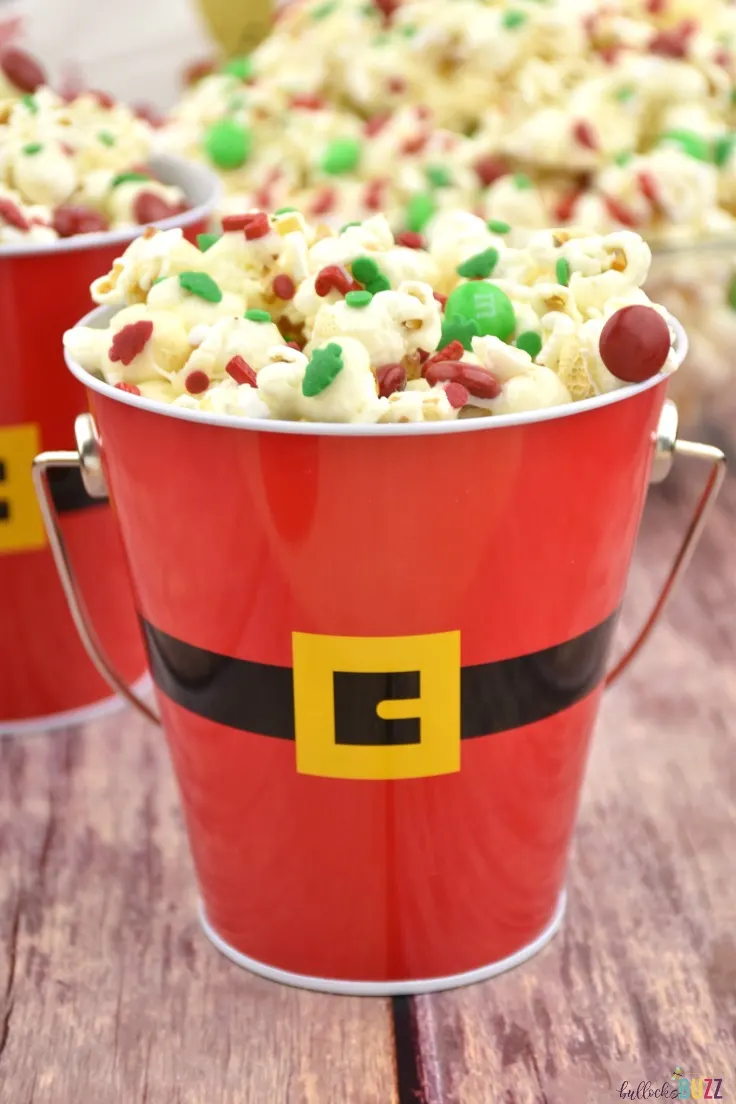 Christmas Popcorn Printable Recipe
Here are the complete recipe ingredients and instructions in a handy printable format! Enjoy!
Yield: 10 servings
Candy Claus Christmas Popcorn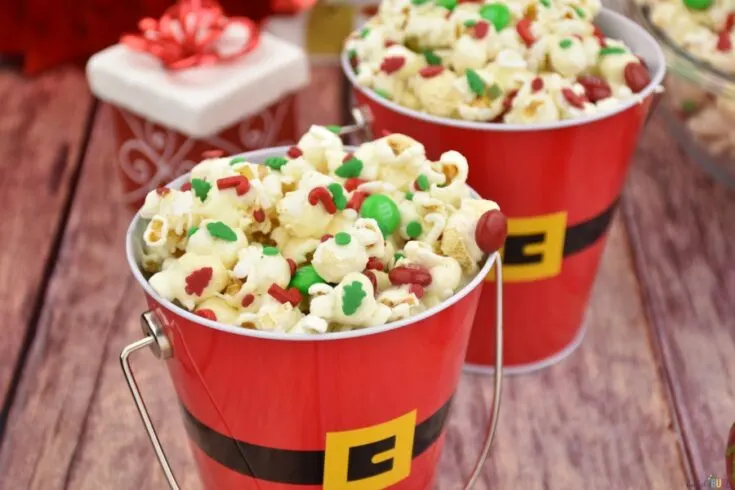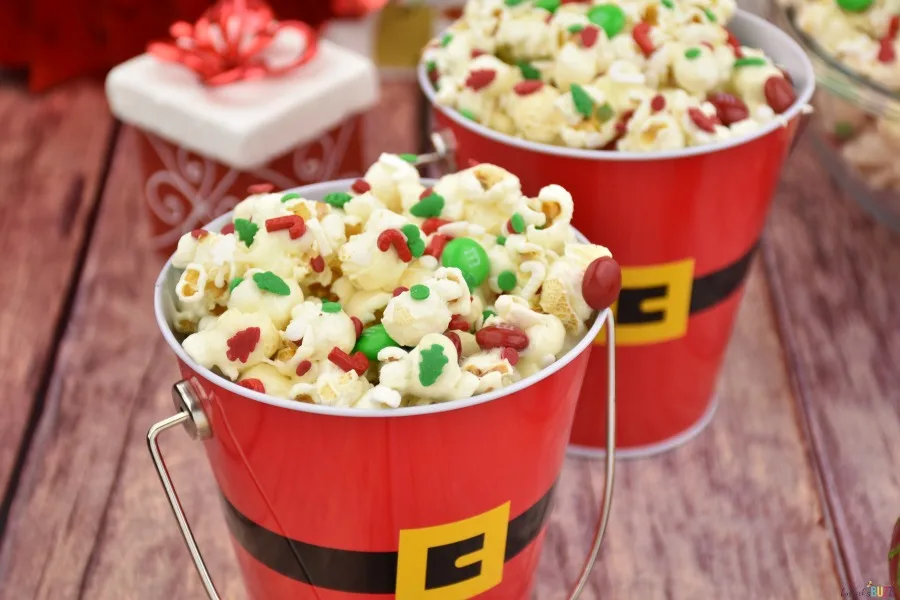 Salty and sweet popcorn sprinkled with a festive mix of M&Ms and Christmas sprinkles, this delicious Candy Claus Christmas Popcorn is fun and festive treat that's quick and easy-to-make!
Decorating Time
3 minutes
Ingredients
10 cups popcorn, popped
3 tbsp butter, salted
3 cups mini marshmallows
1 cup M&M Candies, red and green
3 tbsp Christmas Confetti Sprinkles
3 tbsp Candy Cane Sprinkles
3 tbsp Christmas Tree Sprinkles
salt
Instructions
Pop 10 cups of popcorn, salt liberally, and place in a large bowl.
Melt 3 tablespoons of butter in a medium saucepan.
Once the butter is melted, add in 3 cups of mini marshmallows stirring until they are completely melted. Be sure to turn off the heat as soon as the last marshmallow has melted.
Slowly pour around ¾ of the melted marshmallow mixture over the popcorn in the bowl and gently fold it into the popcorn with a spatula or spoon until most of the popcorn is covered.
Pour the marshmallow popcorn onto a prepared cookie sheet, spreading it into a single layer with the spatula.
Drizzle the remaining marshmallow mixture over the popcorn.
Quickly sprinkle the candy and sprinkles over the popcorn while the marshmallow coating is still warm.
Allow the popcorn to cool before breaking into pieces and serving.
Nutrition Information:
Yield:
10
Serving Size:
1 cup
Amount Per Serving:
Calories:

282
Total Fat:

13g
Saturated Fat:

6g
Trans Fat:

1g
Unsaturated Fat:

6g
Cholesterol:

12mg
Sodium:

173mg
Carbohydrates:

41g
Fiber:

1g
Sugar:

29g
Protein:

2g
Nutritional information is automatically calculated with ingredients and serving size and may not be accurate. Please always double check with your own nutritional apps as well.
More Easy Christmas Treats
If you liked this holiday treat recipe, then you will love these!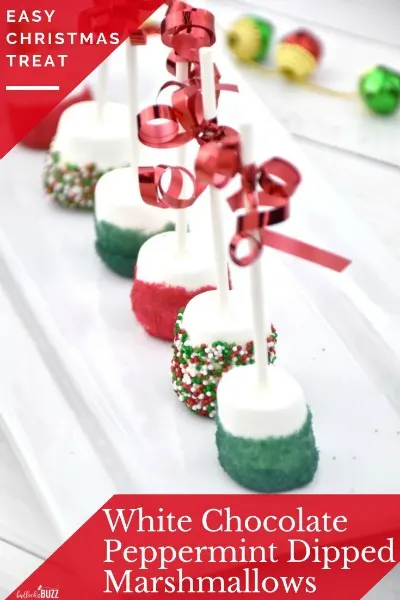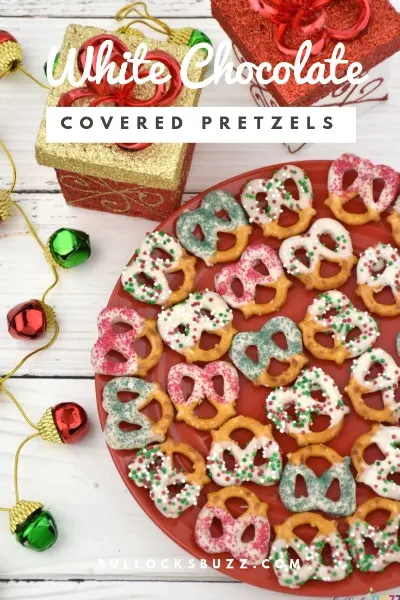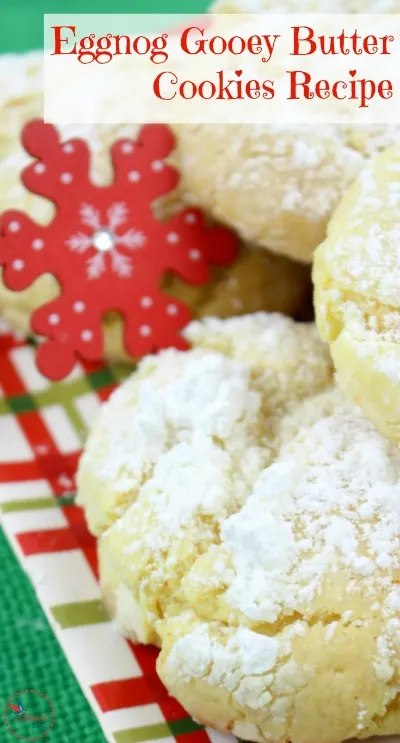 I hope you enjoy this holiday recipe as much as I enjoyed making it!
ARE YOU HUNGRY FOR MORE?
KEEP UP WITH THE LATEST BUZZ BY FOLLOWING ME ON:
FACEBOOK | TWITTER | PINTEREST | INSTAGRAM
Subscribe to our awesome newsletter so you'll never miss another delicious recipe!
Subscribe to Newsletter
Have you made this recipe? Did you like it? Share with us in the comments below!