2015 Valentine's Day Gift Guide
When one thinks of Valentine's Day love, romance and gifts come to mind. And where there is romance there is usually candles. Now combine that romantic candle light with every woman's favorite gift, jewelry, and what do you get? Jackpot Candles.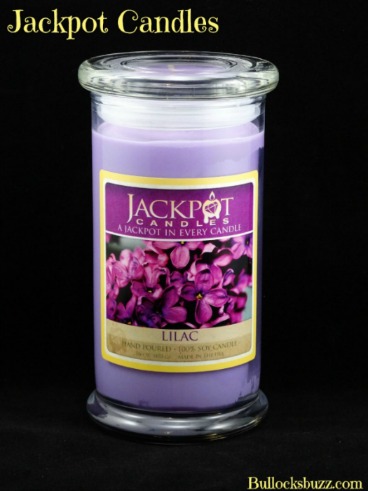 Jackpot Candles are 100% natural soy wax candles that are hand poured right here in the USA. They come in a rainbow of colors and scents, and inside every candle is a piece of jewelry valued between $15 and $5000. Now I know what you are thinking, another candle with jewelry in it? Well it is, and it isn't, because with Jackpot Candles you not only get to choose your scent, you also get to choose the type jewelry you want whether you prefer earrings, rings (sizes 6,7,8,9) or necklaces! In addition, Jackpot Candles also makes it easy to find out the value of your jewelry without ever having to leave your home.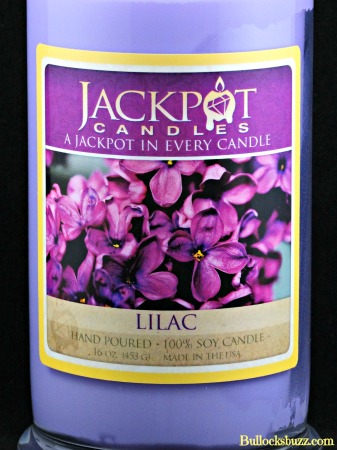 Each scented candle is infused with essential oils and will burn anywhere from 80 to 100 hours. They come in a heavy glass jar with an airtight lid, and once the candle is used up you can wash the jar and re-use it for all sorts of things. It takes anywhere from 3 to 6 hours to burn the candle down to where the pouch is exposed. Once you see it, extinguish the flame, let it cool down for just a few moments, then use a pair of tweezers to remove the pouch. Your new jewelry is securely wrapped in both plastic bags and foil, and once you open the package you will also find a tiny tag with a code on it. To find out the value, go to the Jackpot Candles website where you will see a tab for their appraisal page. Once there enter the code, and in just seconds you can find out the exact value of your jewelry.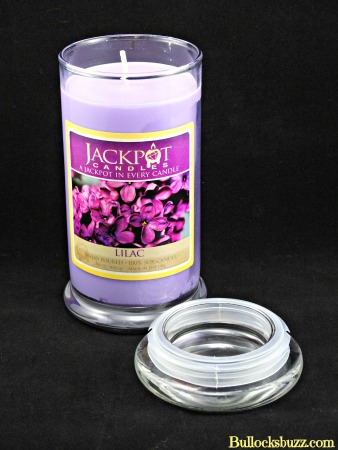 Choosing a scent was the hardest part as there are several different options. I finally decided on Lilac which is a light, violet in color and has a pleasant floral scent with hints of lavender. When you first remove the lid the scent is quite strong, but it tends to be a bit less potent once it is burning. Within an hour my den was smelling heavenly, and the candle was burning steadily and cleanly (just one of many reasons I love soy wax candles!). Several hours later I was able to see the foil pouch, and minutes later I had it out of the candle.
One thing about soy wax is it is very slippery so be prepared to get it all over your fingers when opening the packaging; although it easily washes off. I was pleased to see how well the jewelry was wrapped, and although the wax had worked its way into the foil, it had not made it into either of the plastic bags. Seconds later, I had the earrings out, and was online checking their value. Here they are!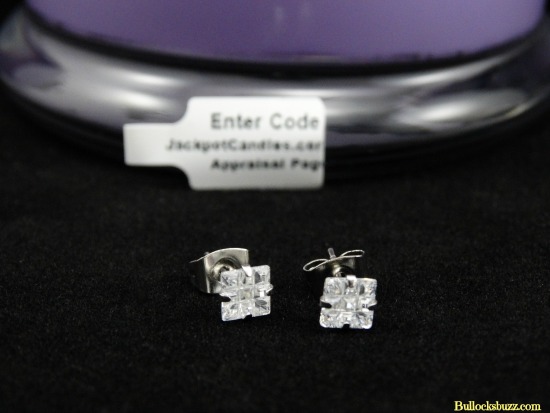 Although they are far from $5000, these $20 fashion earrings are perfect for my niece, and I still have plenty of candle left to enjoy!
In addition to jewelry candles, Jackpot Candles also offers Jewelry Tart Wax Melts! Like the candles, the tarts are available in several delicious scents, and each package of 6 tarts comes with a jewelry surprise.
Give her a gift she'll always remember this Valentine's Day – or any other day – from Jackpot Candles!
What type jewelry would you choose? Earrings, necklace or ring?