Today's post featuring a delectable Mini Baked Donuts with Caramel Glaze recipe has been compensated by Collective Bias, Inc. and its advertiser. All opinions are mine alone. #DunkinCreamers #CollectiveBias
Mini Baked Donuts with Caramel Glaze – Dunkin Donuts® Coffee Creamer
When I was little, my family and I would meet my aunt and uncle's family every Sunday morning for breakfast. It was always a special treat because the restaurant we went to served fresh, homemade donuts!  There were all different kinds – glazed, cream filled, jam-filled, cinnamon-sugar, and chocolate frosted with sprinkles. I can still remember the warm, soft deliciousness that paired perfectly with a cold glass of milk.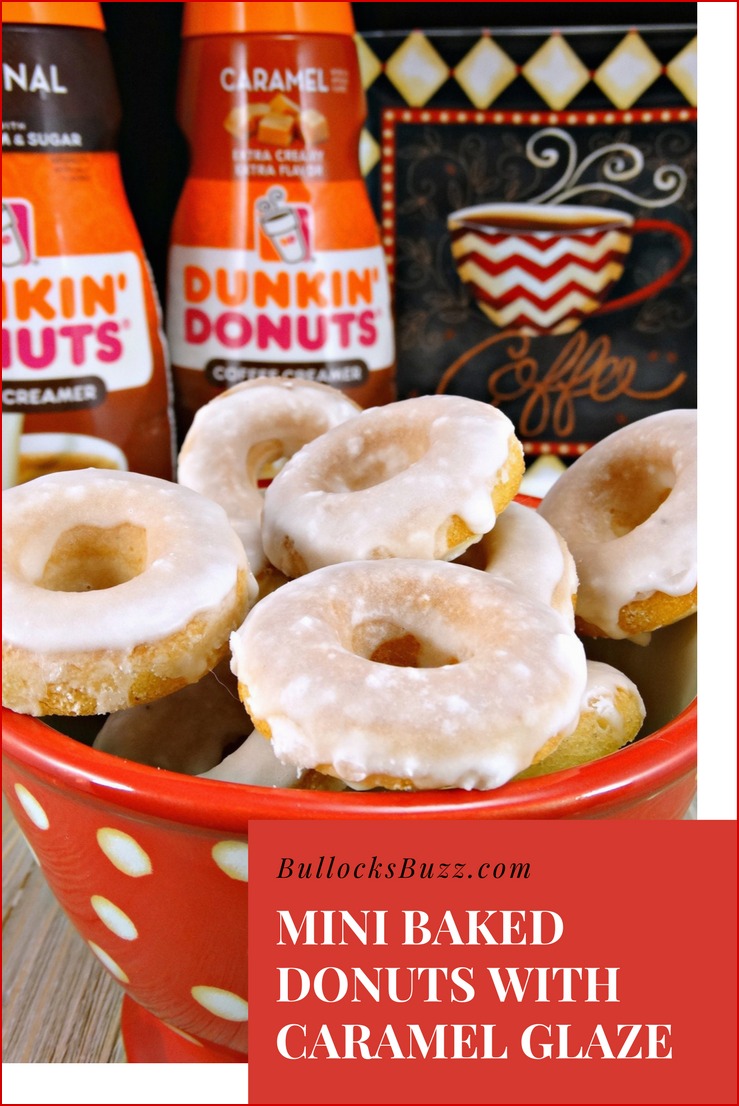 Speaking of incredibly delicious donuts, this recipe for Mini Baked Donuts with Caramel Glaze are sure to become a family favorite! Made with a just few simple ingredients, these donuts are cooked a bit differently from your regular donut. Instead of fried, they are baked. But it's the deliciously sweet and creamy Dunkin' Donuts® Coffee Creamer that really takes these donuts over the top!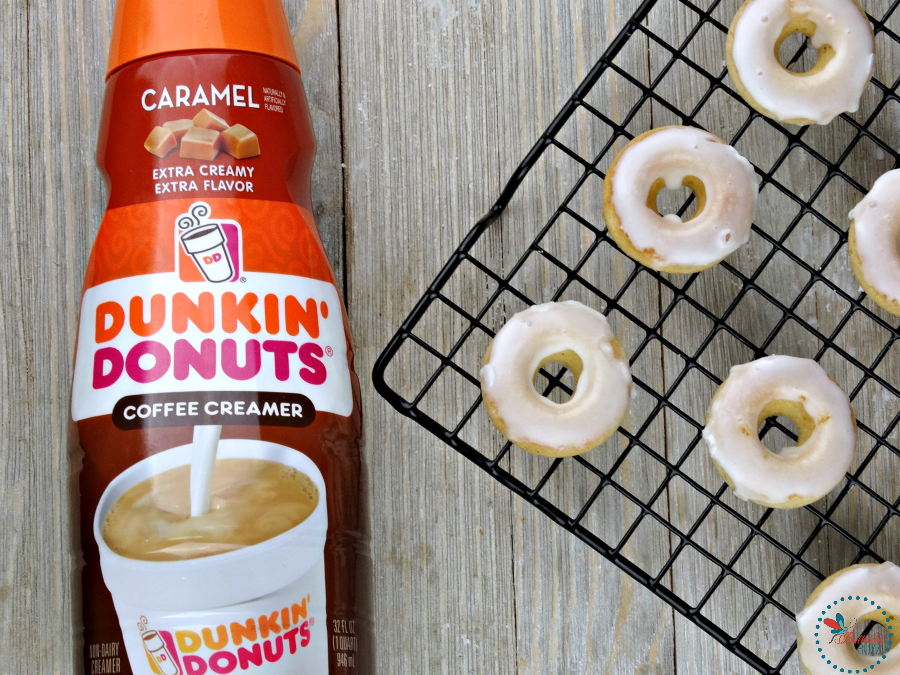 Dunkin' Donuts® Coffee Creamers always makes coffee taste even better, but they also make a delectable ingredient for many delicious recipes! This particular recipe calls for Dunkin' Donuts® Caramel Creamer which is one of my favorite creamers to add to coffee and to bake with. Made with only real cane sugar, it has an authentic caramel taste.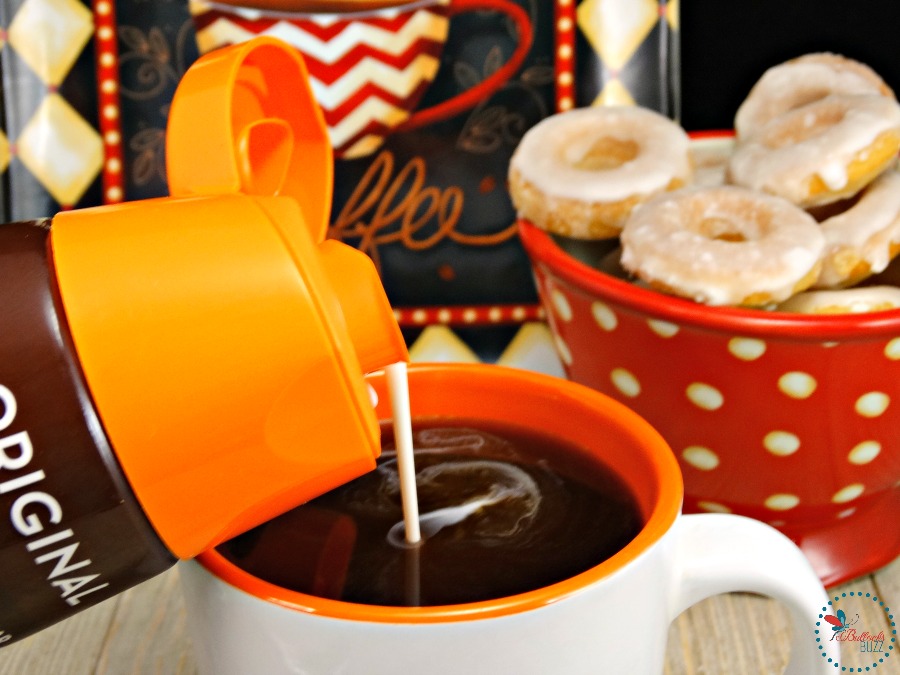 I also enjoy the Dunkin' Donuts® Original Creamer which is made with skim milk, real sugar and cream. I've several recipes I've made with the Original Creamer that I can't wait to share with you, too! But first…
Ready to see how to make these soft and delicious Mini Baked Donuts?

Mini Baked Donuts with Caramel Glaze
What You Need for Mini Baked Donuts
2/3 cup all-purpose flour
1/2 teaspoon baking powder
1/4 teaspoon ground nutmeg, or more to taste
1/8 teaspoon salt
1/4 cup milk
1/2 teaspoon vanilla extract
5 tablespoons softened butter
1/3 cup white sugar 1 egg
For The Caramel Glaze
1 cup powdered (confectioner's) sugar
4-5  tbsp Dunkin' Donuts® Caramel Creamer
Splash of vanilla extract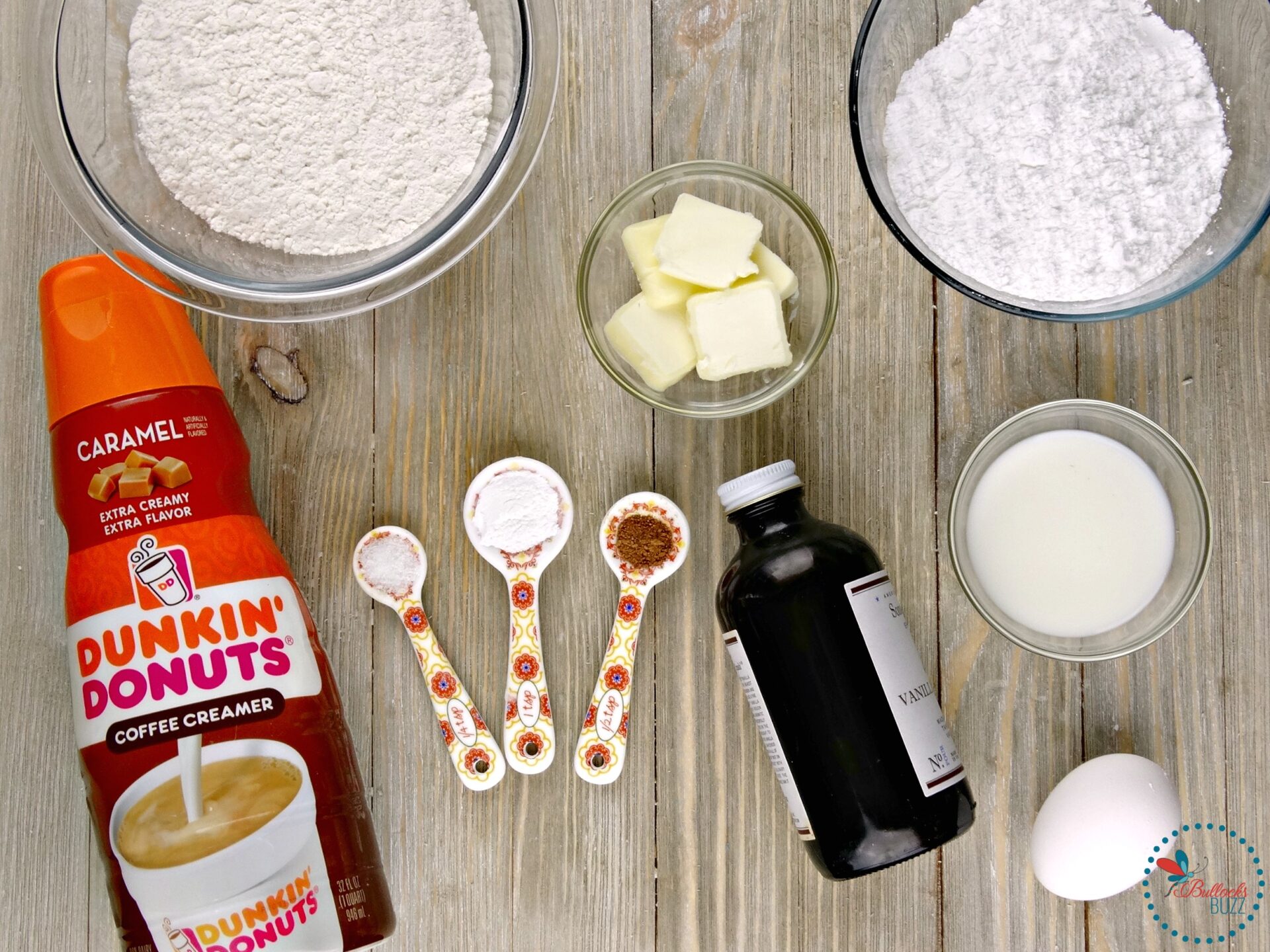 How to Make Mini Baked Donuts with Caramel Glaze
Begin by preheating the oven to 350 degrees F.  Grease a mini donut baking pan or line a muffin pan with muffin liners. Next, in a large bowl, whisk the flour, baking powder, nutmeg, and salt until completely combined.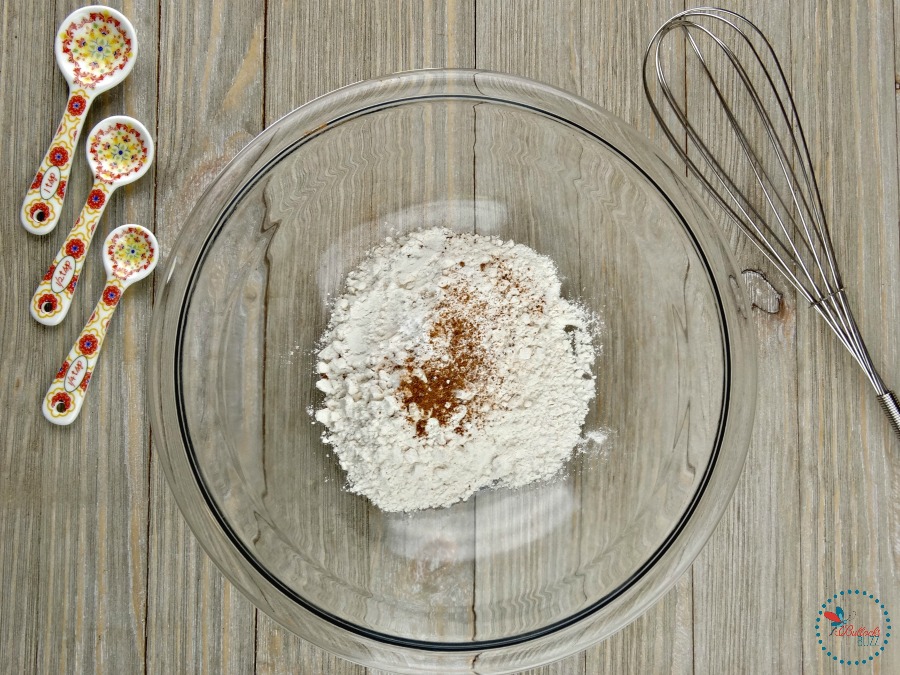 In another bowl, stir the milk and vanilla extract together. Then, in a third bowl, beat the butter and the white sugar together using an electric mixer until smooth and creamy. Next, beat in the egg.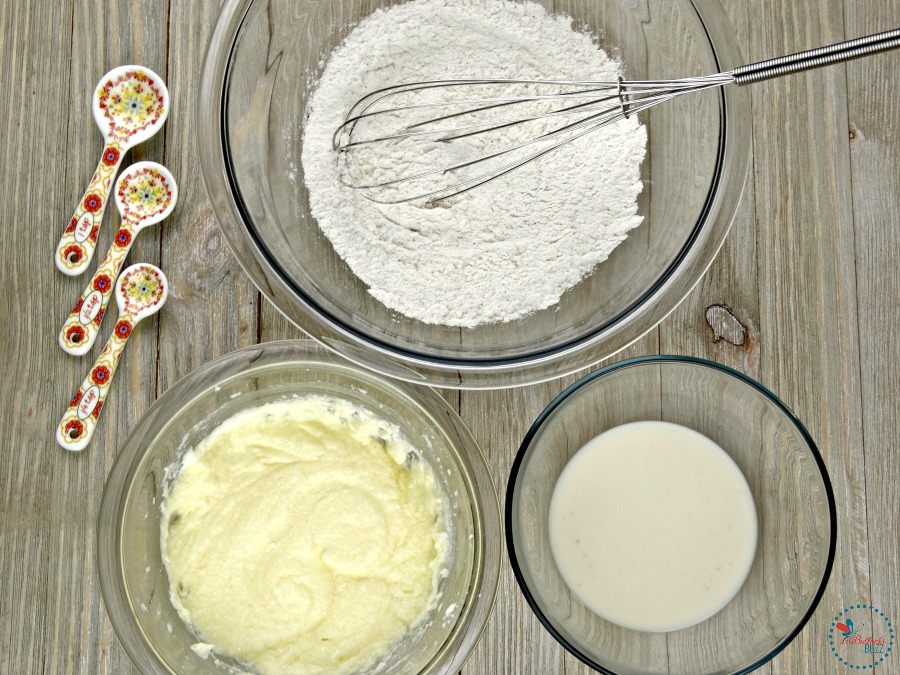 Now, stir the flour mixture, alternating with the milk mixture, into the butter mixture, and continue mixing together until the batter is completely smooth.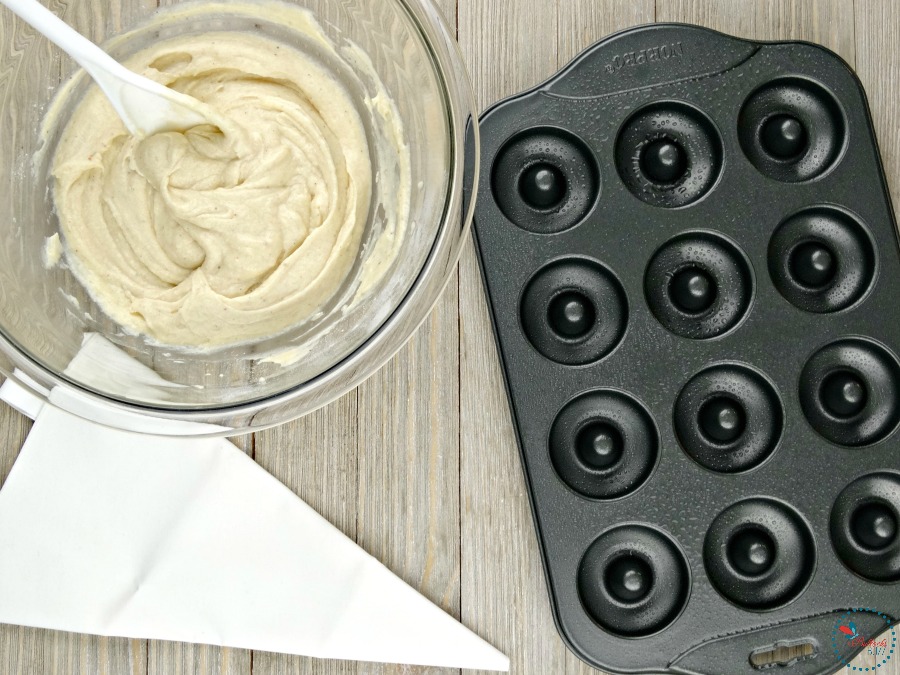 Now it's time to add the batter to the donut pan. To make it easier, I always use a pastry bag or ziploc bag with the corner snipped off (cut it after you add the batter). A simple trick for filling the pastry bag is to place it into a tall glass, fold the very top of the bag around the edges of the glass and secure with a runner band. Then use a spatula to add the batter to the bag. This makes it so much easier, cleaner and quicker to fill the bag with batter.
Once the bag is filled, begin piping the batter into the donut pan. Be careful not to overfill the molds! If you do, the holes will close up and your donuts will come out looking like muffins. I usually fill mine about 2/3 full. Now place the pan into the oven. Baked donuts are super quick to bake– they only take about 9-10 minutes, tops. Check every so often to make sure they are not burning.
While the donuts are baking, go ahead and make the coffee creamer glaze by adding the Dunkin' Donuts® Caramel Creamer to the bowl of powdered sugar. Whisk until the glaze becomes smooth and creamy, and then add in a splash or two of vanilla extract. Mix until completely combined.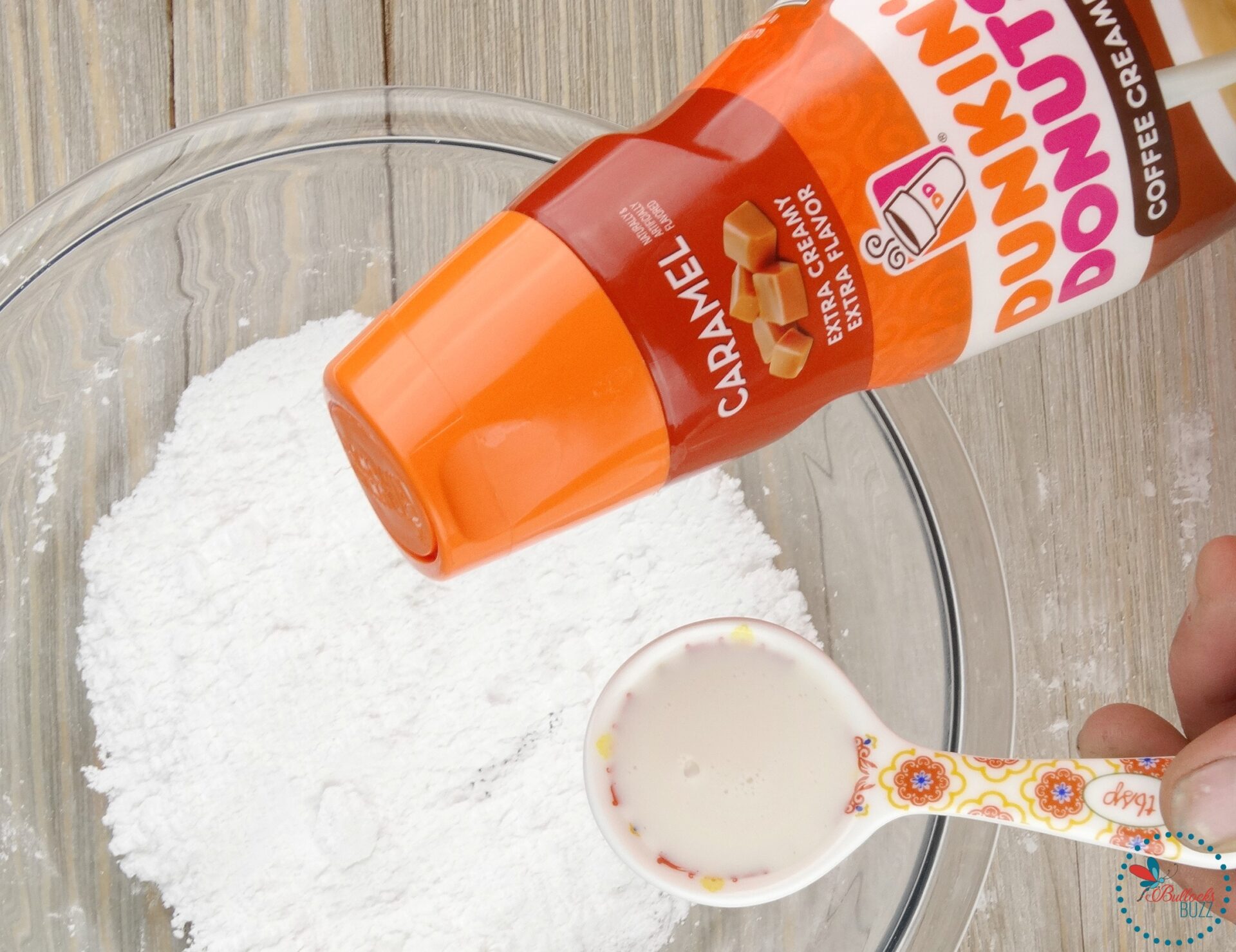 Once the donuts are finished baking, it's time for the yummy part! Adding the glaze! To do this, simply dip the top of each one into the bowl of glaze. Try to do it while the donuts are still warm. Tip – double dip for an extra caramel-y treat!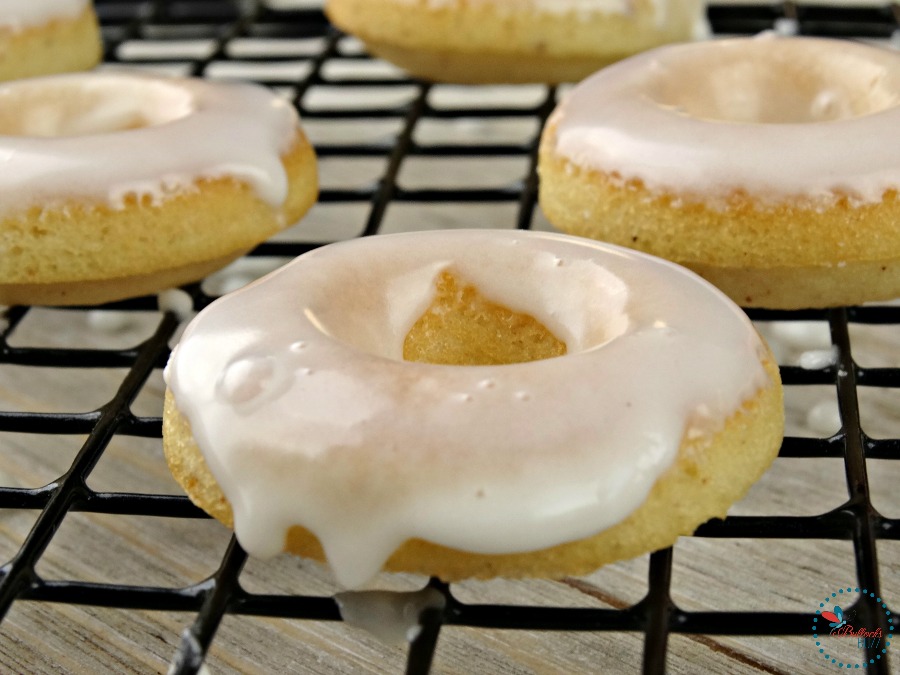 After dipping, place the donuts on a cooling rack. And that's it! Now all that is left to do is serve and enjoy! Oh, and don't forget to enjoy with a nice hot cup of coffee!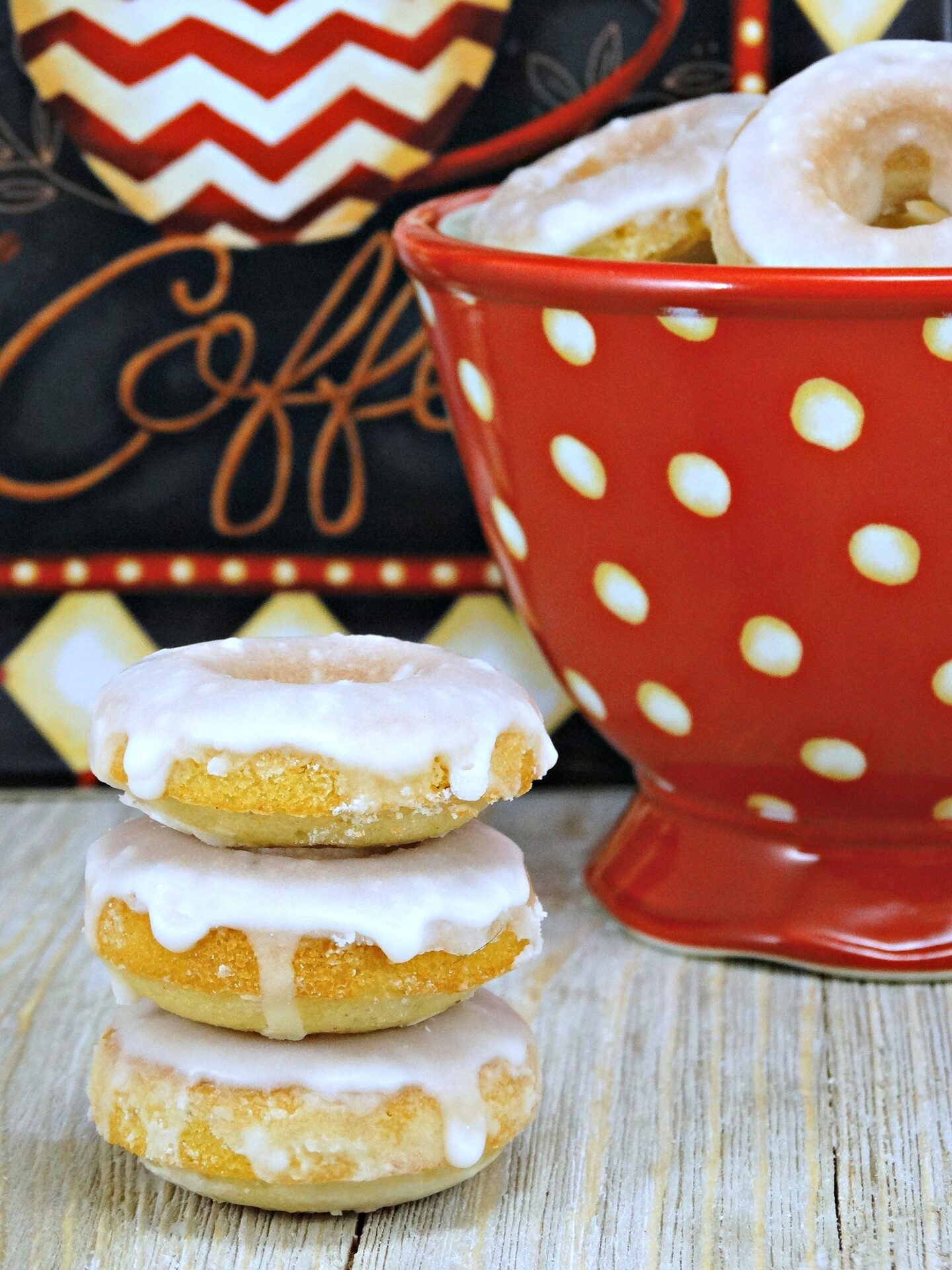 Dunkin' Donuts® Coffee Creamer at Walmart
Next time you're at Walmart, head over to the Dairy aisle and pick up a few flavors of Dunkin' Donuts® Coffee Creamers. With several flavors from which to choose, you're sure to find one – or more – that you love!

Want some more delicious ways to enjoy Dunkin' Donuts® Coffee Creamers? Get #DunkinCreamers recipe inspiration!
Which flavor Dunkin' Donuts® Coffee Creamer will you pour into your morning cup of coffee while enjoying these incredibly delicious Vanilla Baked Donuts with Caramel Glaze?