Whether it's a once-in-a-lifetime vacation, a wedding, a birth, or another special occasion that's so precious you wish you could freeze time, chances are you've taken hundreds if not thousands of photos. While nobody has found a way to freeze time, there are ways you can preserve those memories for years to come. One of these is by creating truly gorgeous keepsake albums, cards, and other items with Mixbook.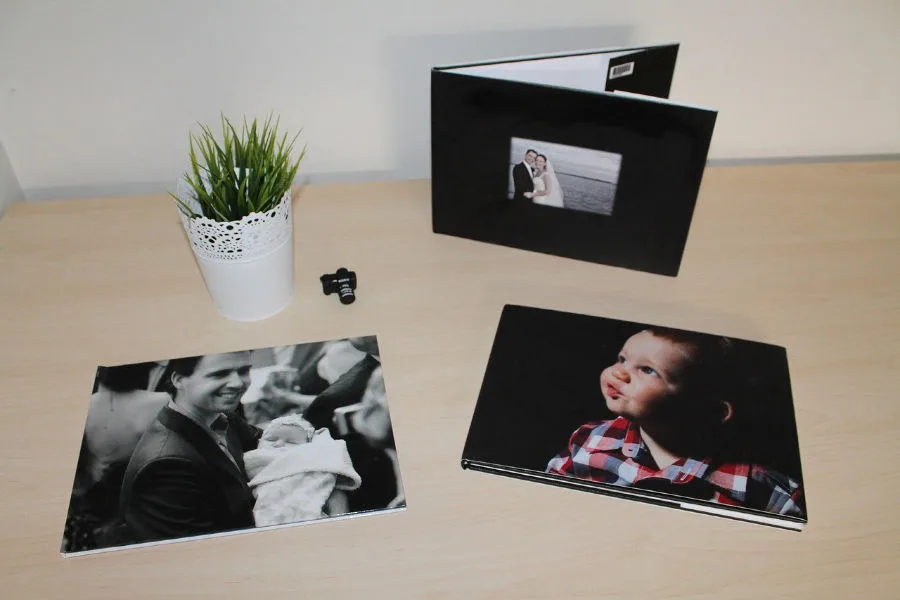 What Is Mixbook?
Mixbook provides high-quality, made-to-order printed products for special occasions, home decor, and keepsakes. Founded in 2006 by Andrew Laffoon and Aryk Grosz, it allows customers to preserve their cherished moments with a variety of unique products such as:
Photo Books
Customers can create books in honor of family, holidays, weddings, and everyday life, and to commemorate a year in review.
Cards
Create cards for holidays, graduations, announcements (births, adoptions, engagements, etc.), Save The Date cards, invitations, and weddings. Customers can also design their own Thank You cards, greeting cards, and stationery. Other specialty items include labels, magnets, and cards made of real foil.
Other Specialty Items
Mixbook offers other personalized items such as calendars and photo prints in different sizes (from 5×5″ square prints, 8×10″ for framing, and poster print sizes as large as 36×24″). Customers can also create stunning home decor prints on canvas, poster, acrylic, and metal. Mixbook makes it easy for customers to convert digital photos-including smartphone snapshots into gorgeous prints.
Collections
Customers can produce their own Wedding Collection of photo books, guest book cards, and home decor. Simply start with a pre-designed collection or a blank template to create a custom collection. Also, Mixbook offers Designer Collections, beautiful specialty-themed ranges of cards, photo books, and other products created by over 50 different designers.
Special Programs Offered
Mixbook also provides special program offers for schools and businesses, like photo books (including yearbooks, class projects, portfolios, project completion, and company retreat books) and volume discounts for bulk orders.
Also, for bloggers and influencers, Mixbook has created an Affiliate Program with benefits like competitive commissions, a monthly newsletter, and an Affiliate Manager to assist with product knowledge and success in the program. Plus, affiliates have the satisfaction of knowing that their followers have access to Mixbook's high-quality print services.
Why Choose Mixbook?
Easy-To-Use Website
100% Happiness Guaranteed is the motto that Mixbook strives for with each order. Their website is user-friendly with intuitive yet simple controls. From there, customers can set up a free account with a Facebook account or by creating their profile through the site. The website allows guests to navigate through the creation process by choosing their desired product (from photo books, cards, calendars, home decor, and photo prints). The My Products page helps customers keep track of orders that are In progress, ordered items pending, and the archive for completed and delivered projects.
Also, the website provides useful information such as proper photo format, privacy settings on customer accounts, how to collaborate with others when creating projects, etc. Click on the help menu on the homepage to navigate to more information including Frequently Asked Questions, Design/ Editor Help, Ordering & Payment, and Technical Help.
Customer Service
Mixbook is committed to providing responsive and conscientious customer service. Customers can reach out to Mixbook via live chat or by email with any questions or service issues. In the event of a return or other concerns, customers may receive a refund or a credit toward subsequent purchases.
Mixbook provides flexible shipping options throughout the United States (including Alaska, Hawaii, and Puerto Rico) and internationally to Canada, Australia, and across Europe. There are four options based on price and turnaround time: Budget, Standard, Priority, and Express shipping. Customers should note that shipping times vary and include the production times for each order.