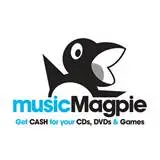 Does this sound familiar? You have finally finished Spring Cleaning, and your home is clean and clutter free except for that pile of CD's you no longer listen to, DVD's you no longer watch and video games the kids no longer play. The Salvation Army has long since picked up the old clothes and other household items, but you hate to just give away all of that music, movies and games on which you once spent a pretty penny. And no way are you going to just throw them away, especially with all of the landfills overflowing.
Wouldn't it be nice if you could get some of that money you originally paid for them back without having to venture out to your local pawn shop or used music store? With musicMagpie.com you can!
"What is musicMagpie.com?", you ask. It is a user-friendly site where you can sell DVD's online, along with your old CD's, Blu-ray and video games. The entire process is quick and easy, and you get paid money for all of those old CD's, DVD's and video games you no longer want or use. With musicMagpie there is no picture-taking, no item listing and no long waiting periods like there is when you use online auction sites or place a classified ad.
How does it work?
Selling your old, unwanted CD's, DVD's and games with musicMagpie could not be easier. You simply input the product's bar code either by hand or by scanning it using your webcam, then click "get value" and you will get an immediate response detailing exactly how much you can get based on the item's condition. Android and iPhone users can download the free musicMagpie app and turn their phone into a quick and easy bar code scanner, too!
What Can I Sell?
musicMagpie accepts DVD's, Blu-ray's, CD's and video games from several platforms. All games, DVD's and CD's must be in perfect playing condition, and have all of the original artwork, covers and booklets. The cases also need to be in good condition, although they may accept them with the slight blemishes incurred from day-to-day use. Here is a list of items they will accept:
CDs
DVDs
DVD Box Sets
PlayStation 2 Games
Playstation 3 Games
Sony PSP Games
XBox Games
XBox 360 Games
Nintendo Wii Games
Nintendo DS Games
Shipping
Once an offer is made, you input your basic shipping and billing information, then decide whether you want to mail them off or have them picked up using either the USPS or UPS. Both options are completely free! Just pack the items in a box, attach the shipping labels they send you (via email or snail mail), and then choose your carrier service. Using the USPS you can either schedule a pick up or drop your package off at your local post office. With UPS you can hand the package to a driver or take it to any UPS Store, drop box or authorized dealer.
Receiving Payment
Once your items arrive and are inspected and accepted, Music Magpie will issue you a check and send it to the address you gave them on the site. This usually happens within 7 days of receipt of your goods. With a minimum of 10 items and a maximum of 500 per single transaction, your earnings could really add up!
So what are you waiting for? Don't throw away those old CD's, DVD's and video games! Make some extra money by selling them online through musicMagpie. For more detailed information and any questions, visit https://www.musicmagpie.com/. And don't forget to connect with them through both Facebook and Twitter.
Have you ever used Music Magpie before? What are your thoughts? I would love to know!