Tender spears of asparagus are tossed in olive oil and seasoned with garlic, salt, pepper, parmesan cheese, and fresh lemon juice then roasted to perfection in this quick and easy Oven Roasted Asparagus recipe.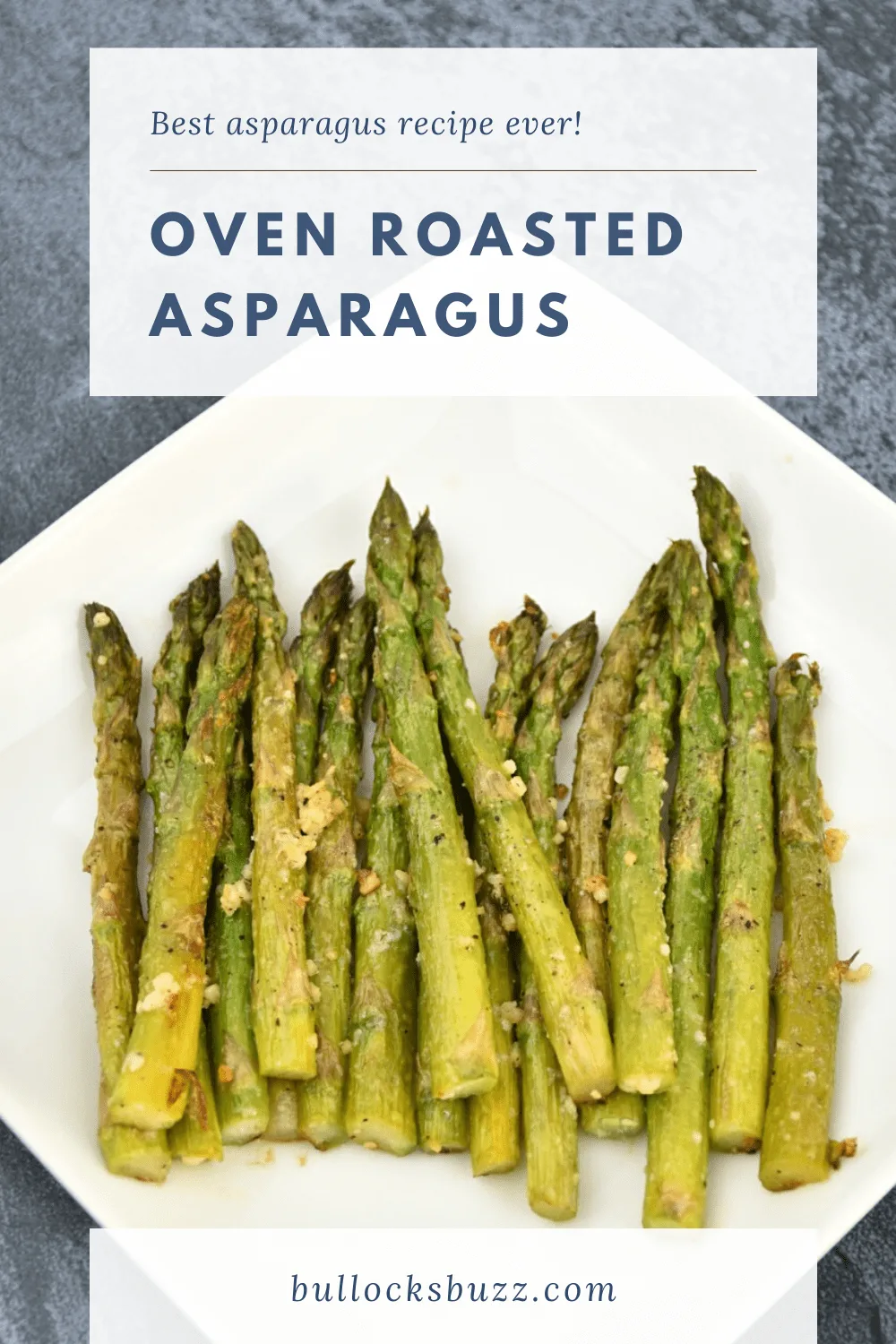 Asparagus is one of our favorite vegetables. Aside from its delicious taste and versatility, asparagus is also chock full of vitamins A, C, and E, as well as protein, fiber, and potassium.
This oven-roasted asparagus recipe is one of my favorite ways to cook asparagus. It takes just a few common ingredients and turns them into a delicious side dish recipe you'll love!
How to Pick the Perfect Asparagus
Did you know that asparagus comes in green, white, or purple? Regardless of the variety, when picking out the perfect bunch of asparagus, there are a few things you should look for such as:
bright, vibrant color, whether it be green, purple, or white. Avoid stalks where the color has faded.
stalks that are plump and firm (not limp or floppy) with tips that are compact and tightly closed.
leaves that are dry, firm, and held tightly against the stalk. If the leaves are wet or starting to fall off, choose another bunch.
when the bunch is squeezed, it should squeak.
if stalks appear woody, keep looking
Something else to consider when looking for the best asparagus is the size of the stalks. While size is not an indicator of quality or flavor, it can affect the texture.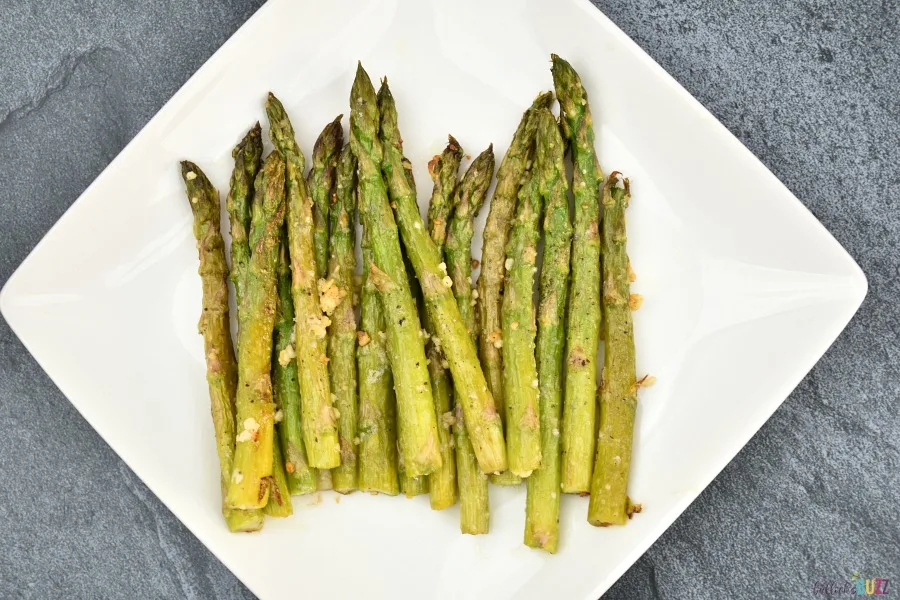 Thicker asparagus stalks are more mature which results in them being chewier, a bit stringy, and having a more 'woody' texture. Thinner stalks tend to be more tender. So it really depends on your preference.
For this oven roasted asparagus recipe, I recommend buying asparagus that is right in the middle of thin and thick.
How to Trim Asparagus
The woody root ends of asparagus are tough and fibrous and need to be removed before cooking. While you could use the bend-and-snap method, this can actually waste perfectly good food.
Instead, use a knife to trim the ends. Line up all of the asparagus spears in a row on a cutting board, then use a chef's knife to cut right where the stalks turn from white into green.
How to Cook Oven Roasted Asparagus
Disclosure: This blog post contains affiliate links for products or services I think you'll like. This means if you make a purchase from one of these links, I may make a small commission at no additional cost to you. P.S. I only recommend products that I use and love.
Kitchen Tools You May Need
Oven-Roasted Asparagus Ingredients
This easy side dish recipe calls for just a few common ingredients including:
minced garlic
sea salt and black pepper
Extra Virgin Olive Oil
asparagus
grated parmesan cheese
lemon juice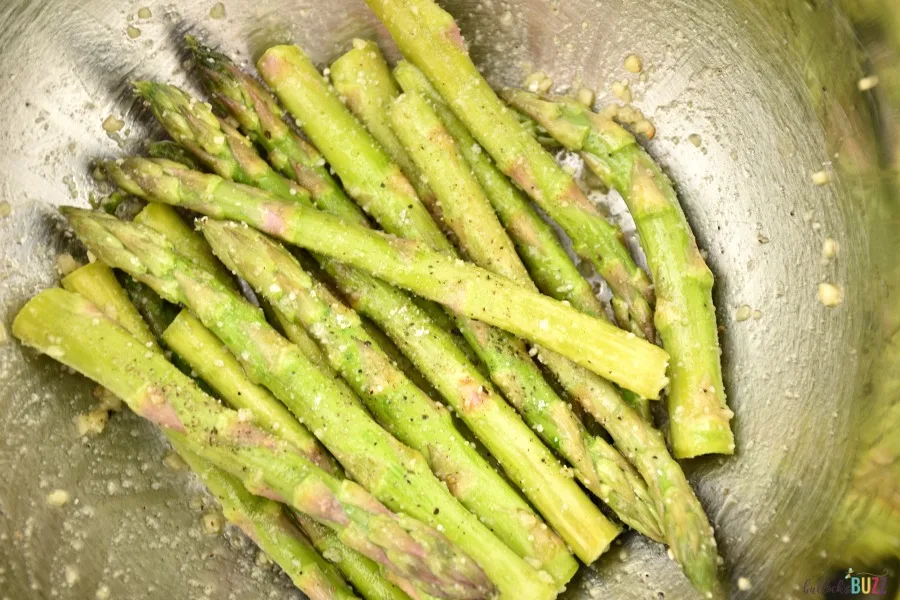 Recipe Instructions
It really doesn't get any easier than this recipe for oven roasted asparagus. After tossing the asparagus in a bowl with everything but the lemon juice, you lay them out on a baking sheet, and then pop them in the oven. Once they're done, drizzle with a bit of lemon juice and serve. Easy-peasy!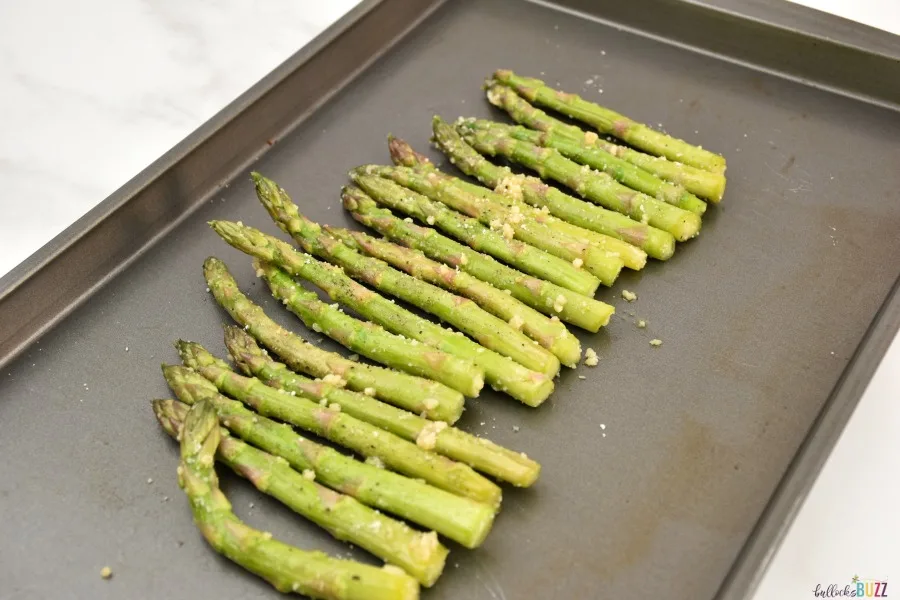 Can I Store Leftover Roasted Asparagus?
In my opinion, asparagus is one of those one-night-only types of vegetables. It really doesn't store well, and it usually doesn't make for great leftovers. Therefore, I'd only make enough of the oven roasted asparagus recipe for the number of people you are feeding that night.
Also, for the freshest flavor, try to buy and eat asparagus the same day.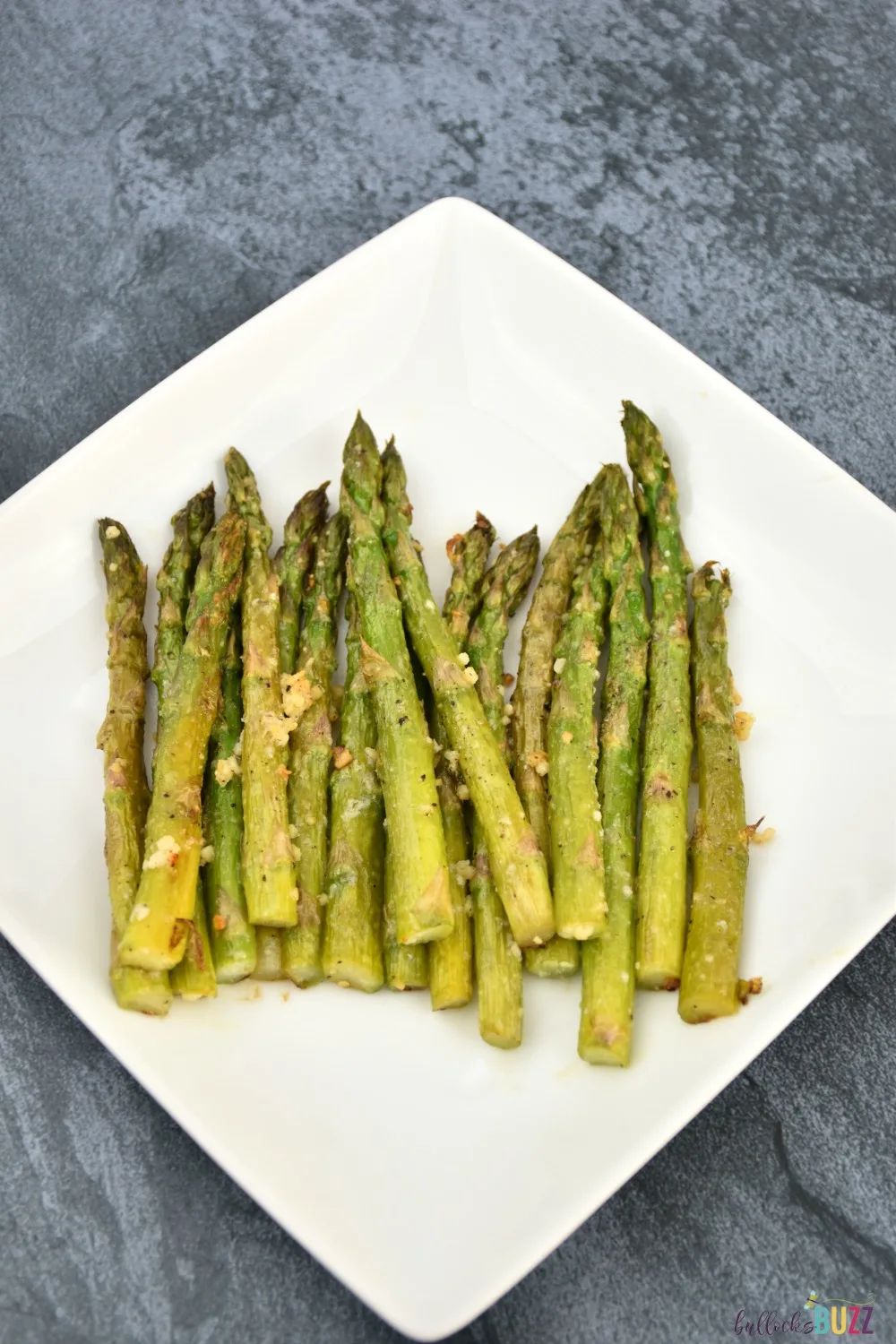 More Easy Side Dish Recipes
If you like this Oven Roasted Asparagus recipe, then I bet you'll love these side dish recipes:
Oven Roasted Asparagus Printable Recipe
Yield: 3 servings
Oven Roasted Garlic Asparagus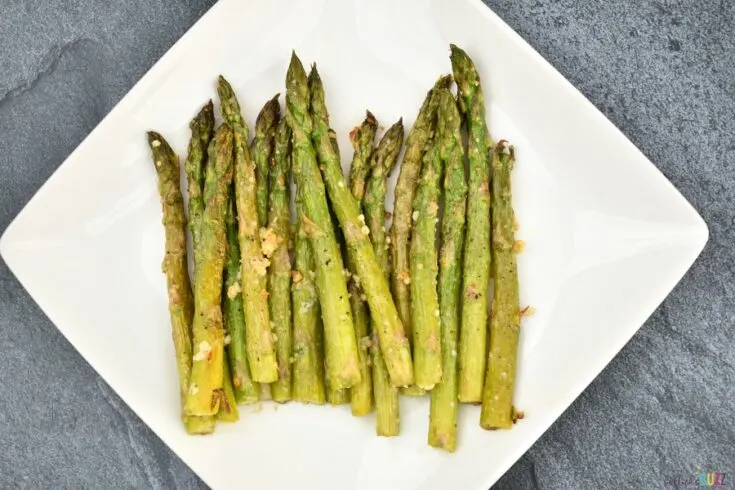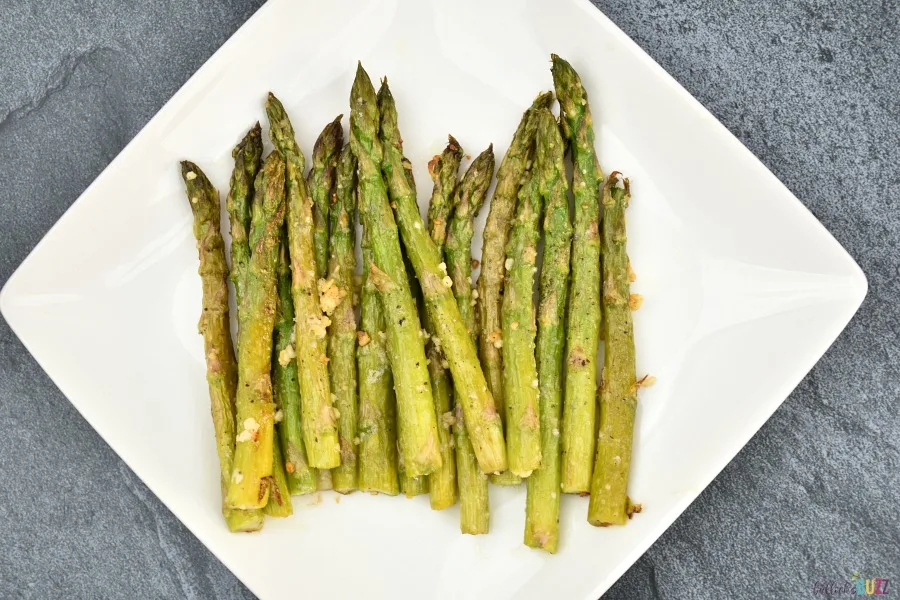 Kids won't eat their vegetables? They will this delicious oven roasted asparagus side dish! Flavoed with garlic and sea salt, they'll ask for it over and over again!
Ingredients
1 bunch fairly thick asparagus, trimmed
3 tablespoons olive oil
1 teaspoon minced fresh garlic
1 teaspoon sea salt
½ teaspoon ground black pepper
1 ½ tablespoons Parmesan cheese, grated
1 tablespoon lemon juice
Instructions
Pre-heat oven to 425° F
Rinse and trim asparagus, then place in a large mixing bowl and drizzle with olive oil.
Toss to coat the spears.
Sprinkle with sea salt, pepper, garlic and Parmesan cheese.
Toss again.
Arrange asparagus in a single layer on a baking sheet
Sprinkle with remaining mixture from bowl.
Bake in oven until just tender. 12 to 15 minutes depending on thickness.
Remove from oven and drizzle with lemon juice.
Serve and Enjoy!
Nutrition Information:
Yield:
3
Serving Size:
6 stems
Amount Per Serving:
Calories:

140
Total Fat:

14g
Saturated Fat:

2g
Trans Fat:

0g
Unsaturated Fat:

12g
Cholesterol:

2mg
Sodium:

761mg
Carbohydrates:

2g
Fiber:

1g
Sugar:

0g
Protein:

2g
Nutritional information is automatically calculated with ingredients and serving size and may not be accurate. Please always double check with your own nutritional apps as well.