Add a personalized touch to the giving of gift cards with these easy-to-make free printable Christmas gift card holders.
Have you checked everyone off your list this Christmas, yet? I am personally only about a quarter of the way done and really need to kick it into gear! Luckily, gift cards are one of my favorite gifts to give – and get! I mean who doesn't LOVE a gift card? It's the only gift I can think of (other than cash) that allows the recipient to get exactly what he or she wants!
Of course, one of the biggest problems with gift cards is that they feel too impersonal. Like I didn't spend enough time or put enough thought into it. So, in an effort to remedy that, I designed some great printable Holiday Gift Card Holders!
FREE PRINTABLE CHRISTMAS GIFT CARD HOLDERS
The other day I shared these fun printable Hanukkah Gift Card Holders, and people are loving them! So, of course, I just had to make some for Christmas, too!
These printable Christmas Gift Card Holders are cards that you simply download, print, and then attach your gift cards with tape or removable glue dots in the space provided.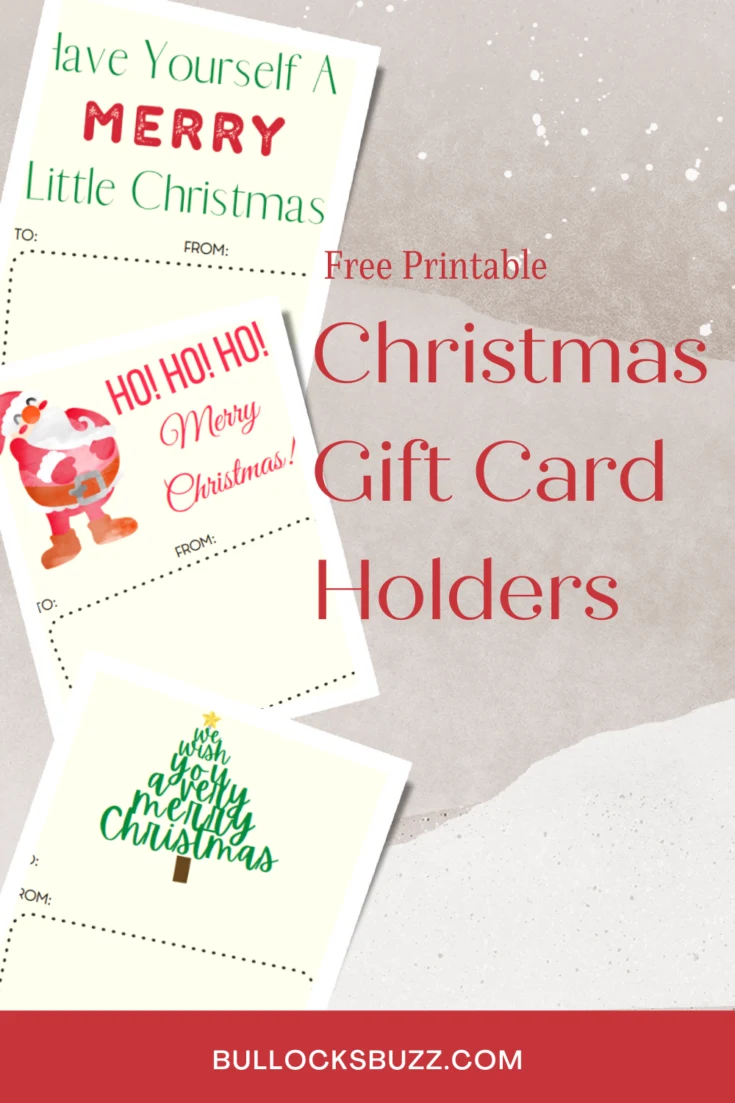 There are 6 different fun holiday designs, two of which are specifically for coffee gift cards. They are all simple and fun! And best of all, they are FREE! My gift to you! 🙂
So, if you are looking for a more personal way to gift a gift card, you've found it!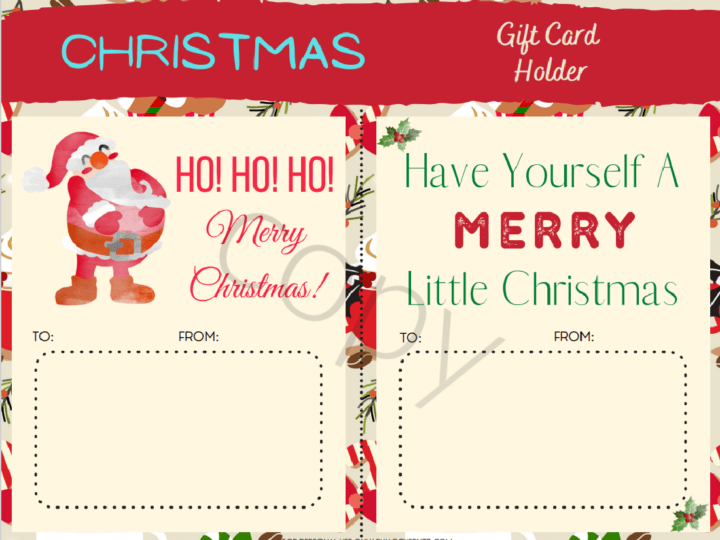 HOW TO USE THESE PRINTABLE CHRISTMAS GIFT CARD HOLDERS
These digital Christmas gift card holders printable are designed to print on card stock using your home computer and printer. They are so easy, so cute, and SO perfect for Christmas!
Once printed, simply cut them apart, attach your gift card, then fold them in half (or not) and stick them in an envelope or gift basket. Once cut, they measure about 5″ by 6 1/2″. I usually attach the gift card then fold mine in half so they can easily fit into an envelope.
While plain white cardstock works great, I've also used cardstock paper or heavy-weight scrapbooking paper that is patterned or colored on one side only. I'll then print the card holder on the white side, and that way, when I fold the card holder in half, there's a pretty design or color on the 'outside' of it as well.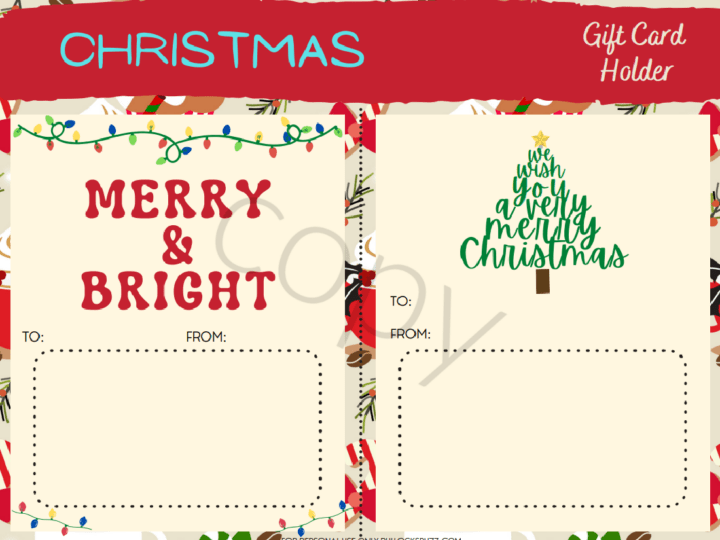 It's completely up to you. 🙂
I do recommend using cardstock rather than regular printer paper in order to give your card holder a sturdier foundation to support the gift card you attach.
Please remember that the printables at bullocksbuzz.com are for personal use only, you may not sell, share, or link directly to these files.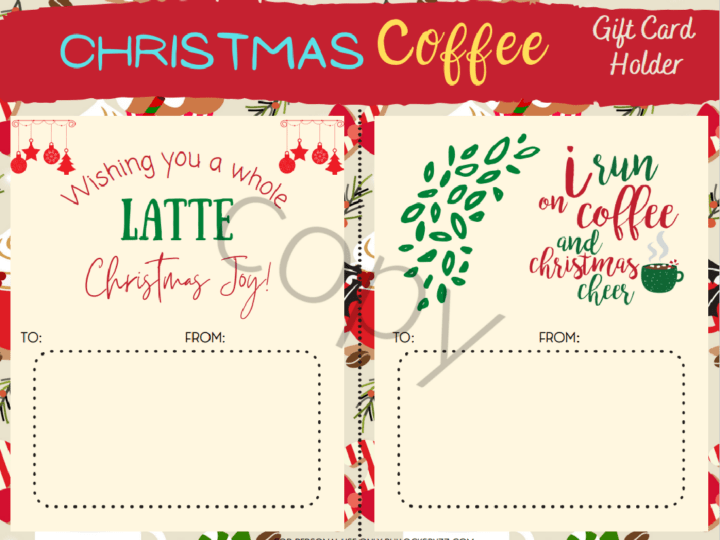 TOOLS YOU WILL NEED
Disclosure: This blog post contains affiliate links for products or services I think you'll like. This means if you make a purchase from one of these links, Bullock's Buzz may make a small commission at no additional cost to you. As always, I only recommend items I use and love.
These super cute printable Christmas Gift Card Holders are available in four fun designs. All you need to do is download, print, and then use double-sided tape or removable glue to attach the gift card. Then your Christmas gift will be good to go!
PRINTABLE CHRISTMAS GIFT CARD HOLDER PDF INSTRUCTIONS
To get started, download the PDF printable Christmas gift card holders from the link.
Next, find the file on your computer; it's usually in your downloads.
Insert the cardstock into your printer, click to open the file, and select the print option.
Double-check that you are printing in color before you begin printing the pages!
Once the gift card holders have printed, use scissors or a paper cutter to cut on the trim lines and remove the other excess paper.
Lastly, attach your gift card to the holder using either double-sided tape or removable glue dots.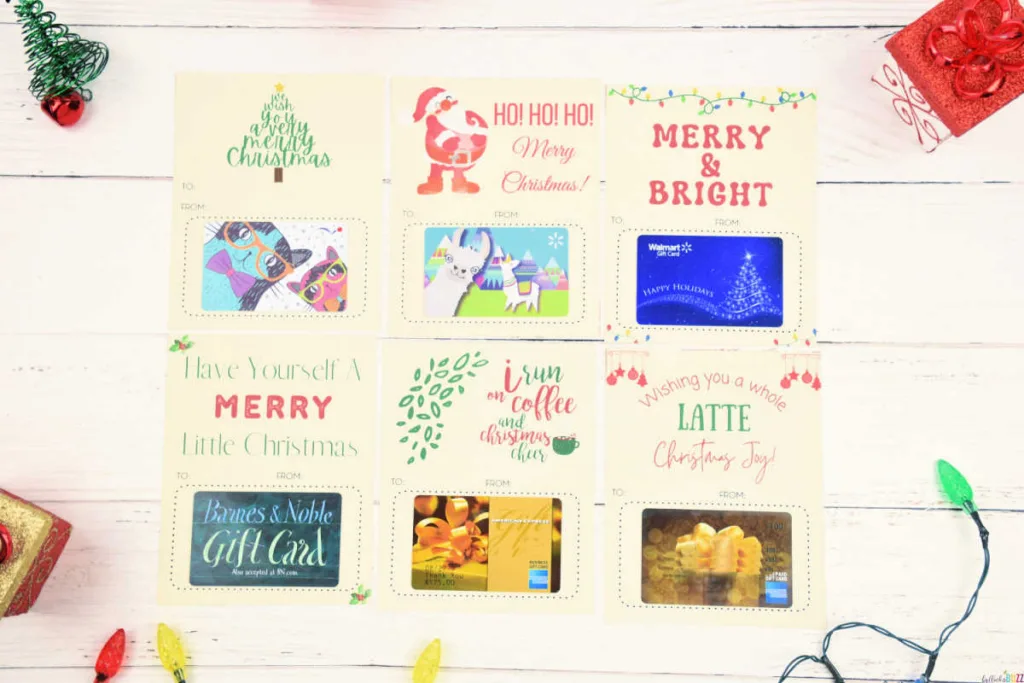 PRINTABLE GIFT CARD HOLDER PRINTING TIPS
Here are a few printing tips to ensure these Christmas Gift Card Holders come out perfectly.
Once you download the PDF, be sure select to print "Actual Size" as well as the best print quality possible.
If you don't have a color printer, or if you want extra nice results, you can always email the file to your local copy shop. They'll give you a very high-quality product.
Always leave enough time for the ink dry completely before touching the gift card holders or attaching the gift card.
MORE FREE PRINTABLES FOR CHRISTMAS
TRIED IT? LOVED IT? SHARE IT!
Be sure to let me know if you like this Christmas gift card holders printable! And if you take a picture, let me know! I'd love to see it!
Let me know on Pinterest or Instagram and tag me with #BullocksBuzz on your Instagram photo! Or leave a comment below. Merry Christmas!