Add a little love to your cards, gifts, and treats on the sweetest day of the year with these adorable printable Valentine's Day stickers!
Valentine's Day and sweets go hand-in-hand. And who doesn't love a treat like this Valentine's Day Popcorn (Flamin' Hot Popcorn) or these Red Velvet Donuts Topped with Chocolate Ganache on Valentine's Day?!
But sometimes it's nice and even fun to give away something a little different. Which is why I designed these fun and free printable Valentine's Day stickers!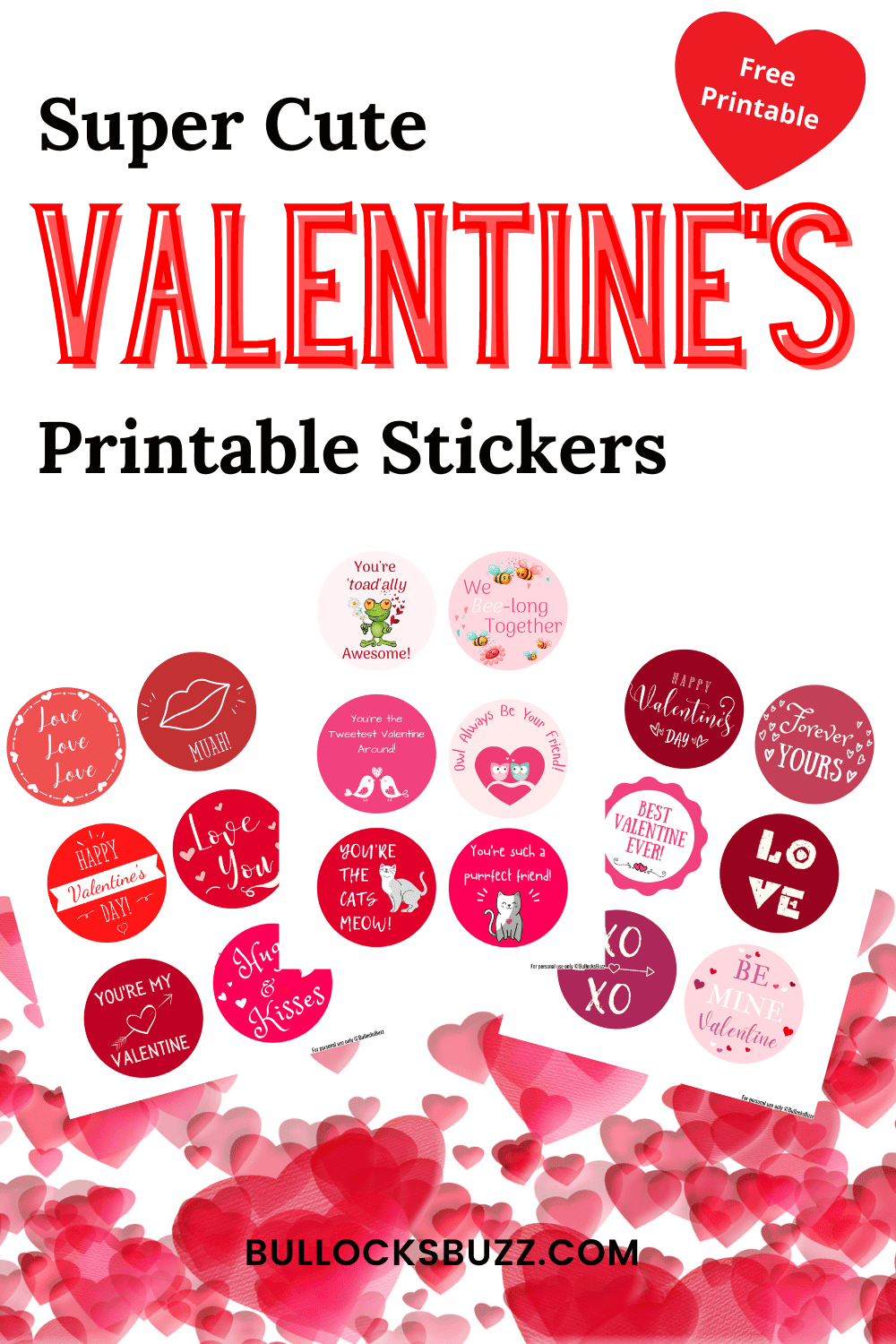 Stickers are always a hit, and these print and cut Valentine's stickers are so cute, they're sure to be loved! You can use them as a gift or for embellishing cards and gifts. And they make for a fun giveaway for kids and adults. Plus, if you wanted to, you could even print them off on cardstock or plain paper and use them as decorations or party favors.
And while these printable Valentine's Day stickers are absolutely perfect for your February 14th Valentine's Day celebration… you could also use them for date nights, special occasions, anniversaries, or even just to bring some love to your day!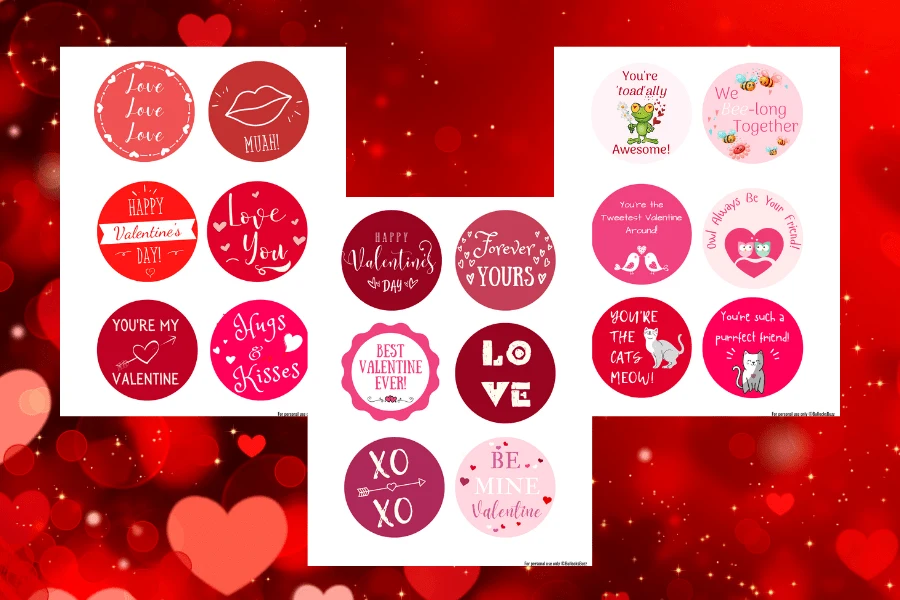 HOW TO MAKE PRINTABLE VALENTINE'S DAY STICKERS
These Valentines Day Stickers are perfect for kids and adults of all ages. Plus, they're free to print off and use!
These sweet printable stickers come with 18 adorable designs ranging from funny Valentine's Day stickers that are perfect for kids, to sweet Valentine's stickers that are perfect for couples of any age.
There are 3 pages total, each of which has 6 different Valentine's stickers that are ready to be downloaded and printed. And each sticker measures about 3-inches in diameter.
These fun freebies can be printed out on sticker paper and be ready to go in just a few minutes. The entire set is all ready for you to download and print. Simply print, cut, and then use them for whatever you'd like.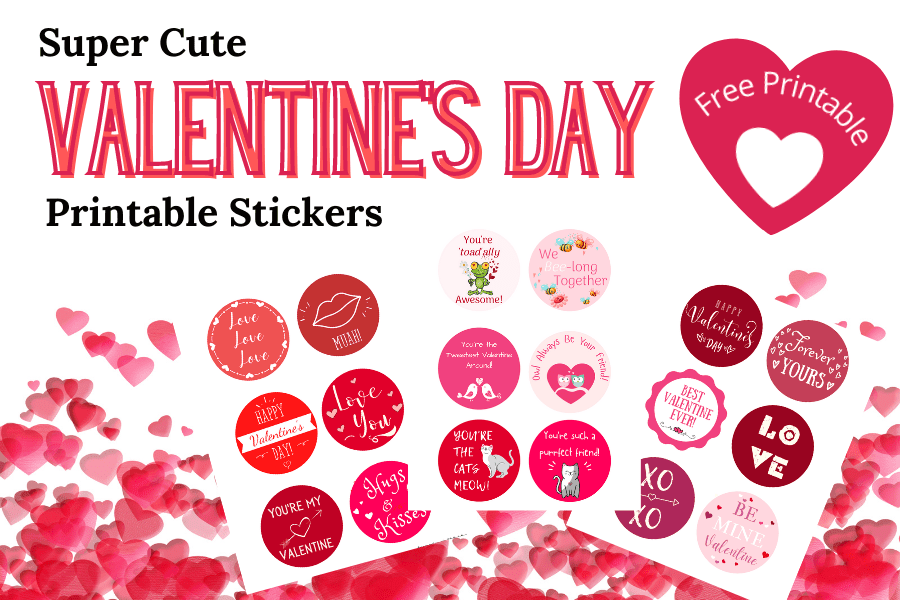 TOOLS YOU MAY NEED
Disclosure: This blog post contains affiliate links for products or services I think you'll like. This means if you make a purchase from one of these links, Bullock's Buzz may make a small commission at no additional cost to you. As always, I only recommend items I use and love.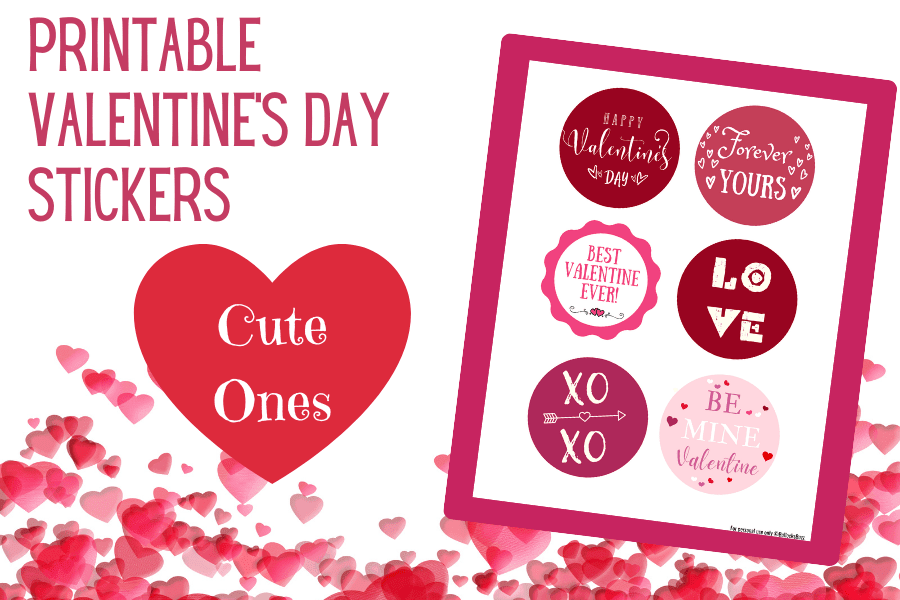 PRINTABLE VALENTINE'S DAY STICKERS PDF INSTRUCTIONS
To get started, download the printable Valentine's Day stickers PDF from the link. Then locate the file on your computer, it should be in the download file.
Next, check that you have paper in your printer, then click to open the file and select the print option. Make sure you are printing in color, too! Pro tip: Draw an "X" with a pencil on a regular piece of paper and test-print to see which side of your Sticker Paper needs to face up.
Once all 3 pages have printed, use scissors or a Xacto craft knife to cut them into individual stickers.
Pro Tip: You could also use a 3-inch hole punch to cut these Valentine's Day stickers out. They measure just a hair under 3-inches, so you may wind up with a thin border of white around each sticker. But I think it makes the stickers stand out even more!
And that's it! Your printable Valentine's Day stickers are ready to be given away as Valentine's gifts, used to decorate your own cards, added to a special treat, or whatever other ideas you have for them. Enjoy!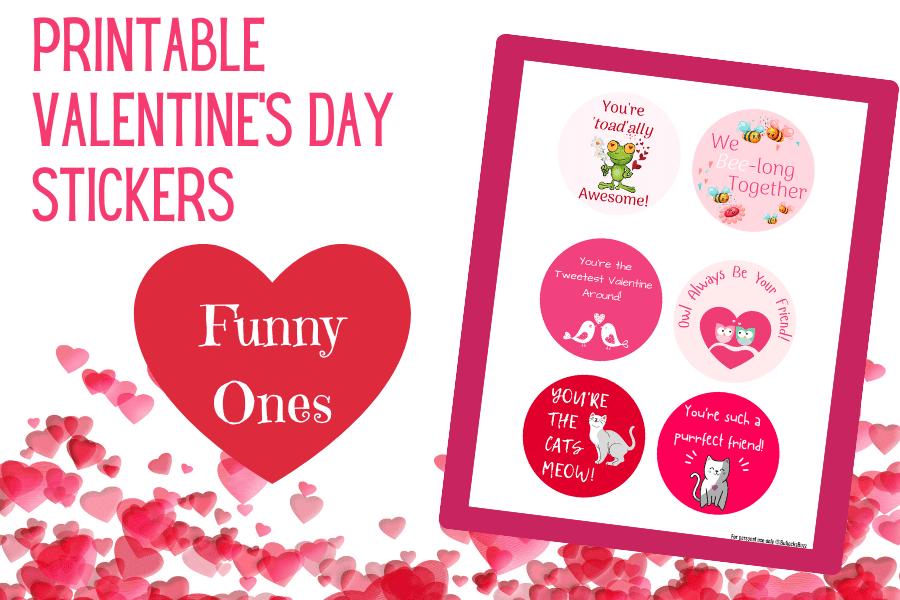 IDEAS FOR USING VALENTINE'S DAY STICKERS
Speaking of ideas for these printable Valentine's Day stickers, there are so many things you can do with them – other than the obvious, that is. Here are just a few suggestions:
Let your kids give them out to their friends.
Use them to brighten up your child's Valentine's Day lunch.
Add them to a coloring book page, a journal page, a scrapbook page, or an art page.
Use them as a reward for a chore or a habit chart.
Add them to individual treat bags.
Make them into a counting activity for young children. Simply write a number on an index card and then ask your child to place that number of stickers on the card.
Or add them to a homemade Valentine's Day card or a pre-made card.
You could use them for a sticker matching game.
Or for Valentine's crafts and decoration.
Attach them to a treat bag or other Valentine's gift.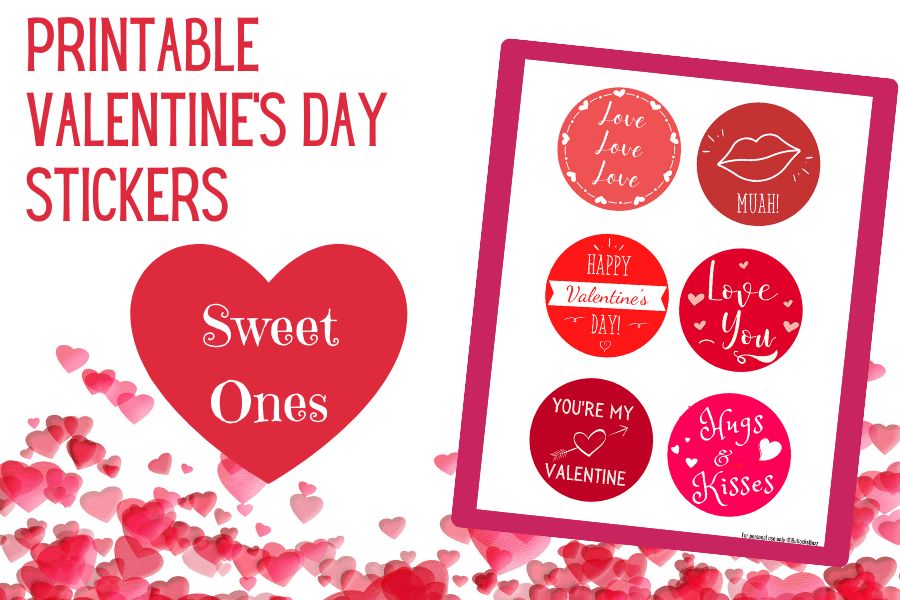 Click Here To Get Your Printable Valentine's Day Stickers
Happy Valentine's Day!
Please note: As with all my printables on Bullock's Buzz, these candy bar wrappers are for personal use only. You may not sell them, mass-produce them, or claim them as your own. (Sadly, I see this happen all too often!) If you have a question about this, feel free to email me – I promise I'm totally nice. 🙂
SHOW ME WHAT YOU'VE GOT!
I hope you enjoy using these cute printable Valentine's Day stickers as much as I enjoyed making them!
Share what you make with me on social media using the hashtag #BullocksBuzz!
MORE VALENTINE'S DAY PRINTABLES
Looking for more Valentine's Day inspiration? I have printable Valentine's for kids, easy treats for Valentine's Day parties, non-candy Valentines, and so much more!
See you soon ~
Alaina
xoxo