Bring even more excitement to your holiday gathering with these adorable Swiss Roll Reindeer Snack Cakes! This quick and easy no bake holiday snack idea is so fun and festive, even Rudolph would approve!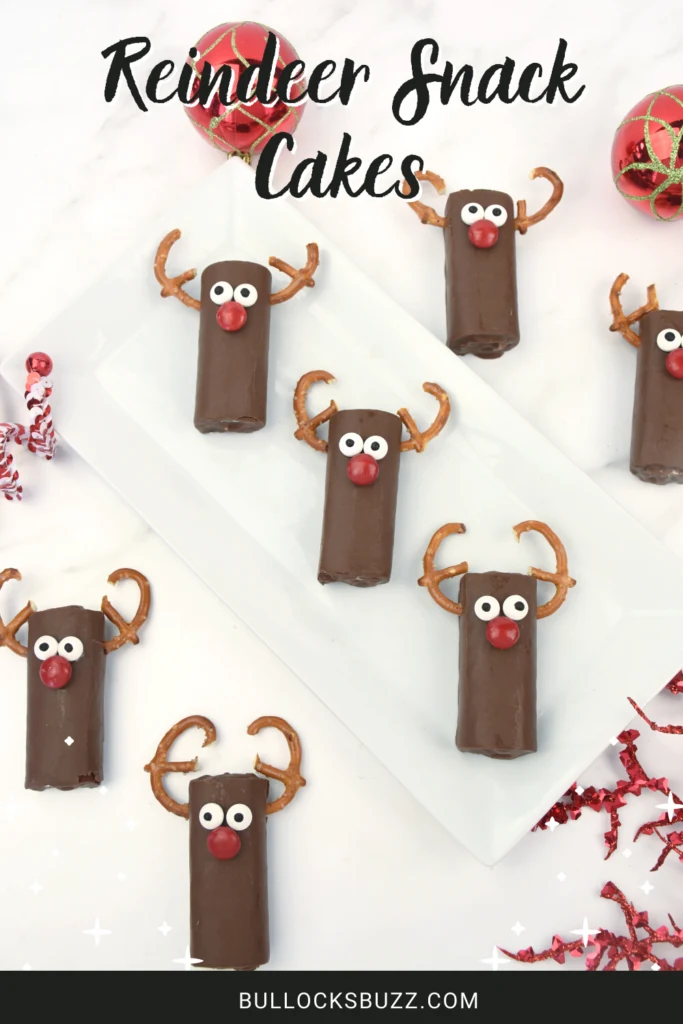 'Tis the season for quick and easy snack ideas! With all of the hustle and bustle of preparing for the holidays, quick and easy is the name of the game when it comes to holiday snack ideas. These Swiss Roll Reindeer Snack Cakes are not only quick and easy, but they are also extremely CUTE!
Made with Little Debbie Swiss Rolls, pretzels, candy eyeballs and an mini M&M nose, these adorable snacks are sure to become a holiday favorite!
Bring even more holiday excitement to your table with these other holiday recipes! Hanukkah White Chocolate Pretzels, Pretzel Christmas Trees, and Christmas Wreath Donuts.
REINDEER SNACK CAKES RECIPE
If you're searching for Christmas snack ideas or Hanukkah snack ideas, then you have come to the right place. This No Bake Reindeer Snack recipe is going to be a huge hit.
Plus, these Swiss Roll Reindeer Snack cakes are so adorable and take very little time to make. It's just a simple matter of assembling these adorable Christmas treats.
You can have lots of these made in just a few minutes.
So, let's get to it!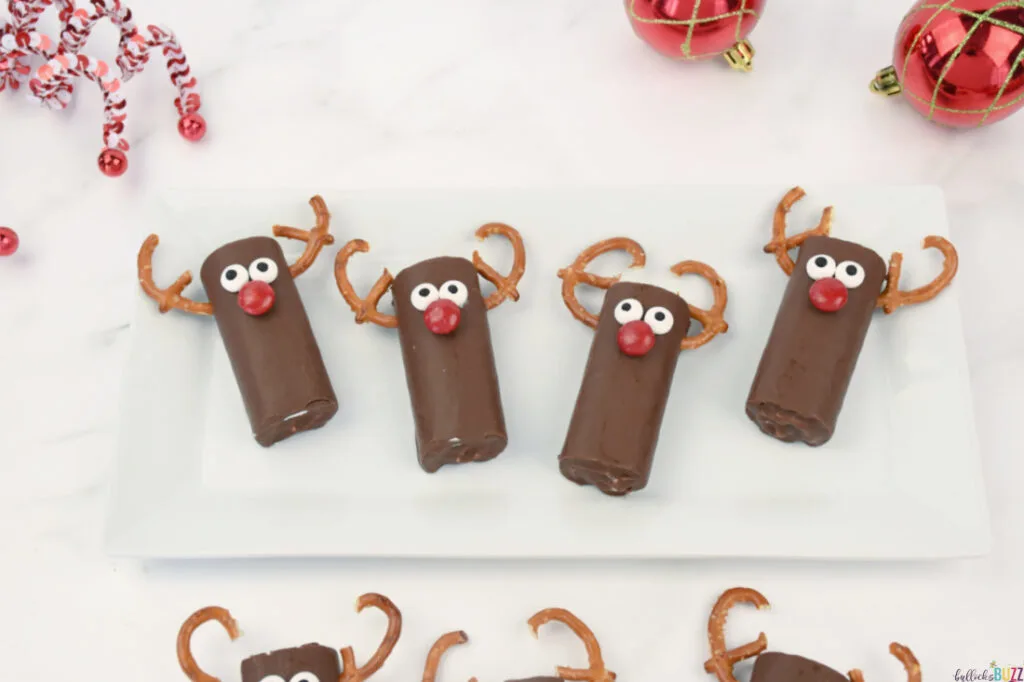 HOW TO MAKE SWISS ROLL REINDEER SNACK CAKES
Making these Swiss Roll Reindeer Snack Cakes are so quick and simple. They're also fun for little ones to help make since there is no baking or sharp tools involved.
Wrap them in cellophane for a giftable treat, or line them up on a tray for your holiday party! Whichever way you choose, this Christmas snack idea is going to be a hit!
Exact measurements and instructions are listed below in the recipe card. Make sure you scroll down to print and save the recipe for later!
KITCHEN TOOLS YOU MAY NEED
Disclosure: This blog post contains affiliate links for products or services I think you'll like. This means if you make a purchase from one of these links, I may make a small commission at no additional cost to you. As always, I only recommend products that I use and love.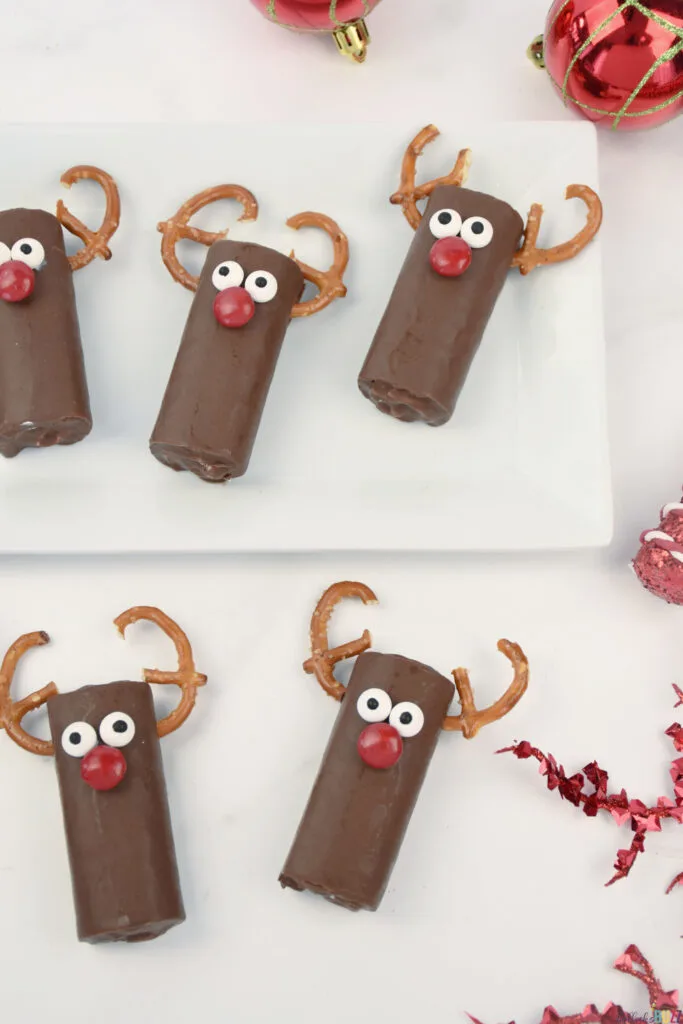 EASY HOLIDAY SNACK CAKES RECIPE INGREDIENTS
All you need are a five simple ingredients to make these Reindeer Snack Cakes:
Little Debbie Swiss Cake Rolls (or Drake's Yodels or Ho-Ho's if you can't find the Little Debbie brand)
Candy eyeballs
Red Mini M&Ms for the nose (you could also use Skittles of Red Hots)
Pretzels
Cookie icing – the glue to hold these Christmas snacks togetger
TIPS FOR MAKING HOLIDAY REINDEER SNACK CAKES
These snack cakes are incredibly simple to make. In fact, the hardest part is breaking the pretzels in half to make the antlers. But I do have a few tips to share with you to ensure they come out perfectly.
Break the pretzels when you are hungry for a snack – LOL, there will be plenty of broken pieces.
It takes a few tries to get the hang of breaking the pretzels in half.
Don't worry if the pretzels aren't perfect – antlers are never perfect in nature!
I found that using a knife made the pretzel break in places I didn't want them to.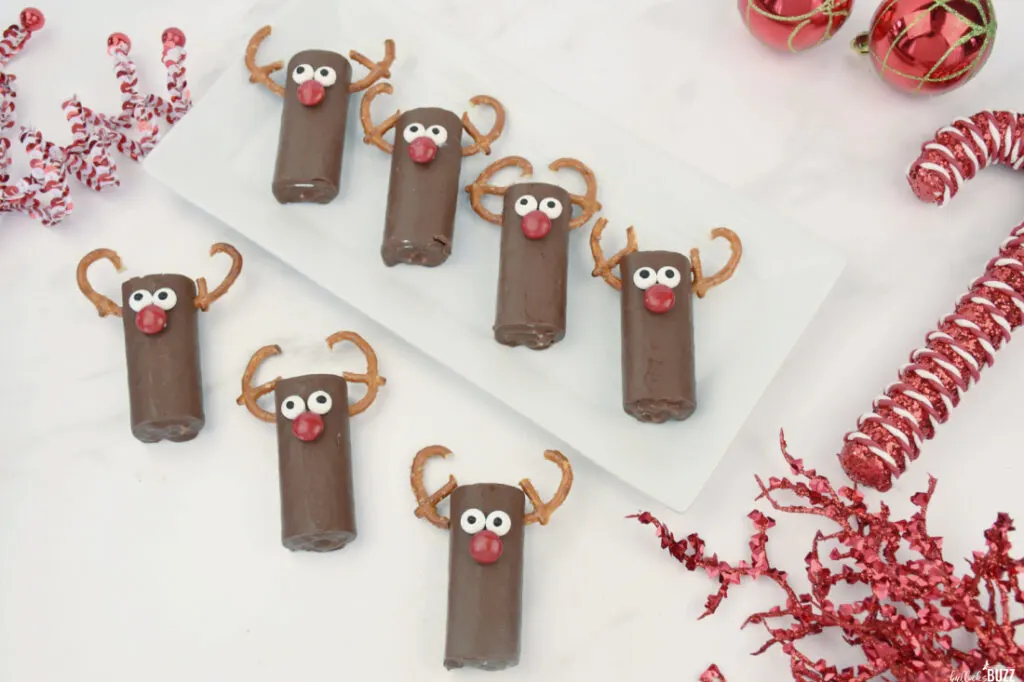 CHRISTMAS REINDEER SNACK CAKES INSTRUCTIONS
These reindeer snack cakes will come together in a just a few simple steps, and they only take minutes to make!
STEP ONE: PREPARE INGREDIENTS
Remove snack cakes from wrappers.
STEP TWO: ANTLERS
Carefully break the pretzel in half.
Insert one piece on each side of the cake roll for the antlers.
STEP THREE: ADD THE EYES
Add a small amount of the cookie frosting to the back of two eyes and place them side-by-side on the roll.
STEP FOUR: ADD THE NOSE
Then add a dab of icing to the back of a mini M&M and attach it directly under the eyes for the reindeer's nose.
STEP FIVE: COMBINE WET WITH DRY
Allow icing to set for a few minutes.
And you are done! See? Quick, easy and oh so cute!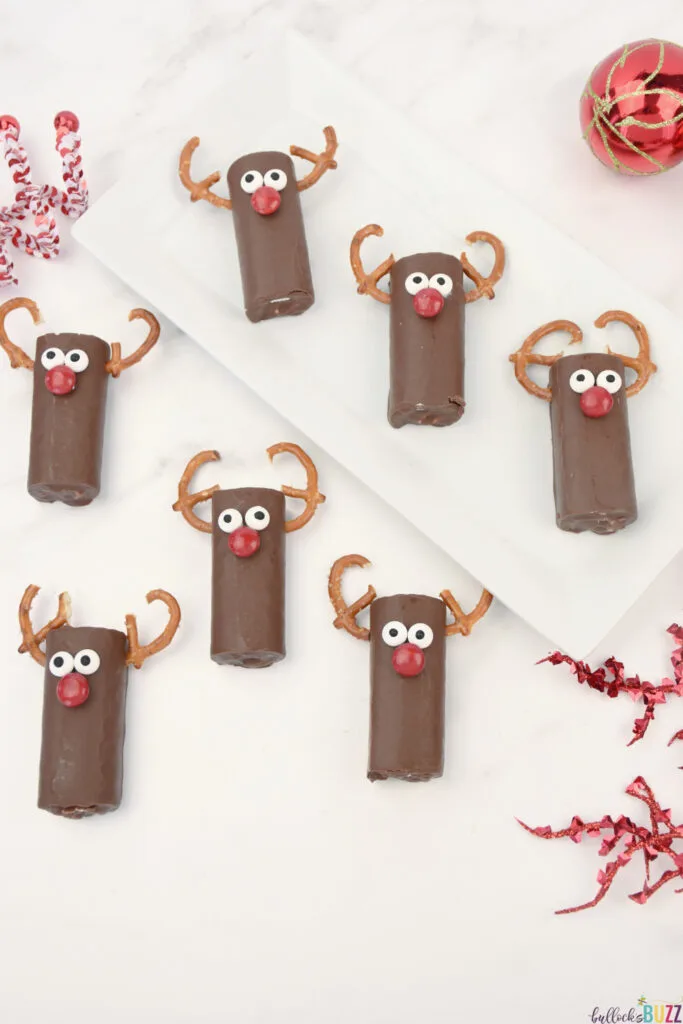 RECIPE FAQs
How do I store Swiss Rolls Reindeer Snack Cakes?
If they are kept in their orignal packaging, Little Debbie Swiss Rolls can last for about 4 weeks. However, once they are opened and removed out of their packaging, they should be eaten with 2 to 3 days.
I have stored these reindeer snack cakes in an airtight container for up to 6 or 7 days tops.
However, the pretzels will become soft after storing for a few days, so if you must store these Christmas treats, I recommend removing either holding off on or adding the pretzels or removing them and adding new ones when you are ready to eat them.
Can you freeze Reindeer Snack Cakes made from Swiss Cake Rolls?
Yes, you can freeze Little Debbie's pre-packaged snack cakes for up to 3 months in their original packaging. Once you make these reindeer snack cakes, I would not recommend freezing them.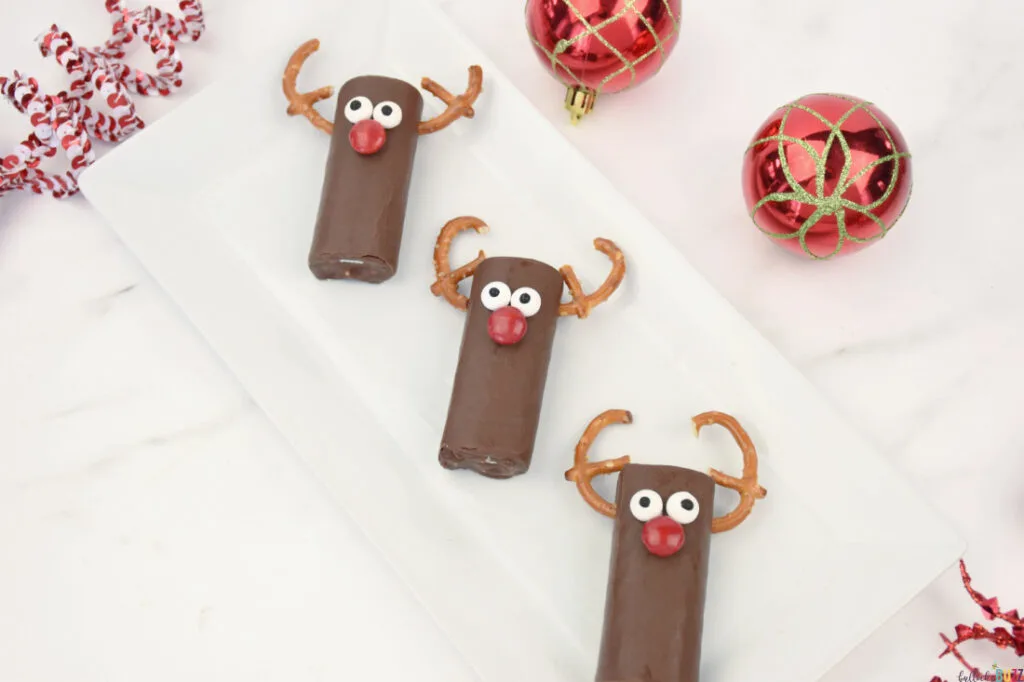 MORE CHRISTMAS RECIPES
Looking for more fun and easy Christmas and Hanukka recipes? Check these out! Simply click on the picture below that you like, and it will take you right to the post!
LIKE IT? LOVE IT? PLEASE SHARE THESE SWISS ROLL REINDEER SNACK CAKES RECIPE!
I hope you enjoy this Reindeer Snack Cakes recipe much as I did! They are so quick and easy to make, and lots of fun to eat!
If you give these holiday snacks a try, I'd love to know! Leave a comment below and tag a photo @bullocksbuzz and #bullocksbuzz on Instagram or Facebook so I can see your holiday creations!
And be sure to Pin it to save it, and then share with your friends and family by clicking the share buttons above the post title!
And finally, if you get a chance, please comment and leave me a ⭐⭐⭐⭐⭐ rating on the printable recipe card below!
Yield: 20 reindeer snack cakes
Reindeer Snack Cakes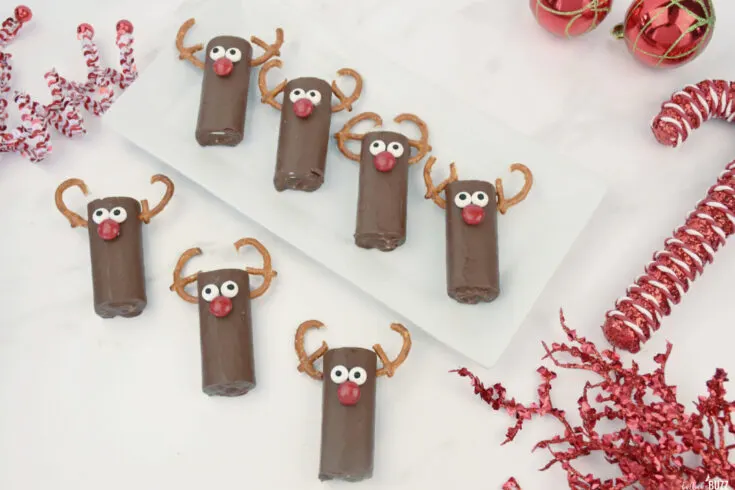 Made with Little Debbie Swiss Rolls, pretzels, candy eyeballs and an mini M&M nose, these adorable Reindeer Snack Cakes are sure to become a holiday favorite!
Ingredients
10 - count package of Little Debbie Swiss Cake Rolls
Tube of white cookie frosting
20 red M&M minis
40 small candy eyeballs
20 pretzel twists - broken in half
Instructions
Open the Swiss Cake Rolls and discard the plastic wrappers.
Carefully break the pretzel twists in half and insert into the sides of the Swiss Cake Rolls for the reindeer antlers.
Add a tiny amount of frosting to the back of two candy eyeballs and place on the snack cake rolls.
Add a dab of ciing to the back of one M&M mini and place directly beneath the eyes on the snack roll.
Repeat these steps with all cake rolls.
Allow icing to set.
Enjoy.
Nutrition Information:
Yield:
20
Serving Size:
1
Amount Per Serving:
Calories:

400
Total Fat:

13g
Saturated Fat:

7g
Trans Fat:

0g
Unsaturated Fat:

4g
Cholesterol:

14mg
Sodium:

402mg
Carbohydrates:

66g
Fiber:

3g
Sugar:

37g
Protein:

5g
Nutritional information is automatically calculated with ingredients and serving size and may not be accurate. Please always double check with your own nutritional apps as well.