Getting a driver's license is a huge deal for a teen. That license is a rite of passage that means freedom, self-reliance and the ability to hit the open road. But with that privilege comes increased responsibility and risk. Which is why it's so important to help your teen driver stay safe on the road. Thankfully, today's technology makes it easier than ever. Especially when it comes to safe driving apps for teens.
Safe Driving Apps for Teens
There are tons of safe driving apps for teens that offer a wide variety of features. You can find these apps for iPhone in the App Store and for Android in Google Play. Some of these apps are installed on both your phone and your teen's, some require purchasing a GPS tracker to attach to your teens car. Some are paid, others are free. All can help ease a parent's mind while your teen is out and about.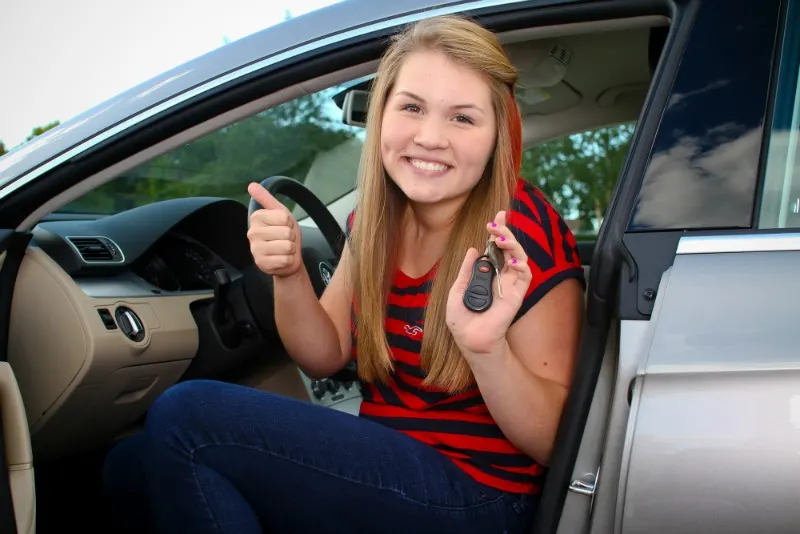 Here are some of the ways safe driving apps for teens can help give you peace of mind once your teen begins driving.
App Cans Prevent Dangerous Phone Use While Driving
Distracted driving is one of the top causes of teen auto accidents. Research from Virginia Tech Transportation Institute shows the risk of being involved in a crash or near crash because of a teen driver texting was nearly four times that of an alert teen. Dialing and reaching for cell phones increased risk by nearly eight times. Teaching your teen to put down the phone when on the road is vital.
This is why one of my favorite types of safe driving apps for teens are those that automatically lock the phone when the car is in motion. While your teen may get upset and complain, you will have the peace of mind knowing your teen will not be distracted by their phone when behind the wheel.
Apps Can Help You Locate Your Teen
One of a parent's biggest worries is knowing where their teen is – especially while driving. Hopefully they are exactly where they tell you they are. But knowing for sure where your teen is – especially if he or she is running late – can go a long way in alleviating concerns.
Some of the best teen driving apps have the ability to report the car's location back to parents. All you have to do is take a look at your phone to see where he or she is.
Apps Can Help Speeding
Another big concern is how fast your teen may be driving. Teens are easily distracted easily, and things, such as speed limit signs, may be missed or ignored. Many teen driving apps are designed to track average driving speed and top driving speed, and report back on different road segments.
Some of these apps can also send notifications when your teen is going over a predefined maximum speed. This gives you the information you need to help coach your teen on safe driving. Additionally, if your teen knows you keeping an eye on his or her driving, it may encourage them to make smarter driving decisions.
Driving A Safe Car Helps, Too
Of course one of the best ways you can help keep your teen safe behind the wheel is by giving them a car that ranks high on all safety tests and offers all the latest safety tech. At DCH Chrysler Dodge Jeep Ram FIAT of Temecula, you'll find a huge selection of cars both new and used. Give yourself peace of mind knowing your teen is driving a reliable vehicle with some of today's latest safety features.