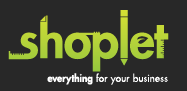 In this age of smartphones, tablets and computers, I have no problem admitting that I still enjoy using a pen and paper. Whether I am journaling, planning for my blog or just writing a snail mail letter to a friend, there is just something so nice about a pen gliding smoothly across a piece of paper.
For me, however, not just any pen will do. It has to be a pen that writes smoothly, has a comfortable grip, and a nice point. And that's not all. I also pay attention to the type of ink, the design of the pen, the weight, and the balance, as well as the point – I usually prefer a fine point pen. So as you can see, when the urge for grabbing a pen and paper strikes, my pen definitely has to measure up!
Sch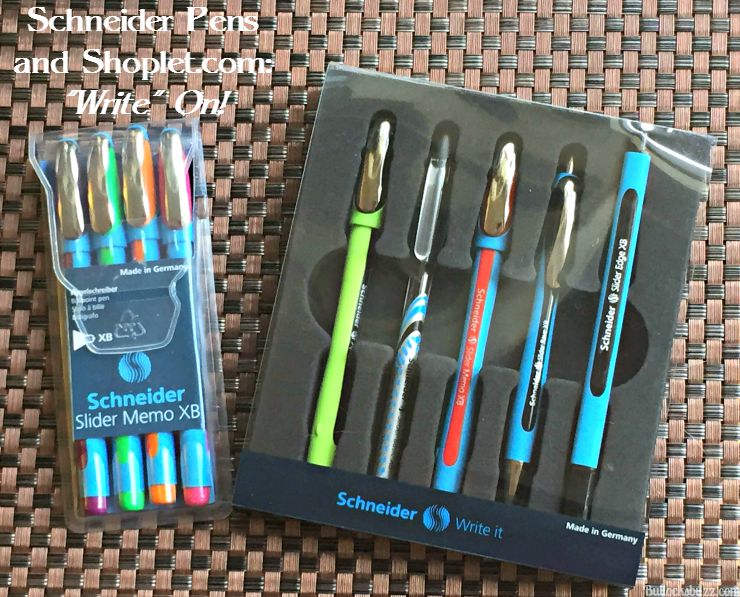 Sneider Pens and Shoplet.com
Schneider, the premier pen manufacturer from Germany, has been making high quality pens for over 75 years. Here in the US, their pens are exclusively distributed by Stride Inc., a small family owned business that is both owned and operated by women. Together with Shoplet.com, I was given the opportunity to try several of their pens.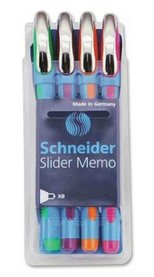 Slider Memo XB ViscoGlide Ballpoint Pen 4 Pack
First up is a 4 pack of the Slider Memo XB ViscoGlide Ballpoint Pen in multiple colors. This progressive ballpoint pen features an ergonomic shape and an innovative barrel design which enables you to write without hand fatigue. In addition, the soft, rubberized surface provides a comfortable, no-slip grip, while the extra wide stainless tip (1 mm pen point size) with ViscoGlide ink technology glides easily over paper, dries quickly and remains wipe-proof even when highlighting. This pen also feature a large ink reservoir and a thick, solid metal clip on the removable cap making it easy to attach to pockets and more. Overall this pen delivers a high-performance writing experience that I love.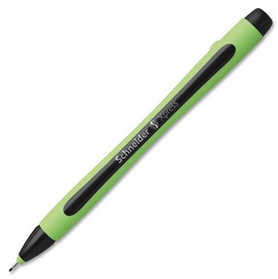 Schneider Xpress Porous Point Pen
The second set I received came with 5 different types of Schneider Pens in it, all of which are sold separately. First is the Schneider Xpress Porous Point Pen in black. This premium, fine point pen features an ergonomic shape and rubberized surface similar to the Slider Memo XB, which gives you an extremely comfortable writing experience. Its very fine, 0.8 mm point produces wonderfully smooth lines making it an ideal pen for use with rulers and templates. Plus its waterproof ink will last up to three days without drying out when the cap is off! It also has a nice wide metal clip on the cap for attaching the pen to paper, pockets and more.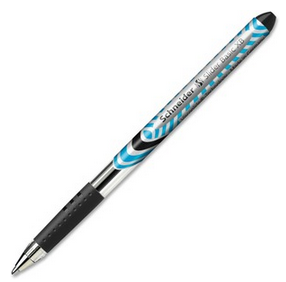 Slider XB ViscoGlide Ballpoint Pen
The next pen in the collection is the Slider XB ViscoGlide Ballpoint Pen with a wide 1.4 mm tip. This is your basic lightweight ballpoint pen with a slender barrel, high-grade steel point, and a removable plastic cap with lip. Its clear barrel allows you to keep an eye on the ink level, while its rubberized grip helps promote a natural writing movement without hand fatigue. Like the other pens, this one uses ViscoGlide technology to provide a writing experience that is smoother than gel ink. Speaking of ink, the black, waterproof ink in this pen dries quickly without any smudging and is smear-resistant even when highlighting.
Slider Memo XB Pen
Next up is another Slider Memo XB, this time in red ink. Like the others in the 4 pack, this pen is an Extra Broad Pen Point Type with a 1 mm pen point size. Its ergonomic shape, rubberized surface, and great balance make it one of the most comfortable pens I have used. Thanks to the ViscoGlide technology, you get a smooth-writing pen that glides easily over paper, and whose red ink dries quickly eliminating any worry about smears – even when highlighting over it. Plus, its extra wide, stainless steel tip is wear-resistant and delivers clean writing to the end which, thanks to its large ink reservoir, will be quite a while. Unfortunately, this ballpoint pen is non-refillable.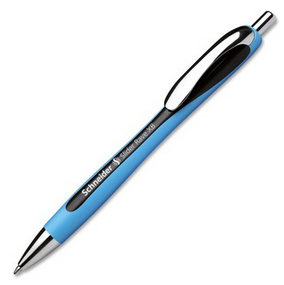 Slider Ballpoint Pen
The next pen is the Slider Ballpoint Pen. This sleek, retractable ballpoint pen features a modern design with a rubberized, ergonomic barrel, and metal accents including a high-grade steel point and solid metal clip. With this pen you get a good, comfortable grip that promotes a natural writing movement without hand fatigue. The ViscoGlide waterproof ink glides smoothly over paper and dries quickly without smearing. Best of all, this Schneider Rave Ballpoint Pen is refillable with a jumbo refill. This is another favorite as it offers a comfortable grip with great balance! It is available with a blue barrel and black ink.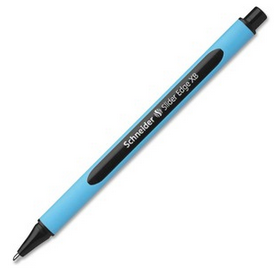 Slider Edge Ballpoint Pen
Last, but not least, is the Slider Edge 1.0 mm Ballpoint Pen. Right off the bat I fell in love with the unique, triangular shape of this ballpoint pen. This design actually provides a better fit within your fingers allowing your hand to be more relaxed, therefore eliminating hand fatigue. It also works great at preventing your pen from rolling off the edge of your desk! Like the other, this pen also features the ViscoGlide technology with quick-drying, waterproof ink that won't smear or smudge. It's rubberized barrel offers a good grip and promotes a natural writing movement, while its wear-resistant stainless steel tip delivers clean writing right to the end. Oh, and did I mention it has a PVC-free construction?! My only wish was that it was refillable!
Shoplet.com Discounted Supplies
Through Stride, Inc., all of the Schneider pens I have reviewed are available in a 10-count box (with the exception of the Schneider Slider Ballpoint and the Slider Memo XB ViscoGlide Ballpoint Pen 4 Pack) on Shoplet.com.
In addition to discounted office supplies, Shoplet.com also carries a large selection of school supplies, medical supplies, office stationery and even a large variety of promotional products, all of which can be personalized any way you need to help promote and advertise your business!