Disclosure of Material Connection: I received one or more of the products or services mentioned above for free in the hope that I would mention it on my blog. Regardless, I only recommend products or services I use personally and believe will be good for my readers. I am disclosing this in accordance with the Federal Trade Commission's 16 CFR, Part 255: "Guides Concerning the Use of Endorsements and Testimonials in Advertising."
2014 Back to School Guide
Staples Arc Customizable Notebook – Make It Into What You Need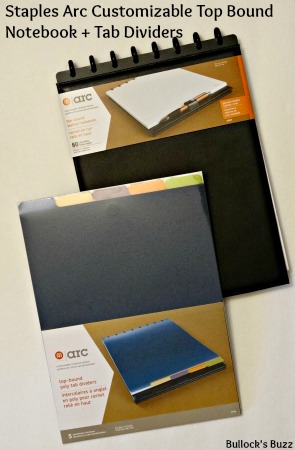 Staples has created the answer to all our notebook woes, the M by Staples™ Arc Customizable Notebook. This innovative notebook has the small size and convenience of a paper notebook, and the storage capability and customizability of a three-ring binder. With all the amazing accessories available, you can create your own customized organizing system that works best for you. It's the notebook that allows you to make it into whatever you need it to be.
How It Works
The Arc is incredible easy to use. Instead of opening the discs (rings) like you would with a binder, you simply pull out the paper you are done with and slip in the new. Each of the discs have notches, and the paper and accessories have specially-shaped holes, so you just press each one onto the disc and it stays. To remove something from the notebook, just gently pull it out. Pretty cool, isn't it! At first I was worried that the paper would come off the rings too easily, but that is not true. It is made to where the sheets and accessories remain securely in place, even if you remove one then add it back in.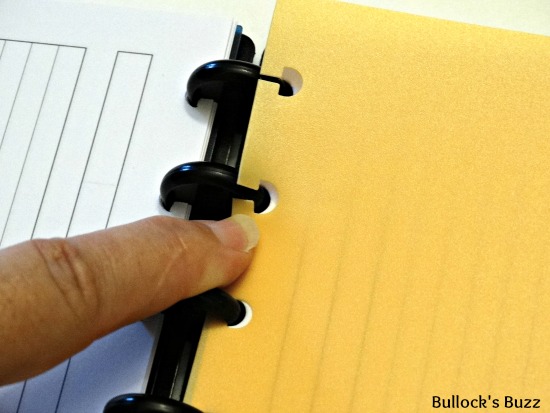 Accessories for The Arc
Now here's my favorite part, the accessories. These are what make it possible to literally transform your Arc into whatever you need it to be. Make it a notebook for class, a recipe book, a weekly or monthly planner, or even a combination of these and more. There are all sorts of replacement papers from which to choose including lined paper, graph paper, "To Do" list paper, project planner paper and many more. And if you still can't find the exact paper you want, you can print your own, and then use the Arc System Desktop Punch to add the holes needed to place the paper into your notebook! There are also all sorts of organizational accessories such as pocket dividers, page flags, business card holders, zip pockets, rulers and more. And if you run out of room, get some of the Notebook Expansion Discs to swap out with the ones you already have, and you'll have plenty more room as easy as that.
M by Staples Arc Customizable Leather Notebook System, Top Bound Review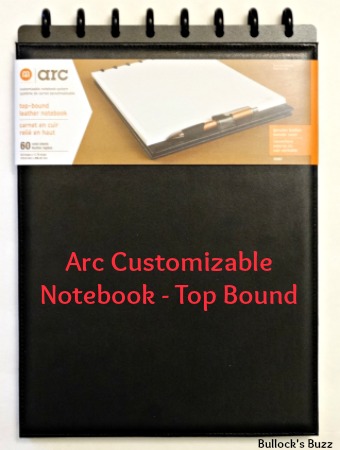 The Arc Top Bound Customizable Leather Notebook is literally the answer to my needs! This 11-3/4″ x 8-1/2″ letter size notebook comes with 60 repositionable sheets, and a satiny-smooth leather cover. This leather cover makes the notebook more durable and long-lasting than others, plus it gives it a professional look! I love how easily I can add more paper, remove others and file them away as needed, instead of having to go buy another separate notebook. Plus there are so many types of paper and accessories available for these notebooks that I can customize and organize it to my exact needs. Unfortunately, one thing I did notice is that there appears to be many more accessories available for the side bound Arc customizable notebooks as opposed to the top bound, but hopefully this will change soon! I also love that there is a handy pen holder in the back of the notebook!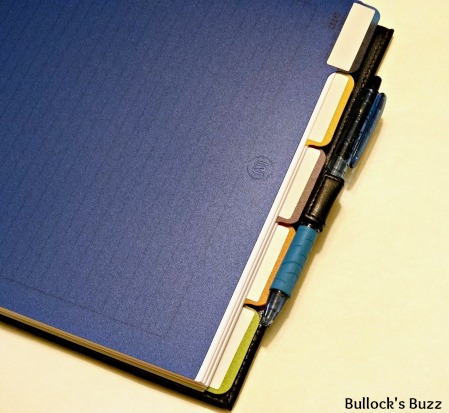 M by Staples Arc System Top Bound Poly Tab Dividers Review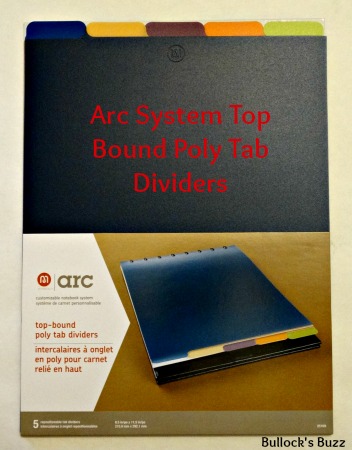 One accessory that is available for the top bound notebooks are the Arc System Top Bound Poly Tab Dividers. These repositionable poly tab dividers measure 9″ x 11″ and come in five assorted colors per pack. They are made of a lightweight, yet tough plastic for extra durability, and come with 20 removable sticker labels. I love that you can easily move the dividers around as often as needed.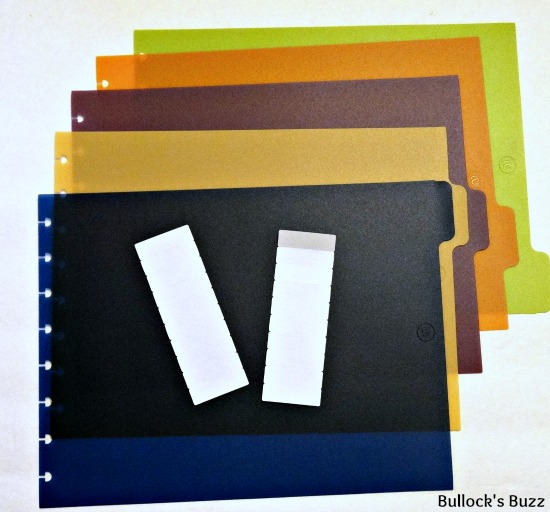 The Arc Customizable Notebooks are available at Staples.com and at your local Staples store. They come in two different sizes – regular and Junior, as well as top bound or side bound. They are also available in a large selection of bright colors and fun patterns. Prices range from around $11 and up depending on size, style and more.