Capturing Couture Camera Strap – Symphony 2″
After months of hard work and saving I was finally able to purchase something I have been wanting for a very long time, a new camera! I love everything about my camera, except for one major detail, the plain, boring and uncomfortable strap that came with it. From the first moment I put it on I was unhappy with it. It was scratchy and uncomfortable, and the weight of the camera made it even more so. In fact until recently I would carry my camera over my shoulder like a purse. So the first thing I set out looking for was a new camera strap, preferably one that is strong, secure, comfortable and colorful. I found that and so much more at Capturing Couture!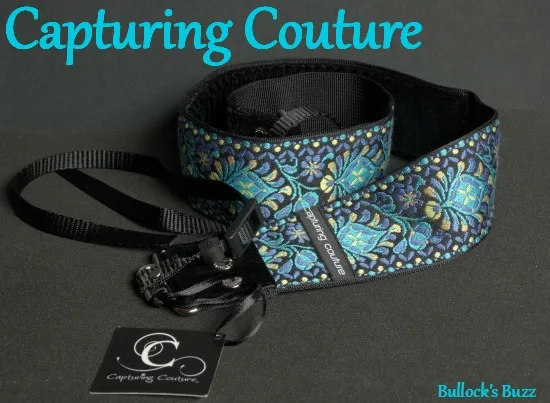 Capturing Couture was founded by two working moms who combined "fashion with function" to create couture accessories for cameras and guitars. All of their products are made right here in the USA from the highest quality materials. Their fabrics and designs are beautiful, colorful and eye-catching. This quote from their site says it best:
"The time has come where fashion meets camera and music gear!

No matter your style, we've got you covered with styles ranging from bohemian chic to girly glam, organza flowers to modern prints.

Express yourself today with a unique camera strap, a statement guitar strap, or beautiful camera bag…

and let your equipment show a little bit of your inner personality!"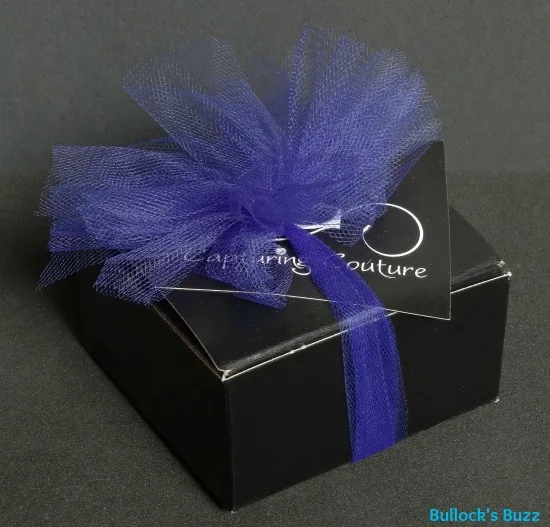 When the package arrived the very first thing I noticed was how beautifully it was wrapped. Were I giving this as a gift, it is presentation ready! It came inside a shiny, black box tied with a blue organza bow, and the camera strap itself was nestled inside a black and white houndstooth patterned tissue paper. It was quite obvious that Capturing Couture puts a lot of thought into their products.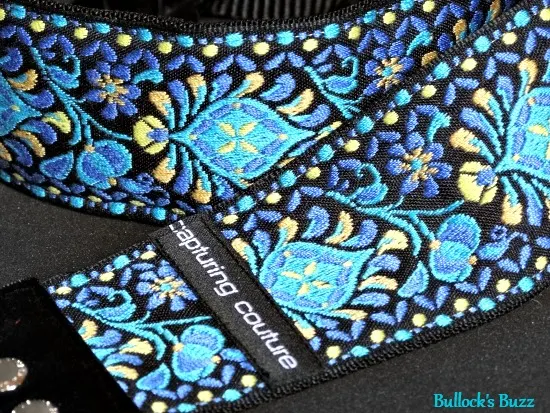 As soon as I pulled the Symphony 2″ Camera Strap from the box I knew it was everything I wanted and more! Not only is this beautiful camera strap colorful and stylish, it is also comfortable and so well made that I totally trust it to securely support my camera! Made with nylon webbing for added durability, the front side features a gorgeous blue, turquoise and yellow floral pattern.
2022 UPDATE – THIS PARTICULAR ONE IS NO LONGER SOLD, BUT HERE IS A SIMILAR ONE ON AMAZON BY A DIFFERENT BRAND
The back side is a soft, plush velvet with extra padding for added comfort when wearing it around your neck. I used to despise wearing my old 1″ strap as it was rough and scratchy, and the weight of the camera would pull it down making it dig into my neck. My new Capturing Couture camera strap is not only comfortable, but its 2″ width provides more stability too. It is easy cleaned by wiping it down.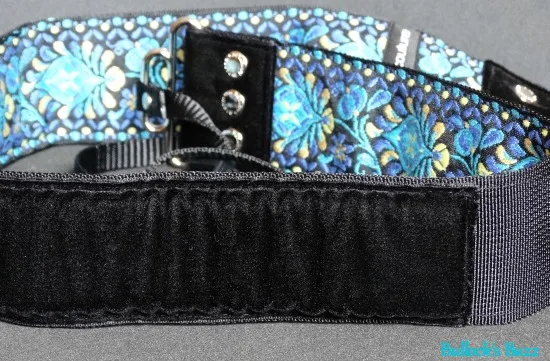 The strap measures 30" in length, and is adjustable up to an additional 12″-14". You can easily wear it either around your neck or across your chest like a messenger bag. The adjustable portions of the strap attach to both sides of the camera, and customized "Capturing Couture" metal rivets line each side to reinforce the connecting straps with more than just simple stitching.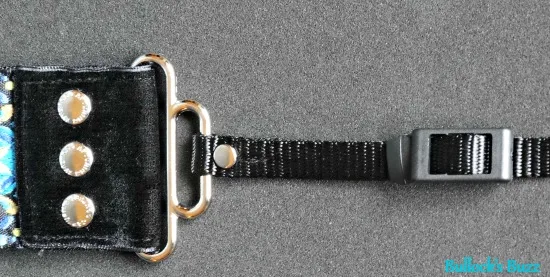 I honestly could not be more happy with my new Capturing Couture camera strap. I love the colors and pattern, and it has added a touch of my own personality to my camera, truly making it mine! Even more important though is the quality. This strap is so well made and durable, that I completely trust it to hold my camera. In summary, I highly recommend Capturing Couture to anyone looking for a stylish and functional camera strap!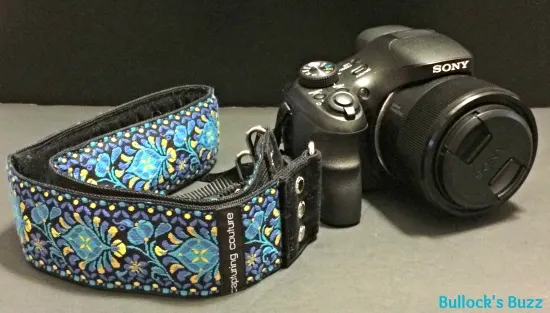 Capturing Couture also has a great selection of beautiful wristlets for point and shoot digital cameras, camera bags, guitar straps, key chains and other gifts and accessories. With the holidays right around the corner, Capturing Couture is at the top of my list for unique gifts I know they will love! Be sure to check out their site at https://www.capturingcouture.com/.