Your Masterplan for a Beautifully Conscious Life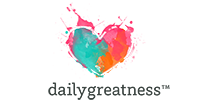 With September being National Yoga Month, I thought the time was right to share with you a beautiful journal made by Daily Greatness to go along with your Yoga routine. A journal I was sent for review that I have found invaluable as a tool for helping me on my journey to creating a more health-conscious and conscious-aware life, the Daily Greatness Yoga Journal.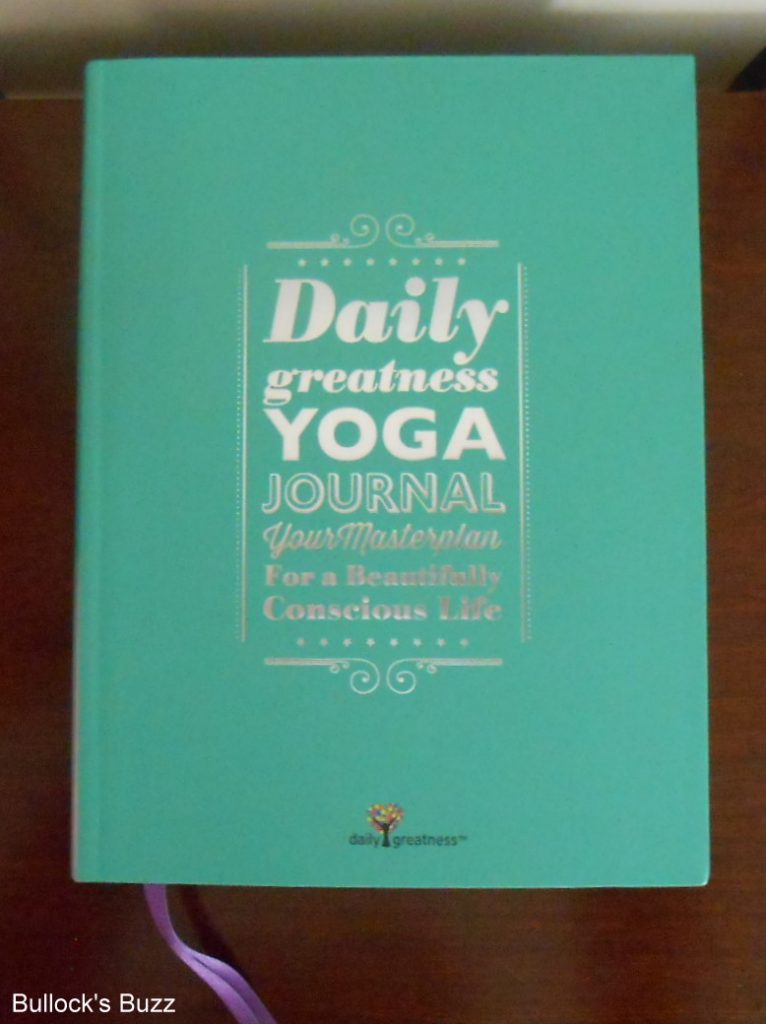 The Daily Greatness Yoga Journal helps you to bring together all aspects of your body, mind and spirit by combining a yearly journal, a goal and appointment planner and daily tools for self-mastery all into one journal. It is the perfect complement to your yoga and meditation practice.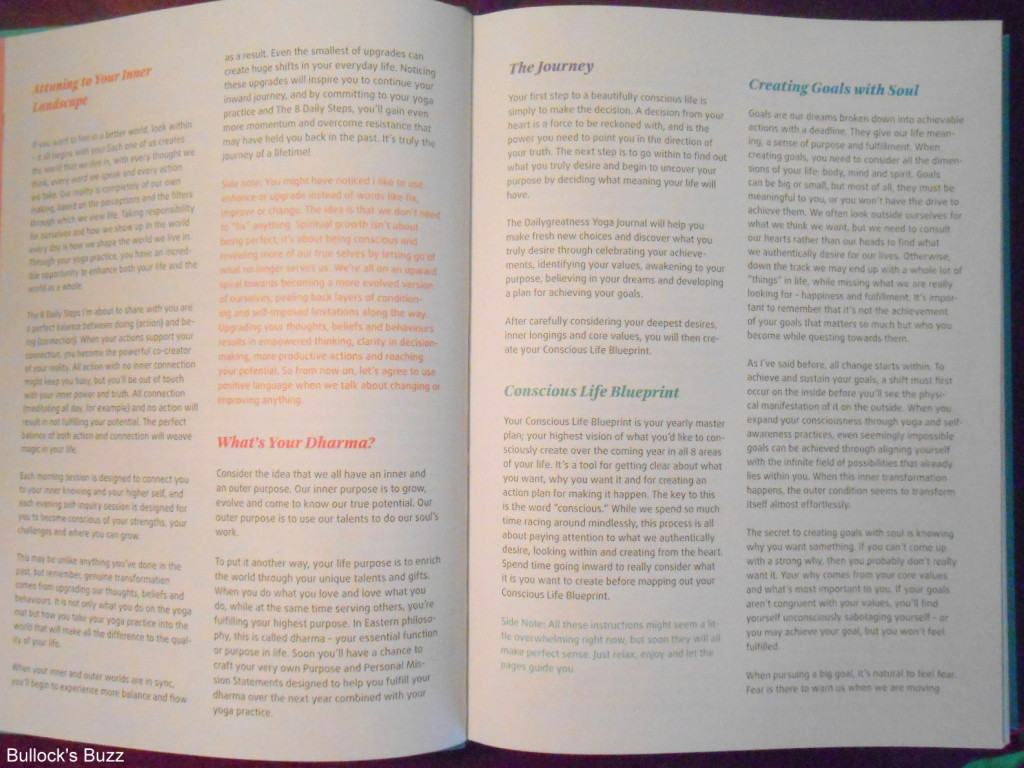 The book itself has a soft, flexi-bound cover that is extremely durable and very light weight. There are also two silk ribbons you can use to mark your place. Inside, you will find all of the 432 pages in full color and printed on paper that is easy to write on with either pen or pencil.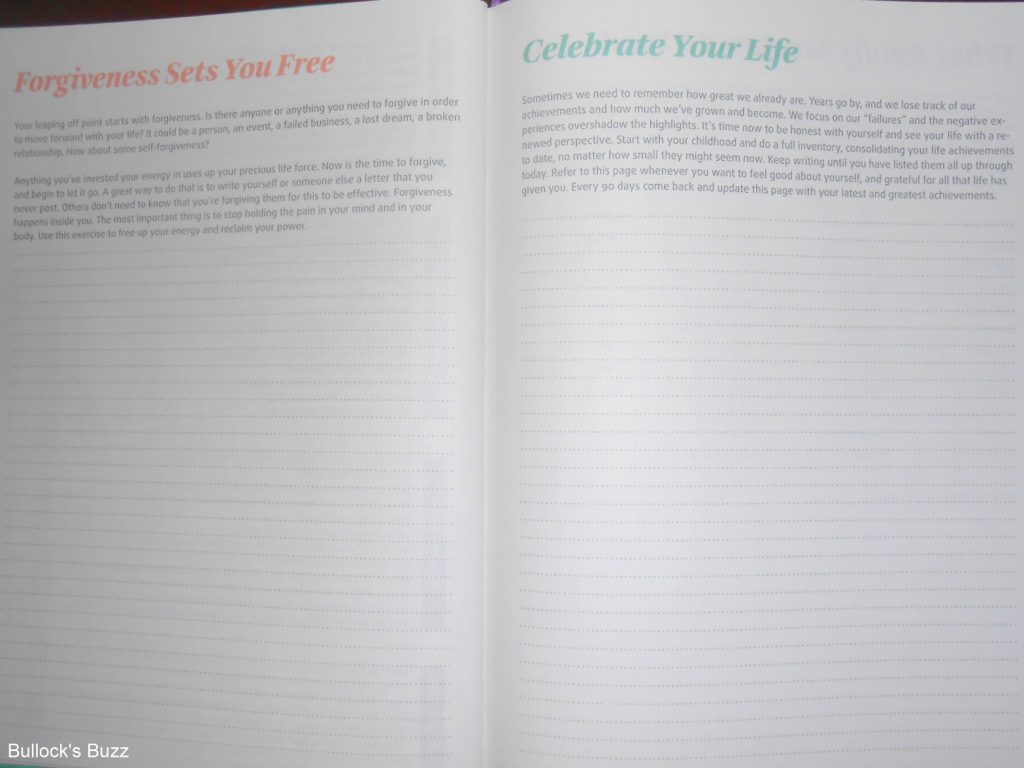 The journal is divided into several sections, with each one playing an important part in your journey of self-awareness. Learn to create a fulfilling daily routine by using the 8 Daily Steps of Meditation, yoga, the writing down of your personal intentions, journaling, self-inquiry, inspiration and more.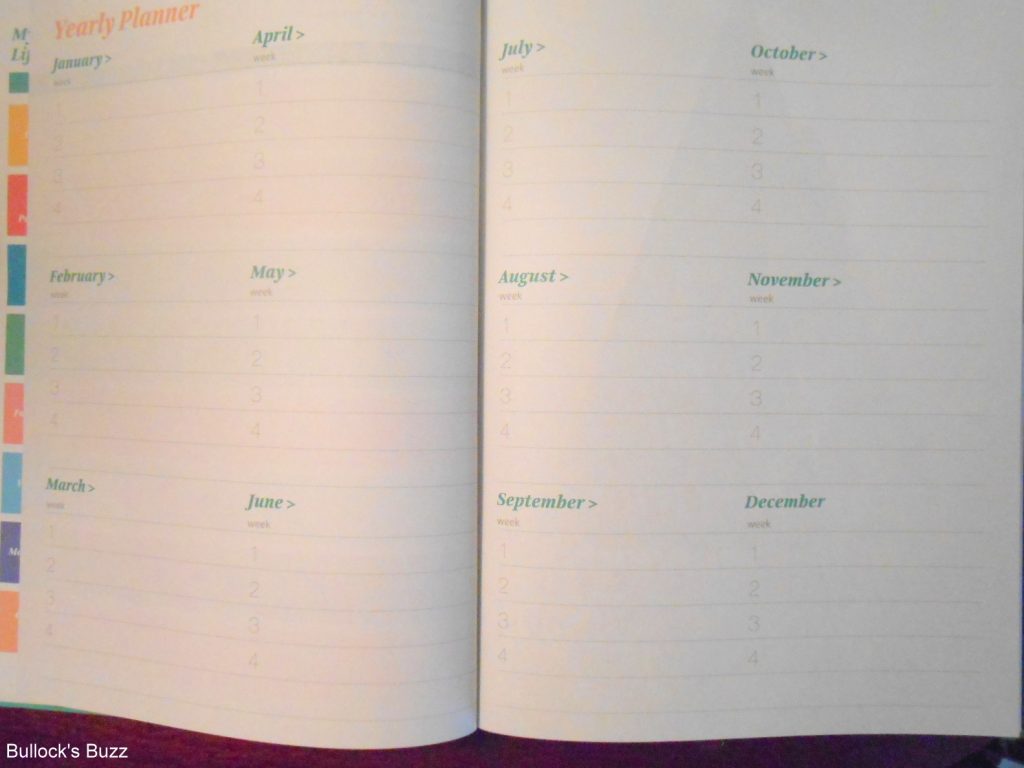 You will start with a listing of your yearly goals month by month. Then you will fill out one of the quarterly 90 Day Planners where you write down your personal goals for the next 90 days, the actions you need to take to achieve these goals, why you want to reach these goals and how you think you will feel once they are reached. This is a great tool to keep you committed and motivated.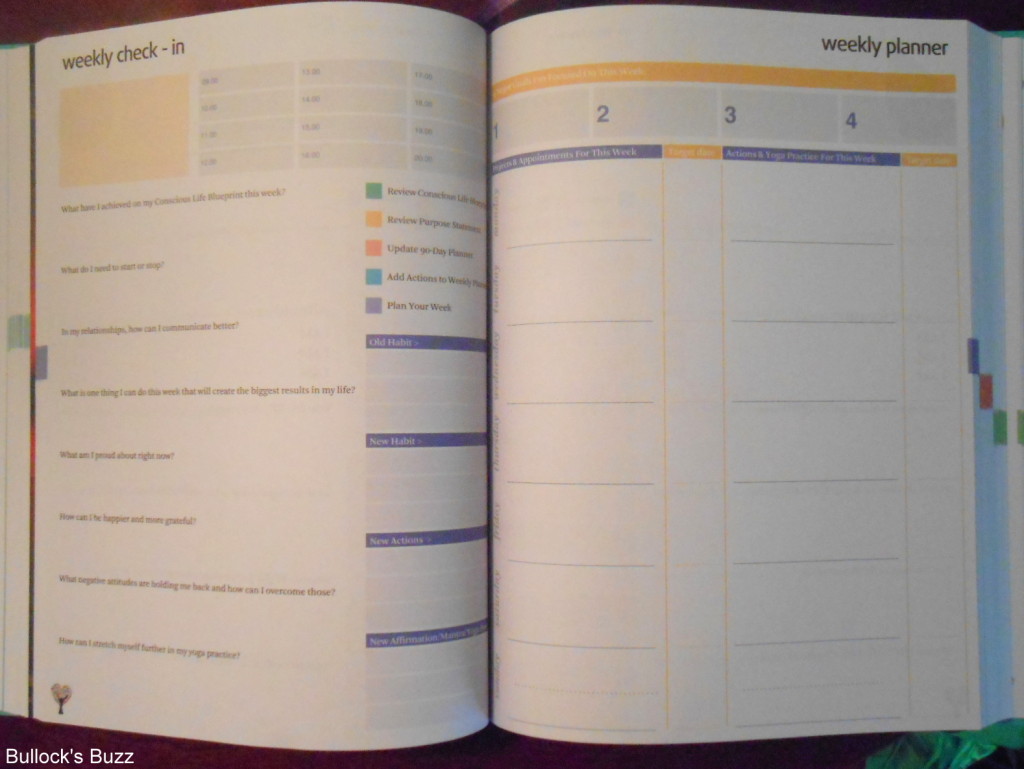 The Weekly Check-In and Planner allows you to reflect back over the past week and plan the one ahead. On the Weekly Check-In you will find leading questions such as – What projects have I completed this week? What do I find most challenging in my life at this moment? and What fears are holding me back and how can I overcome these? Questions that help you look inside yourself and become more aware of your thoughts and actions. The Weekly Planner pages are where you list the upcoming week's appointments and projects and your actions and Yoga practice for the week.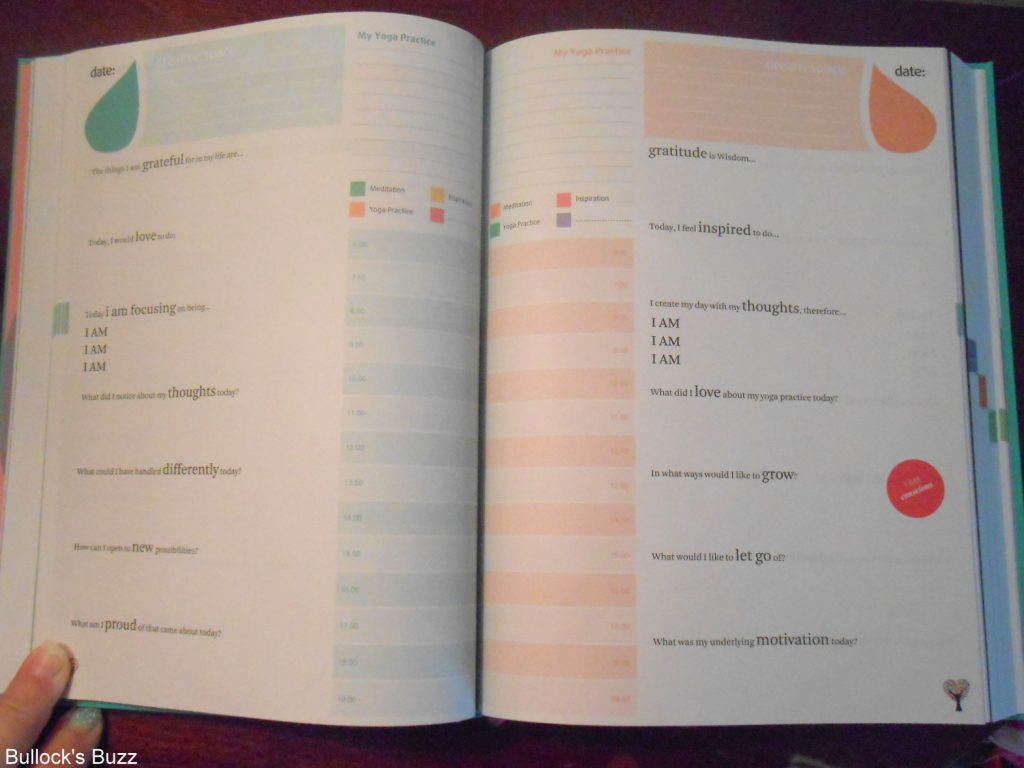 The Daily Entry pages provide a place to plan your day hour by hour, and then to look back to see what you accomplished. Thought-provoking questions will help you focus on your deepest thoughts and feelings, and discover what you learned through your yoga and meditation. Discover your inner self by answering questions such as What I love about my work is; How was my mindset today; What new habit do I want to adopt into my life?; and many more.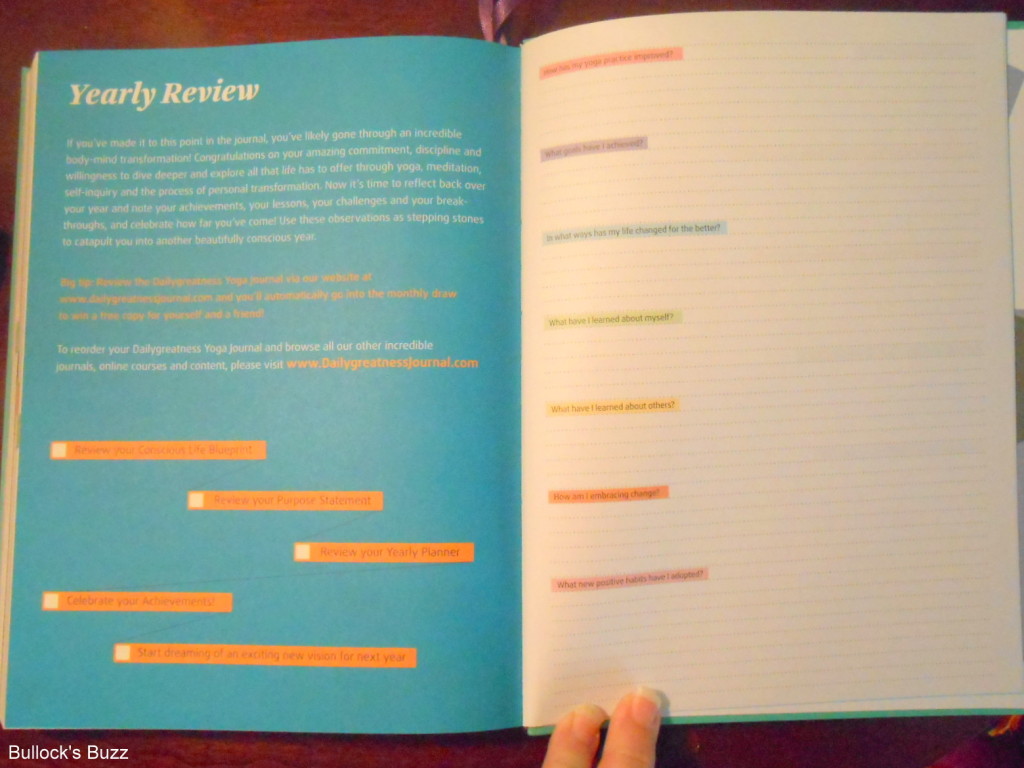 The Yearly Review section allows you to reflect on your achievements and see how far you have come in reaching your goals. It is the final step in your year-long journey of self-discovery, and will be another way you can look back and see how you have changed, and will also serve as inspiration to continue living a consciously-aware life.
Through-out the journal are beautiful, inspiring and thought-provoking quotes that really give you something to think about and reflect upon. Instead of getting up everyday and going through the motions, use this journal to awaken and discover who you truly are and to become that person.
You can order the Daily Greatness Yoga Journal, as well as several others offered by Daily Greatness, directly though their website at https://www.dailygreatness.co/. Don't forget to connect with them on both Facebook and Twitter.