There are a lot of different options for exercise — from running to lifting weights to doing pilates, the options seem endless. It should come as no surprise that yoga is one of the most popular forms of exercise these days. But yoga is not just for young adults, it's for people of all ages. So if you're thinking about trying yoga, here are a few great yoga tips for beginners to help you get started.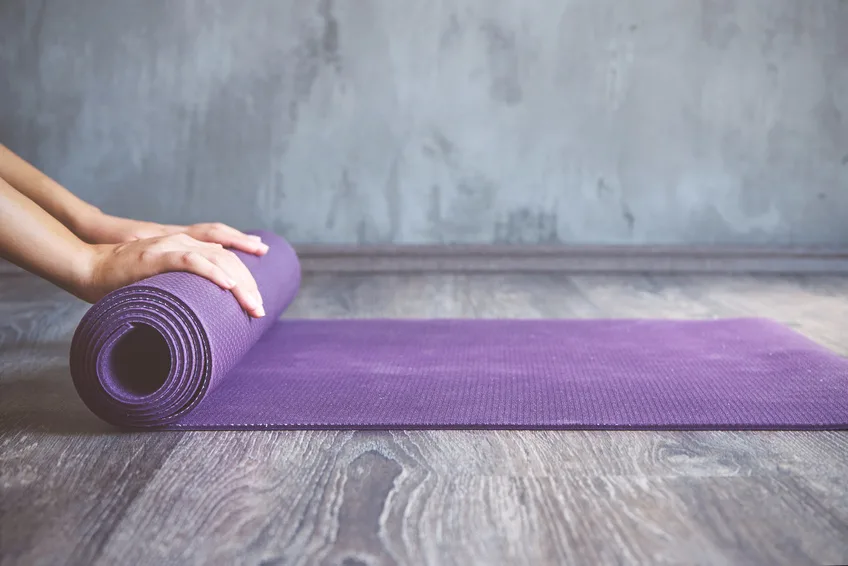 Find the Right Place to Do Yoga
Finding the right place to do yoga is one of the most important yoga tips for beginners. A lot of people choose to do yoga in a yoga studio or at a gym. This is especially true with 58 million people going to a health club or gym every year. And while yoga classes can be a great way to get started, doing yoga with a bunch of other people may not be for you — and that's okay.
One of the most important things about doing yoga is feeling relaxed and comfortable. So if you think you would be comfortable in a class, find a local instructor and try it out! But if you want to try it on your own at first, that's perfectly fine, too.
Buy some yoga accessories – don't forget the yoga mat – online, find some good instructional videos, and give it a try in your living room. Finding the place you feel most comfortable is important as you start your yoga journey.
Learning the language
Entering the world of yoga can be initially perplexing and filled with unfamiliar terminology. Teachers often use Sanskrit, an ancient Indic literary language, to describe poses and concepts. While this yoga jargon might seem daunting without clear English explanations, embracing it can enrich your practice, adding depth and a sense of discovery. Learning new terminology can also be an enjoyable aspect of your journey.
Know Your Limitations
Next on our list of yoga tips for beginners, is making sure you know your limitations. Many people give yoga a try because they think it will be easy. But the 36.7 million yoga participants in the U.S. might tell you otherwise. While some yoga poses may seem simple, they can be extremely difficult. This is why it's so important to start slow, understand your body's limitations, and do what feels comfortable for you.
While you may feel your muscles stretching and moving, you should never be in pain — just like with any other form of exercise. So it's important to not try advanced poses before you've mastered the simple ones. Knowing your body's limitations will ensure you enjoy doing yoga and avoid hurting yourself.
Wear Something Comfortable
Yoga involves a lot of moving around and bending. This means you have to wear clothing that lets you move freely without feeling restricted. Normal exercise clothes might work, but you should ensure you have clothes that fit somewhat tightly so you can make sure your form is correct.
You're also going to want moisture-wicking materials if possible because you will most likely be working up a sweat. Your clothes should be comfortable and you don't have to worry about shoes. Socks are optional, but it's usually best to go barefoot to ensure you have a good grip on the ground as you move between poses.
All in all, just make sure you have the right clothes on before you get started.
In Conclusion
When trying yoga for the first time, it's important to be patient with yourself. Make sure you have the right yoga accessories, comfortable clothing, and plenty of space. Hopefully, these yoga tips for beginners will help. Just remember, focus on your breathing, have fun, and you'll be an expert yogi in no time.