September is National Yoga Month, and did you know that according to a recent study by Yoga Journal, more than 20 million Americans practice yoga? Although Yoga has quickly become an 'in' thing to do, it has actually been practiced for thousands of years.
Anyone who does yoga knows that its benefits are immediate and that practicing the postures, the breathing exercises, and the meditation makes you healthier in mind, body, and spirit.
It has actually been shown to improve muscle strength, tone, and flexibility; reduce stress and tension; boost self-esteem; improve concentration and creativity; lower fat; improve circulation; create a sense of calm and well-being, and so much more.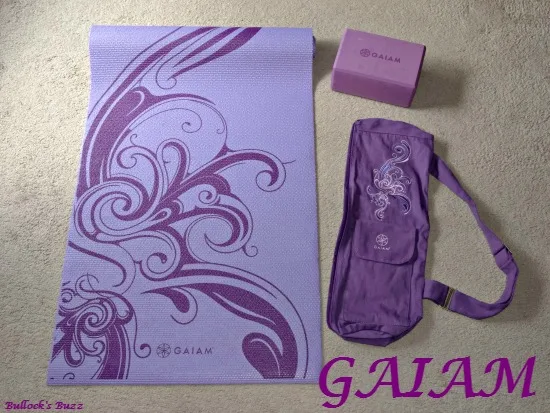 Another great thing about yoga is that you don't need any fancy equipment, just your body. However, that being said, when practicing yoga either at home or in a class, there are a few items that can not only help you to achieve correct yoga but can also enhance your experience and help you feel more comfortable.
Whether you are a beginner or have been practicing for years, here are a few accessories that every yogi should have.
1. Yoga Mat
Using a yoga mat makes all the difference in the world. Aside from comfort, a mat is also used to help enhance proper alignment and in maintaining poses. One of my favorite mats is the Yoga Mat from Gaiam. This affordable, lightweight, and durable mat is a beautiful deep plum color with a stylish pattern in a lighter shade of purple.
In keeping with Gaiam's commitment to our health and the planet, this mat is manufactured without any of the top six most harmful phthalates, making it a healthier choice for my health and the planet!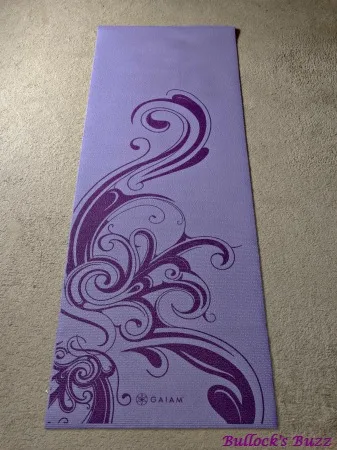 Measuring 68″L x 24″ W, it is the perfect size for my 5′ 4″ frame. Other mats I have tried in the past have not been quite as long, causing me to have to pay more attention to making sure I remained on the mat rather than to my breathing and movement. With this mat, I can focus on what I need to.
Plus, at around 3mm thick, it provides some cushioning on hard floors; and this, together with its light weight makes this an ideal mat for use at home or in a studio.
When I first opened the mat, I noticed a strong odor which I read was completely harmless. Following Gaiam's suggestion, I simply let it air out for a few days, and the smell completely dissipated.
Another thing I really like about this mat is that it has the perfect amount of 'stickiness' or tack (in fact, this type of mat is often called a sticky mat and is a favorite for beginners).
Because of this tack, I didn't find myself slipping as I got sweaty which was quite nice! After each workout I simply wipe it down with a damp cloth and mild detergent, let it dry, roll it back up and store it in my matching cargo mat bag.
2. Cargo Mat Bag
Whether you prefer to take yoga at a studio or stay at home, having a bag for your new mat is a definite plus! Gaiam carries a large selection of yoga mat bags which are available in all sorts of colors and styles, and provide an easy and stylish way to carry and keep your mat clean and dry while you travel between home and studio. I love that I was able to find one that matches my mat perfectly in the Deep Plum Surf Cargo Mat Bag.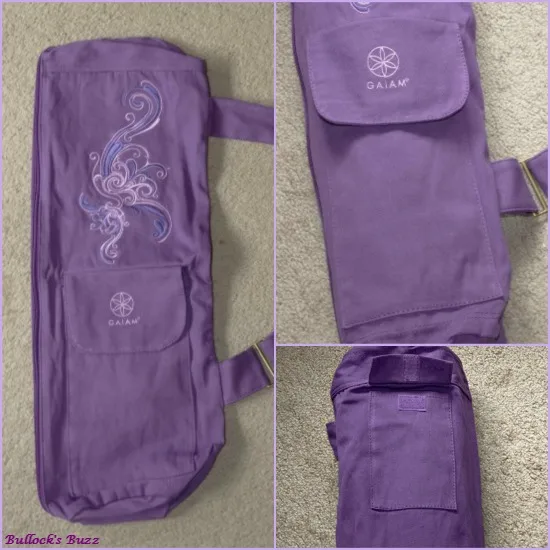 This particular bag is designed as a sling, so it is really lightweight and comfortable to carry. Capable of carrying mats of any size, the cargo mat bag also has an adjustable shoulder strap, a full zipper closure, and two extra cargo pockets – one large one on the front, and a smaller one on the back. These are ideal for storing my face towel, phone, wallet, and keys so I don't have to carry my purse and other bags with me to the studio.
3. Yoga Block
Another yoga accessory that is ideal for both beginners and yogis of all levels is a yoga block. These blocks can be used as a hand or footrest when you cannot easily reach the floor during a certain pose, or they can be used to provide support for the limbs or back.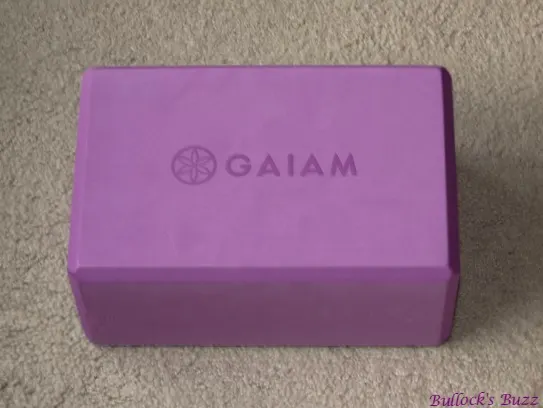 Made with lightweight construction, yoga blocks provide three different height levels depending on which way you turn them. I like this particular block because it is so lightweight yet is very strong and stable. Gaiam offers several other types of blocks as well, available in a variety of materials, colors and styles.
4. Straps and Bolsters
Yoga straps are tightly woven straps that have an easy-release buckle at one end for adjusting the length or creating a loop. They are used as an extension of your arms and legs to make certain poses more attainable and to help you grasp limbs and deepen the stretches so you really feel them.
They can also be used as an extension of your arms or legs for poses where your hands do not reach one another or where you need to hold onto your feet yet cannot reach them. When selecting a strap, make sure it is made of a material with a smooth texture like cotton or hemp to prevent friction injuries to your hands or feet.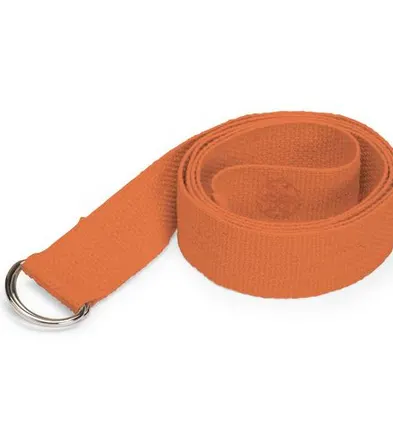 Bolsters are cushions that are used to support your body and help you relax in various poses. They are especially great for beginners, as they can help you stay longer in poses while remaining comfortable. They can help you to relax, stretch, and achieve proper alignment, all while allowing you to focus on your breathing, instead of focusing on supporting your body. They are usually used under your hips, knees, neck, or buttocks when working on the splits or trying new poses.
5. A Towel
Having a towel for yoga is not only for drying off sweat from your body and mat, it can also help with stability in your practice. For many, a regular, white towel may work fine for the most basic poses, but there are yoga towels that are specially designed with yoga poses in mind. These yoga towels are about the same size or a bit large as a yoga mat.
They are often placed over a sticky mat for added traction, and since the majority are machine washable, they also act as a hygienic layer between yogi and mat. They are usually made from super-absorbent micro-fibers to help ensure that your sweaty palms grip your mat securely and properly.
6. Water Bottle
Whether you are taking Ashtanga (power yoga), Bikram (hot yoga), slow and gentle Hatha yoga, or another type, having water handy is a must. Everyone knows the importance of staying hydrated when exercising, and yoga is no exception. Making sure you have an insulated water bottle that will keep your water nice and cold without any condensation forming on the outside is a plus. One bottle I particularly love is the Contigo West Loop insulated, spill-free travel mug I recently reviewed.
Using Instructional Yoga DVDs
If you are planning on practicing at home, you will want to find an instructional DVD. There are thousands of these DVDs available. Some focus on specific areas (like the new one from Gaiam, "Yoga for Belly, Butt, and Thighs", while others provide an entire body routine. Whichever you decide you want, there are a few things to take into consideration when selecting one.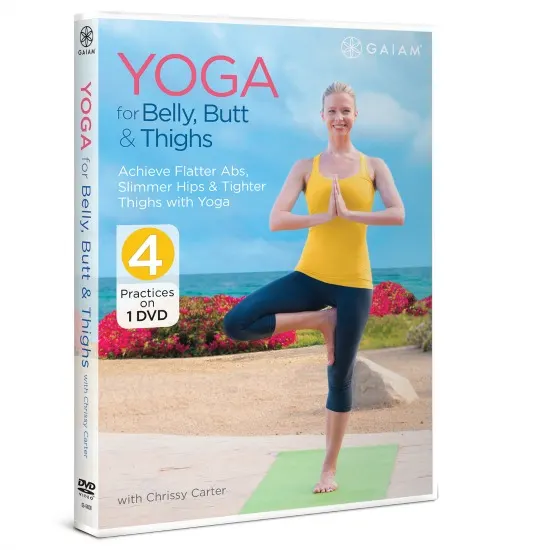 First of all, you want to select one that matches your level of experience – beginner, intermediate or advanced. Next, check the length of the video and see that it offers multiple routines from which to choose. You will also want to consider the amount of guidance you wish to have.
Some DVDs offer detailed pose instructions throughout the video, and while this can be perfect in the beginning, it can also become tedious once you learn the correct positioning. Other DVDs may not offer enough, leaving you completely lost and frustrated which defeats the purpose of yoga.
There are many DVD's out there that offer a separate pose guide section so you don't have to hear the detailed guidance during the main sequence. Finally, you also need to consider details such as whether you prefer the beauty of an outdoor environment or the focus of an indoor environment, and whether or not you like the teacher's voice.
About Gaiam Yoga
Gaiam is one of the most popular manufacturers of products to enhance your personal well-being. They carry all sorts of equipment and accessories for yoga and fitness. In fact, one of their most popular lines is their yoga products, and I can see why! The yoga mat, cargo bag, and yoga block I received are all very well made – sturdy, and durable, yet quite stylish too.
In addition to wellness products, Gaiam also offers an online service you can subscribe to called Gaiam TV. In short, this is an amazing online collection of health, fitness, yoga, and uplifting and inspirational films. To learn more about their products, visit the Gaiam website.