Top Tips on How to Dress Up Your Man This Winter
If you're like most people this holiday season, you probably have a long list of events, gatherings, soirees, office parties, dinner dates, and gift exchanges to attend. The calendar of holiday festivities can be pretty overwhelming, especially if you're trying to dress to impress at each occasion. This pressure is twofold for those arriving as a couple – whether you're newly minted or going steady. Let's face it: men don't know much about fashion, and while they might put in a bit of an effort to avoid a disheveled appearance, they probably aren't paying much attention to what they're wearing.
Whether you're bringing someone home to meet mom and dad, introducing him to coworkers at a holiday work party, or simply going out for some cold weather cocktails with good friends, you want your man to be looking his best. Unless you're one of the few lucky ones, he's probably going to need some help. Here are the top tips on how to dress up your man to make him look dashing and dapper this winter season.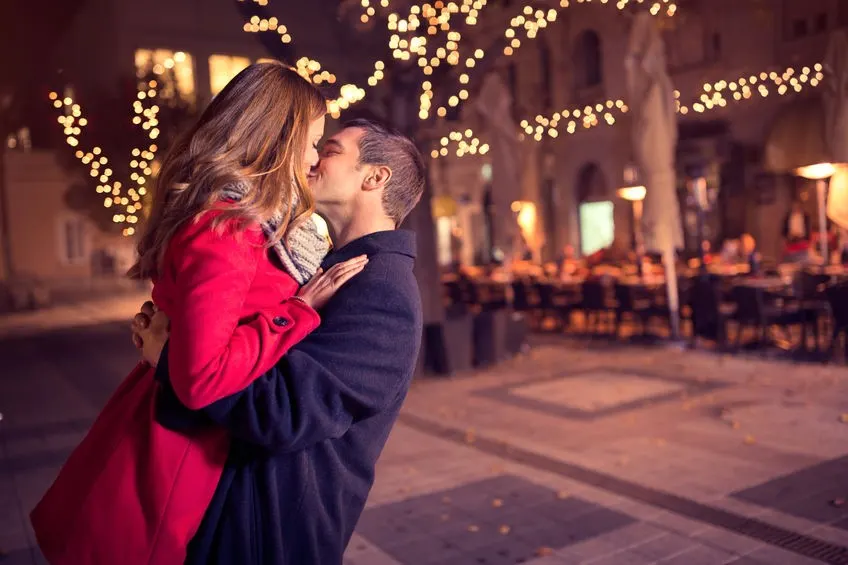 Replace the wool cap with a cashmere beanie
That thing was itchy anyway. It might be pricier than wool, but comfort is priceless. Find a solid, neutral color he can wear with any winter coat. Ribbing is great, and adds texture, but avoid pompoms at all costs – those are for cheerleaders.
Sort through sweaters
Argyle, cable knit, fair isle, and fatigue are all appropriate patterns. Don't let him walk out in an extremely bright, loud, or busy sweater; instead, keep it to conservative hues that correspond with the season. In the winter, heavier fabrics with dark colors such as navy blue, brown, or forest green work best. Unless, of course, you guys are headed to a themed party – in which case get him the wackiest ugly Christmas sweater you can find.
Pick a solid flannel shirt jacket
Flannels are great because they can be dressed up or down, and every guy should have at least one or two of these in his winter wardrobe. If you can find one made of a thicker material, it can substitute the need for a coat on the days that the weather isn't too chilly. Otherwise, they're great for layering over a Henley for a cute but casual look.
Find a power scarf
If he insists on livening up his look with some color, allow him a scarf with a bit of color and texture. These are appropriate because his coat will most likely be grey or black. Playful patterns like checks and plaids can add a bit of style and depth, but if you really hate his choice, remember these accessories are removable – so you can stash it out of sight once you get inside.
Ditch the Vans and Chuck Taylors
Yes, those were cute during summer and fall, but inappropriate for this time of year. The weather can be unpredictable, and he should have a handy pair of (good looking!) snow boots on deck just in case. The classic duck boots are always a reasonable choice, but if it's within the budget, a pair of patent leather kicks are sure to impress and are suitable for all occasions.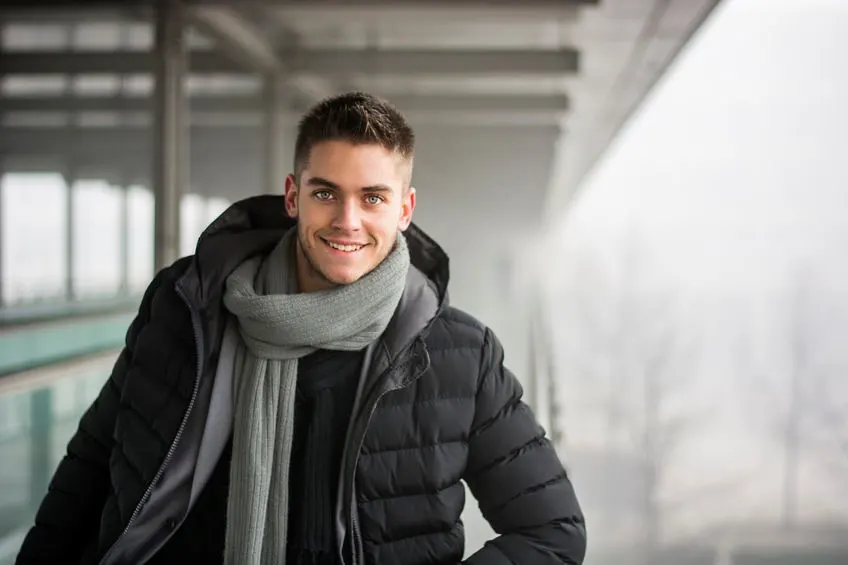 Decide on the perfect outerwear piece
This part of the dressing process will likely be the most difficult, as there are so many styles and choices to choose from. Some of the best-looking options include: sports coats, leather jackets, down-filled parkas, puffer vests, classic coats, and cardigans. The best choice might be determined by where you live and how much cold you need to protect from, as well as which body type he's dressing for. As long as he stays away from basic hoodies, and sticks to conservative colors, he should be looking fine.
Educate him on proper layering
I'm pretty sure you don't want him to walk around like the Michelin Man, so when helping to dress up your man, make sure you educate him on proper way to layer! Seriously though, it's simple enough for him to understand that proper layering will help insulate his body to retain heat, while making him look pretty dang good at the same time. It starts with a simple base, like an undershirt or T-shirt to draw moisture and sweat away from the body. Add a middle layer with a thermal, flannel, sweater, or cardigan. Finish it off with a jacket or coat on top. Voila – he'll look like he stepped right out of GQ.
Give your man a gentle nudge and head to the mall to start shopping today! Winter is coming, and you should purchase the pieces you need to help dress up your man!