These easy vanilla cupcakes are a deliciously sweet way to spread the love this Valentine's Day. Each moist and tender cupcake is topped with a light, fluffy cloud of vanilla buttercream frosting, then crowned with a dusting of vibrantly colored sprinkles.
Hello everyone! Today I'm back with another fun and festive recipe, this time for Valentine's Day! With so many Valentine's Day cupcakes ideas out there, it's hard to come up with something fresh and new. So I figured the best thing to focus on was making cupcakes that are quick and easy, yet look (and taste) as though you spent hours making and decorating them.
These Valentine's Day cupcakes are so yummy, so simple and so pretty, they're sure to make you smile! And after one bite, you're sure to fall in love!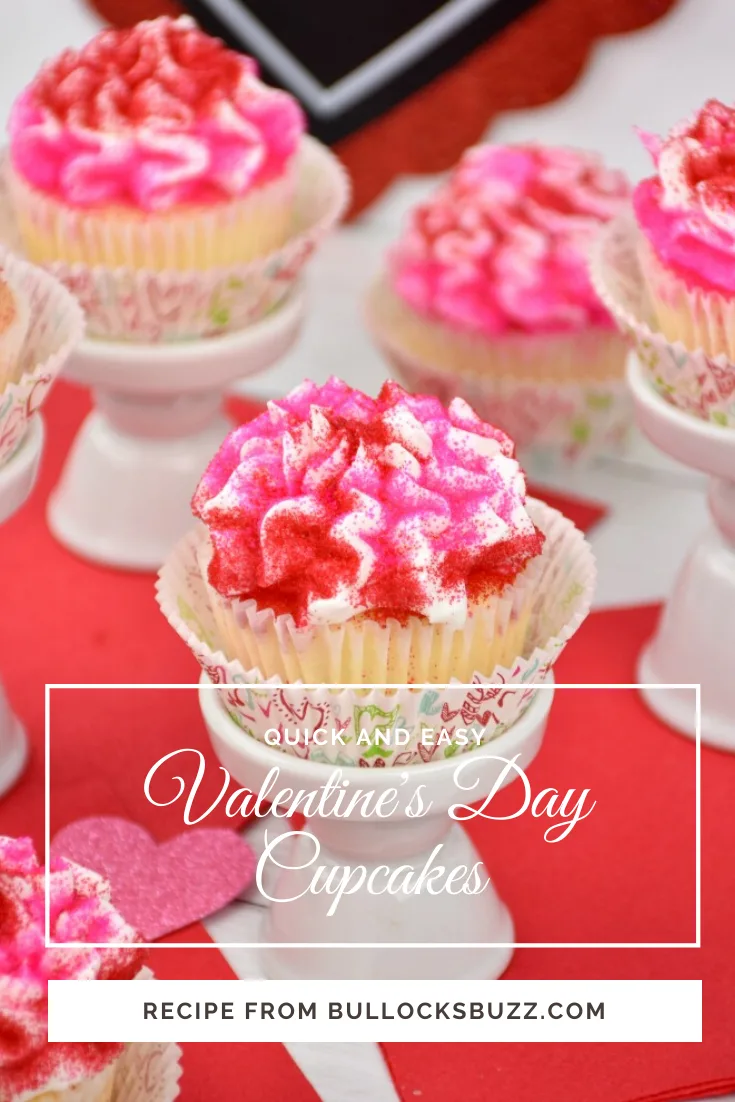 These cupcakes are perfect for classroom parties, to send as part of a themed Valentine's Day lunch for kids, or even as a special afternoon snack. You could even create a cute DIY Valentine gift by packaging them in cellophane treat bags and attaching a cute saying. Something along the lines of "Valentine, You're So Sweet" would be adorable!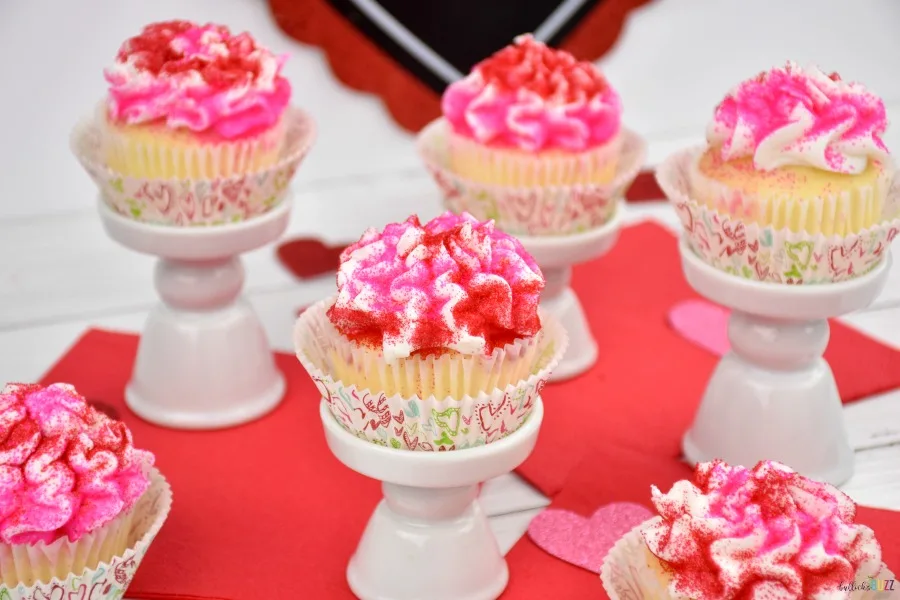 Whatever you choose to do, they are so good, you will instantly fall in love with these cupcakes for Valentine's Day!
How to Make Valentine's Day Cupcakes
I used one of my favorite vanilla cupcake recipes for these Valentine's cupcakes. I say 'one of my favorites', because I have several different vanilla cupcake recipes that I love to use! There's the one I used for these heavenly Lavender Vanilla Cupcakes and another one I used for these mouth-watering Samoa Cupcakes.
Whichever cupcake recipe you choose to use, whether it's the one on this page, one of my others, or one of your own, I hope you love these Valentine's Day cupcakes as much as I do!
Note: the full ingredients list and recipe are in the printable recipe card below.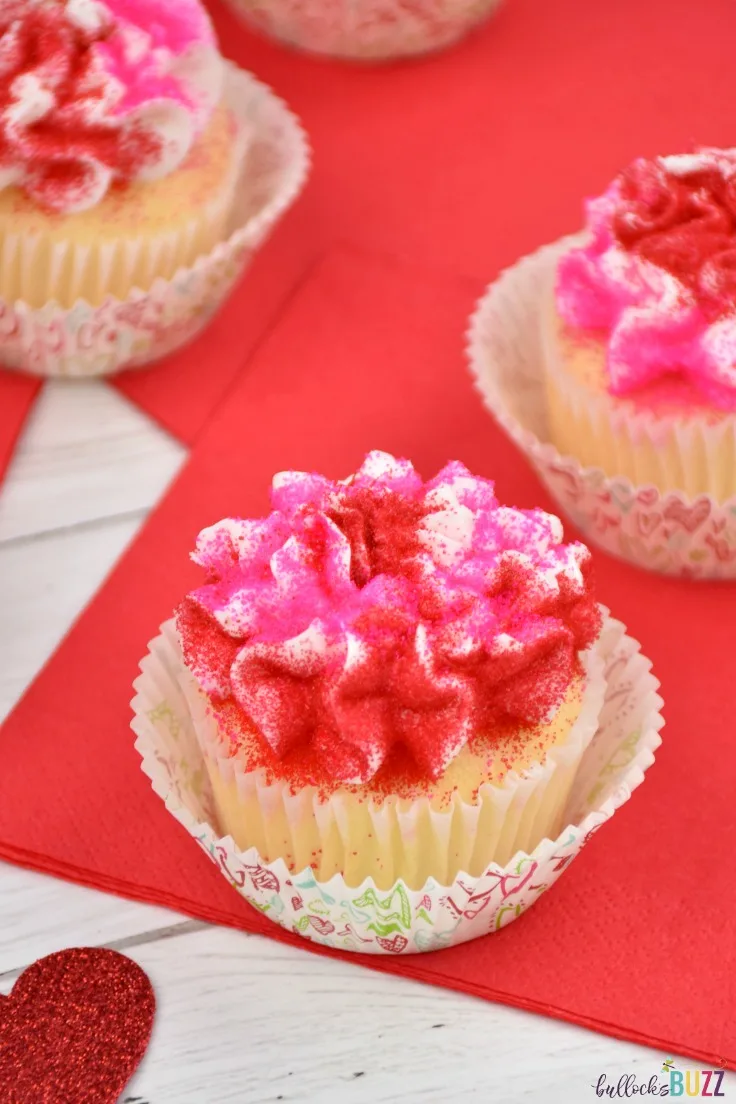 What You Need
Disclosure: This blog post contains affiliate links for products or services I think you'll like. This means if you make a purchase from one of these links, Bullock's Buzz will make a small commission at no additional cost to you. I only recommend products that I use and love.
Kitchen Tools Needed
Valentine's Day Cupcake Ingredients:
Prepared Vanilla Cupcakes (see recipe card for my vanilla cupcake recipe)
Red and Pink sugar sprinkles
Valentine's Day Frosting Ingredients:
unsalted butter, softened
confectioner's sugar
vanilla extract
heavy cream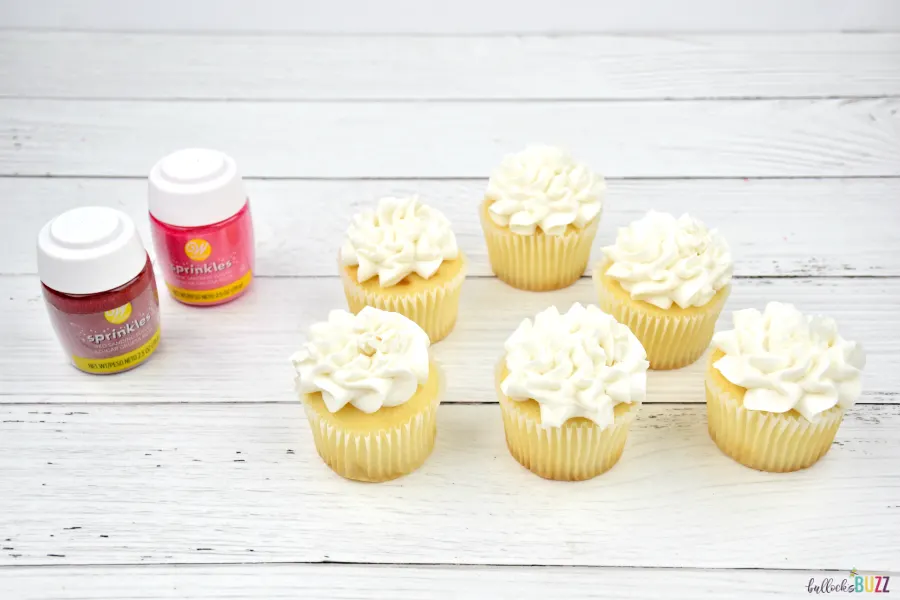 Instructions Valentine's Day Vanilla Cupcakes
One of my favorite thing about these Valentine's Day vanilla cupcakes is that you have so many options when it comes to making the cupcakes for this. You can use a boxed mix, your favorite cupcake recipe, or simply use store-bought cupcakes.
If you use my recipe, be sure you only fill the liners just a bit over half full. While this may not seem like it's enough batter, these cupcakes will rise quite a bit in the oven resulting in perfect cupcakes that aren't overflowing the liners.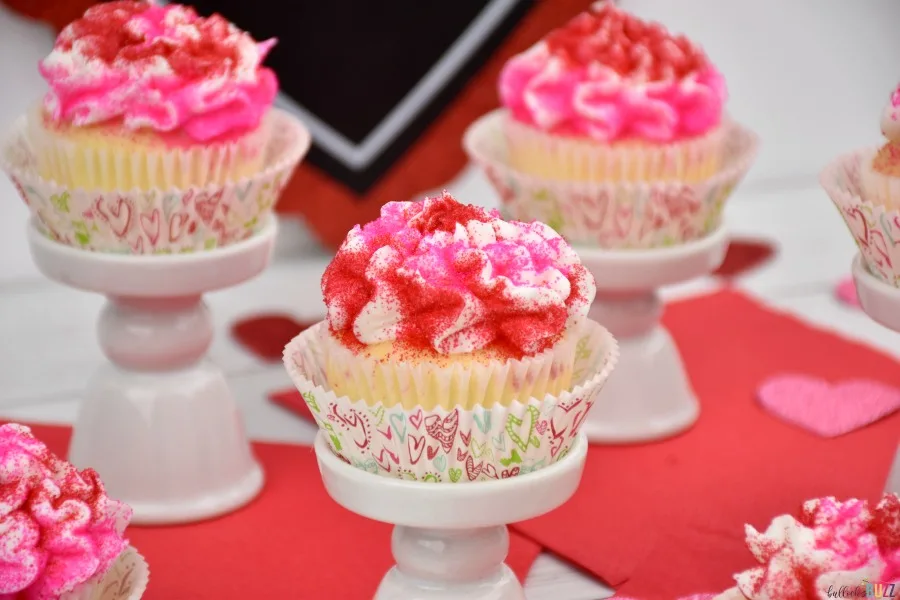 How To Frost Valentine's Day Cupcakes
To frost your cupcakes to where they look like these, you'll need an icing bag, and a Russian Ball (tulip) tip or an Open Star tip. Both tips will work, but I find the Russian Ball tip to be much easier and quicker (below is a picture of the one I have)! And remember, for frosting cupcakes, the big piping tips work the best.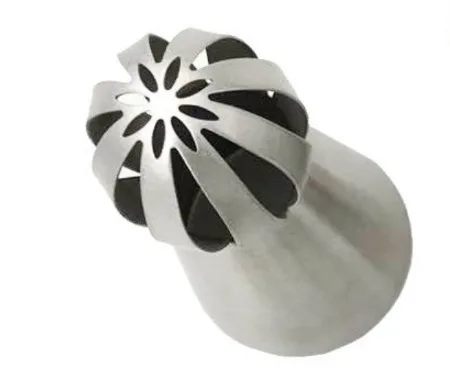 Holding the icing bag in one hand and the cupcake in the other, start in the middle of the cupcake and hold the frosting bag straight above the cupcake. Give the bag a good squeeze and once the frosting has come out and almost covered the top of the cupcake, start twisting the cupcake back and forth while raising slightly raising the nozzle as you go. Once at the top, stop squeezing and pull the tip away.
Depending on the exact tip you used, once you are finished, there may be a hole right in the middle of the frosting due to the design of the tip. I simply filled mine up with a small squeeze of frosting, but you could also fill it up with small candy for an extra sweet surprise!
Making ruffle frosted cupcakes is really a lot easier than you think. I practiced on a plate and then just put the frosting back into the piping bag when I was ready to it try on the cupcakes. Passion for Baking has a great video so you can see exactly how to do it. Note: she used a different style of Russian tip than the one I used, but the end result is the same.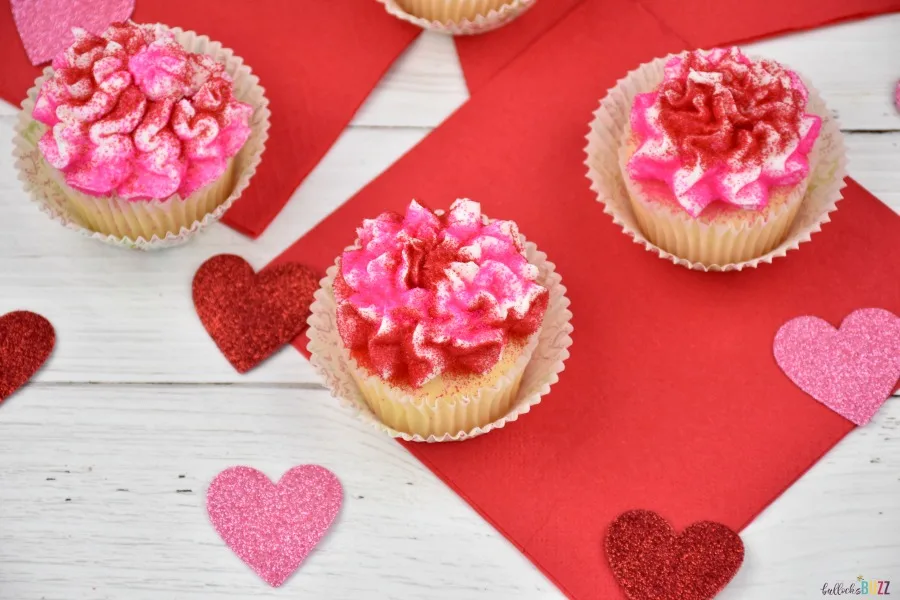 How to Make Cupcakes Light and Fluffy
Baking cupcakes that are fluffy and moist is all about mixing the batter with a light hand. The fluffiness and lightness are the results of air bubbles in the batter that expand in the oven. To create these air bubbles, mix the cupcake batter at low speed and stop just as all ingredients blend.
Can Valentine's Cupcakes Be Made in Advance?
Yes! You can make both the frosting and the cupcakes 1 day ahead of time and store them in an airtight container – frosted or unfrosted.
Can I Freeze Cupcakes?
You can also freeze these cupcakes. However, I recommend freezing the cupcakes unfrosted. When you are ready to frost them, first thaw them in the fridge and then on the counter before frosting. Doing it this way will help prevent excess moisture on top of the cupcakes.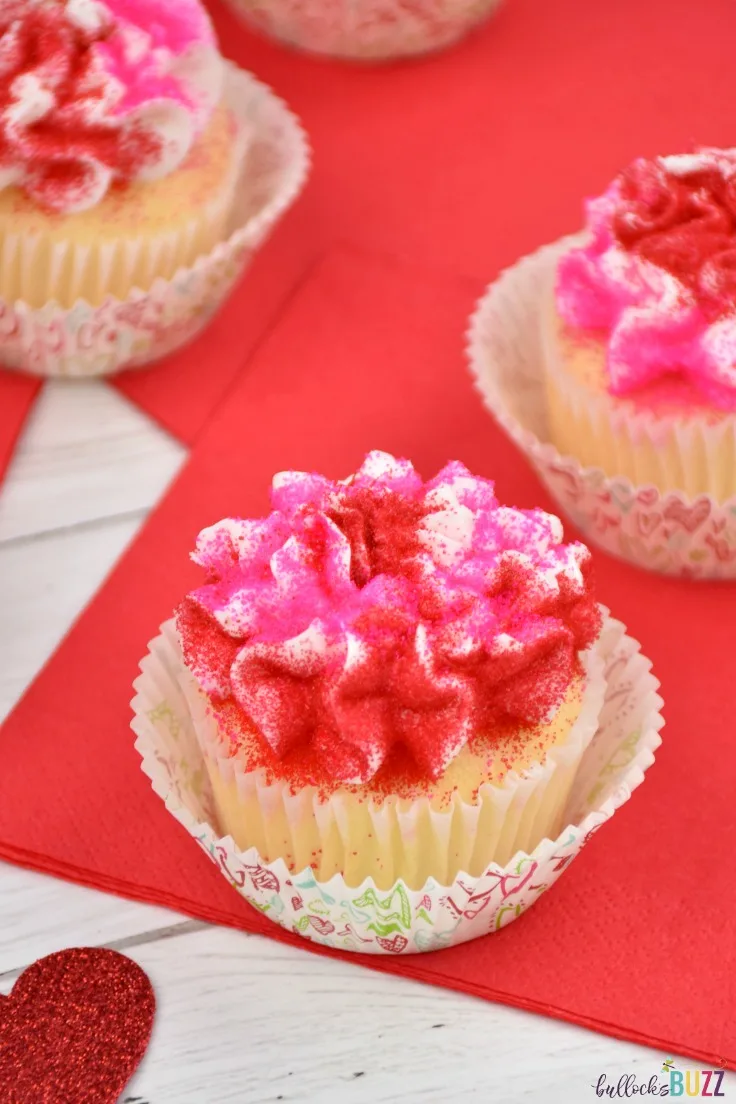 Valentine's Day Vanilla Cupcakes with Vanilla Buttercream Printable Recipe
Yield: 14 cupcakes
Valentine's Day Cupcakes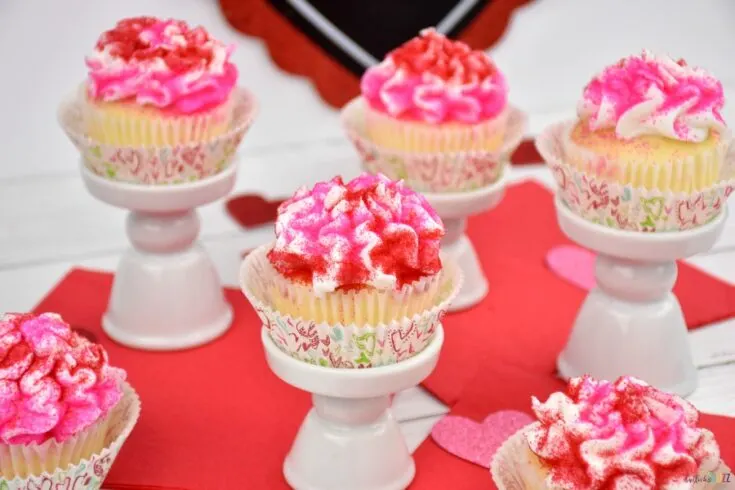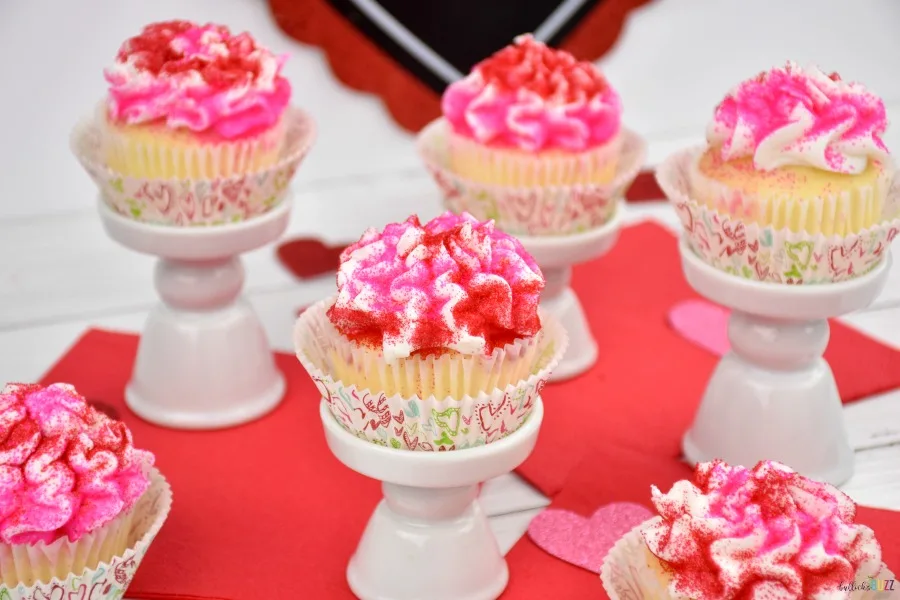 These easy vanilla cupcakes are a deliciously sweet way to spread the love this Valentine's Day. Each moist and tender cupcake is topped with a light, fluffy cloud of vanilla buttercream frosting, then crowned with a dusting of vibrantly colored sprinkles.
Decorating Time
5 minutes
Ingredients
Vanilla Cupcake Ingredients
1⅓ cup all-purpose flour (spooned & leveled)
1 cup granulated sugar
1¼ tsp baking powder
½ tsp salt
½ cup butter (unsalted, softened)
2 large eggs
2 tsp vanilla extract
½ cup sour cream (full fat)
Vanilla Buttercream Icing Ingredients
1 cup butter (unsalted, softened)
3 cups confectioners sugar
2 tsp vanilla extract
2 tbsps. heavy cream
Decorating Ingredients
sanding sugar (pink and red)
Instructions
Vanilla Cupcakes Instructions
Preheat oven to 350F. Line muffin pan(s) with cupcake liners. Set aside.
In a large bowl, whisk together the flour, baking powder, and salt. Set aside.
In the bowl of a stand mixer fitted with the paddle attachment (or in a large mixing bowl using a hand-held mixer), cream together the butter and sugar until light and fluffy.
Beat in the eggs one at a time, then the vanilla.
Add in the sour cream. Mix all ingredients until fully combined.
Slowly add the dry ingredients to the wet ingredients, mixing until just combined. Do not over mix the batter.
This will give you fluffy and light cupcakes.
Using a cookie scoop or large spoon, fill the cupcake liners a little over half. You should have 14 cupcakes.
Bake cupcakes in separate batches at 350°F for about 18-21 minutes or until a wooden toothpick inserted into the center of the cupcake comes out clean.
Remove cupcakes from the oven and allow to cool in the pan for a couple of minutes. Then remove from pan and transfer to a wire rack to cool completely.
Vanilla Buttercream Instructions
Using the bowl of a stand mixer fitted with the paddle attachment (or a large mixing bowl using a hand-held mixer) beat the butter on medium speed until smooth.
Add in the confectioner's sugar and vanilla mixing at low speed until well combined.
Slowly add in the heavy cream, increase the speed to medium-high, and mix for a few more minutes until the frosting is completely combined and smooth.
Decorating Instructions
Pipe the frosting onto the cooled cupcakes. I used a Russian Ball Tip. Instructions on making ruffles in the post.
Decorate cupcakes as desired. I alternated sprinkling red and pink sanding sugars over the cupcakes.
Place decorated cupcakes into Valentine's Day cupcake wrappers.
Notes
This recipe makes 14 cupcakes so you will be using 2 pans.
Prepared cupcakes can be stored in an airtight container at room temperature for up to 2-3 days or in the refrigerator for up to five days.
When adding sanding sugars, I found it easier to pour some in my hand then sprinkle it in varying patterns with my fingers.
Nutrition Information:
Yield:
14
Serving Size:
1 cupcake
Amount Per Serving:
Calories:

403
Total Fat:

23g
Saturated Fat:

14g
Trans Fat:

1g
Unsaturated Fat:

7g
Cholesterol:

86mg
Sodium:

297mg
Carbohydrates:

48g
Fiber:

0g
Sugar:

38g
Protein:

3g
Nutritional information is automatically calculated with ingredients and serving size and may not be accurate. Please always double check with your own nutritional apps as well.
More Valentine's Day Recipes
Looking for more delicious Valentine's Day recipes? Check these out!