This Weekly Cleaning Schedule printable checklist is just the thing to keep you focused and help ease the overwhelm of maintaining a clean home.
Daily cleaning can be tough, especially when we are already busy taking care of our family, working, and living our lives. That feeling of everything being dirty and needing cleaning can really become overwhelming, though.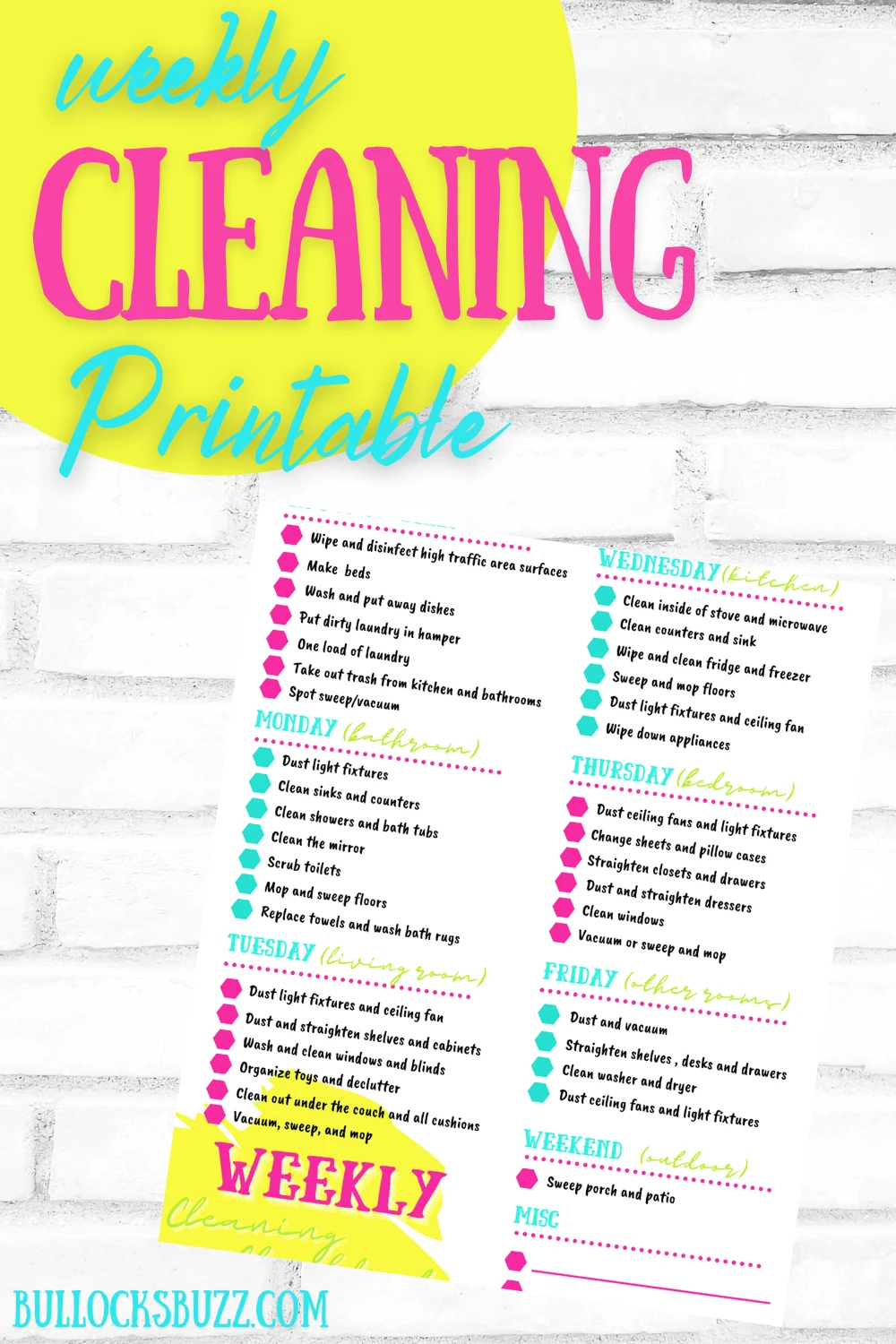 This is a sponsored post on behalf of Arm & Hammer. Regardless, all opinions are my own.
Creating a cleaning schedule where you divide your cleaning tasks into daily, weekly, or evenly monthly ones can make a world of a difference. It streamlines the process by keeping tasks organized and by making your chore list much more manageable. Plus, it helps prevent things from piling up and creating an even larger mess.
WHY HAVE A WEEKLY CLEANING SCHEDULE
In fact, getting on a cleaning schedule is what helped me in a big way to keep from getting overwhelmed with keeping our home clean. As a bonus, I also found that after a couple of weeks, it took me way less time to get things done because nothing was really that cluttered or dirty now that I was keeping up with it.
Spring is also the perfect time to get started on a weekly cleaning schedule. Everything is fresh and new, and you feel that cleaning urge kicking in. Besides, a weekly cleaning schedule works best when you start with a good deep clean, as you'd do with Spring Cleaning.
Once you've done your Spring Cleaning, you can then use the free printable weekly cleaning schdule checklist I created to keep your home tidy and clean. With just a few 10 to 15-minute tasks a day, you can have a clean house pretty much all the time.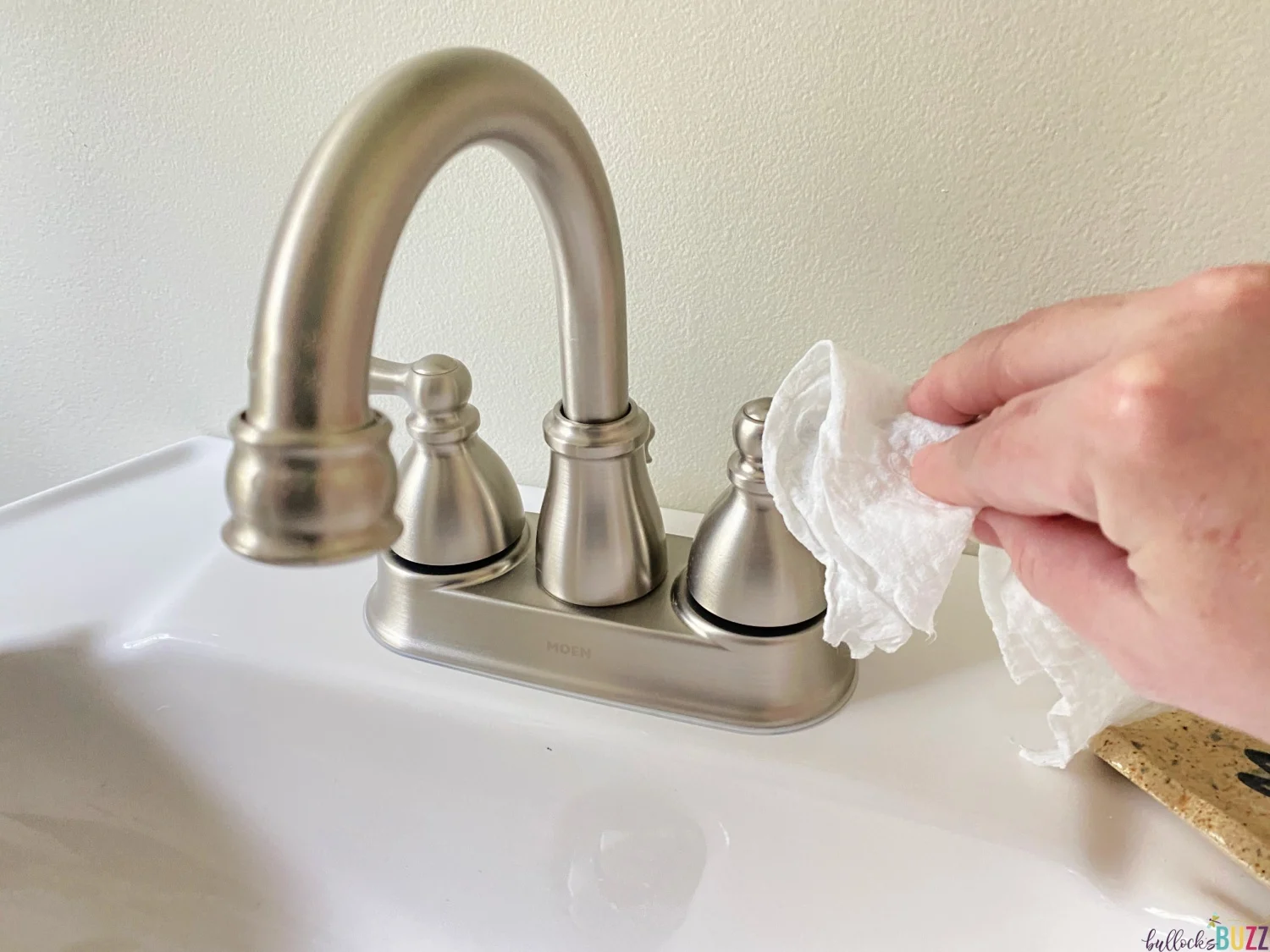 'AS YOU GO' DAILY CLEANING TASKS
Even on a weekly cleaning schedule there are some tasks you'll need to do every day if you want to maintain a clean home. But these are simple things. Nothing intense, just basic tasks that shouldn't take much time at all. I call them my "As You Go" tasks because they can be completed as you go about your normal routine.
For example, tossing dirty clothes into the hamper, making your bed in the morning, taking the trash out, wiping down the counters, and taking care of dirty dishes as you cook.
For the kids, this could look like placing dirty clothes in the hamper, putting their toys away, and placing their homework in their backpacks as they finish with it.
My 'As You Go' tasks also include wiping down and disinfecting all high-traffic areas daily. To do this, I simply grab a few Arm & Hammer Essentials Disinfecting Wipes and wipe down all of the frequently used surfaces in my home.
This includes things like the doorknobs, light switches, the countertops in the bathrooms and kitchen, faucets, all remote controls, and the handles on the fridge and freezer, just to name a few.
Not only will this keep your home clean, but it will also help keep it germ-free – which is especially important in these days of Covid!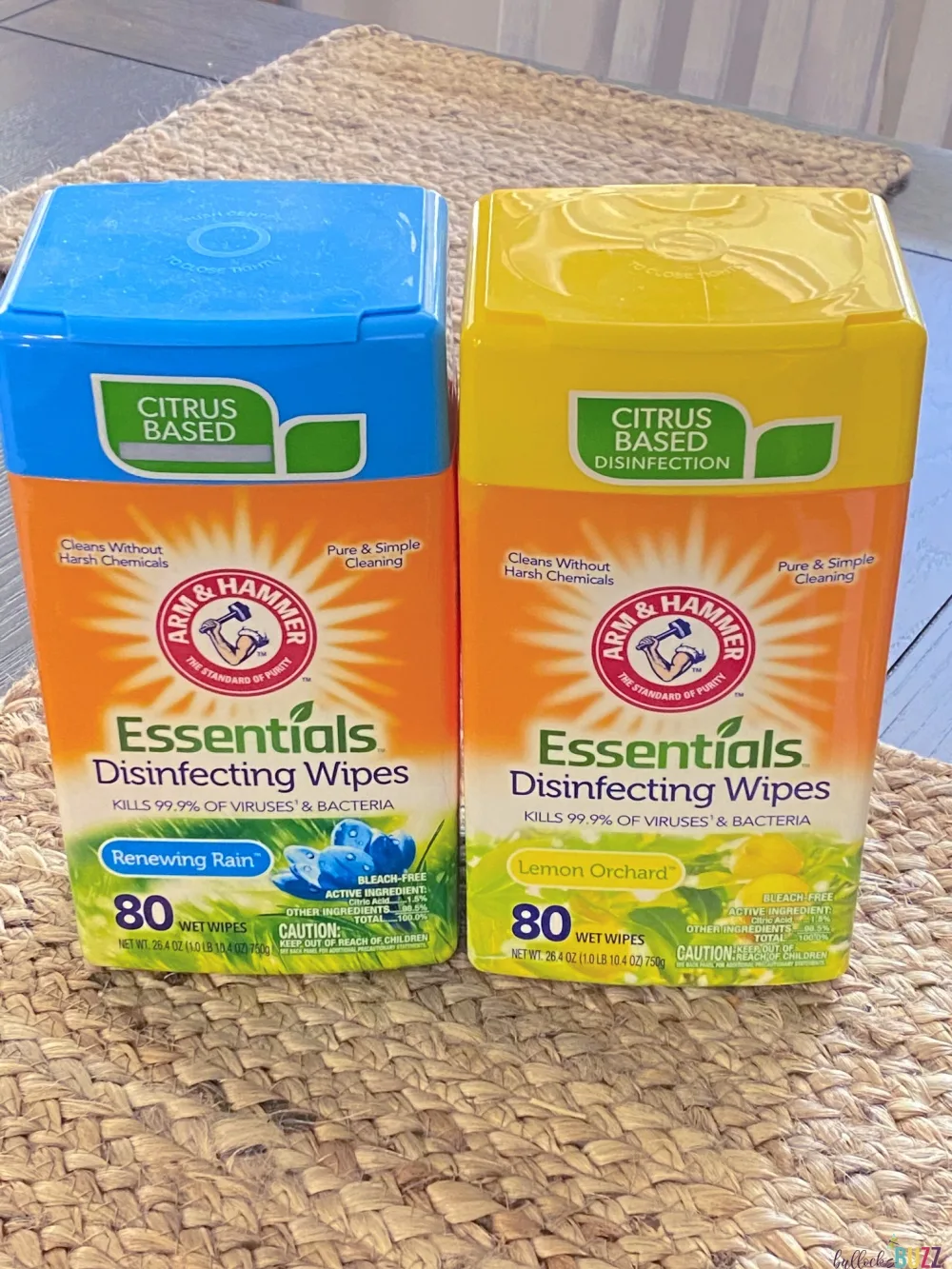 ARM & HAMMER ESSENTIALS DISINFECTING WIPES
I've long used Arm and Hammer baking soda for cleaning my home. So I was thrilled to get to try their new disinsfecting wipes! They are the perfect addition to my weekly cleaning schedule.
Made with a citrus-based disinfectant formula that kills 99.9 percent of viruses & bacteria, Arm & Hammer Essentials Disinfecting Wipes have quickly have become a favorite of mine. I love that they clean without the use of harsh chemicals.
And, since the active ingredient is citrus-based and they contain no quaternary ammonium chloride compounds (QUATS) like other leading brands, Arm & Hammer Essentials Disinfecting Wipes can be used on a variety of household surfaces without the worry of damage. However, it is advised to always do a small test area first.
I've used them on stainless steel, finished hardwood, tub and shower walls, the toilet seat and handle, and yes, I've even used them on my phones and other electronics (taking care to squeeze out any excess liquid from the wipe first, of course).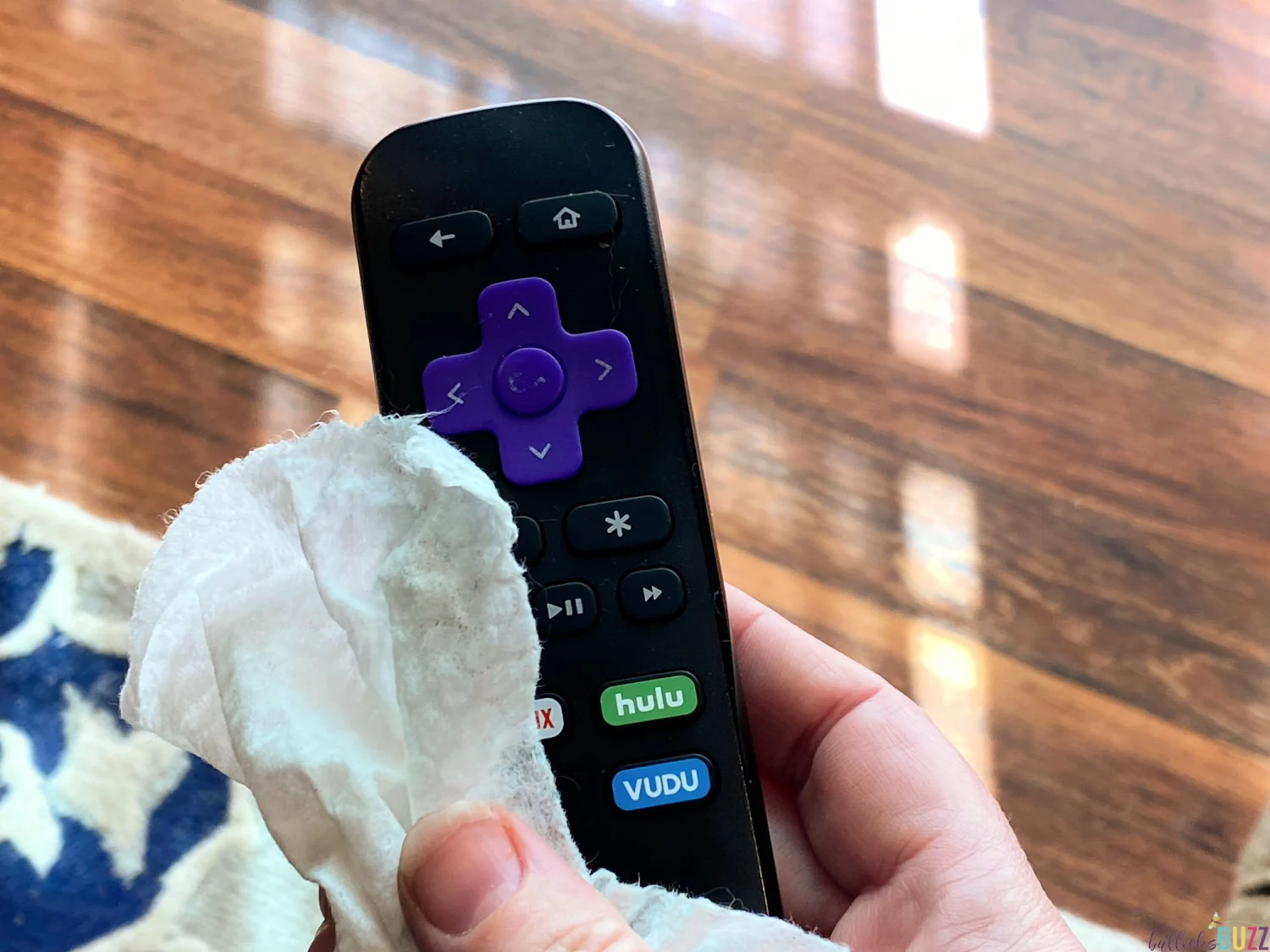 Pet-friendly, Kid-friendly, Safe for A Variety of Surfaces
The wipes are the same size as other standard disinfecting wipes and hold together quite well (they're sturdy). They also clean very well while they are disinfecting, yet they are gentle enough to be used for daily cleaning. Best of all, they can be used around kids and pets. FYI, for surfaces that come in contact with food, a water rinse is required.
Oh! And did I mention that I really like the way they smell? They come in two scents, LEMON ORCHARD™ or RENEWING RAIN™. While they still have that 'cleanser smell', it's not overwhelming and is almost masked by a pleasant, fresh and clean citrus-y scent.
Arm & Hammer Disinfecting Wipes come in 60 or 90 count containers (I love their boxy design vs the usual round containers, by the way). You can find them at all the usual retailers including Publix, Meijer, Lowes, and Costco, or online at Amazon. Grab some so you can use them with your weekly cleaning schedule, too.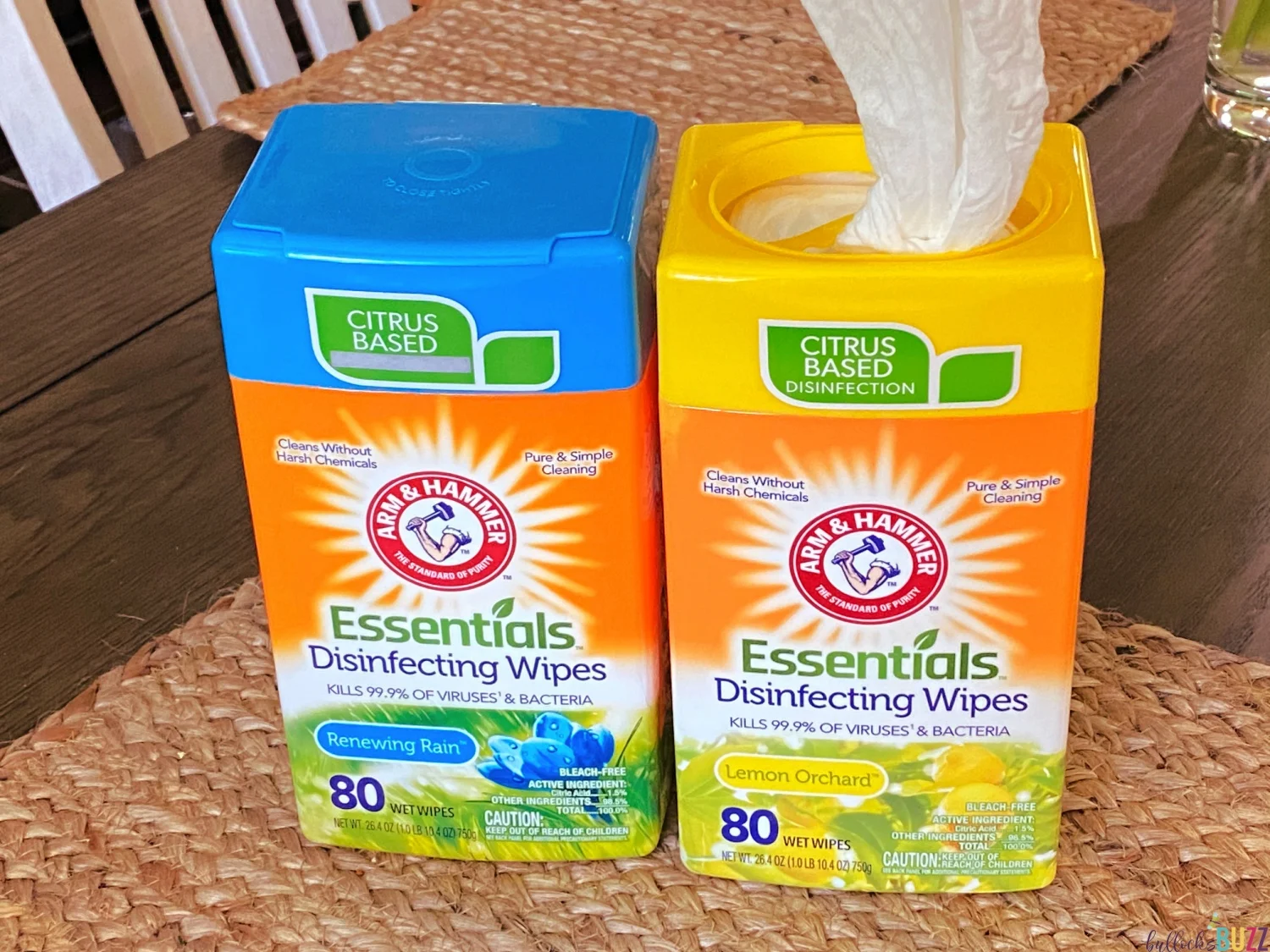 WEEKLY CLEANING CHECKLIST PRINTABLE
Ready to start your own weekly cleaning schedule? With this free printable weekly cleaning schedule checklist and a little motivation to clean, you can keep your home clean and healthy without the overwhelm and stress.
Make it even easier by using the printable checklist I created below. This will help you keep all of your cleaning tasks organized and streamlined so you know exactly what needs to be done on what day.
I've designated specific rooms for different days. For example, cleaning the bathroom(s) on Mondays, the living on Tuesdays, the kitchen on Wednesdays, and so on.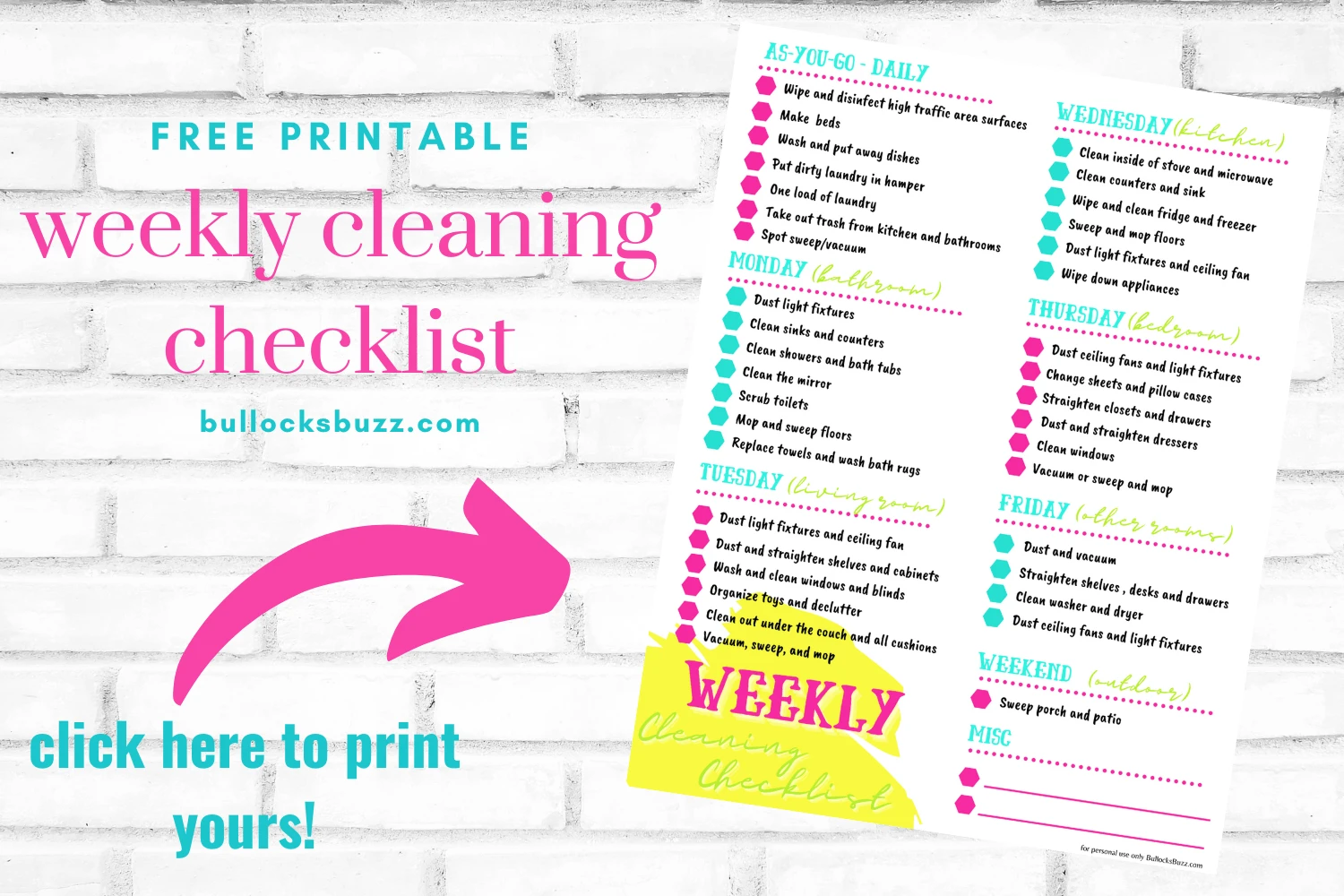 My daily cleaning chores are the As-You-Go's I mentioned above plus one load of laundry. Doing one load per day prevents our laundry from piling up and becoming a day-long task.
Helpful tip: don't forget the ideal recommended plan of attack for cleaning: top-to-bottom and left-to-right. So for each room, you'll want to start at the highest point (in the bedroom, this might mean the ceiling fan), and move from left to right across the room. This way you won't accidentally knock dust onto already-cleaned dresser tops and you won't miss anything.
Final Thoughts on Weekly Cleaning Schedule
If you are ready to get serious about cleaning your home and keeping it clean, this simple weekly cleaning schedule checklist will make it easy to stay on top of your housework. Then you will have more time to spend on the things you love. Print your today by clickng on the above image or on the link in the above paragraph.