Valentine's Day Gift Guide
Zena Moon Handcrafted 'Candles for the Spirit'
Valentine's Day is all about romance, and what could be more romantic than the warm glow of candlelight? Surprise the one you love with a beautiful, handcrafted candle by Zena Moon.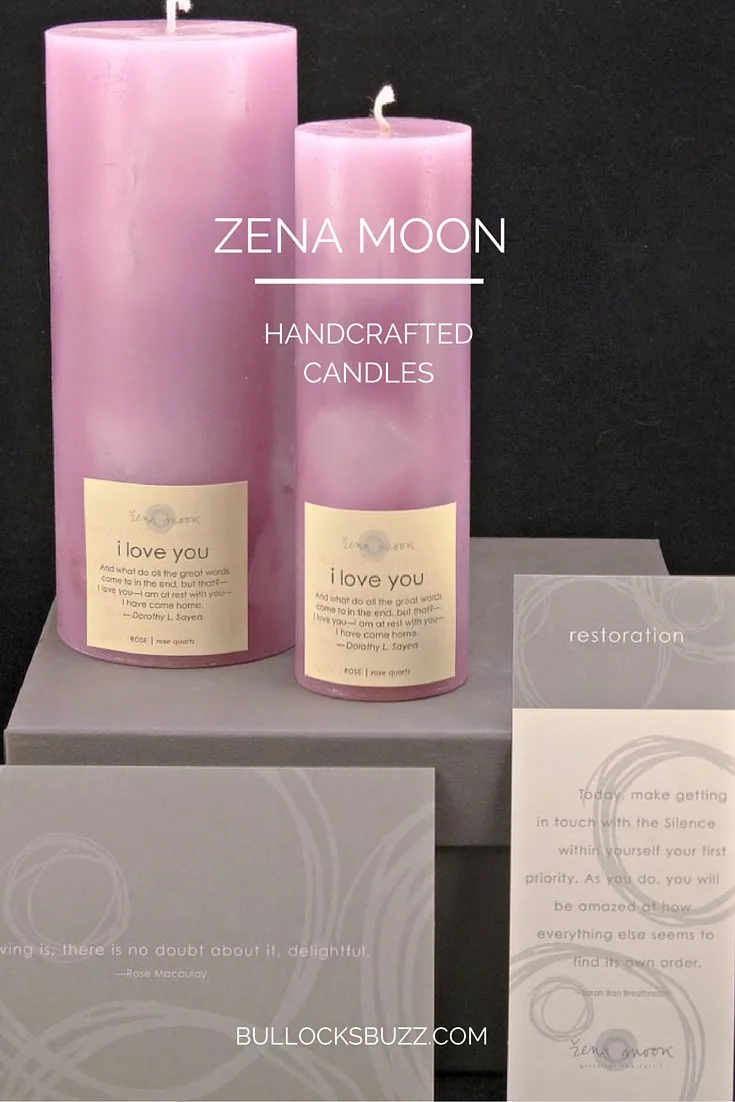 Located in the seaside town of Norwalk, Connecticut, the Zena Moon Candle Company has been hand crafting candles since 1999. Their candles are completely vegan, and made with only the highest quality ingredients. The company itself runs on sustainable practices, and uses nature as the inspiration for their candle colors and scents with each and every candles. Yet what really sets this company apart from others is that each and every candle they make is imbued with meaning and intent. Their website says it best…
Each handcrafted, nature-inspired

candle

by Zena Moon

Candle

Company is both a conscious tool, and a source of rich pleasure. Designed to create a specific energy in your desired environment, our handmade creations help clear your space and focus your intentions. They're gorgeous to look at, and heaven to smell.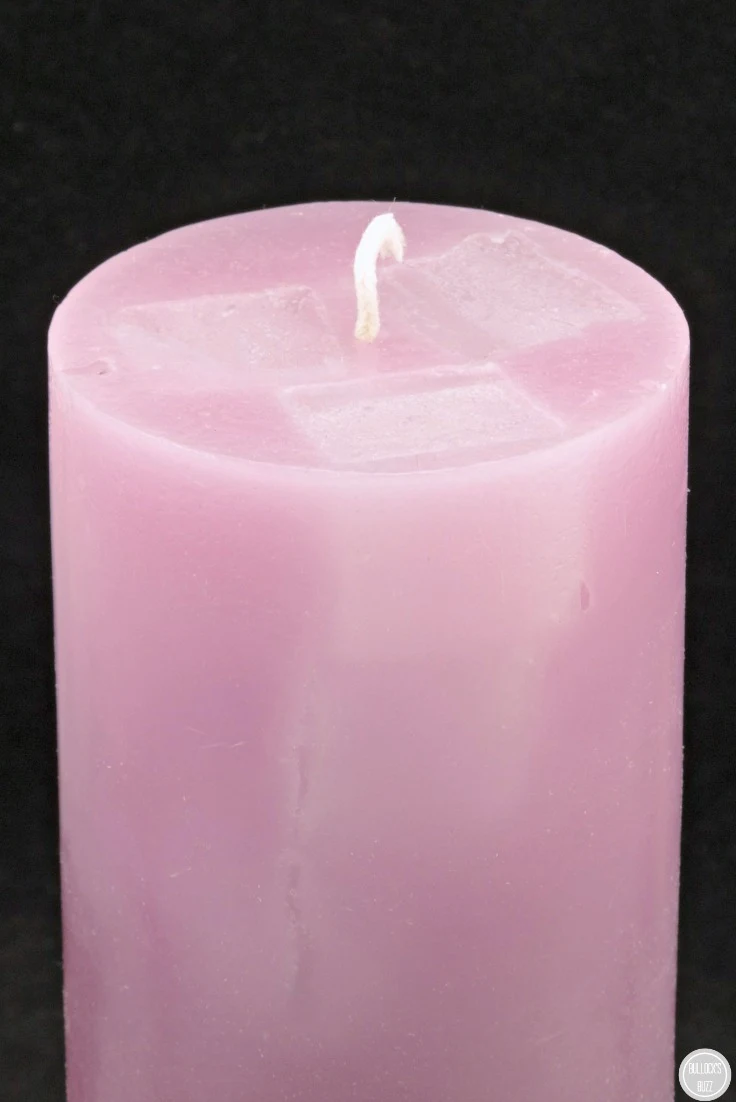 Their candles are made from the highest quality food-grade paraffin wax and use 100% cotton wicks in order to produce beautiful candles that burn cleanly and evenly. Each one is created, poured and finished by hand, using a unique blend of color, essential oil derivatives and gemstones. Yes, you read that right, gemstones! As one more quality that sets these candles apart from hundreds of others, Zena Moon candles contain one or two gemstones specially chosen to empower the intent of the candle. Each element lends its unique energy to the overall intention of the candle. And because of the variety of materials used and the fact that they are not mass-produced (they are made in a small studio, not a factory), no two candles ever turn out exactly alike.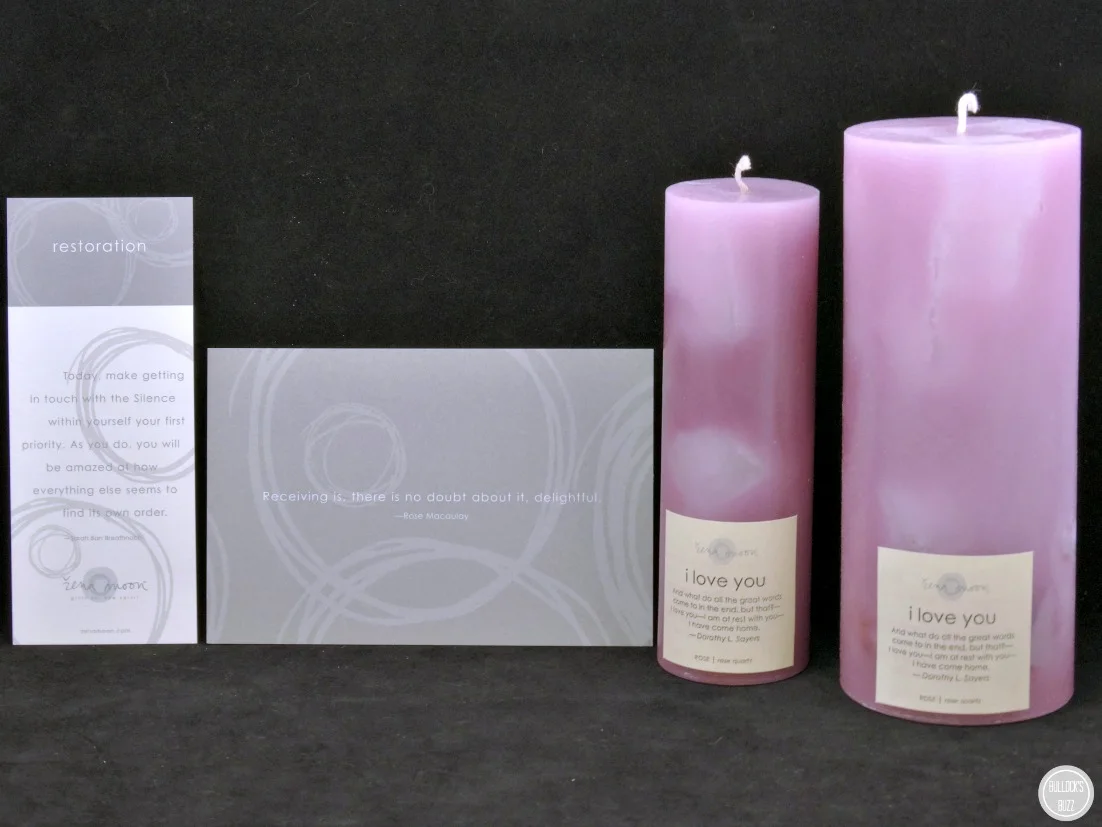 When you visit the Zena Moon Candle website, you will find they offer quite a wide selection of candles including Affirmation Candles, Prayer Candles, Inspirational Candles, Animal Totems, The Elements, and more. They come in all sorts of shapes, sizes, colors and scents, and each one includes a quote on their label.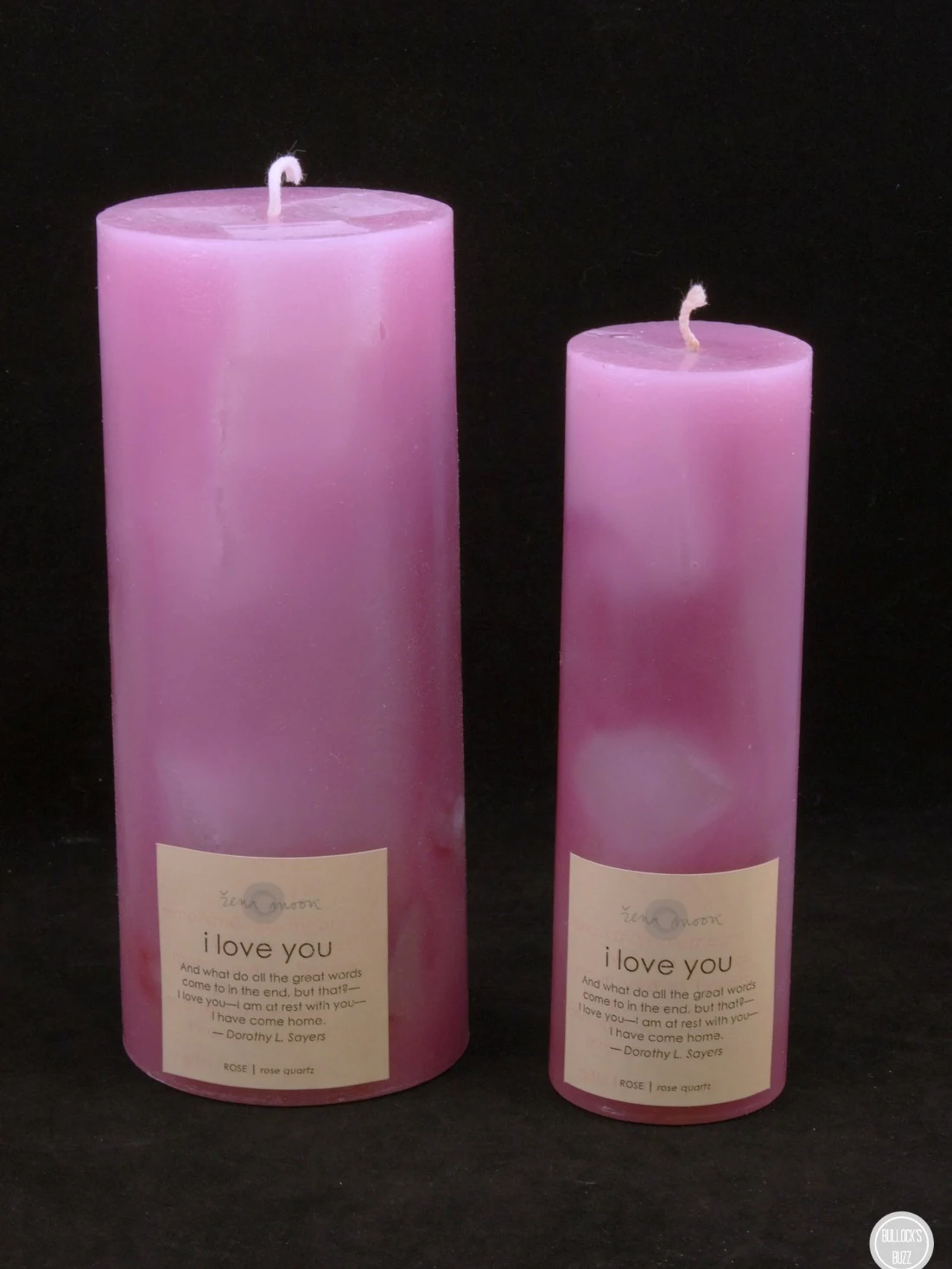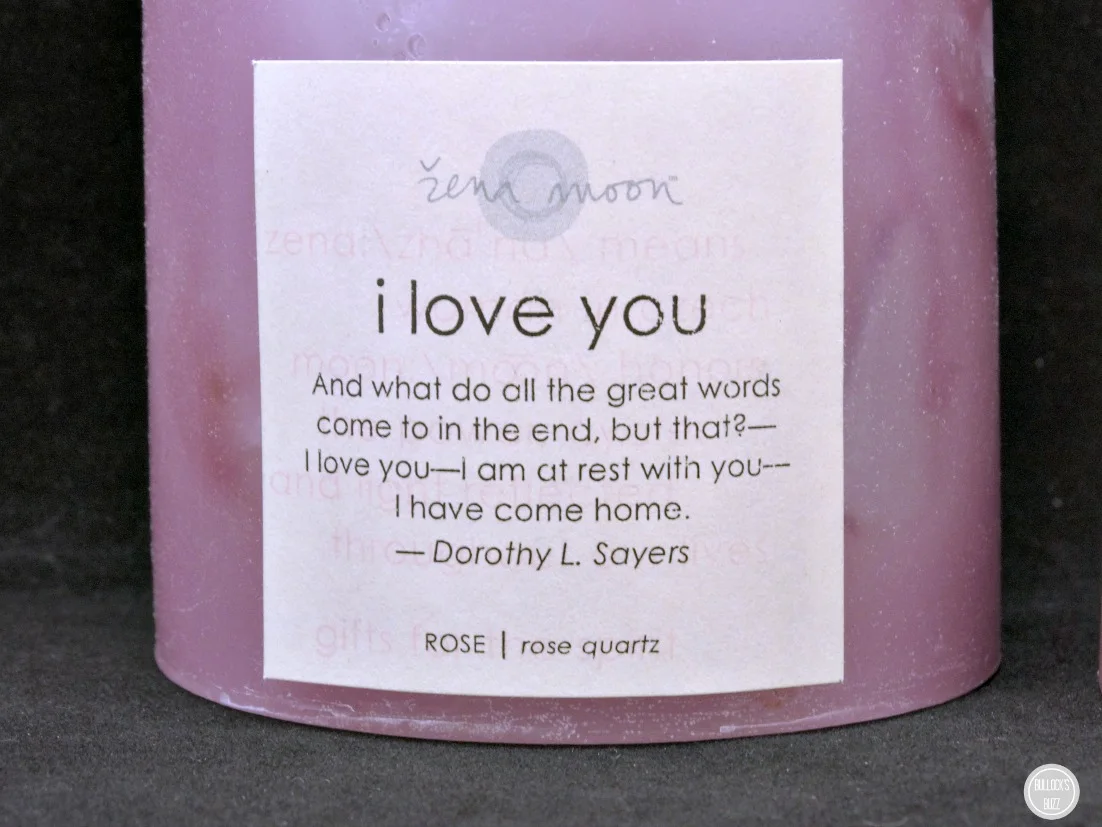 Since Zena Moon candles are produced by hand, it can take a few days for your order to arrive. Mine came within the week, and were packaged securely in a nice, sturdy box. As soon as I opened the lid, I caught a whiff of the wonderfully sweet aroma of rose. Nestled inside were two Love candles including a 2 x 7 pillar and a 3 x 7 pillar, a book mark, postcard and small box of matches. The bookmark is titled 'Restoration' and includes a beautiful quote by Sarah ban Breathnach: "Today, make getting in touch with the silence within yourself first priority. As you do you will be amazed at how everything else seems to find its own order".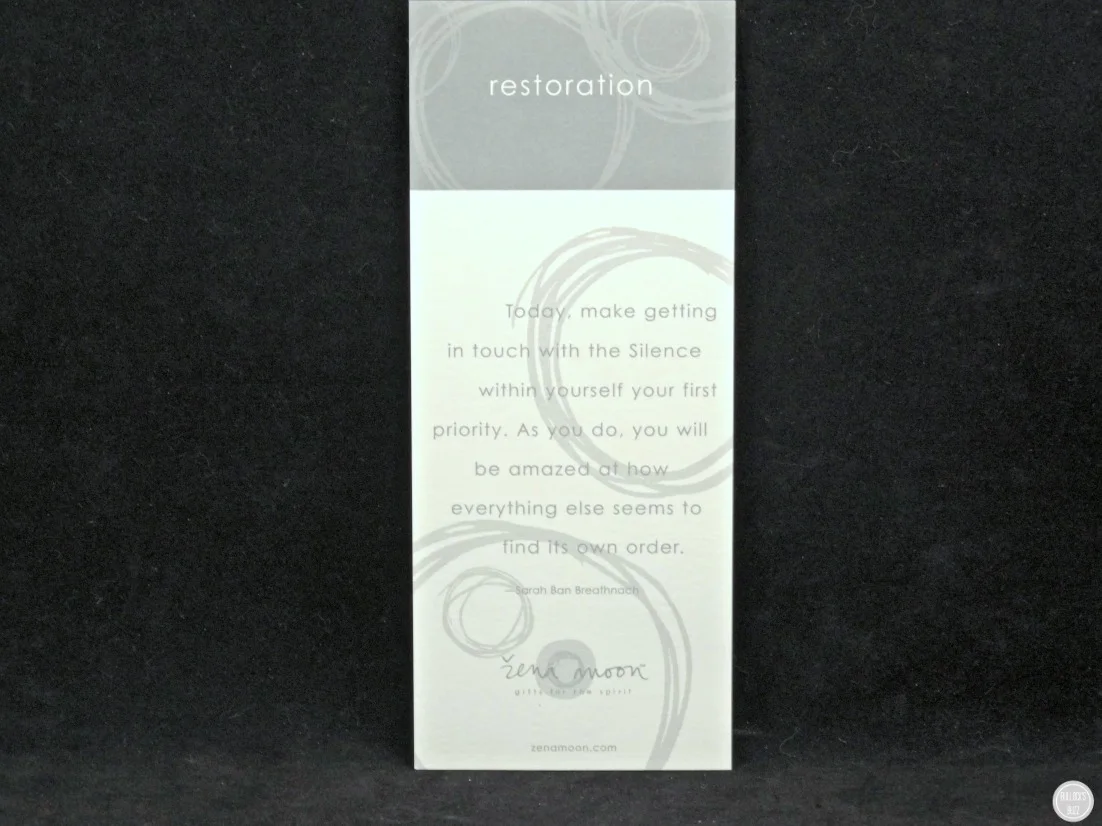 The candles themselves looked so pretty and smelled so wonderful, I almost didn't want to burn them! However once I did, it didn't take long for the roomto fill with the beautiful scent of rose. And speaking of scent, I love that the candles are scented with essential oil-based scent which I love as it is a "true" scent as opposed to the manufactured scents you get with some candles. I also like that they are lightly scented as too much scent tends to give me a headache. The candles are slow burning so they should last for quite a while, and the melted wax hardens quickly which can actually help prevent fires and accidental burns.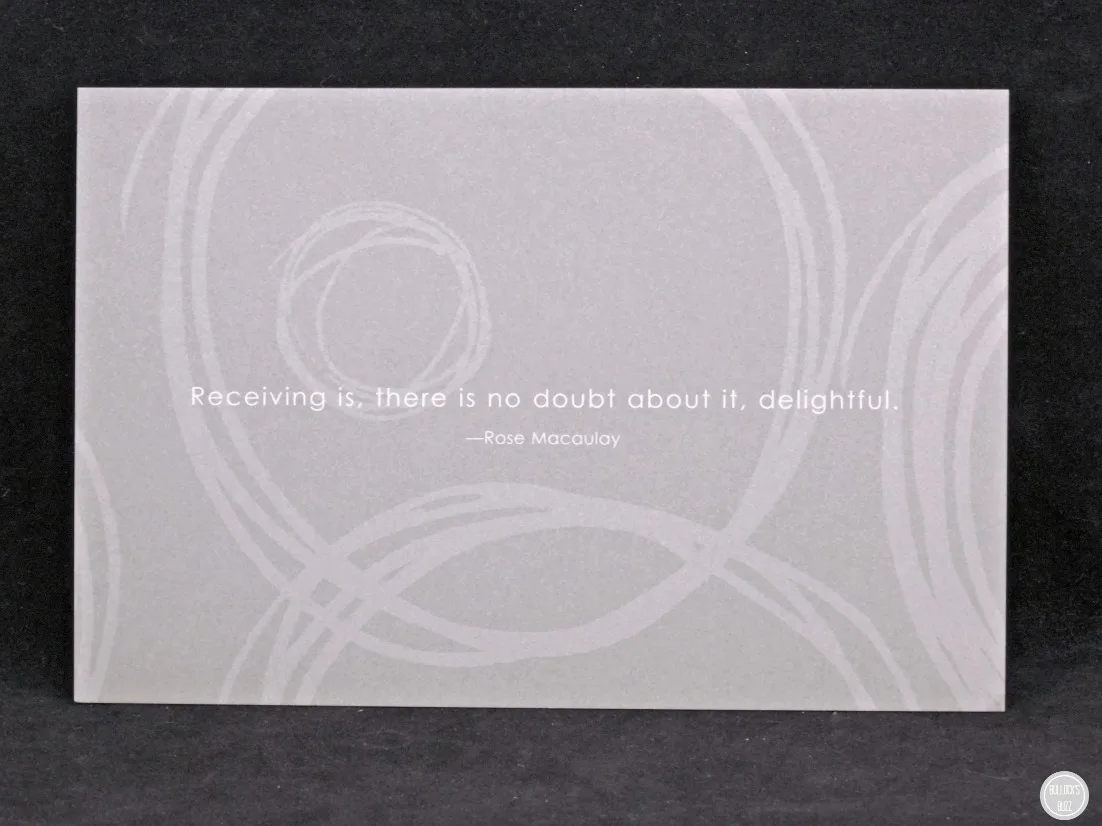 Overall I really like these Zena Moon candles, and cannot wait to order more! If you are looking for high quality, beautiful, hand crafted candles, look no further than Zena Moon!
Fun Facts About Zena Moon Candles
Did you know that one of the very first orders was given to Oprah as a gift from one of her closest friends?! As a result, Oprah herself chose Zena Moon candles for her Live Your Best Life Tour, along with a mention in People magazine. In addition, bestselling author SARK has recommended Zena Moon candles in her monthly e-letter. And O Magazine columnist and author Martha Beck gives Zena Moon candles to everyone who completes her Life Coach Training program!
Connect with Zena Moon Candles: Website | Facebook | Twitter
Which Zena Moon candle would you like to try? Share with us below!