Christmas time is such a wonderful time! A time when you can sit down with your loved ones to watch a fun holiday movie, eat a festive treat, or work on a holiday project such as some DIY Christmas crafts. However, between arranging Christmas gatherings, buying gifts, and beautifying your home, the Christmas season doesn't leave you much spare time.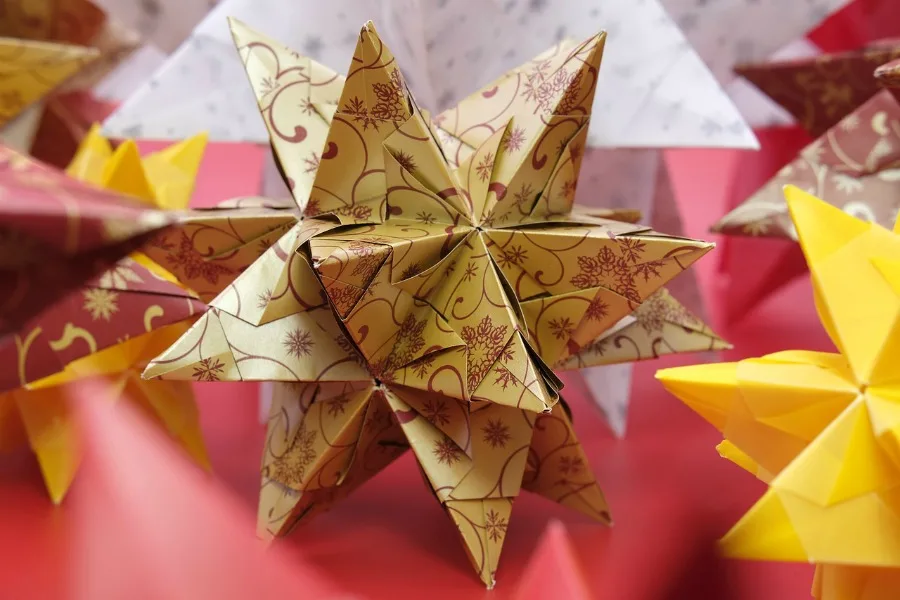 If you are looking for fun and easy DIY Christmas crafts this year, look no further! These crafty and unique ideas require minimal effort, are inexpensive to create, and can be used as Christmas decor or given as gifts. So gather your supplies, get comfy and cozy — it's time to get your holiday craft on!
Toy Ornaments
DIY Christmas Ornaments are a fun craft the whole family can do. Plus, they make great decor and gift ideas! Best of all, they can be made out pretty much anything. Like these toy ornaments for example. Using old toys as ornaments is a crafty way to spread holiday delight.
Get the kids involved and ask them to pick their favorite toys to transform. You can then use a needle and thread to sew a loop onto delicate toys, or add a screw eye into a wooden toy, and then hang them on the tree. Added bonus: less mess for moms to deal with!
Glittery Christmas Ornaments
Transform your old night-light bulbs into festive adornments. Any size will do. Simply paint with a thin layer of glue, twirl the bulb in glitter, and then leave it to dry for 15 minutes. Once dried, use hot-glue to add a loop of metallic embroidery to the bulb's metal base, then make a loop out of thread and hang it on your tree.
Re-Upholster Your Dining Chairs using Flour Sack Towels
Bulk flour sack towels are one of the cheapest and most versatile craft materials to kick off any project. Here is one clever DIY Christmas craft ideas that will turn something common into remarkable.
If you've ever considered giving a facelift to your dining table chairs, why not use flour sack towels to reupholster them!? It's a great way to give old outdated chairs a new life!
First print, color, or bedeck the flour sack cloth however you desire. Next, remove the seat of the chair, take off the original cover, and then wrap the new fabric around it. Make sure any pattern you added to the cloth is centered, and smooth out any wrinkles or creases on the top side of the seat. Now secure the fabric to the seat using wood staples or fabric glue. Once finished, flip it over and reattach it to the chair.
Cookie-Cutter Trimmings
Who said cookie-cutters are only for cookies only? For many, cookie cutters used as trimmings brings back nostalgic and sentimental memories of their childhood. Fortunately, using cookie cutters as trimming is much quicker to make than cookies are to bake. Using inexpensive aluminum cookie cutters and patterned paper, trace the cookie cutter on the paper and then cut it out. Dab some white glue around the cookie cutter's edge. Next, lay the paper in place and allow to dry. Add a thread loop and you're done!
Festive Envelopes
Children can design handcrafted envelopes from newspapers or unused wrapping paper. To get started, unfurl a standard envelope that you can use as a template. Pick out some fun colored paper that is bigger than the envelope. Next, trace around the envelope on the paper. Once finished, cut it out, then fold it into an envelope using glue to attach the sides together. If you aren't sure how to fold it, use the unfolded envelope as a guide.
Holiday Lanterns
Together with some fresh greenery, these cute lanterns add a lot of holiday flair. You will need some mason jars, heavy-duty yarn, 3/4 inch or 1-inch circle stickers, spray paint, and battery-powered LED string lights.
First, place the stickers on the exteriors of the jars however you prefer. Make sure they are smooth against the jar's surface.
Next, in a well-ventilated area, remove the lids, flip the jars upside down, and giving each jar one to two layers of paint. Once the paint is dry, remove the stickers from the jars.
Next, wrap a long piece of yarn around the top of the jars (where the lids used to screw on) at least three times, then tie into a pretty bow. Last, but not least, insert battery-powered LED lights into the jar and close it.
DIY Christmas Candles
Revamp your one-dollar candles into a charming snowman, reindeer, and other happy characters with pom poms, buttons, and laces. You can use these festive candles to line your shelves, give away as Christmas gifts, or make a centerpiece.
DIY Christmas Wreaths
What is Christmas without a wreath? Making your own Christmas wreath is not only fun it very affordable! There are all kinds of ways to make them, too. One way is by wrapping decorative ribbon around a wreath form while stretching the ribbon tight as you go. Finish off the ribbon by trimming the end and tie it up with a floral pin. Next, add your trimmings with hot glue. Use twig & pine cones, and other natural elements.
Vintage Hankie Christmas Tree
Another of our fun and unique DIY Christmas crafts is a vintage hankie Christmas tree! To make it, simply use green handkerchiefs for the boughs and brown hankies for the stump. Pick a spot on the wall, or use a piece of whiteboard for your display. Then you simply create a Christmas tree shape using the hankies and securing them with pushpins.
Paper Christmas Gift Packets
Cheerful holiday packaging needs a bit more than just scrap paper and thread. Give warm woolen gloves and other delicate items a chance to shine – sans box – by folding two pieces of paperboard together and tracing a shape of your choice on the top piece. Then slice through the two layers of paper, fix your gift between the two shapes and join along the edges using colorful thread.
Which of these easy and quick Christmas DIY craft ideas are you going to try?