Like almost all cats, Sookie and Mama Squeak love to burrow themselves into dark and cozy spaces. And like many cat parents, I've spent countless minutes searching all over our house for their hidey-hole, and countless dollars on fancy cat beds only to have them seek out an empty box. But then I got my cats a hand-made cat cave from the Cat Cave Co. and everything changed.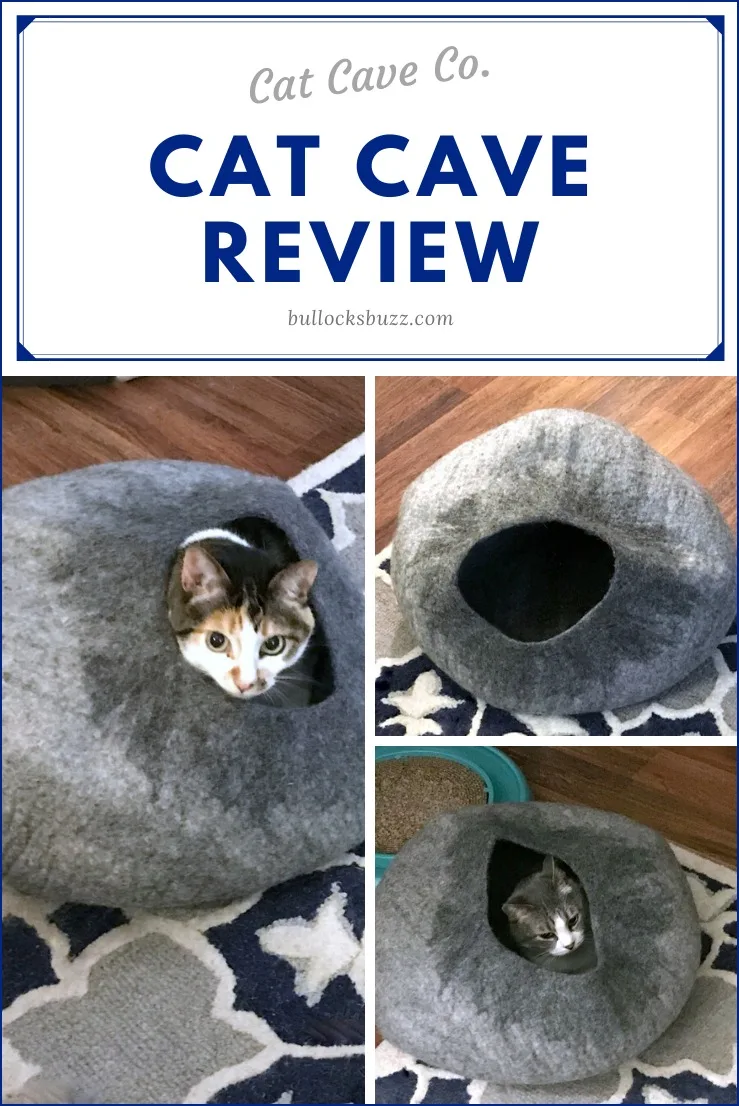 I admit it. I spoil my cats. From the cat food plates I feed them on to the cat condo they climb on, I want to make sure they have everything they need to live a healthy and happy life. And, now, with the addition of this cat cave, they have a new quiet, safe, and comfortable place to take one of their many, many naps!
The Cat Cave Co.'s Cat Caves
The Cat Cave Co. has all sorts of fabulous caves your cats will love! Each cave is hand-felted from 100% natural Merino wool, a material that cats tend to adore.
Merino wool is not only soft and flexible, but it also stays warm in the winter, and cool in the summer. It naturally repels dirt, odors, and stains, and is very easy to clean. All of this makes it an ideal material for cats.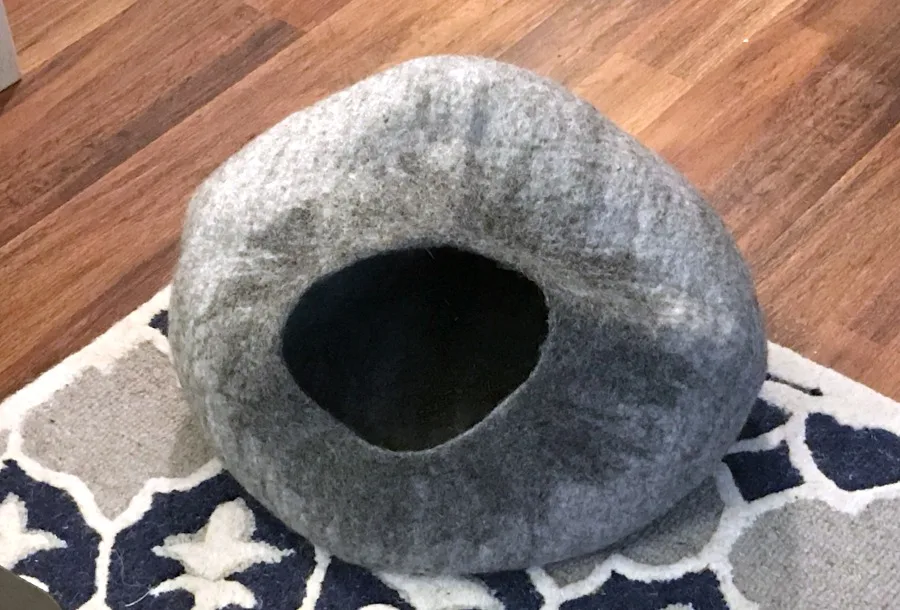 One of my favorite things about the Cat Cave Co. is that they do not use any chemicals in the cleaning and dyeing process of the wool. In fact, they use a vegetable-based dye that's 100% natural and organic. So this means that these cozy and comfy caves are also non-toxic and eco-friendly.
Cat Cave Co. Review
The Cat Cave Co. generously sent my cats one of their caves to try. The Heather Grey cat cave arrived neatly folded up inside a bag. After removing it from the bag, all I had to do was unfold it and then open it up, forming it into its cave shape with my hands. Of course, both cats were sitting nearby curiously watching what I was doing!
The first thing I noticed about the cave was the softness, thickness, and flexibility of the material. It's actually quite soft, and at about 1/2″ thick it feels quite durable — which is a good thing when it comes to cats! Plus, with the collapsible nature of the cave, if your cats prefer to lay on top of things, they can do that, too. You can then easily reshape it back into its original shape.
The next thing I noticed was its size. Measuring around 19 inches in width and 10.5 inches in height, with the entrance hole measuring approximately 7 to 8 inches, it's the perfect size for a cat to crawl into, curl up, and take a nice, long catnap.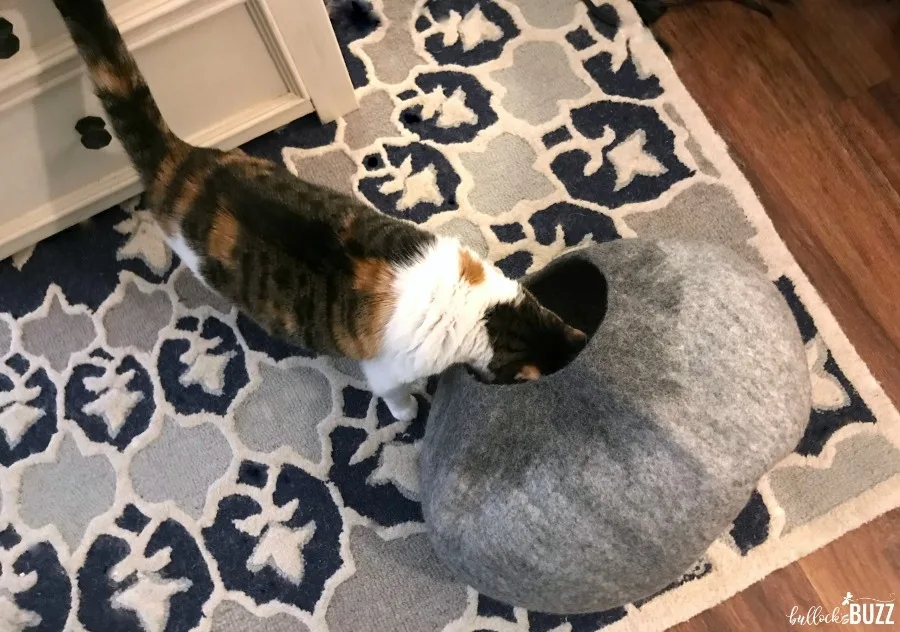 Naturally, both of my cats were very intrigued by the cave and they did quite a bit of sniffing and circling. But, of course, neither one would venture inside! In fact, it actually took a few days and some creative thinking before they began using it.
How to Get Your Cat to Use Their New Cat Cave
Buying something for your cat only to have them not use it is a common experience for cat-lovers everywhere. When I first introduced the cave to Sookie and Mama Squeak, neither wanted anything to do with the inside of it. It wasn't until I moved it to a different location – and added a sprinkle of catnip – that it suddenly became the sleeping place of choice.
So if your kitty ignores their new cave, here are a few tips to encourage them to give it a try.
1. Location
Try moving the cave to a different spot. Take a few days to observe where your cat likes to sleep, then place the cave on or nearby that location. Most cats prefer to sleep in warm areas that are safe, quiet, and secluded, yet still offer a good vantage point. Some examples include a quiet corner in the den or living room, in front of a warm, sunny window, in a spare bedroom, inside a closet, or under a table.
Cats also enjoy naturally high spots, so you could try placing the cave on a bed, ottoman, chair, or another piece of furniture.
2. Toys
Once you've chosen a good location for the cave, try placing some of your cat's favorite toys inside it. The toys will smell like your cat and will help familiarize it with its new cave. Leave the toys inside for at least a few days.
3. Treats and Praise
You could also try to entice kitty inside the cave by placing a few small treats inside it. Once your cat climbs inside, remember to offer lots of verbal praise. Giving your cat attention when you notice it using its cave will help your cat form a positive association with it.
4. Catnip
Try sprinkling some catnip or spraying the inside of the cave with a catnip spray to attract your cat and encourage it to inspect it.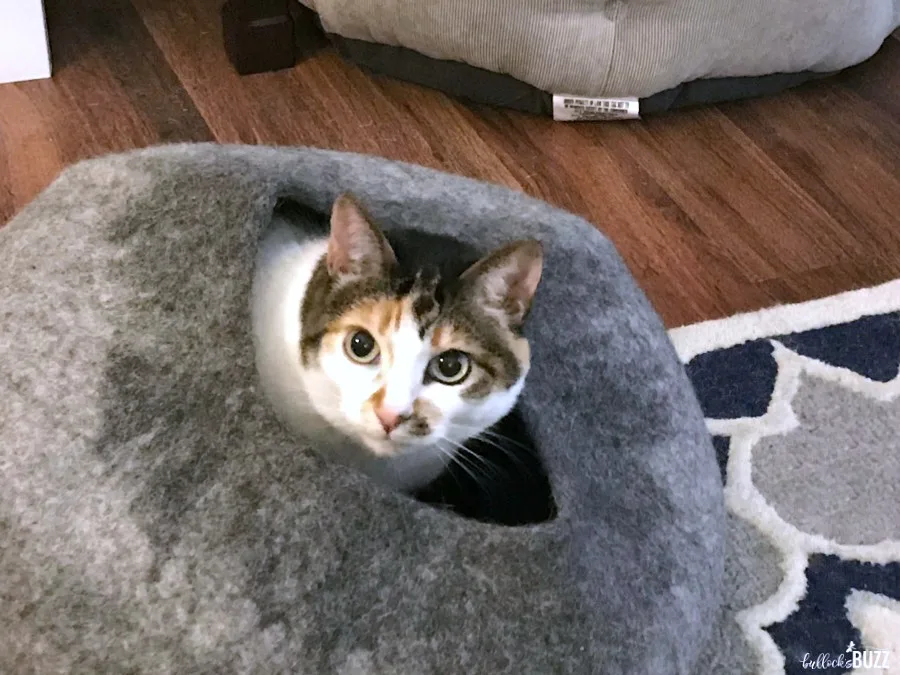 Once your cats get used to their new cat cave, they're going to love their new soft, cozy, and warm oasis!
My Thoughts on the Cat Cave
I've had mine for several weeks now, and both cats love it! It's holding up very well despite the constant use. It's also simple to clean. Once a week I take a lint roller to it to remove any cat fur from the outside and inside. And that's it. There's no musty or dirty smell at all, nor is it holding dust or dirt.
And while I haven't yet had to, it's nice to know that these caves are washable. You simply hand wash in lukewarm water, press out any excess water and re-shape while still wet. Then you leave it to dry naturally. Once I wash mine, I'll add an update here.
I have noticed that it will lose its shape after a lot of use or if the cats are playing around inside of it or sitting on top of it, but there are no issues with it collapsing on its own. Besides, it's super easy to reshape so to me it's not a big deal.
Overall, this is a great product. My cats are happy with it, which means I'm happy with it. It's a purrfect fit for my feline family. The only thing missing is a second one so they can each have their own private oasis! 😉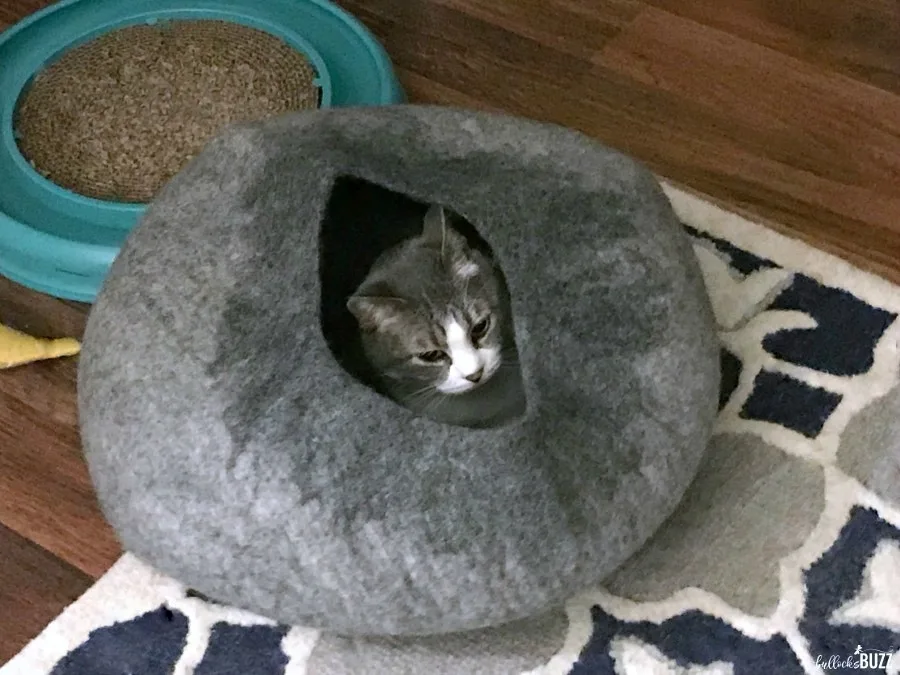 Where to Buy Cat Cave Company Cat Caves
The Cat Cave Co. offers a fantastic selection of caves available in all sorts of colors and patterns. They also have animal-shaped caves, fruit-shaped caves, and even whimsical designs such as a 3D Fairy House. This makes it incredibly easy to find one that fits your style and home decor.
Their caves can be purchased directly from the Cat Cave Co. website.
If you're looking to give your four-legged feline family members an irresistible oasis, then give the Cat Cave Co. caves a try!