This DIY cat food plate is an adorable Fall-themed craft perfect for cat-lovers! Serve up your feline's favorite foods or use it as part of your fall decor!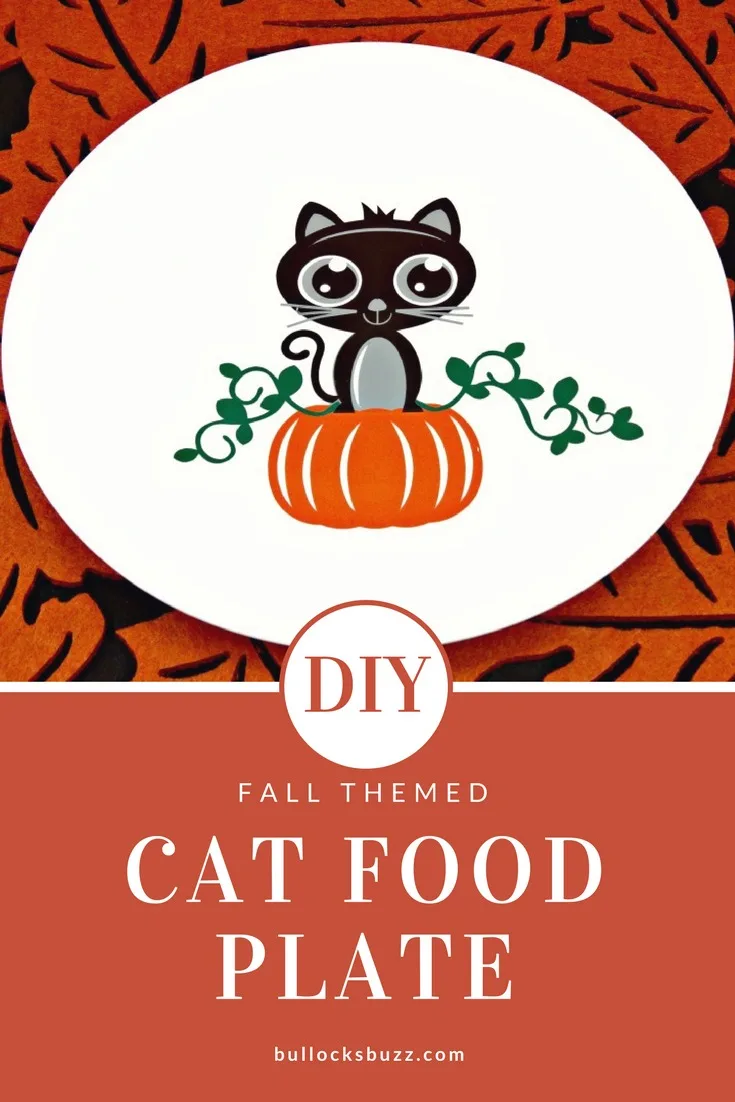 Fall has finally arrived in Alabama! The temperatures are slowly falling and even the trees are beginning to show their glorious colors! It's one of my favorite seasons, and my cats favorite as well!
Sookie, our indoor cat, loves sitting in the window watching the leaves fall from the trees. And Mama Cat, our outdoor cat, is having a ball playing in the fallen leaves!
Pets are Family
My cats are more than just pets. They are our four-legged feline family members. As such, their health and happiness is the number one priority. That's why I make sure they eat nutritious food, play with them to encourage exercise, and brush them on a regular basis to avoid hairballs.
Cat Food for Picky Eaters
Sookie can be a bit picky when it comes to her food, which causes some concern. I want her to enjoy the taste of her food, but still make sure she is getting the nutrients she needs.
So when I heard about Purina® Muse® Natural Cat Food, and how with Muse you don't have to choose between natural nutrition and food that tastes great, I just had to give it a try!
Purina Muse Cat Food
Purina Muse is grain-free, has no artificial colors, flavors or preservatives and all recipes are made with real fish or poultry. It's available in both wet and dry varieties and lots of tempting flavors!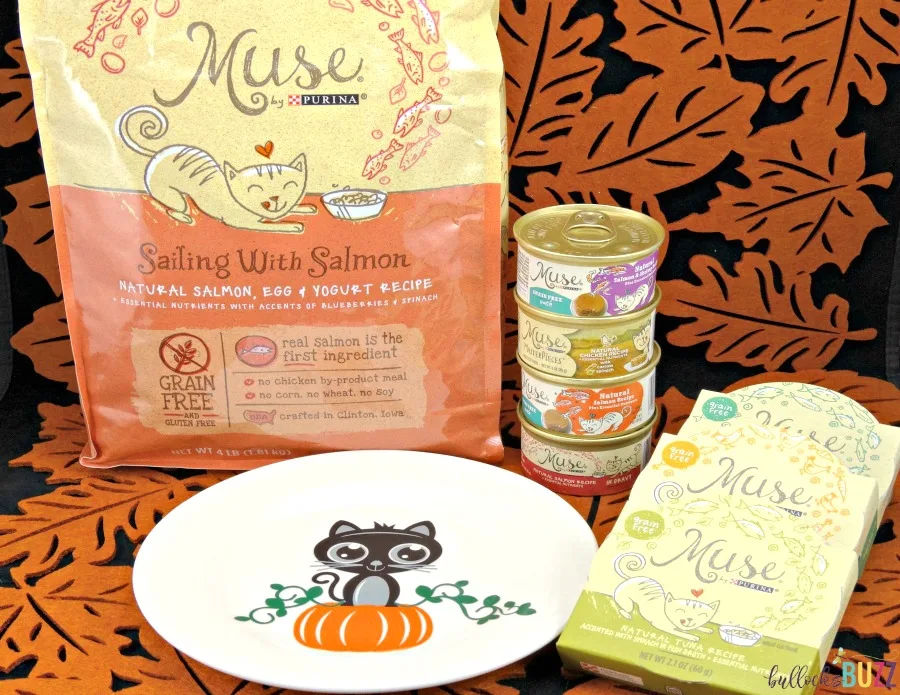 My cats have been eating it for a little over a week now, and I am thrilled I made the choice! Sookie absolutely loves it, and cleans her plate in no time!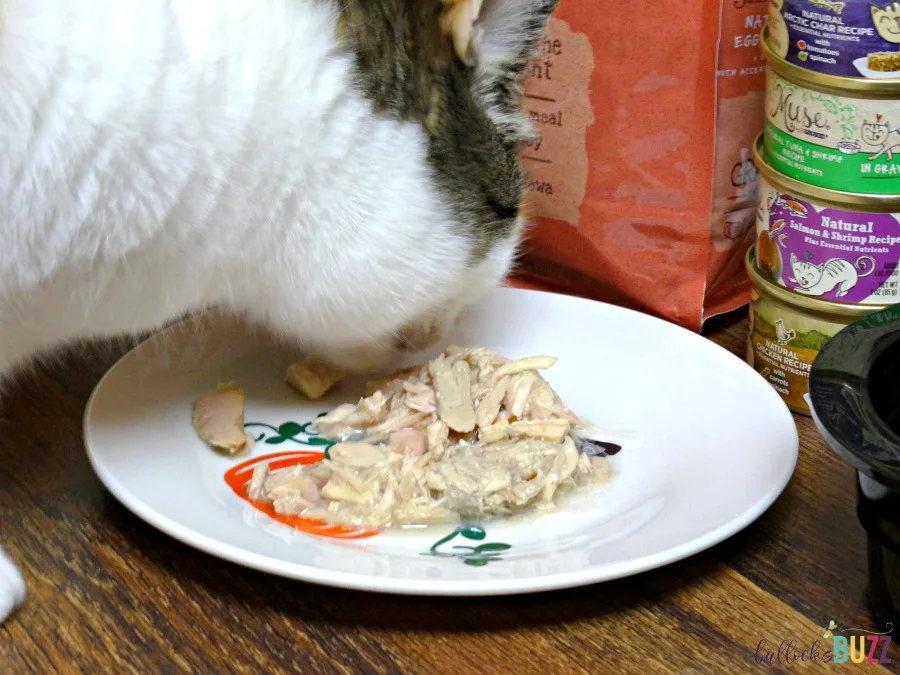 And speaking of plates, this super cute fall-themed DIY Cat Food Plate is a wonderful way to welcome the Fall season! Delectable food should be served on something special, don't you agree?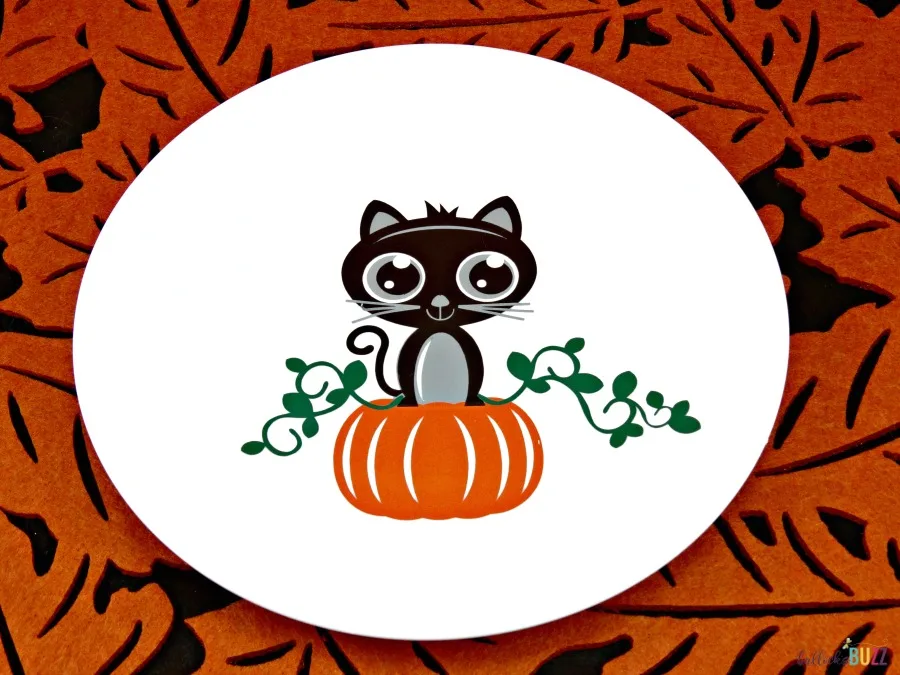 How to Make a DIY Cat Food Plate
This DIY Cat Food Plate craft is simple and chic and perfect for your family feline. All you need is a simple plate from the dollar store, some vinyl and a die cutting machine like a Cricut.
Check out the video below!
Don't have a Cricut Explore Air™ or another machine? No problem! Use waterproof craft paint instead. Simply download the same file I used (link is below, it comes with a JPG and PDF version as well), print it on cardstock, then carefully cut it out to use as a stencil.
Supplies Needed for DIY Cat Food Plate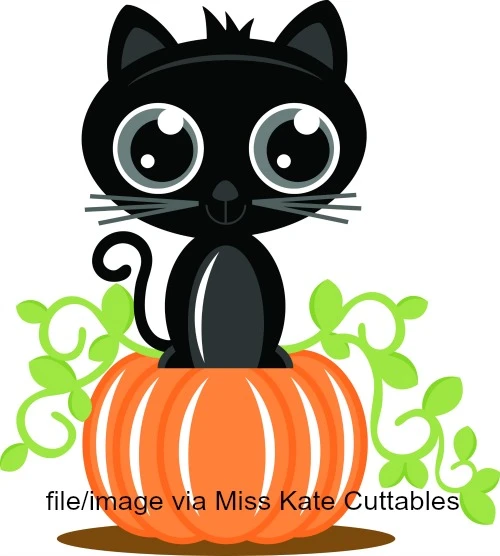 Step-by-Step DIY Cat Plate Instructions
Begin by downloading the SVG file and place it in Design Space or your cutting machine software. You can purchase the file from Miss Kate Cuttables, and if you hurry, it may still be in the 50 cent store!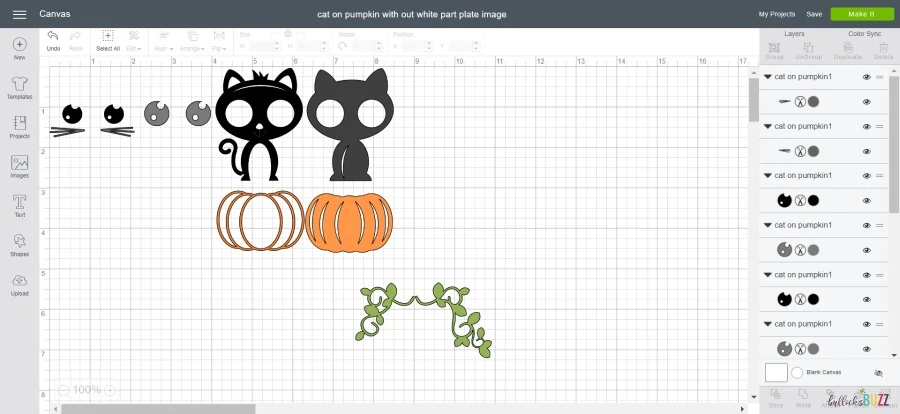 Next, resize the image to fit whatever size plate you are using. Since I used a 6″ plate, I kept my file size around 2″ high and 3″ wide. When editing my project in Cricut Design Space, I decided to leave off the brown oval under the pumpkin, but you can do yours anyway you please!
Once you have everything sized to fit your plate, it's time to cut! Make sure your machine is set to vinyl so it will make a "kiss cut" where it cuts through the vinyl, but not the backing. Then sit back, relax and let your machine do its job.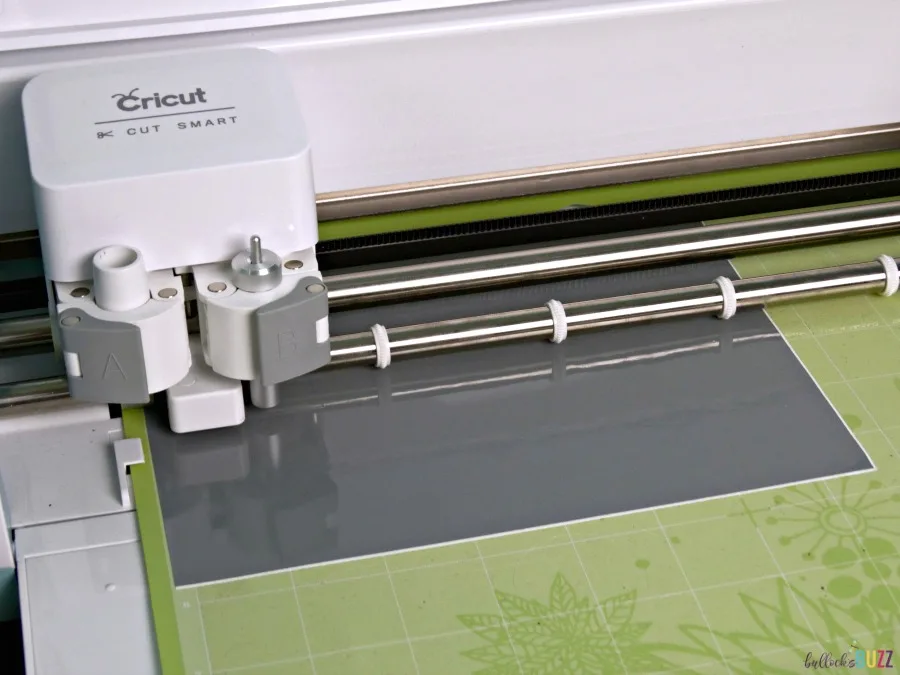 Once all of the layers are cut, remove the vinyl from the cutting mat. Then, gently peel back all of the vinyl surrounding the cat and pumpkin that you do not need. Move slowly as not to peel any vinyl away from the original design.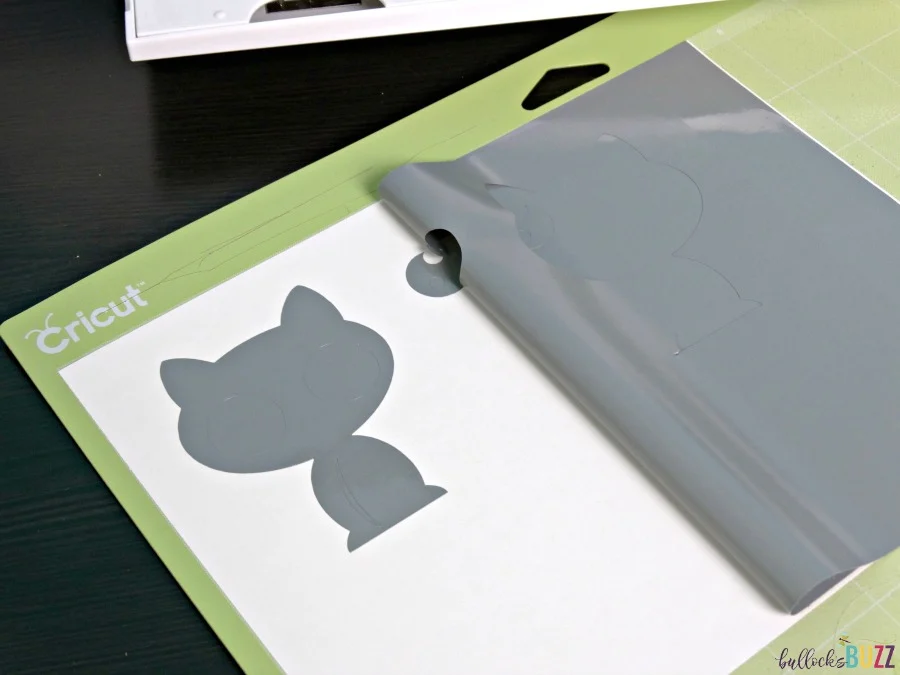 Next, use your hook tool to weed out any excess vinyl that is not part of the design.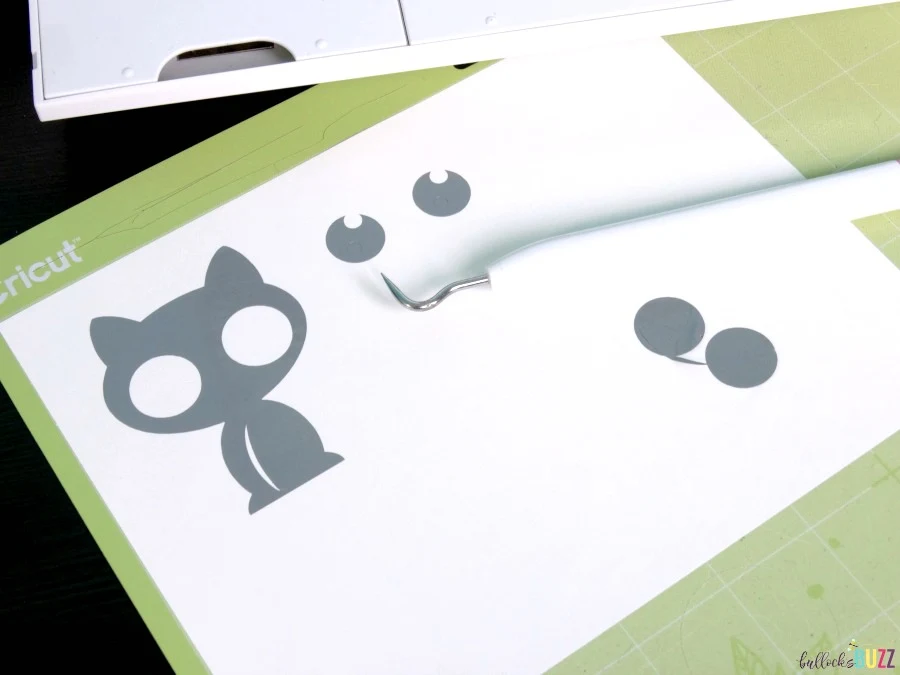 Once you have finished weeding, cut your transfer tape to size. Then peel the backing off of the transfer tape and apply the grid-side over each individual piece of the design. Be sure to burnish it a few times to smooth over your design and adhere the transfer tape.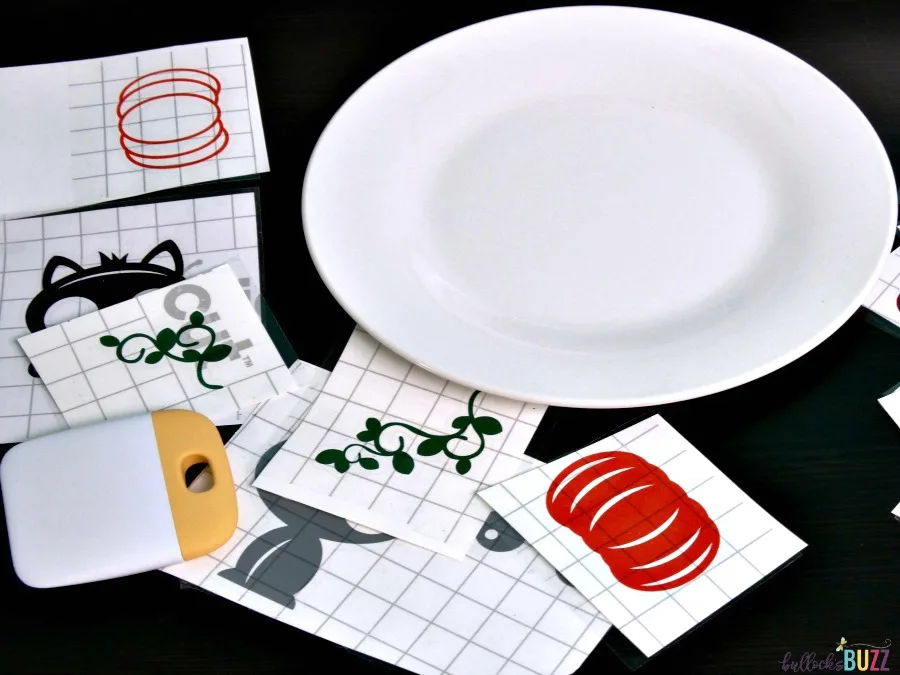 Now it's time for the fun part – applying the vinyl to the DIY Cat Food plate! This is a layered pattern so be sure you put each layer on in the proper order.
And remember, before peeling the transfer tape away from the vinyl, use your Cricut spatula to smooth over each layer from the middle out to ensure the vinyl sticks securely.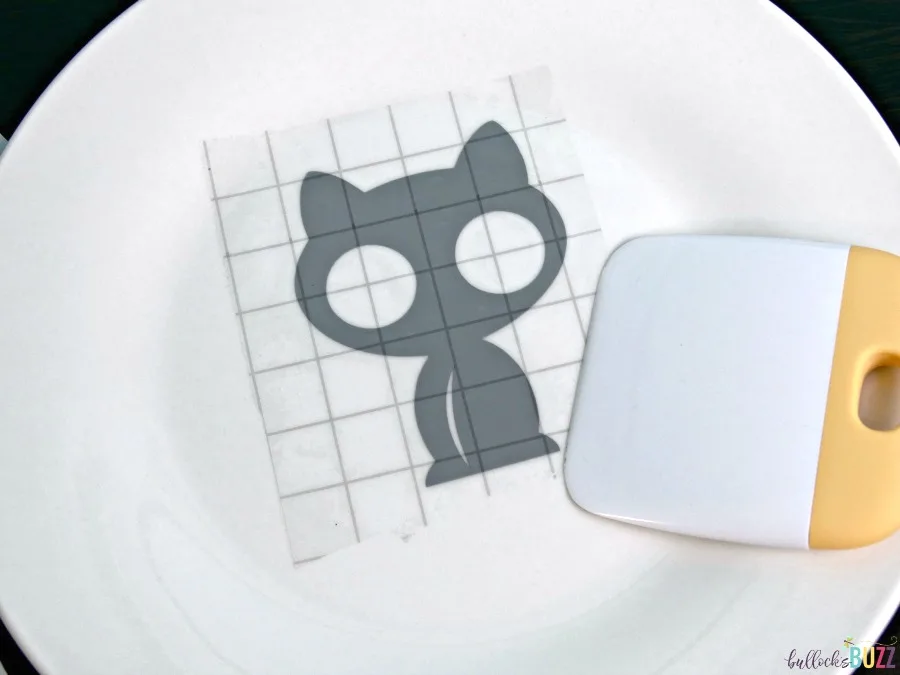 Continue adding each layer until the design is completely finished. Note: the file comes with instructions to show you which layer to add when.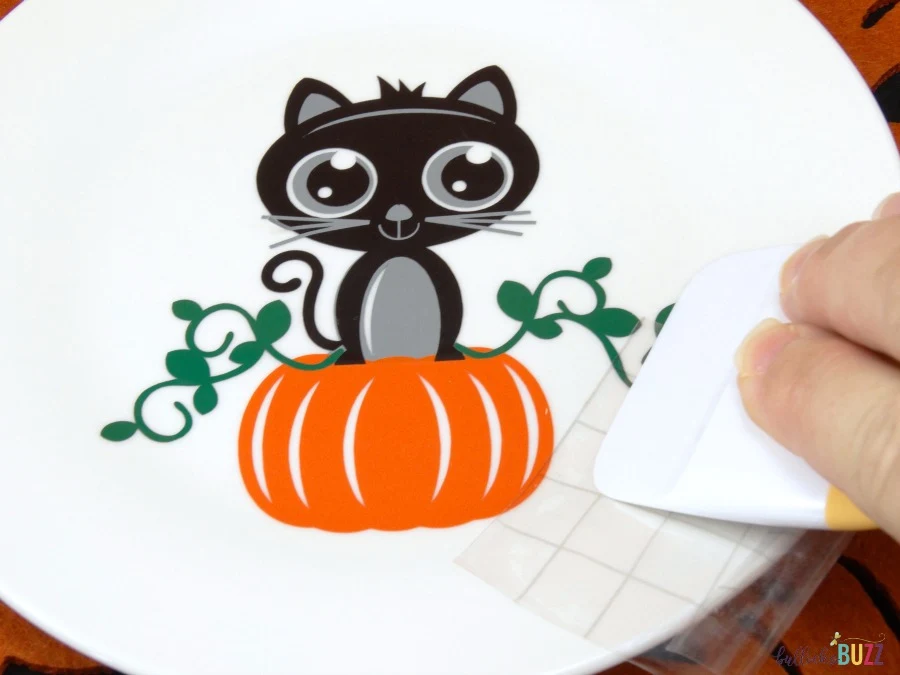 Once you have all of the layers on, you are finished! Now all that's left is to serve up your feline's favorite food on their new DIY Cat Food Plate!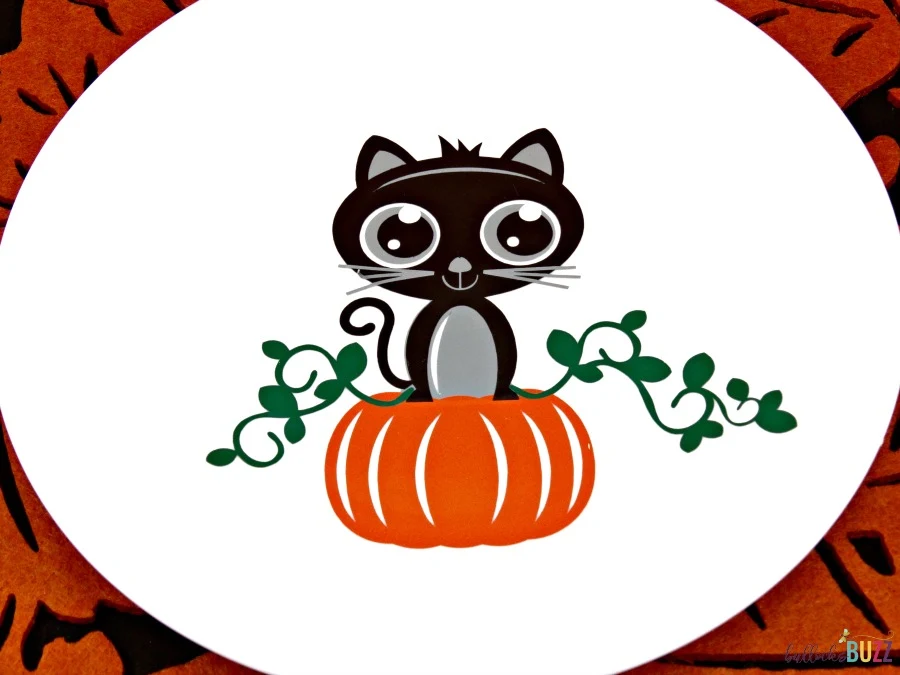 Purina® Muse® at Petco
I shop for my feline's favorite Purina® Muse® at Petco. It's my favorite place for treats, toys, grooming items, and everything else you need to take care of your pet.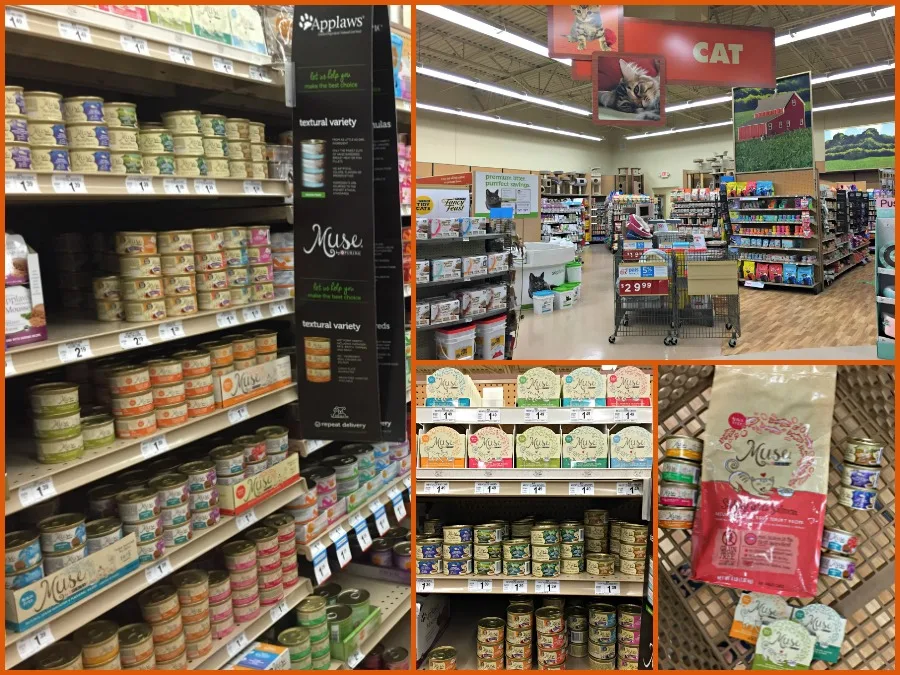 I found a fantastic selection of Purina Muse back in the cat section of the store. And since I feed my cats a combination of wet and dry food in order to ensure good oral and digestive cat health, I had plenty of flavors from which to choose!
For dry food, I bought the Purina Muse Sailing with Salmon. This is a natural salmon, egg, and yogurt recipe, that contains no chicken by-product meal, soy, corn, or wheat. Sookie and Mama Cat both love it!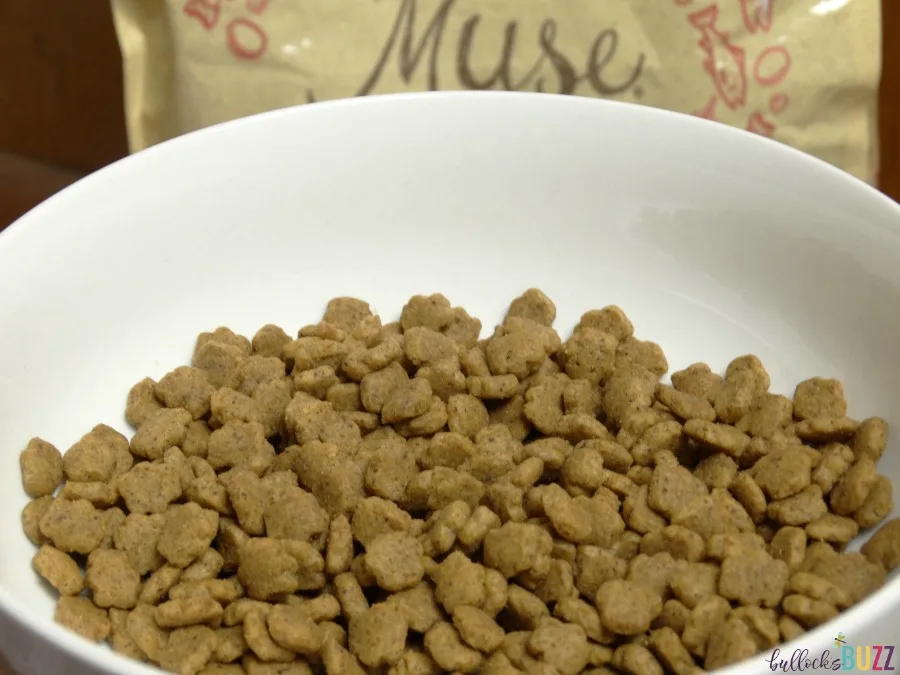 I also picked out several wet food products including Purina Muse Masterpieces which is great for cats who love paté or gravy recipes, and has no corn or soy, artificial flavors, colors or preservatives. It comes in pleasantly surprising proteins like arctic char, quail and pheasant!
And I also got them some Purina Muse in Broth. This grain-free food is wet food made with real hand-filleted fish or chicken and contains no artificial flavors, colors, or preservatives.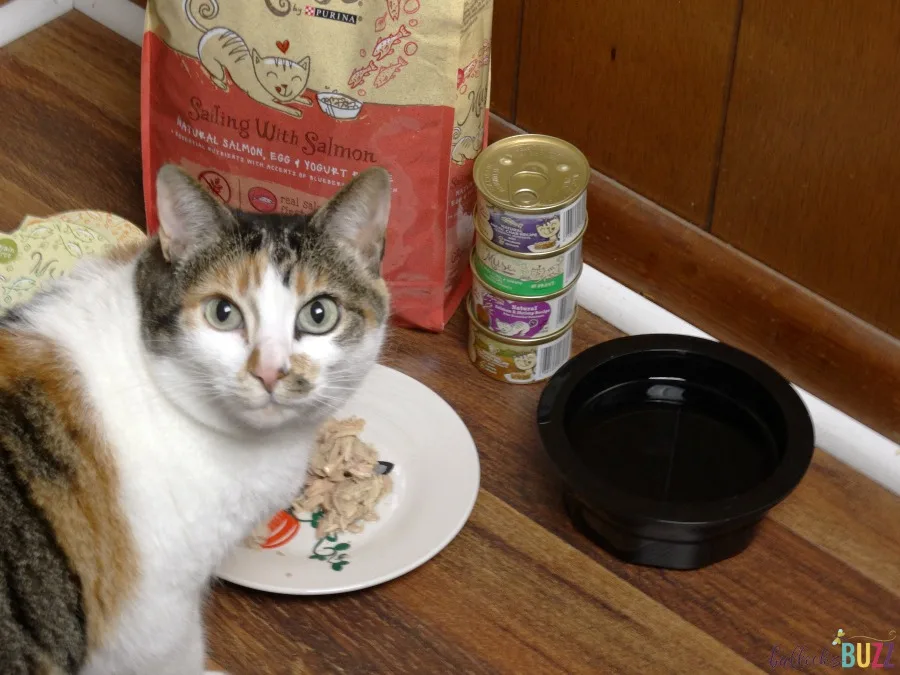 Purina Muse offers so many tempting varieties and flavors that even the most finicky cat is sure to find a flavor they love! And if for some reason they don't, Purina Muse offers a Clean Plate™ Guarantee. If your cat says no, they'll return your dough! Win-win!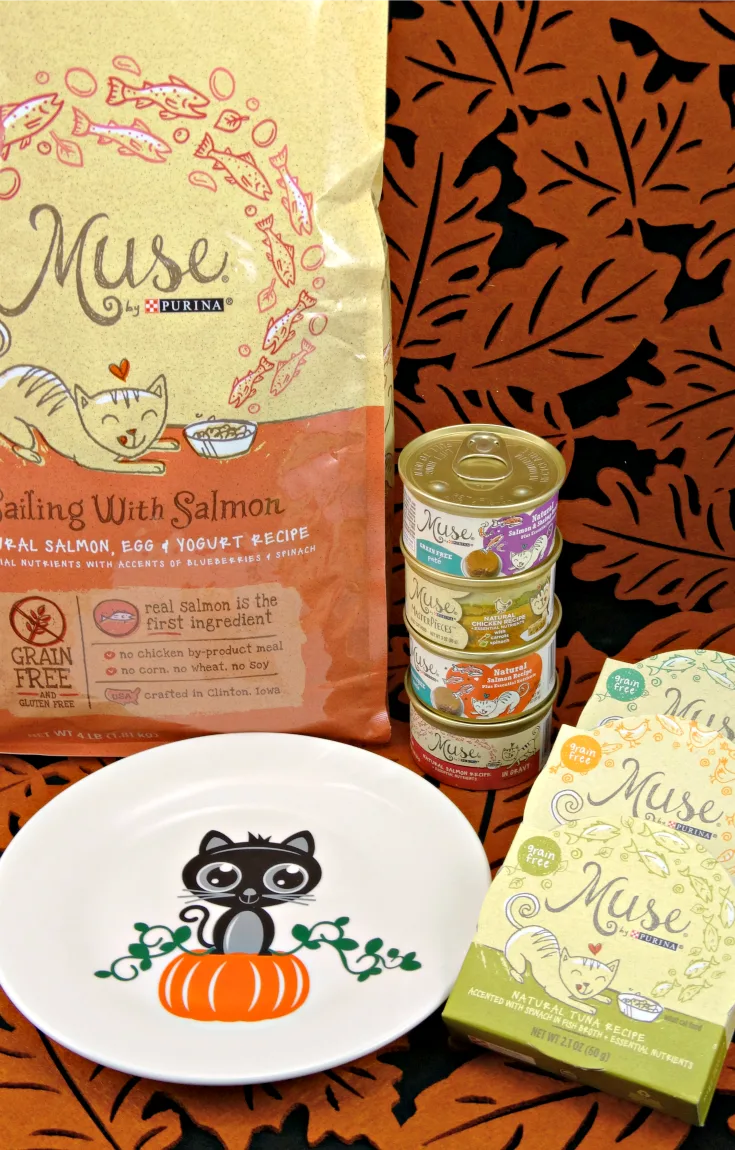 Today's post featuring an adorable fall-themed DIY Cat Food Plate has been compensated by CollectiveBias, Inc. on behalf of its advertiser, Purina. Regardless, all opinions are my own. #MuseCleanPlate #CollectiveBias