Filled with candy, these Thanksgiving Turkey treats are perfect for classroom parties, the kids' table, or as place holders at your Thanksgiving feast!
One of my favorite parts of Thanksgiving, aside from the food of course, is the crafts! This year I have lots of fun crafts and treats planned, the first of which I think you will love! Since my Halloween candy-filled ornaments were such a huge hit, I took inspiration from them to make this adorable DIY Thanksgiving Turkey treat!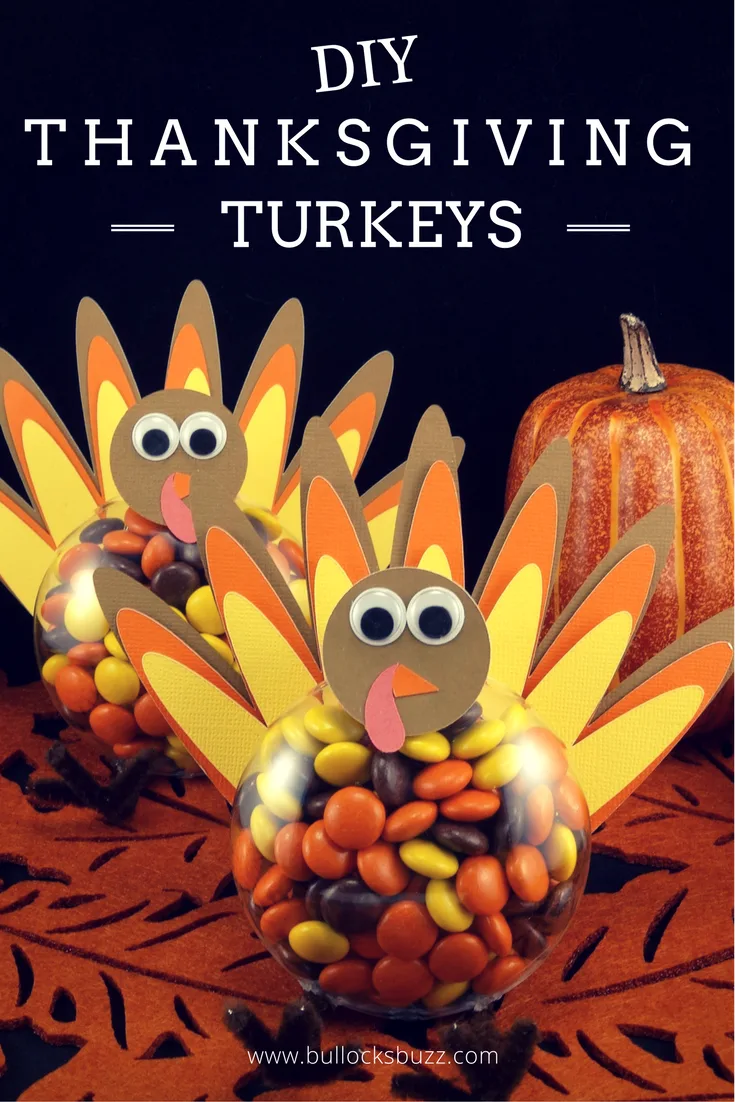 Filled with candy, these Thanksgiving Turkey treats are absolutely adorable. They are perfect for classroom parties, the kids' table, or you could even add a name card and use them as place holders at your Thanksgiving feast!
Whatever you choose to do, I promise that these will be a huge hit with friends and family!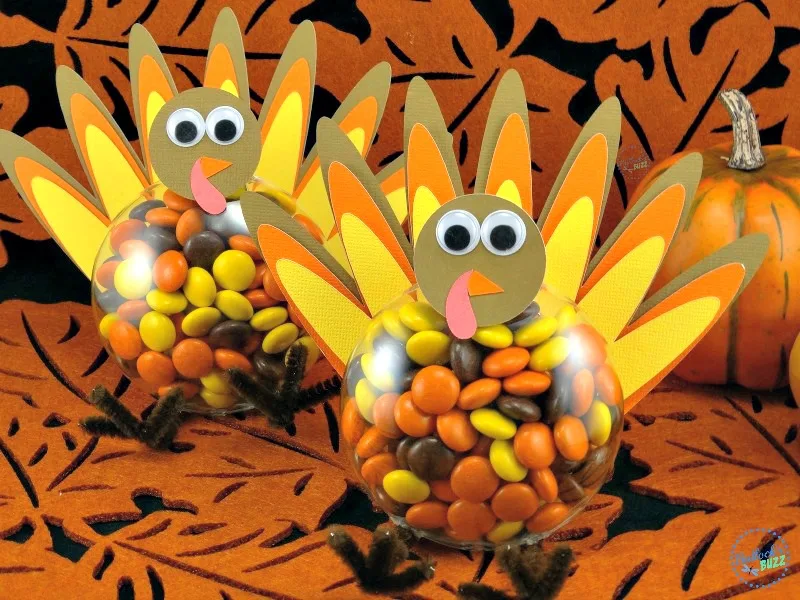 How to Make Thanksgiving Turkey Treats
Like with my DIY Grinch Ornaments, I used my Cricut Explore Air™ to make these turkeys. However, if you don't have a Cricut or other die cutting machine, no problem! All you need is some cardstock and scissors, a feather template (or you can trace your kids hands!), and you are good to go!
If you DO have a Cricut, you can use my feather file HERE.
UPDATE 2021 – I AM HAVING TROUBLE LETTING PEOPLE ACCESS MY FILE, THIS MAY BE A NEW THING WITH CRICUT WHERE YOU CAN NO LONGER SHARE FILES.
Some other ways to make turkey feathers: trace your hand or your child's. Or you can find any image through a search and trace it to make a stencil using tracing paper, then put it on the construction paper.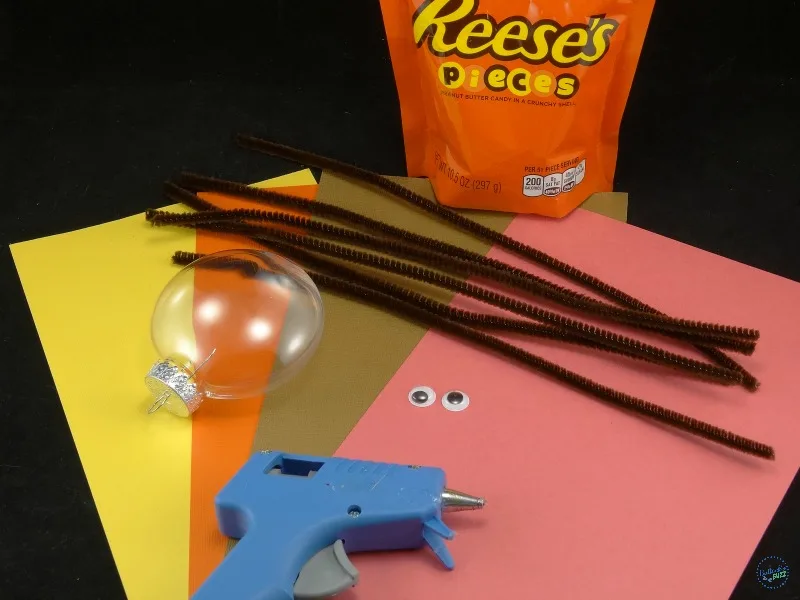 Supplies You Will Need to Make Thanksgiving Turkey Treats
(To purchase any of the necessary items, just click them in the above list. I have links embedded in each to make things easier on you! These are affiliate links so if you make a purchase using them, I'll make a small commission at no extra cost to you).
Directions to Make Thanksgiving Turkey Treats
Making this easy Thanksgiving craft takes very little time.
Step One: Clean Ornaments
Begin by washing the ornaments with hot soapy water first. Swirl it around inside, rinse and place upside down on a rack to dry.*
Step Two: Fill Ornaments
Now fill the ornament with Reese's Pieces®, and replace the cap.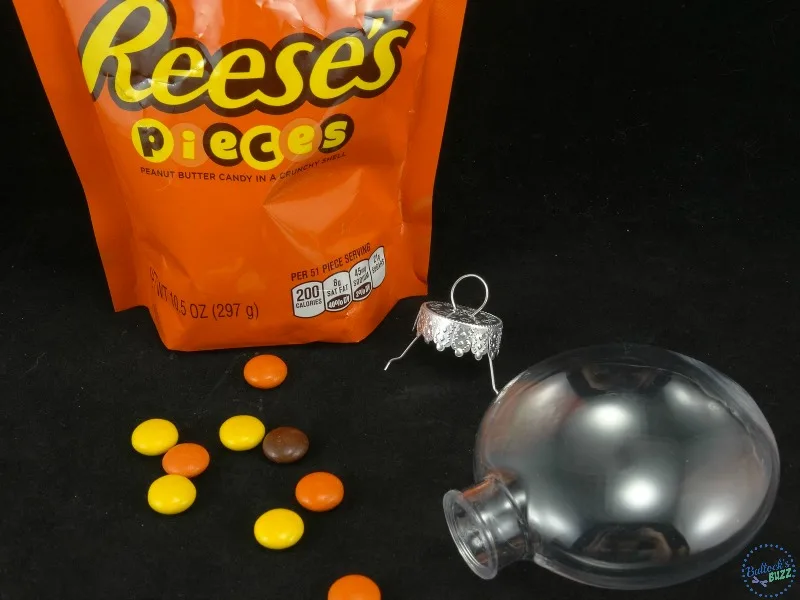 Step Three: Cut Feathers
Using a cutting machine such as the Cricut or Silhouette (or even pre-made stencils), create the feathers from cardstock. If you have a Cricut machine, you can use this Thanksgiving Turkey Treats feathersfile. SEE UPDATE ABOVE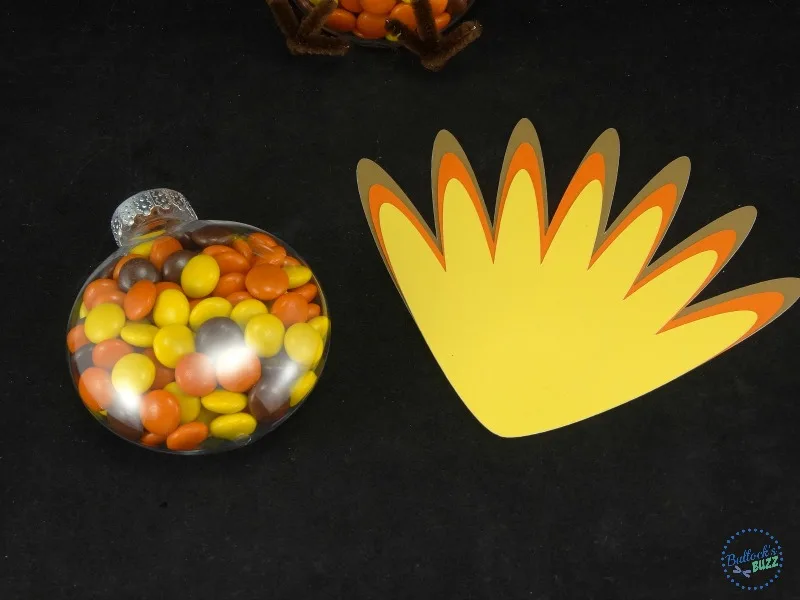 Step Four: Assemble and Attach Feathers
Next, glue the feathers together like in the picture above. Then using hot glue, attach the feathers to the back of the ornament.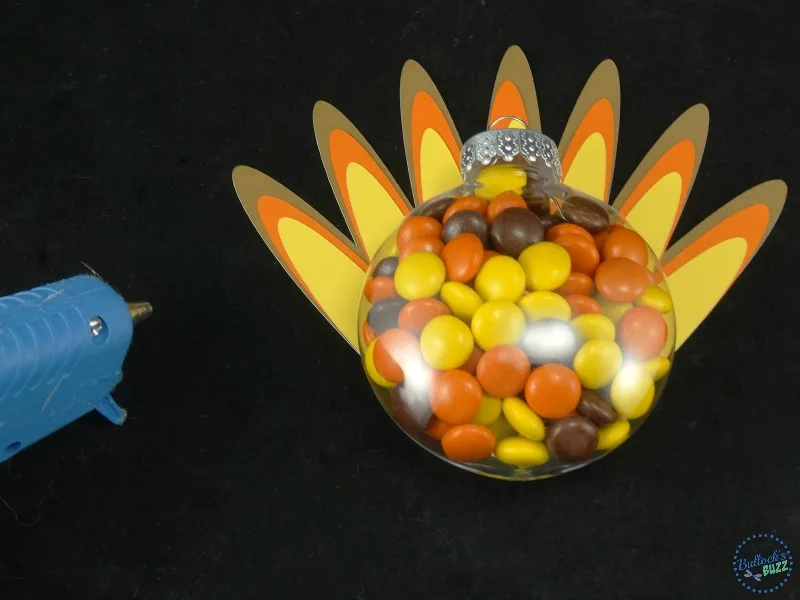 Step Five: Assemble and Attach Head
For the head, cut out a circle measuring 1.4 by 1.4 inches from brown cardstock. Then cut a triangular-shaped beak from orange cardstock and a snood (I used sort of an elongated teardrop design) from red cardstock.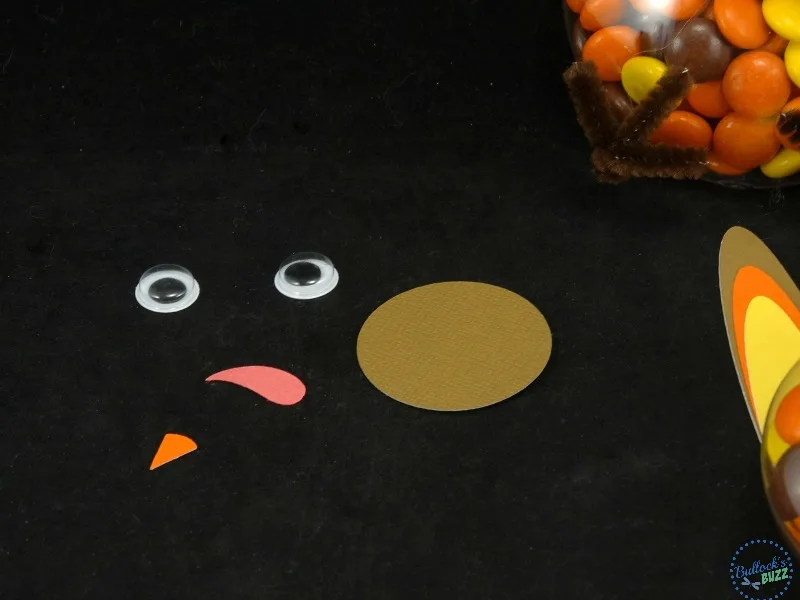 Now glue the wiggly eyes, the beak, and the snood on to the circle you cut for the head. Then hot glue the head onto the front of the silver cap of the ornament.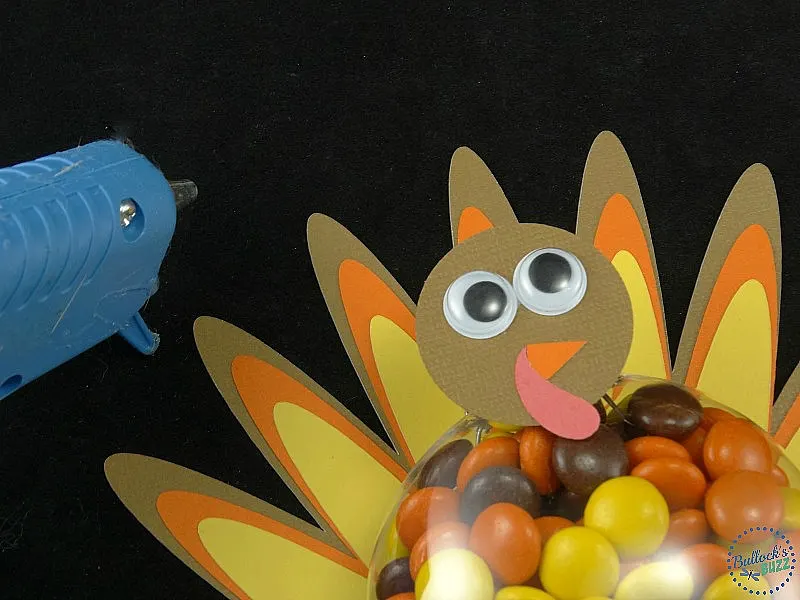 Step Six: Make and Attach the Legs
Now all that is left is to make the legs. You'll need 6 (six-inch-long) pipe cleaners for each turkey, three per leg. Starting about one and a half inches up from the bottom end of the three pipe cleaners, begin twisting them together. Continue twisting until you reach the top.
Next, spread out the bottom part (the part that is not twisted together) of the pipe cleaners to form the toes, and then make a 90° bend so the feet are pointing upward.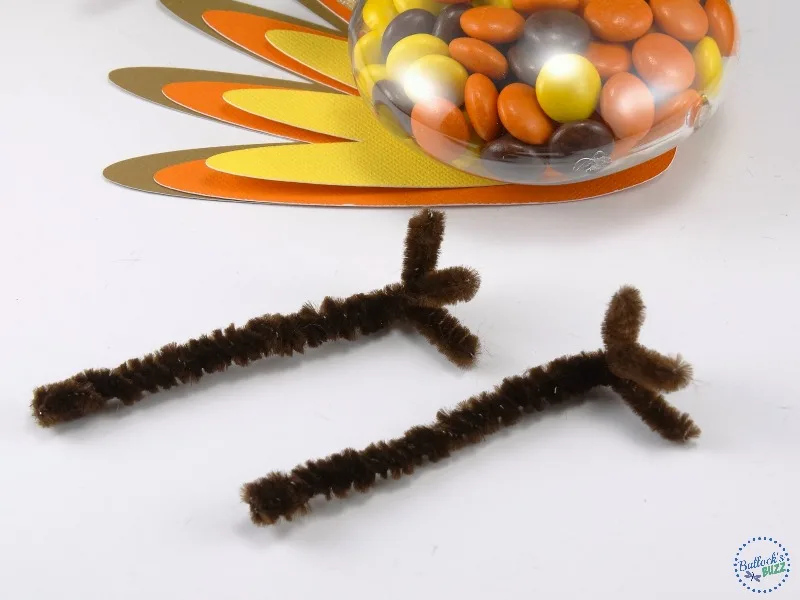 Using hot glue, attach each leg to the bottom edge of the ornament, making sure that at least one-and-a-half inches of excess pipe cleaner is sticking out the backside. This is what will act as a stand to prop your turkey up. Attach the other leg the same way.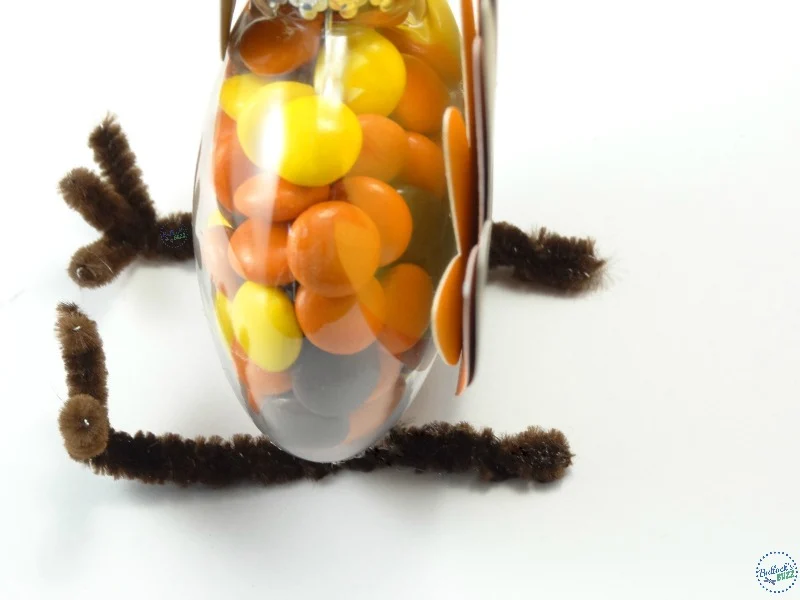 And there you have it. Thanksgiving Turkey treats that are sure to make them laugh with delight!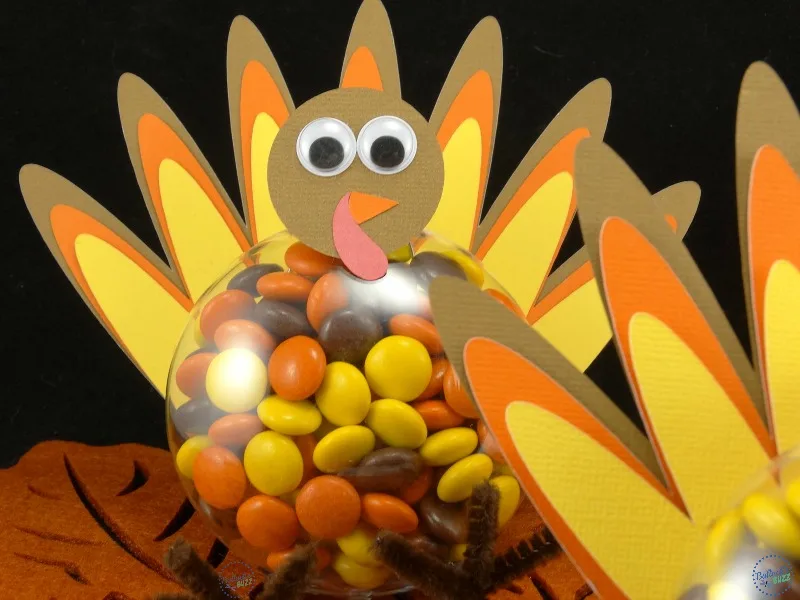 *Many ornaments are marked not for use with food. These particular ones were not marked at all. Although I am not sure how much, if any, types of chemicals would leach into the candy, it is something you may want to consider. I have seen similar, food-safe ornaments on Amazon.

Like It? Love It? Share It! And Show Me What You've Made
I hope you love this Thanksgiving Turkey treats as much as I enjoyed making them! Use the social sharing buttons below the post title to share with friends and family!
This Turkey Thanksgiving Craft tutorial is so simple and so much fun to make! If you do decide to give it a try, let me know! Nothing makes me happier than seeing your own take on my crafts and recipes!
Tag me at @bullocksbuzz (Instagram and Facebook) or @alainabullock (on Twitter). And be sure to use #BullocksBuzz so I can see your creation and share it!
Also, share it with friends and family by using the social share buttons right below the post title!
More DIY Thanksgiving Crafts And Recipes
Looking for more simple Thanksgiving and Fall crafts and recipes? Then look no further than below. I think you will love these!



Do you have a favorite Thanksgiving treat? I'd love to hear about it! In fact, I may even feature your treat in a blog post, with credit to you, of course! Share with us in the comments below.