These free printable Valentine's Day cards for kids are perfect for classroom parties. Free Valentine cards printables also make a great gift that kids can give to their friends for Valentine's Day.
Can you believe Valentine's Day is almost here? Have you and the kids figured out what they are giving to their classmates for their classroom Valentine's Day exchange? Don't worry if you haven't! I've got the perfect solution – these easy DIY Valentine's Day cards for kids!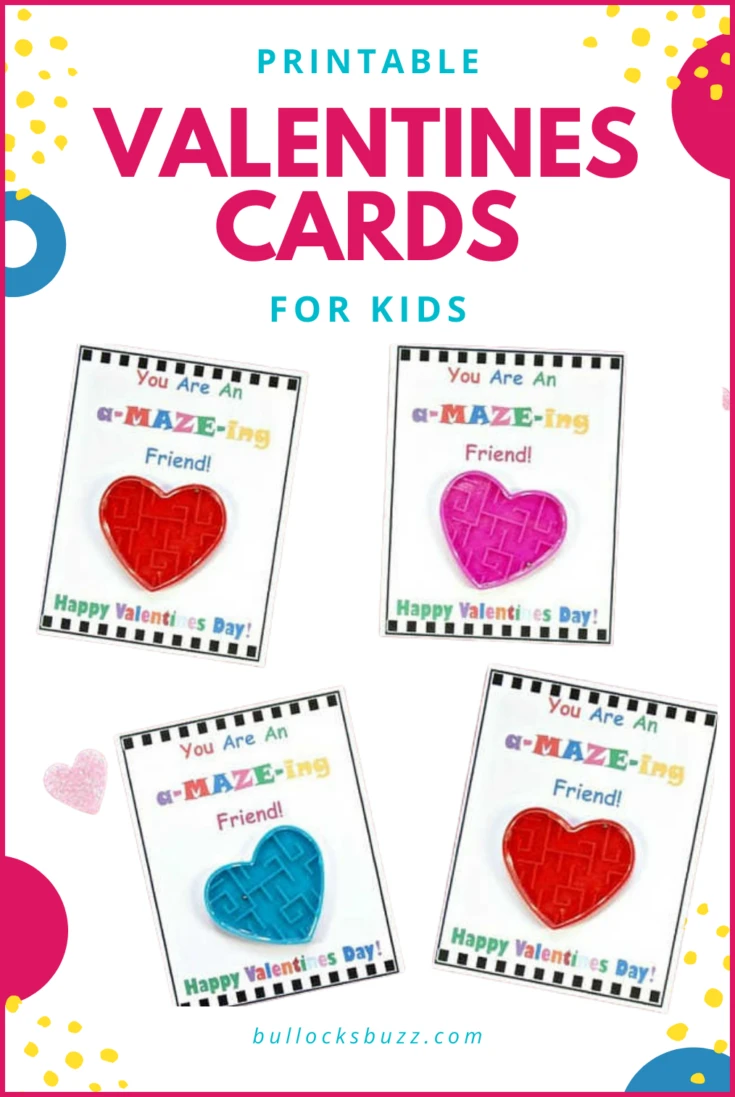 Sure, you can always buy those boxes of generic Valentine's Day cards you get from the store, but why not print even cuter ones at home? Plus, these are FREE!
These Kids Valentine's Day Exchange Cards for School are absolutely perfect for friends! The message "You Are an A-MAZE-ing Friend" pairs perfectly with the little toy mazes and reminds us all how important good friends truly are.
These instant download, printable kids Valentine's cards are also super simple to make.
CANDY-FREE VALENTINES
There's a good reason why Valentine's Day is known as the sweetest day of the year! From cupcakes to chocolates to candy Valentine cards, sweets are everywhere you look on February 14th!
For many parents, finding cute classroom Valentine cards for kids that don't involve candy is a top priority.
These adorable toy maze printable valentine cards are super easy to make with my free printable, and they are sure to be a hit with kids of all ages! And the best part of all? Yep, you guessed it – they are 100% candy free!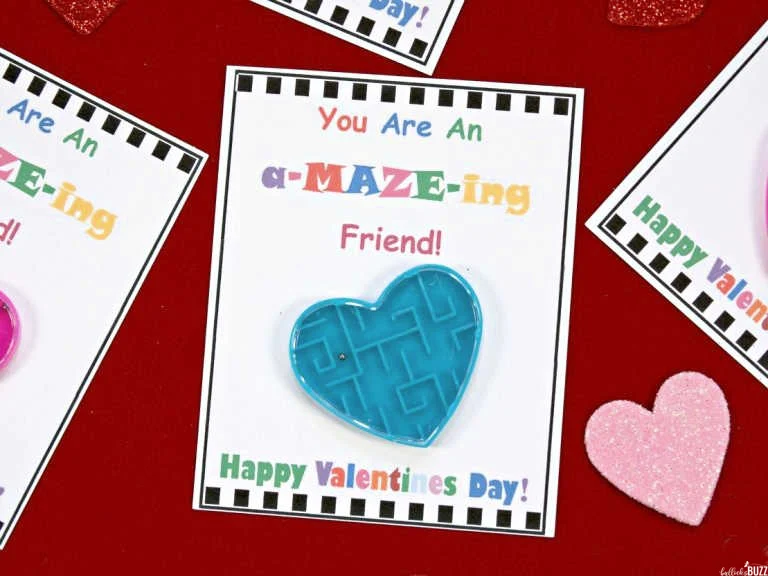 VALENTINES CARD WITH TOY MAZE
I found these heart-shaped mazes at Walmart, where you can buy a package of 6 for less than a dollar! Amazon also sells all sorts of miniature mazes if you can't find them elsewhere. Those tiny puzzle books would also work well for these candy-free Valentine cards for kids!
HOW TO USE THESE PRINTABLE VALENTINE'S CARDS FOR KIDS
These digital Valentines cards for kids are designed to print using your home computer and printer. While you can print them on either heavy-weight paper or card stock, I recommend using cardstock in order to give them a sturdier foundation to support the toy maze you attach.
Please remember that the printables at bullocksbuzz.com are for personal use only, you may not sell, share, or link directly to these files.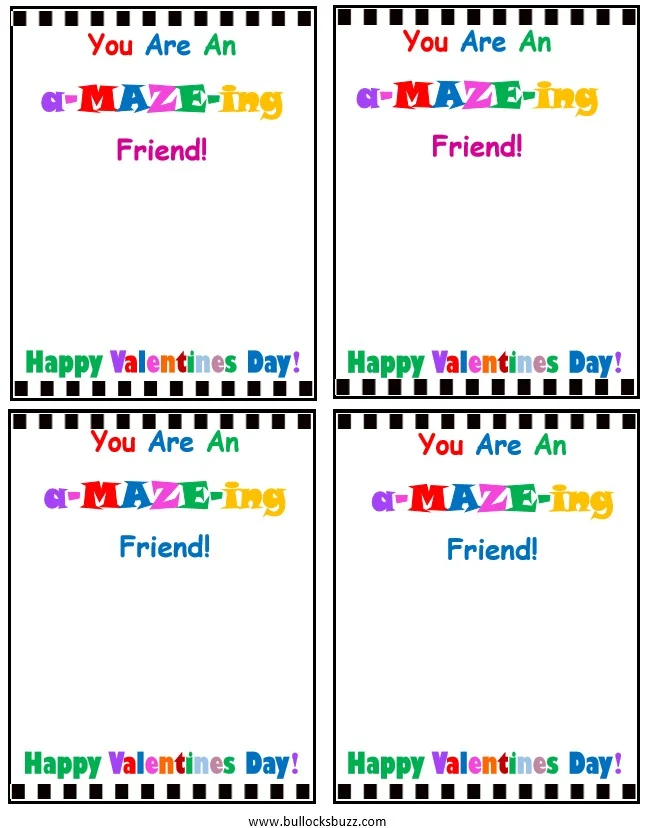 TOOLS YOU WILL NEED
Disclosure: This blog post contains affiliate links for products or services I think you'll like. This means if you make a purchase from one of these links, Bullock's Buzz may make a small commission at no additional cost to you. As always, I only recommend items I use and love.
These super cute free printable kids valentines cards are so easy to make. All you need to do is download, print, cut the cards apart, and then use double-sided tape or removable glue to attach the toy maze. Your Valentines cards for kids will be good to go!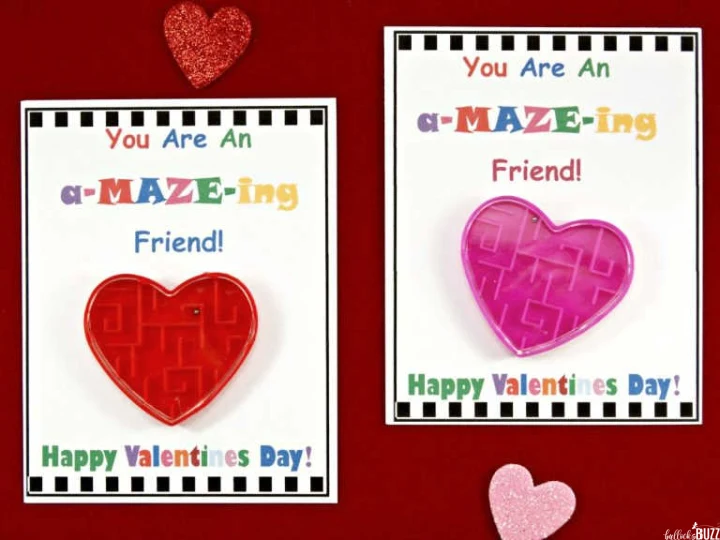 PRINTABLE VALENTINE'S DAY CARDS FOR KIDS PDF INSTRUCTIONS
There are 4 cards on each page. You can DOWNLOAD and PRINT them instantly – for free! Print as many copies as you need.
To get started, download the PDF printable kids valentines cards from the link.
Next, locate the file on your computer.
Now insert the cardstock into your printer, click to open the file, and select the print option.
Make sure you are printing in color before you begin printing!
Once the Valentine cards have printed, use scissors or a paper cutter to cut on the black trim lines and then remove the excess paper.
Attach the toy maze to the card using either double-sided tape or craft glue.
Then print your child's name and their classmate's name on the back.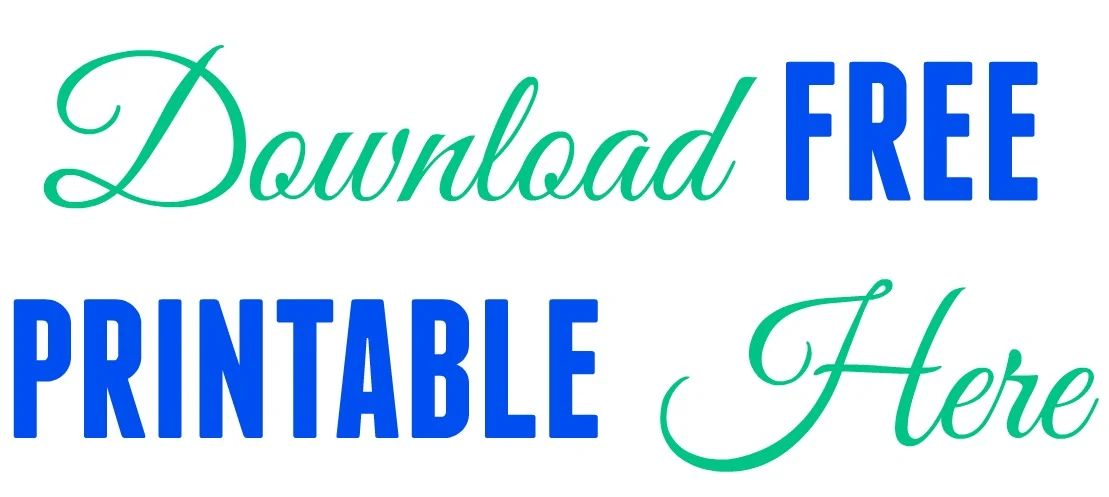 VALENTINE'S CARD PRINTING TIPS
Here are a few printing tips to ensure these Valentines for kids come out perfectly.
Once you download the PDF, make sure you print "Actual Size".
Be sure to select the best print quality, too.
If you don't have a color printer, or if you want extra nice results, email the file to your local copy shop. They'll give you a very high-quality product.
Be sure to leave enough time for the ink dry completely before touching the cards or attaching the mazes.
MORE FREE VALENTINE'S DAY PRINTABLES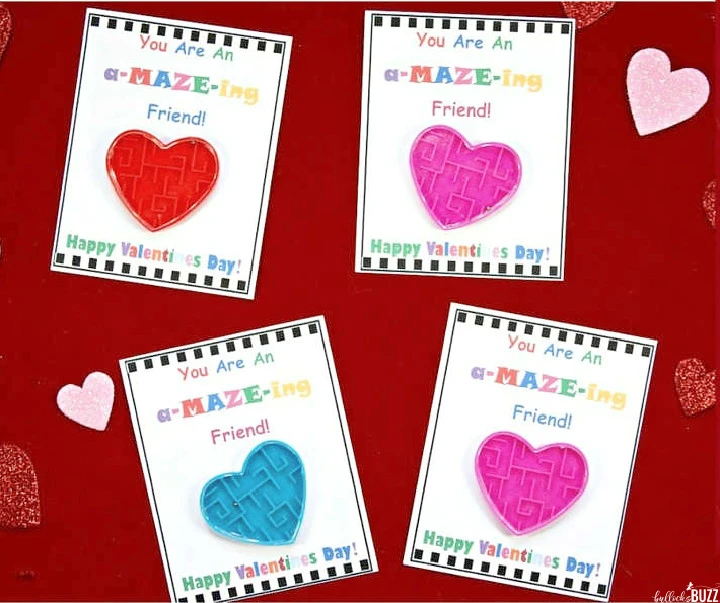 LIKE IT? LOVE IT? SHARE THIS VALENTINE'S DAY CARDS FOR KIDS!
Did you make these easy Valentine's Day Cards for Kids? If so, I'd love to see how they turned out!
Nothing makes me happier than seeing your take on my crafts. So please be sure to tag me on Instagram @bullocksbuzz or using #bullocksbuzz and share a photo of your cute creations!
And be sure to Pin it to save it, and then share with your friends and family by clicking the share buttons above the post title, too!
Follow me on Pinterest for more fun and creative crafts!