Our four-legged friends make great travel companions, but before you hit the road, it's a good idea to dog-proof your car and protect your pup. Here are several simple ways to turn your vehicle into a safe, secure, and fun place for your furry family member.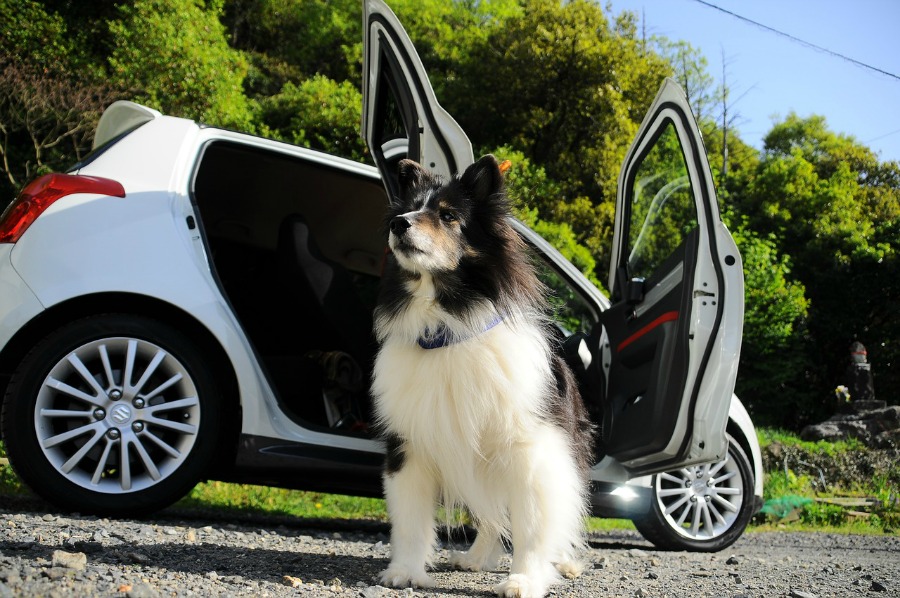 Simple Ways to Dog-Proof Your Car
From mud and slobber to shedding and scratches, a dog can inflict some serious damage to a car. Here are some simple ways to dog-proof your car and protect it from Fido.
Dog Car Seat Covers
Unfortunately, our furry friends do not think about wiping their feet before leaping onto the seat or giving their coat a good shake after coming in from the rain. They drool, shed, and scratch, and they may even pee in your car (please don't!). So if you plan on letting your dogs on the seats, then consider investing in a seat cover. Seat covers can help minimize the damage, plus most are very easy to clean.
Since there are literally hundreds and hundreds of seat covers ranging from cheap generic covers to the more expensive custom-fitted covers, I suggest asking around in dog groups or even at the dealership where you bought your car to find which one will work best for your particular vehicle.
My personal favorite is a hammock-style cover because it protects both the seats and the floor, but again, ask around to find out what works best for you.
Protection for the Windows
While not much beats seeing a dog with his jowls flapping in the wind and a big silly grin on his face, you should never let your dog hang its head outside the window of a moving vehicle. Not only can the rushing wind cause problems for your pup's eyes and ears, but it can also lead to severe injury and even death. Unfortunately, that leaves your pup pressing his face up against your sparkling clean windows and leaving slobber and smudge marks behind. The simple solution? Cover them with plastic wrap and then simply remove it after your ride.
This also works to protect your interior trim, too.
Protecting the Car Mats and Carpeting
Another way to dog-proof your car is to protect the mats and carpeting. Your car's floor mats and carpeting are not immune from dirt, mud, slobber, fur or even scratches from tough doggy nails. The easiest way to protect them is by covering them with either those hard plastic floor mat covers or some heavy-duty floor mats and floor liners. I prefer the heavy-duty liners as they are made of durable, non-slip rubber, and they have grooves that will catch any liquid messes and prevent it from seeping into your vehicle's carpet.
Dog-Proof Your Car by Removing Unwanted Smells
To prevent any unwanted odors from permeating your ride, clean up any potentially smelly messes as soon as they happen. And to keep your car smelling fresh, use a DIY car air freshener recipe or your favorite essential oils.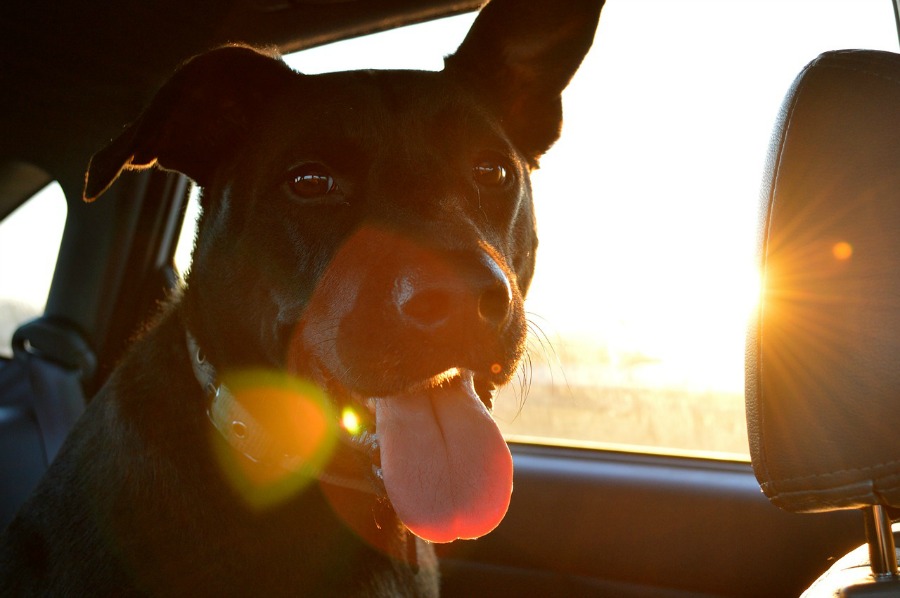 How to Protect Your Pup While Traveling
As pet parents, we love our animals and want to protect them in any way we can. Especially when riding in a car. Now that you know how to dog-proof your car, here are some tips on how to make any car ride a safe and enjoyable experience for your furry friends.
Ramps
If your dog has mobility issues, is small, elderly, or just has trouble jumping in and out of the car consider investing in a ramp. This will not only make it easier on your pup, but it will also help protect your car from scratches. Plus, it can help make it easier on your back, too, as you will no longer have to lift him into the car.
When selecting a ramp, make sure it is long enough so as not to be too steep and stable enough to support your dog's weight and the motion of him prancing up into the car.
Securing Your Dog
Having your dog riding in your lap, jumping from seat to seat, or running back and forth in your vehicle while you are driving is not only distracting, it's downright dangerous. For both of you. In fact, the American Humane Society reports that an estimated 100,000 dogs die from riding in truck beds alone each year. And that number does not include the dogs that are killed jumping out of car windows or dogs who are not properly secured in the car during an accident.
In addition, many states now have some type of law – or laws – regulating pet travel. Regardless of whether your state requires it or not, protect your pup by investing in some type of restraint. Some of the available options to keep your pet safe include:
Harnesses that work with your vehicle's seat belts.
Dog Seat belts.
Doggy Car Seats and Booster Seats.
A utility hook that attaches to your dog's harness.
Pet barriers (these work best when used in conjunction with a harness, tether or other pet safety item)
Be aware that a large percentage of pet restraints fail CPS crash tests, so make sure you do some research first to ensure that the product has been tested and is certified to work.
Bring a Dog Care Travel Kit
Just as you keep specific items such as a car emergency kit in the car for you and your family, you should keep a travel kit for your dog, too. Simply fill an inexpensive plastic bin or basket with items you might need while you're out and about with your furry friend. Some items you may want to consider include:
extras of any medications your dog requires
a collapsible bowl
large water bottle or jug filled with fresh water
small bag of treats
extra poop bags
an extra leash and collar or harness
two towels – one for drying wet fur, one for cleaning off dirt and mud
wet wipes for dirty paws
a lint roller for dogs fur
extra toys such as tennis balls and frisbees
your dog's vet's number and an emergency vet's number
Never Leave Your Dog Unattended in a Vehicle
In many states leaving a pet unattended in a car is illegal, but it still happens. Dogs can suffer from heatstroke, as well as injuries caused by cold temperatures and lack of ventilation and water. It takes just minutes for interior temperatures to rise well above or drop far below comfortable and safe temperatures, even with the windows cracked. So never leave your dog alone in the car.
Final Thoughts on How to Dog-Proof Your Car and Protect Your Pup
Whether you're going to the park, running errands, or headed out on a road trip, with the above tips and a little effort, you can dog-proof your car and make it more comfortable and safer for you, your family, and your dog. And if you aren't sure about any of the products I mentioned working with your specific vehicle, ask your local dealership. Many car dealerships carry all sort of accessories for cars or, at the very least, they can point you in the right direction to finding them.
Happy travels!