I love these last few months of the year. Why? Because I get to let my creative juices flow! From baking to cooking to crafting there are so many fun and delicious things to do all in the spirit of the season!
Last Halloween I went all out with Creepy Cupcakes, Cookies and Cake Pops and more. This year I have been working on topping that! Take these tasty One-Eyed Purple People Eater Marshmallow Pops for example – crafty, creepy, cute and best of all, easy to make! Want to give them a try? Let's get started!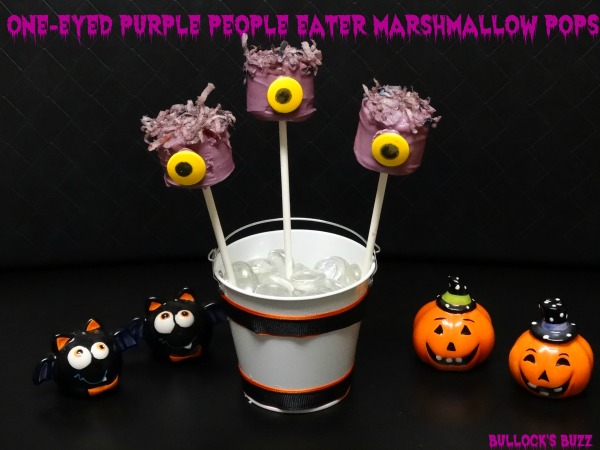 First you will need to gather all of the supplies. I was able to find all of mine at Wal-Mart for around $11.
Supplies
Medium size marshmallows
Purple Wilton Candy Melts
Lollipop Sticks
Shredded Coconut
Red and Blue Food Coloring
Large Yellow Candy Eyes
A styrofoam block, sturdy cardboard box (with nail holes poked in it) or some cups filled with dry rice or oatmeal to be used as a support while the pops dry.
Once you have everything together, the very first thing you want to do is set up something to hold the pops upright while they dry. Once that is ready, set it off to the side but within easy reach.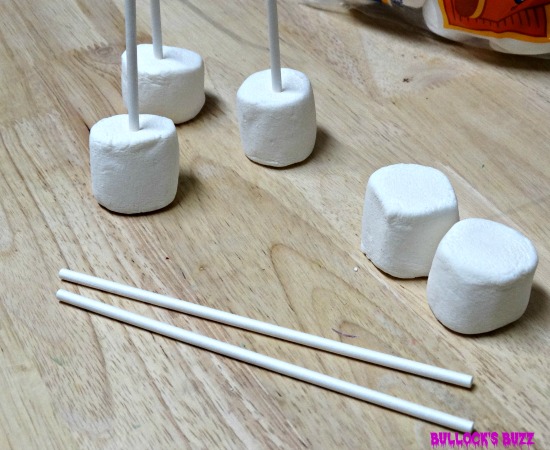 Begin by skewering the marshmallows with the lollipop sticks, and then set them aside. Next, pour some of the shredded coconut into a snack bag, add two or three drops of both red and blue food coloring and shake, shake, shake until the white coconut becomes purple. Pour that into a bowl and place to the side.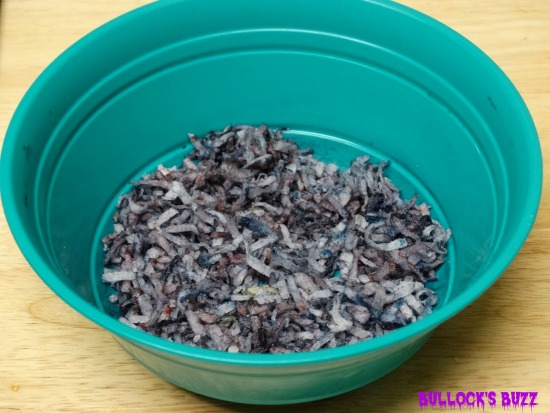 Now you want to take a microwave safe bowl, add the candy melts and cook them according to the directions on the package. Once they are melted, you are ready to make your One-Eyed Purple People Eater Marshmallow Pops!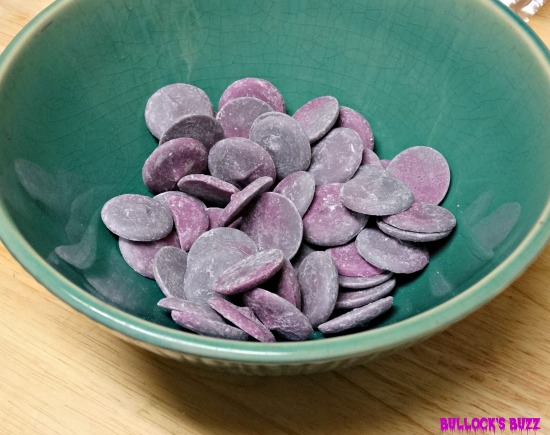 Holding a skewered marshmallow by the lollipop stick, quickly submerge it in the bowl of melted candy. Remove, and gently tap the stick against the side of the bowl to remove any excess. I find it easier to get a smooth working surface by using a spatula – lightly angle the tip against the candy-coated marshmallow and spin the lollipop so the marshmallow makes one complete turn. The edge of the spatula works to smooth and remove the excess candy. It make take a few tries, but once you get the hang of it, I think you'll like it.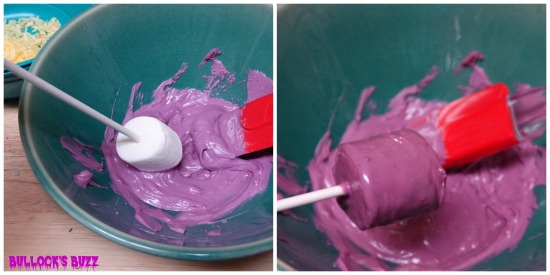 Once the marshmallow is completely covered with the purple candy, dip the top part into the bowl of shredded coconut to add the hair. Now add a candy eye right in the center of the marshmallow.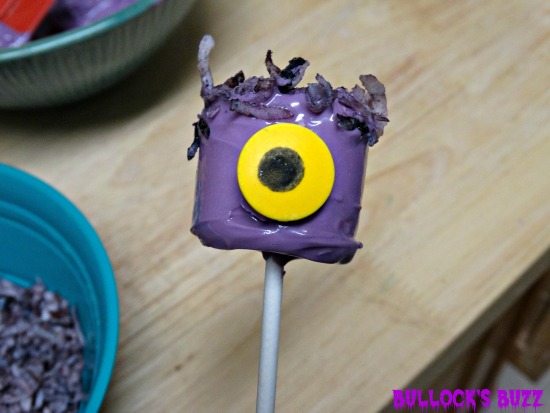 Place the finished product in the styrofoam block to dry, allowing it to dry completely before serving or wrapping in a treat bag. Repeat for as many as you'd like to make.
There you have it – your One-Eyed Purple People Eater Marshmallow Pop!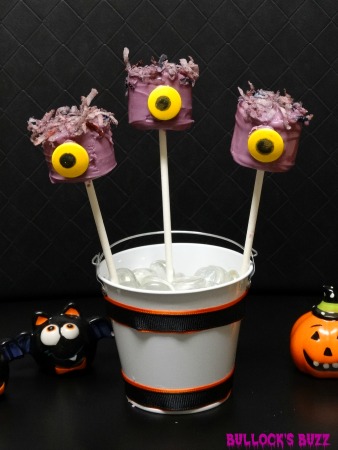 Be sure to check out these other creepy Marshmallow Pops and Halloween treats! 
Disclosure of Material Connection: This is a "sponsored post." The company who sponsored it compensated me via a cash payment, gift, or something else of value to write it. Regardless, I only recommend products or services I use personally and believe will be good for my readers. I am disclosing this in accordance with the Federal Trade Commission's 16 CFR, Part 255: "Guides Concerning the Use of Endorsements and Testimonials in Advertising."