The Festival of Lights is starting soon and to celebrate I've made these beautiful free printable Hanukkah gift tags with pretty watercolor designs for all my Jewish friends to use and enjoy!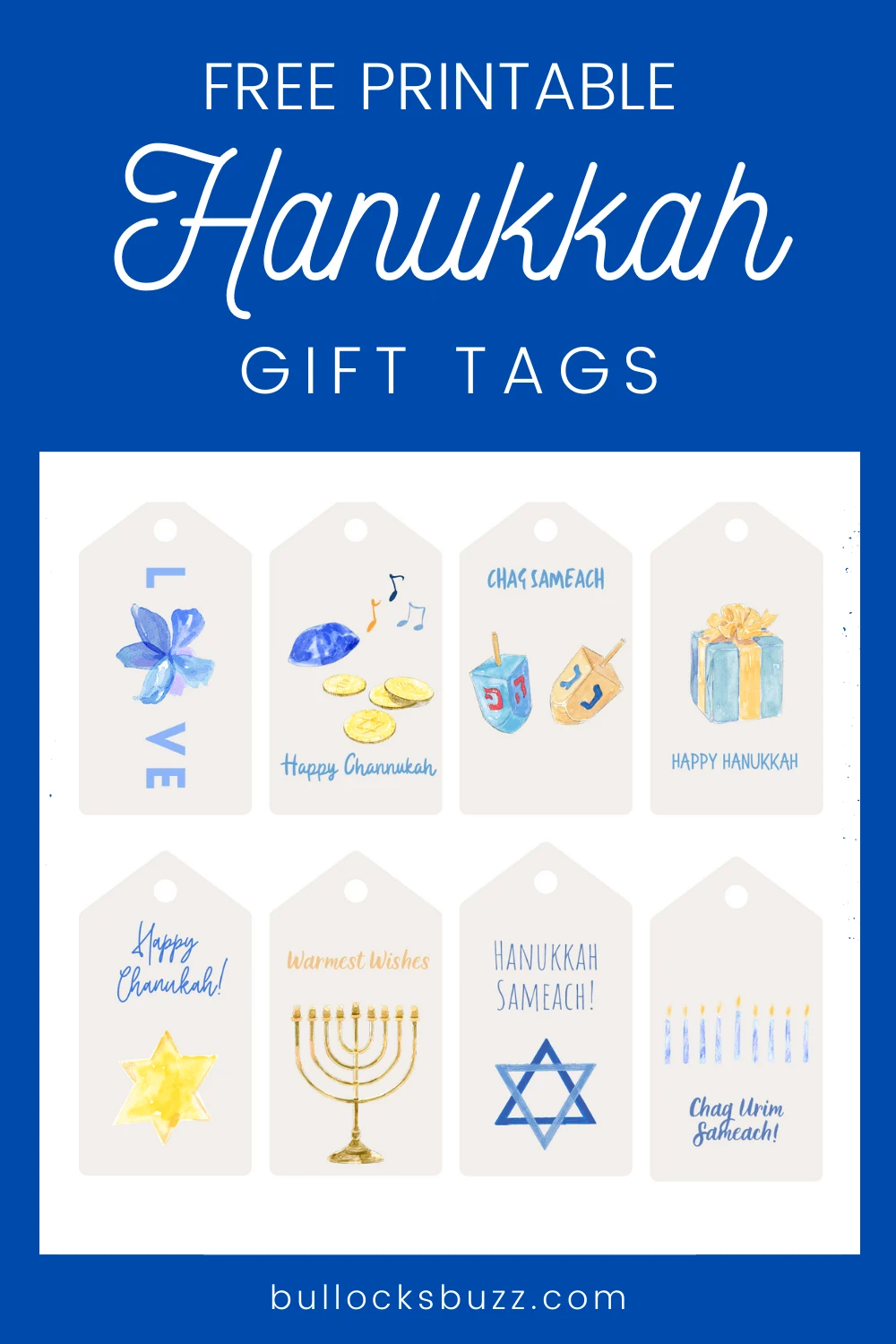 Here at Bullock's Buzz, we are counting down the days until Hanukkah. The eight crazy nights begin at sunset on December 10 this year, and I am busy as a bee getting things ready!
I've been working on all sorts of great Hanukkah printables to share with you as well as some cute crafts and yummy Hanukkah recipes (so make sure you check back daily for all of the Hanukkah fun)! And today, I've got some great printable watercolor Hanukkah gift tags for you!
Finding Hanukkah gift tags can be next to impossible in this part of Alabama. And while I could always order some online, I can't always find exactly what I want. Plus, I also tend to wait until the last minute, lol.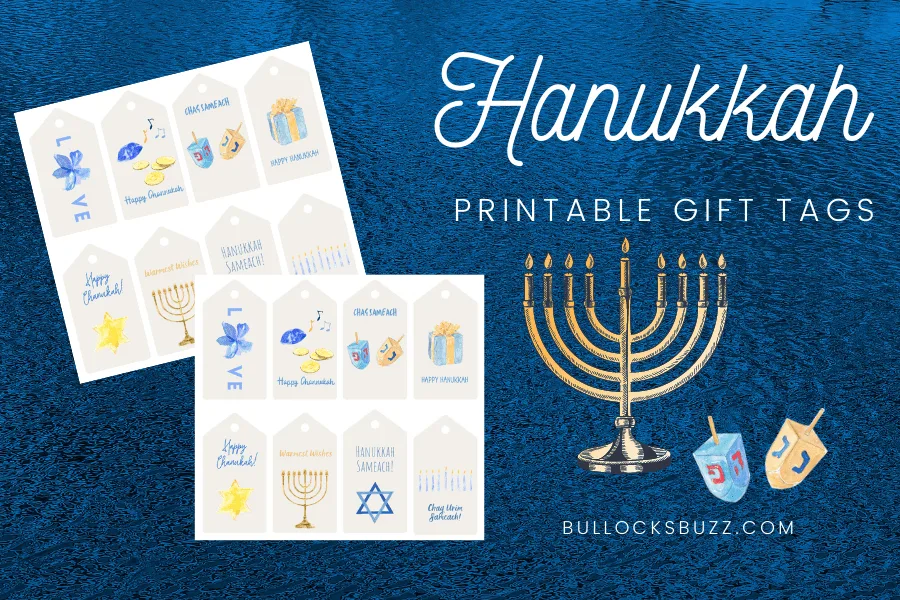 So this year I decided to create my own. And these printable Hanukkah gift tags came out so cute, that I just had to share them with you!
The pale colors and pictures lend give these printable gift tags a beautiful hand-made watercolor style. In fact, they came out so cute, that I am making some more for Christmas, too! So be sure to check back for those!
HOW TO USE THESE PRINTABLE WATERCOLOR HANUKKAH GIFT TAGS
These printable Hanukkah gift tags are super simple to use. You'll just download the gift tags PDF, print them out, and then use a hole punch to pop out the hole. Then all you need is some string or ribbon to attach the tag to your gift.
There are eight different printable watercolor Hanukkah gift tags on the sheet. And the background is solid white, so there's no worrying about running out of ink or high printing costs.
Printing Tips: if you don't have a color printer, or you want extra nice results, email the file to a local copy shop and have them print it out there!
TOOLS YOU WILL NEED
Disclosure: This blog post contains affiliate links for products or services I think you'll like. This means if you make a purchase from one of these links, Bullock's Buzz may make a small commission at no additional cost to you. As always, I only recommend items I use and love.
These printable Hanukkah Gift Tags are for personal use only.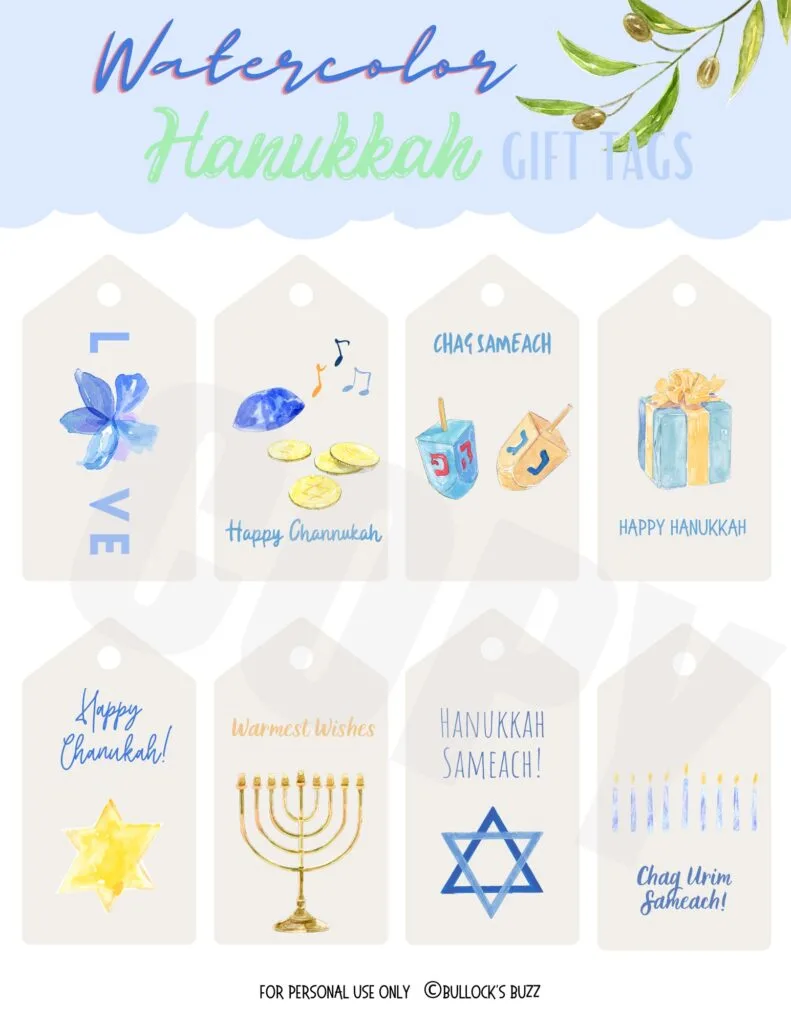 PRINTABLE HANUKKAH TAGS PDF INSTRUCTIONS
To get started, download the PDF printable Hanukkah gift tags. Find the file on your computer, it should be in the download file.
Next, insert the cardstock into your printer, click to open the file, and select the print option.
Make sure you're printing in color before you hit that start button.
Once the Hanukkah gift tags have finished printing and are completely dry, use scissors to cut on the trim lines.
Next, use a hole punch to pop out the hole at the top of each tag.
Lastly, loop some pretty Hanukkah-colored ribbon or twine through the hole that you can use to attach the gift tags to your presents.
And that's it. Your DIY Hanukkah gift tags are done!
MORE FREE HOLIDAY PRINTABLES
Be sure to check back soon as I have lots of holiday printables on the way – including Hanukkah gift card holders and treat bag toppers!
In the meantime, check out these other personal-use only holiday printables that are free for you to print and use.