Use this FREE Printable Kitchen Conversion Chart when making your favorite recipes and you'll be set up for success every time!
With the holiday baking season right around the corner, there's no better time than now to share this free printable kitchen conversion chart! This fun "cheat sheet" will help answer many common ingredient conversion questions such as How many cups in a quart? How many teaspoons are in a cup? And How many quarts in a gallon?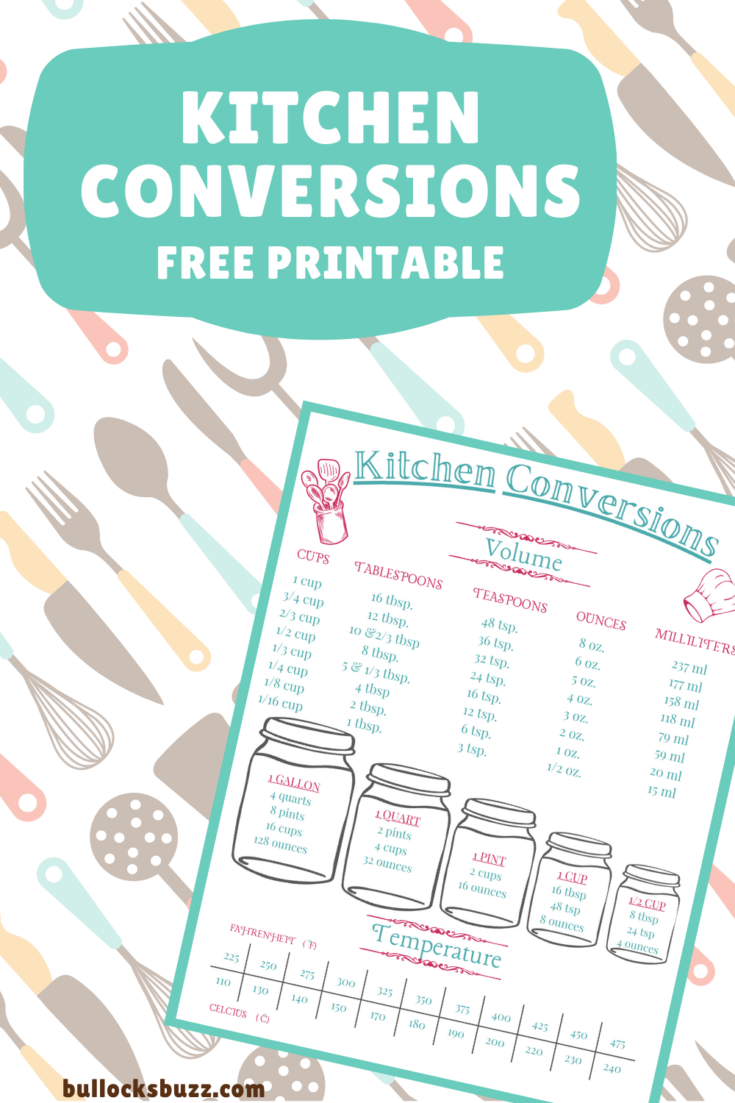 How many times have you been elbows deep in flour and butter only to have to stop what you're doing, wash your hands, and run to Google to find out how many tablespoons are in a third of a cup? If you are anything like me, it's happened several times!
Well now you can kick your conversion woes to the curb because with this handy kitchen conversion chart printable, you'll have all the conversions for the most common units of measurements right at your fingertips.
This free kitchen conversion chart includes common conversions like cups into teaspoons, pints into ounces, ounces into milliliters, and more! I use it all the time in my kitchen. It's so helpful to have on hand and is easy to refer to whether I'm making bread, cake, cookies, pie, or candy.
WHY DO YOU NEED A KITCHEN CONVERSION CHART?
Cooking and baking can be a lot of fun. Especially when you find a new recipe that you can't wait to try!
However, in order to cook like a pro, it's important that you measure your ingredients correctly. Especially when baking!
If your measurements aren't precise, then you could end up with pumpkin bread that doesn't rise or cookies that are hard as a rock and flat.
A kitchen conversion chart will help ensure that you get the exact measurements so the recipe turns out exactly as it should.
Another reason to use a kitchen conversion chart is because when you're dealing with a complicated recipe with a bunch of exact measurements, cooking can feel like a math equation. Perhaps you need to halve a recipe because the full amount would be too much. Or maybe you want to double a recipe so you can have extra to freeze. But it's time consuming and distracting when you have to do all that cooking math off the top of your head!
Using a kitchen conversion chart will save you from having to do that math which in turn saves you time.
With this free printable kitchen conversion chart you'll be able to half, double, triple, even quadruple recipes with no worries at all.
Whether you're cooking a dish from scratch or trying to make changes to an existing recipe, a kitchen conversion chart makes cooking much easier and more enjoyable because it helps eliminate mistakes and simplifies recipes. Plus, it saves you time.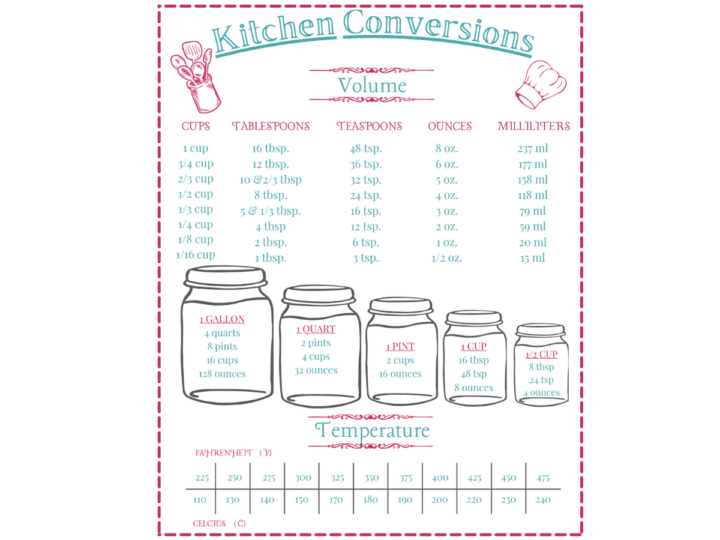 FAVORITE KITCHEN MEASURING TOOLS
Speaking of cooking and baking, and before we get to how to download this conversion chart, I want to share some of my favorite kitchen tools that I use daily.
These tools make cooking and baking SO much easier.
And once you add in the kitchen measurements conversion chart, you'll have all the tools you need in your kitchen arsenal to cook or bake up a storm!
COMMON UNITS OF MEASURMENT
Something else that can help make cooking and baking a lot easier is being familiar with the common units of measurement. If it's been a while since you've been in school, or you are just getting started cooking, you may not remember or know the most common abbreviations for units of measurement. No worries though. Here's a quick breakdown.
And remember, the more you cook, the more familiar you will become with them.
| | |
| --- | --- |
| Abbreviation | Measurement |
| tsp. (with a lowercase t.) | t easpoon |
| Tbsp. (may also see it as tbsp., T. TB., Tbl. Tbs.) | tablespoon |
| C | cup |
| PT | pint |
| QT | quart |
| L | liters |
| ML/mL | mililiters |
| oz. | ounce |
| gal | gallon |
| fl oz | fluid ounce |
| lb | pound |
| g | gram |
COMMON KITCHEN CONVERSIONS PRINTABLE
Now that we've got that out of the way, it's time to download this convenient and cute kitchen conversion chart printable so you can cook without mistakes.
Thanks to this conversion chart, you'll be able to remove the guesswork completely.
Click here or on the image below to download this helpful printable today.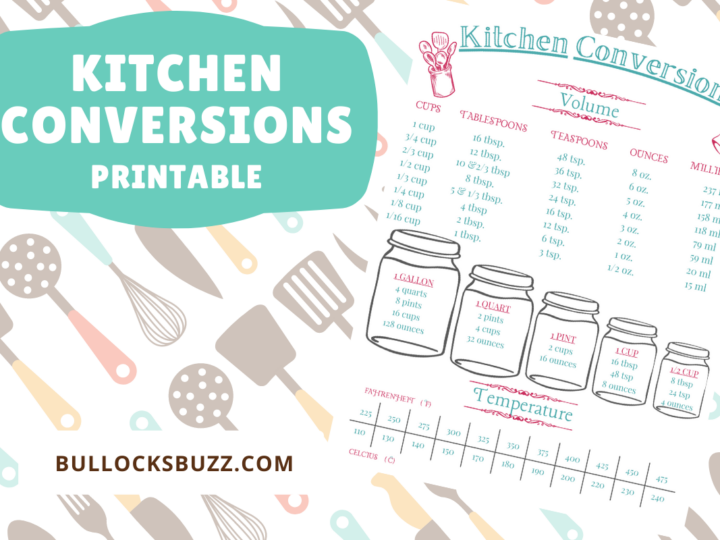 WHERE TO KEEP YOUR KITCHEN CONVERSION CHART
This printable kitchen conversion chart is so handy, you're going to want to keep it somewhere close by. But first, in order to make sure it lasts a long time, I recommend first laminating it. Then you should place it somewhere easy to reach or see.
For example, I like to keep mine taped to the inside of my kitchen spice cabinet next to the stove. This way it's out of the way, but still easy to see with the simple pull of a knob.
You could also keep the conversion chart on the side of the fridge, in your recipe binder, or in a cookbook. Heck, you could even frame it and hang it on your wall so it becomes part of your kitchen decor (yep, it's that cute, lol!) 🙂
Wherever you choose to keep it, with this printable kitchen conversion chart, you'll be a recipe-converting rock star!
So how will you use this chart first? Let me know by commenting below!