Fresh green beans, baby potatoes, smoky bacon, and sweet onions come together perfectly to create an irresistibly delicious side dish in these Southern Green Beans and Potatoes recipe.
With a few common ingredients, you can turn an ordinary side dish into an extraordinary dinner delight! After all, what could be better than green beans, potatoes, and bacon, all in one dish?! Your family will love these Southern green beans and potatoes recipe!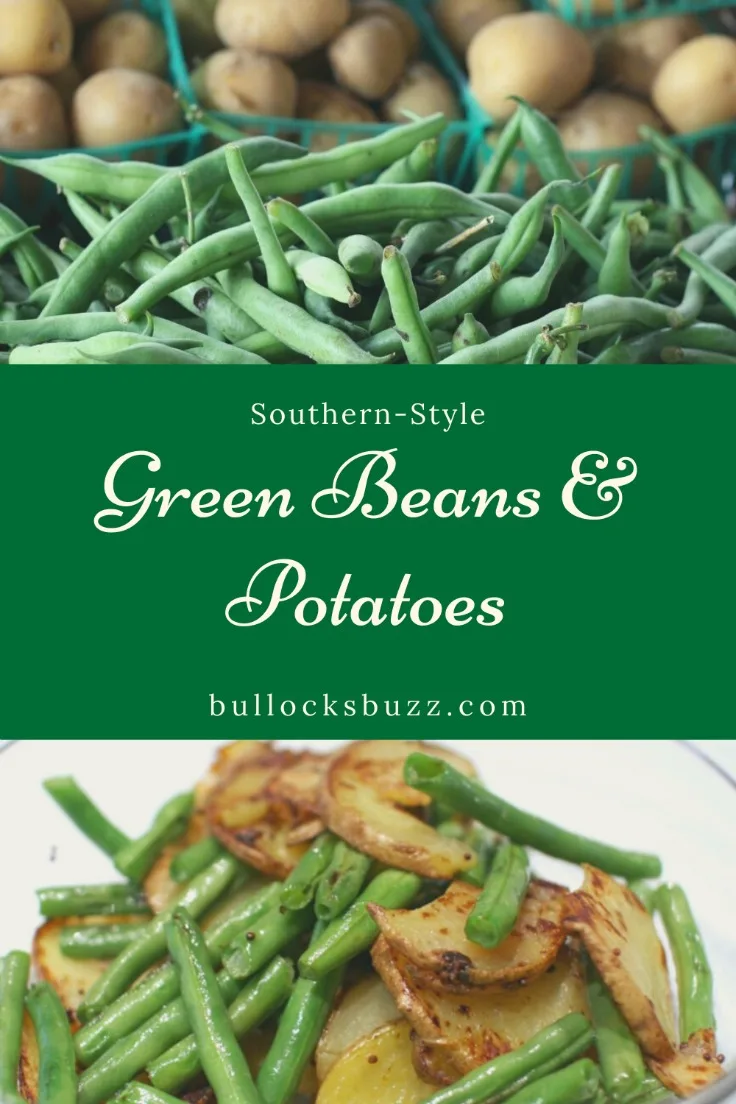 Growing up one of my favorite dinner sides was Southern Green Beans and Potatoes. My next-door neighbor's mom would buy pounds of fresh-cut green beans from the Farmer's Market, and we'd sit around the kitchen table shucking green beans then trimming and snapping them. I can still remember the way those fresh beans smelled as we snapped and trimmed them!
Once finished, she'd send some home with me, and my dad would cook up this incredible tasting green bean side dish made with new potatoes, bacon, onion, and chicken broth – a true Southern Style recipe.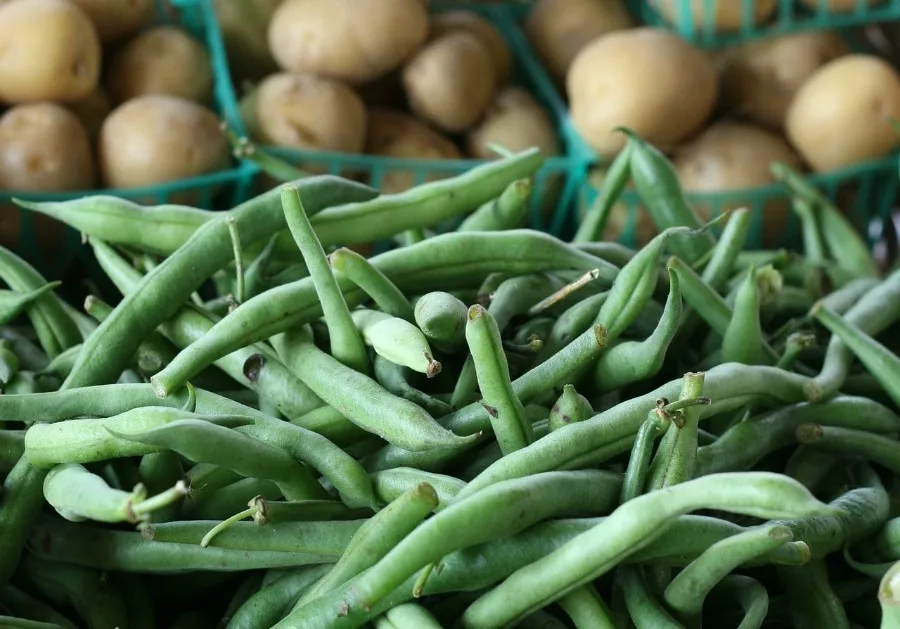 How to Make Southern Green Beans and Potatoes
Ingredients for Southern Green Beans and Potatoes
This classic Southern recipe tastes best when it's made with fresh green beans, onion, minced garlic, and potatoes. So if you don't have a garden growing in your backyard, head to your local Farmer's market, veggie stand, or grocery store and pick up the freshest you can find, because the fresher the ingredients, the better they taste!
What Type of Potatoes Do You Use in Southern Green Beans and Potatoes?
The type of potato you use in this recipe is completely up to you. Sometimes my dad would use small red potatoes (like the ones in my Oven Roasted Red Potatoes recipe) while other times he'd use small Yukon Gold. I would not, however, use baking potatoes.
You will also need some bacon, chicken broth, and white balsamic vinegar. Since this is a side dish, the recipe only calls a small amount of chicken broth stock. So, depending on the type you use, you will most likely have some leftover. Instead of tossing it out though, use the rest of it in another recipe. For example, I used mine to simmer chicken in a skillet along with butter, salt, pepper, and thyme.
Instructions to Make Green Beans
Making this Southern green beans and potatoes recipe is quite easy. The hardest part is trimming and snapping the beans! After that, you simply brown the bacon, saute the onion, then toss it all together and let cook until beans are done. A splash of vinegar, a sprinkle of salt and pepper, and they are ready to eat.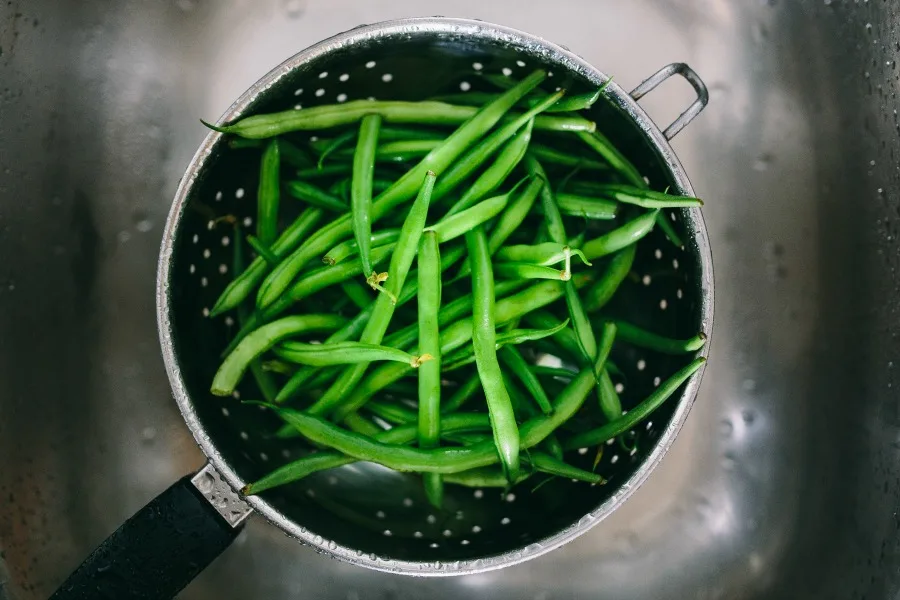 How to Choose Fresh Green Beans
Fresh green beans are preferable to frozen, and both are much, much better than canned green beans. In addition to having better flavor, fresh green beans also maintain that characteristic crisp texture.
While green beans have a peak growing season of May through October, you can generally find them year-round. When buying fresh green beans, select whole beans, and avoid those that are pre-packaged and trimmed whenever possible. Look for beans that sure are firm to the touch and hold their shape well. Also, avoid buying or using green beans that appear mushy or flabby.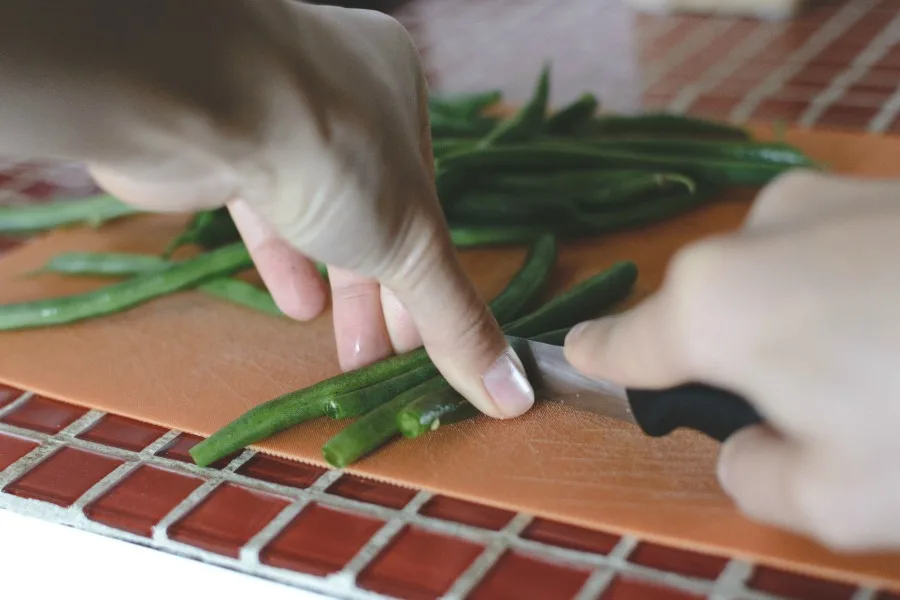 How to Trim and Snap Fresh Green Beans
Snapping and trimming pounds of fresh green beans can be an extremely time-consuming chore. Especially if you are snapping off the ends by hand! Here's an easy way to quickly snap and trim green beans.
Pro Tip: before trimming, sort through the green beans and remove and discard any damaged beans.
Place 15 to 20 green beans on a cutting board and make a uniform pile by lining them up lengthwise. You'll be cutting off both ends, so it doesn't matter which way they are facing.
Line up all the ends against the edge of a knife, then hold them with one hand while you cut off the ends with the knife.
Now flip the beans the other way and line up those ends against the blade of your knife. Again, hold them in place with one hand while you chop off the ends.
From there you can either leave them long or trim them into smaller pieces.
Remember to rinse the beans under cold water before cooking.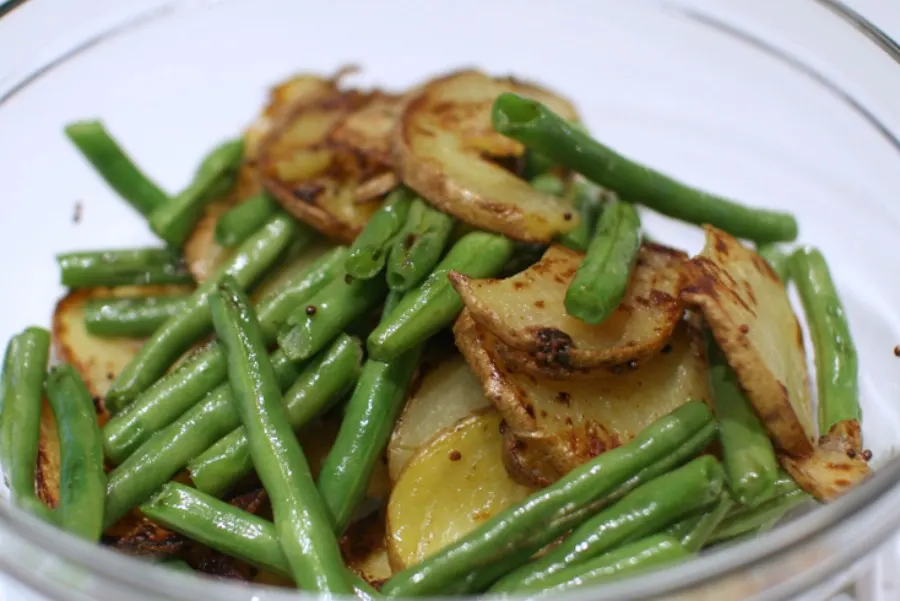 image via Flickr
Printable Recipe for Green Beans and Potatoes
Yield: 4
Green Beans with Potatoes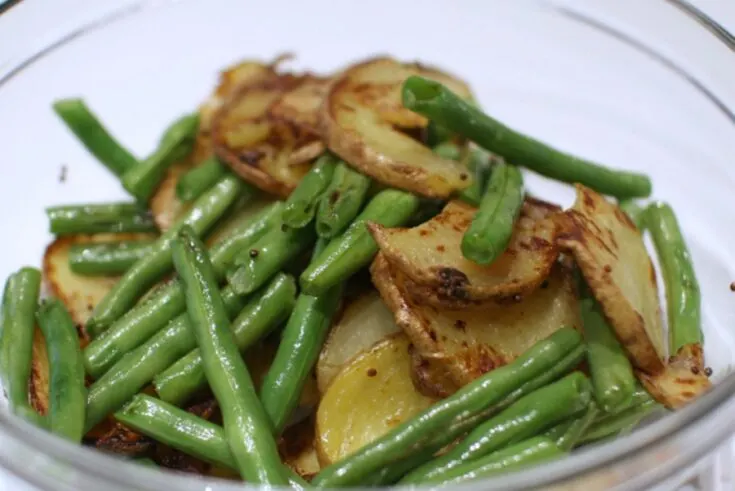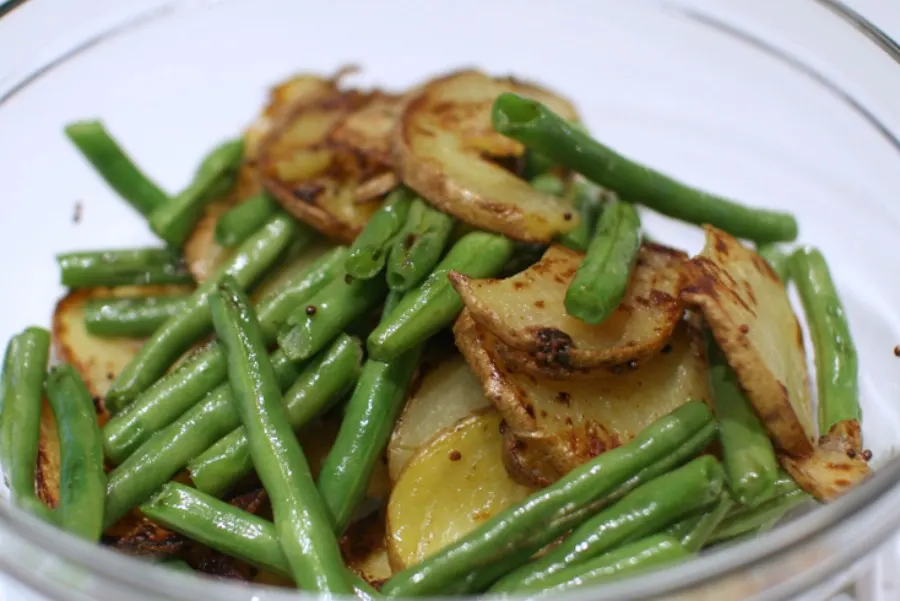 Southern Green Beans and Potatoes is a flavorful and fulfilling side dish made with green beans, baby potatoes, onion, and bacon. You'll love it!
Ingredients
1 lb fresh green beans, trimmed and snapped
4 small new potatoes, diced
½ Vidalia onion, chopped
½ large clove garlic, minced
3 slices bacon, chopped
1 tbsp butter
1 ½ tsp butter
2 tbsp chicken broth, made from Knorr Homestyle stock
¾ tsp white balsamic vinegar
salt and pepper to taste
Instructions
Cook the chopped bacon in a skillet, over medium heat, stirring occasionally, until evenly browned.
Drain; set aside on a plate.
Next, melt the butter in a skillet over medium-low heat, add the onion, stirring until translucent.
Add the cooked bacon, green beans, potatoes, garlic, and chicken broth.
Bring to a boil, cover, and simmer over low heat until the green beans are done.
Sprinkle with vinegar, salt and pepper before serving.
Nutrition Information:
Yield:
4
Serving Size:
1 cup
Amount Per Serving:
Calories:

189
Total Fat:

16.3g
Saturated Fat:

7.1g
Unsaturated Fat:

0g
Cholesterol:

42mg
Sodium:

220mg
Carbohydrates:

37.3g
Sugar:

4.5g
Protein:

8.9g
More Easy Side Dish Recipes
If you liked this recipe, wait 'til you try these!