Sponsor Spotlight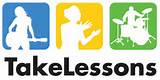 Summertime can be lots of fun for a child, but as the long months wear on, children often begin to get bored and we all know what that can lead too! What better time is there to get your child involved in a meaningful, beneficial and fun activity such as music lessons than summertime! Uh oh! I can already picture you worrying about what a hassell that will be! Having to find an instructor, schedule the lessons, get the child to those lessons, and lord forbid the mess if they decide they don't like their classes! Stop those thoughts right there because with TakeLessons.com, all you have to worry about is finding the instrument or subject of your child's interest, and signing them up – they do all the rest from locating local instructors to setting up the billing!
TakeLessons.com helps put students and families in touch with local, private music teachers and even academic tutors and arts instructors throughout the US. Having been in business since 2006, TakeLessons.com has worked with over 40,000 students nationwide! They will not only help you find a qualified instructor right there in your home town, but will also help you with the initial coordination with that instructor, the scheduling, and the billing – so all you have to do is focus on the enjoyment your child will get out of their lessons!
Are The Instructors Qualified?
With TakeLessons.com, you can rest assured knowing that all instructors they work with are certified, highly trained, interviewed in-depth about their experience, and given yearly criminal background checks. Each instructor has a detailed profile which shows their expertise, teaching style, educational background and career accomplishments, and you can even view pictures and videos posted by the teacher. Plus you can read reviews from others who have used that particular instructor.
What Types of Lessons Are Available?
TakeLessons.com has over 30 lesson types available for all ages and skill levels including singing, guitar, piano, drums and violin, so you are certain to find something of interest to your child! And for those children who are not interested in music, TakeLessons.com also offers lessons in dance, acting and academics! Here is an example of just one of the many lessons available.
What Are My Options As Far As Lesson Locations and Time?
The amount of flexibility offered by TakeLessons is amazing! You can schedule lessons at your home, at an instructor's studio or you can even set your child up with a computer, a good internet connection, a webcam, and a Skype account and they can take their lessons online from the comfort of your home!
Even the scheduling is flexible with several options available. You can choose from Quarterly lessons (book 12 lessons, get 1 free!), month-to-month or even pick the Flex option where you can coordinate the lessons with your instructor as you go! There are no locked-in commitments or contracts which means you can change your schedule, the teacher, or even the instrument at any time! And if for any reason you are not satisfied with your first lesson, Takelessons.com will either find you another instructor or offer to refund 100% of your lesson purchase!
How Do I Start?
Getting started is a cinch! Simply head over to TakeLessons.com, type in the instrument or subject your child wants to learn, enter your zip code, and a list of available classes will immediately appear! What could be easier?
Pricing depends upon location and length. You can book online, or call 619-618-7949 to talk through options and pricing with a Student Counselor.
Give your child the gift of the arts this summer, and sign up with TakeLessons.com now!
What instrument would your child love to learn?