4th of July Popcorn is a simple, yet delicious patriotic treat that's packed with salty and sweet deliciousness! This Patriotic Popcorn recipe is quick, easy, and perfect for all holidays red, white, and blue!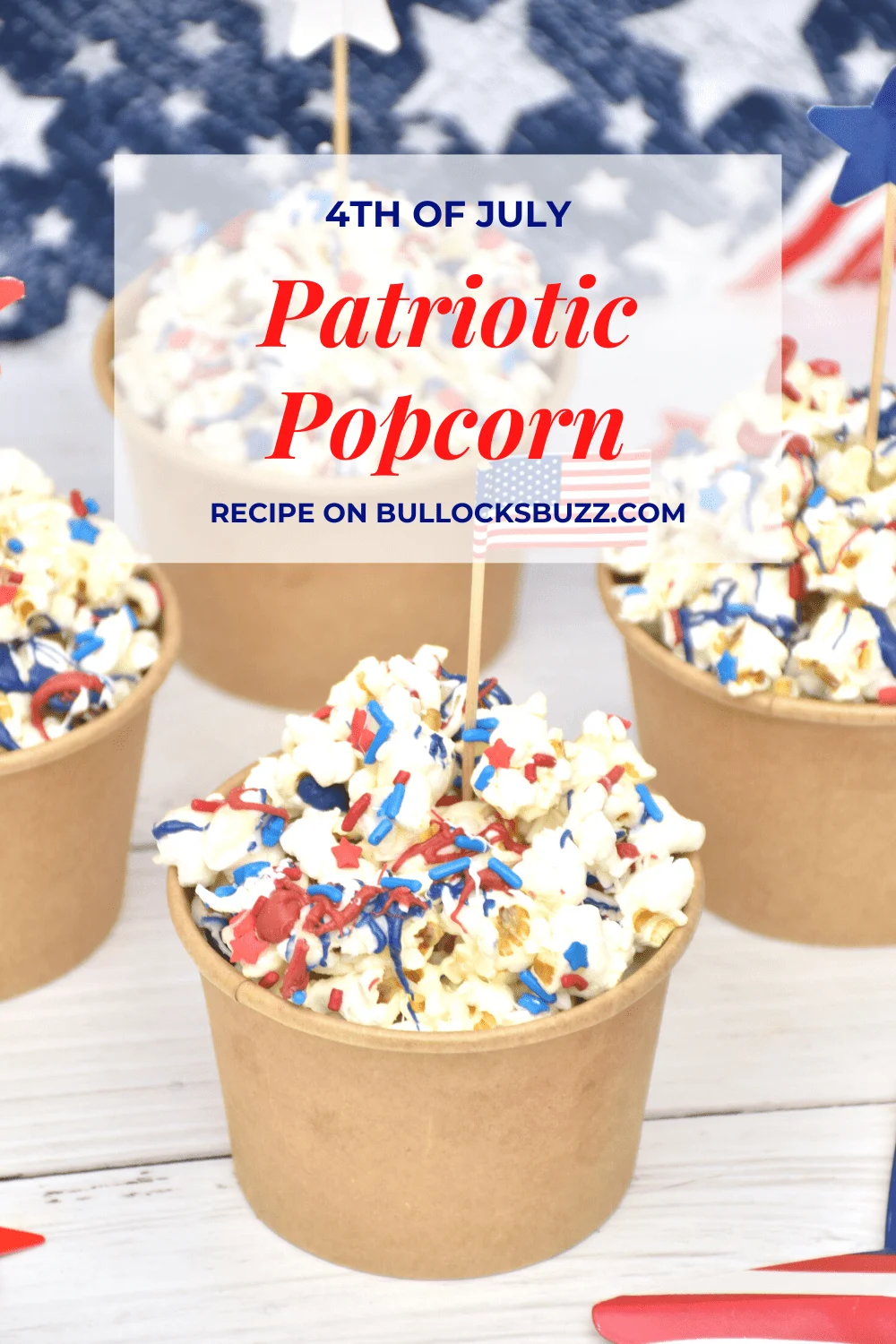 My husband's family loves having get-togethers. Especially on holidays. Each family member will bring a dish so we all get to enjoy each other's company instead of spending the time in the kitchen cooking.
At our last Christmas gathering, I brought a bowl of my Candy Claus Christmas Popcorn, and they absolutely loved it! So for our 4th of July gathering this weekend, they've asked me to bring some more. This Patriotic Popcorn recipe is the result. I hope you enjoy it as much as our family!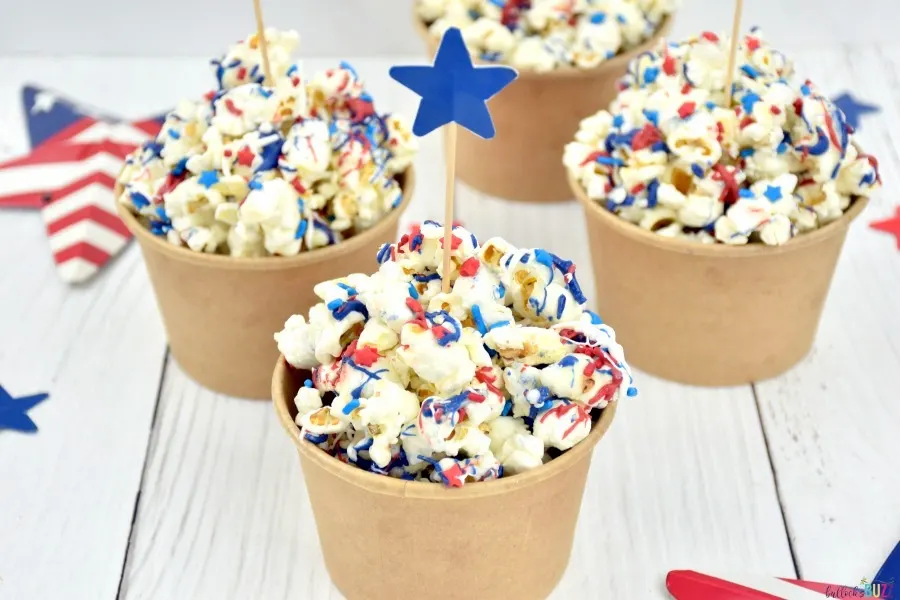 An Easy Patriotic Treat
Homemade popcorn is one of my favorite treats. It is so simple to make and you can easily customize it for any special occasion. I've tried a ton of candied-popcorn recipes, but this version is my favorite!
This red, white, and blue popcorn is a fun and festive patriotic snack for family and friends to enjoy on the 4th of July or Memorial Day. It's the perfect blend of salty and sweet! What better way to add some festive flair to your celebrations than with a delicious and colorful snack?
HOW TO MAKE 4th OF JULY POPCORN
Below you will find the step-by-step process of creating this mouthwatering patriotic popcorn recipe that is sure to be a hit at your Fourth of July gathering.
Disclosure: This blog post contains affiliate links for products or services I think you'll like. This means if you make a purchase from one of these links, I may make a small commission at no additional cost to you. P.S. I only recommend products that I use and love.
KITCHEN TOOLS YOU MAY NEED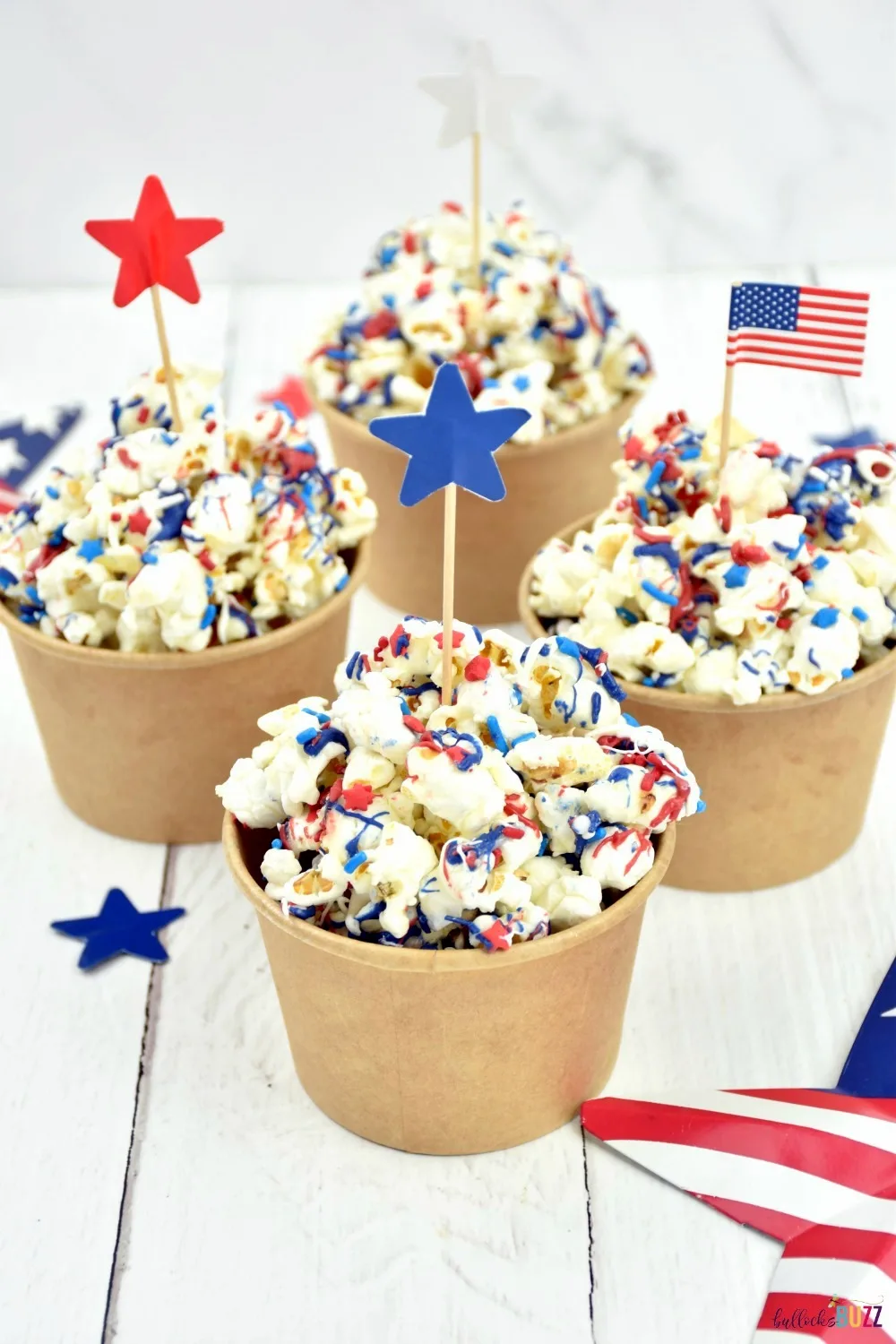 PATRIOTIC POPCORN INGREDIENTS
With just a few ingredients you can easily and quickly make this delightfully delicious and visually stunning treat that will leave your taste buds bursting with joy!
There are no unusual or hard-to-find ingredients needed, instead, all you'll need is:
popcorn
salt
mini marshmallows
butter
You'll find the complete ingredients and instructions in the printable recipe at the end of this post.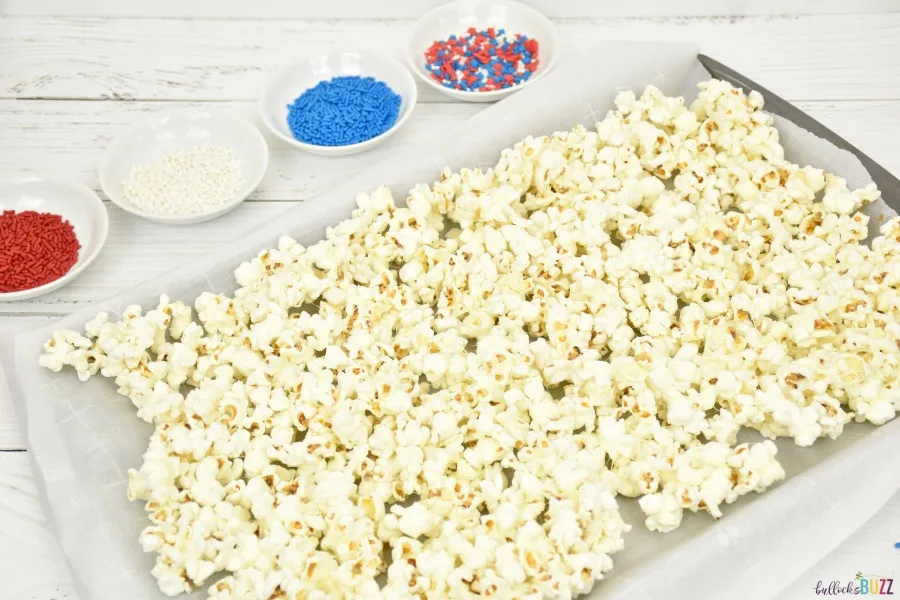 PATRIOTIC POPCORN RECIPE INSTRUCTIONS
Seriously y'all, this patriotic popcorn is one of the easiest popcorn recipes I've ever made. It's really as easy as 1, 2, 3 …ummm…and 4, 5, and 6. 😉
Pop – Start by popping the popcorn in the microwave or an air popper. OR, use a bag of already-popped popcorn, like this plain Skinny Pop popcorn that I used, to make it even easier! Be sure to salt it liberally as the saltiness goes so well with the sweetness!
Melt – Melt the butter in a saucepan, then add in the mini marshmallows stirring until they're melted and creamy.
Combine – Using a big bowl, slowly pour the melted marshmallow over the salted popcorn and give it a gentle stir until the popcorn is coated. Make sure to leave a little bit of the marshmallow mixture for the next step!
Spread – Once coated, pour the popcorn out onto a baking sheet lined with a Silpat mat or foil. Drizzle a little bit of the remaining marshmallow mixture over the popcorn but do not mix it up. You need it on top so the candy will have something to stick to.
Sprinkle – Next add the red, white, and blue sprinkles to the Patriotic Popcorn, concentrating on the areas with the most drizzled marshmallow mixture.
Drizzle – Finally, drizzle the popcorn with a small amount of melted red, white, and blue chocolate for some extra color.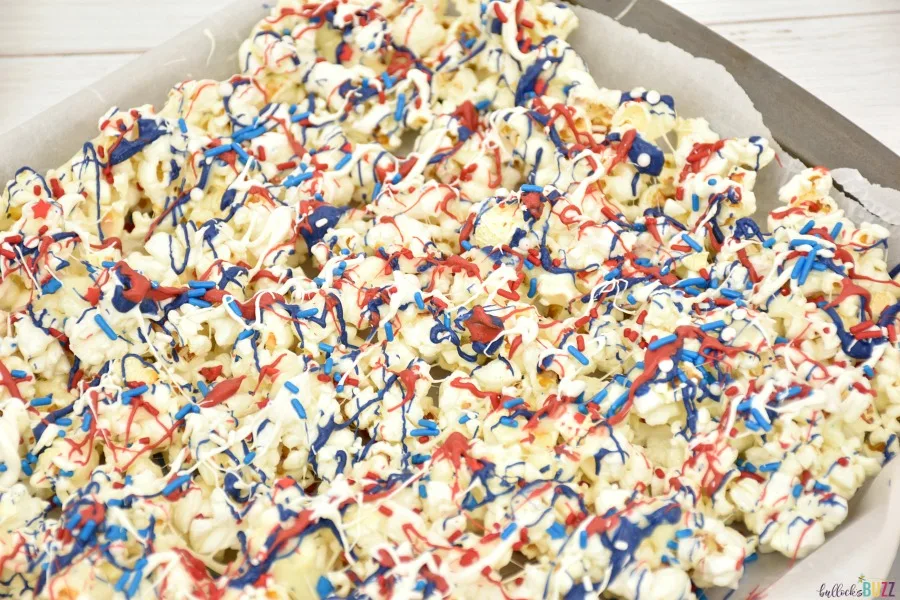 HOW TO MELT CANDY MELTS
There are three ways you can melt candy melts: a microwave, a double boiler, or in a candy melting pot. I personally prefer the candy melting pot because it's quicker, easier, and less messy! It also keeps the candy at the perfect temperature while dipping.
Whichever method you choose, here are a few super handy (and important) things to know:
Make sure your bowl or pot and any utensils are completely dry. Even the smallest drop of water could cause your candy to harden and streak.
Avoid overheating it by melting on too high of a setting or for too long. This will cause it to lose its consistency.
It's ready when the texture is smooth and resembles honey when scooped up on a spoon and poured off.
If the candy is too thick, add a bit of vegetable shortening, usually 1 1/2 teaspoons per 10 oz. of candy; 2 teaspoons per 12 oz.
Microwave – In a microwave-safe bowl, microwave the candy melts at 40% power or on defrost for 1 minute. Stir thoroughly. Continue to microwave and stir at 30-second intervals until smooth and completely melted.
Double Boiler – Fill the lower pan with water to right below the level of the top pan. Heat the water to a simmer, then remove from heat. Put the Candy Melts in the top pan and set the pan in position on the lower pan. Stir constantly until candy melts are smooth and completely melted.
Candy Melting Pot – Add candy melts to the pot, turn it on, and stir until completely melted. When making multiple colors, you will have to either clean out the pot between each color or get this handy divider.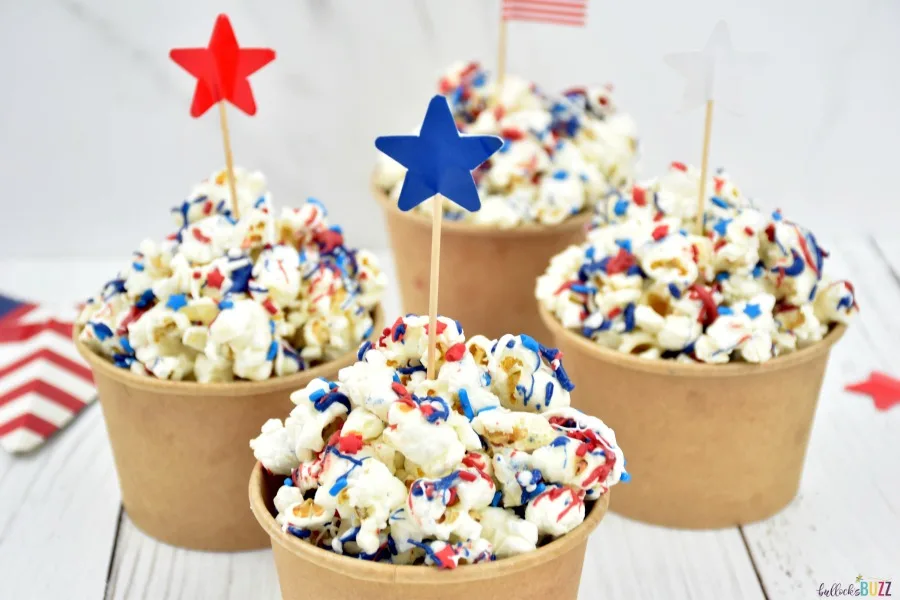 STORING LEFTOVER POPCORN
Rarely has this popcorn recipe ever lasted longer than a day. But if you have leftovers, or if you want to make it ahead of time, you can. Just keep in mind that this popcorn definitely tastes the best right after it is made.
Storing – patriotic popcorn will keep for a few days in an airtight container. The popcorn will be a tad chewier the next day because it absorbs some of the moisture from the marshmallow but it still tastes good!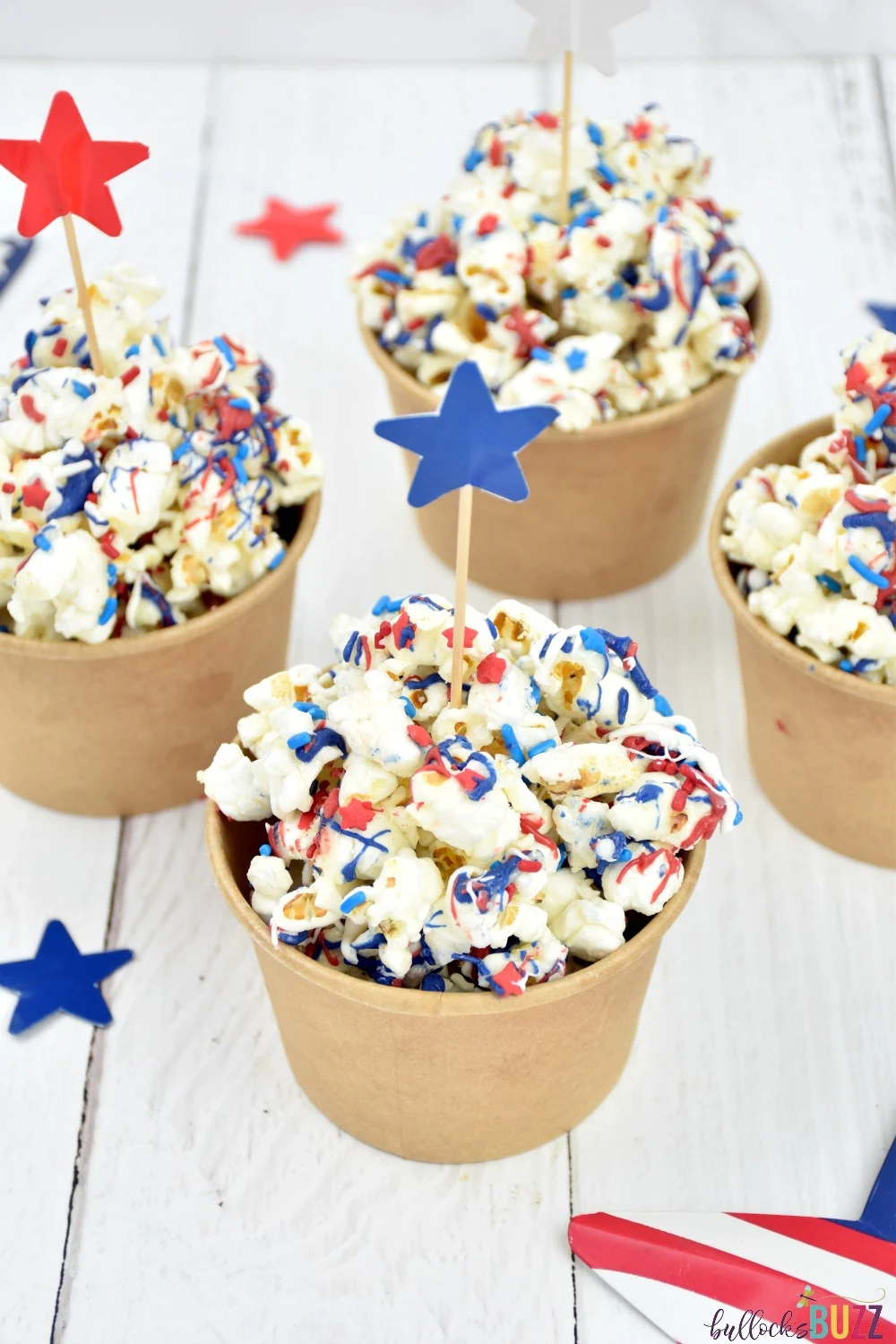 PATRIOTIC POPCORN RECIPE VARIATIONS
Another reason why I love this particular popcorn recipe is that it's so easy to customize. Simply change up the colors and the type of add-ins you use.
Candy – you could add in a candy such as a bag of M&M's, red hots, or even some Sixlets.
Other Holidays – You could also switch this popcorn recipe up for any holiday or celebration by changing the colors of the chocolate melts, sprinkles, and/or any candy! You could do red and pink for Valentine's Day, blue and white for Chanukah, red and green for Christmas, etc.
It would even be fun to add all the colors of the rainbow for a delicious treat anytime you want it!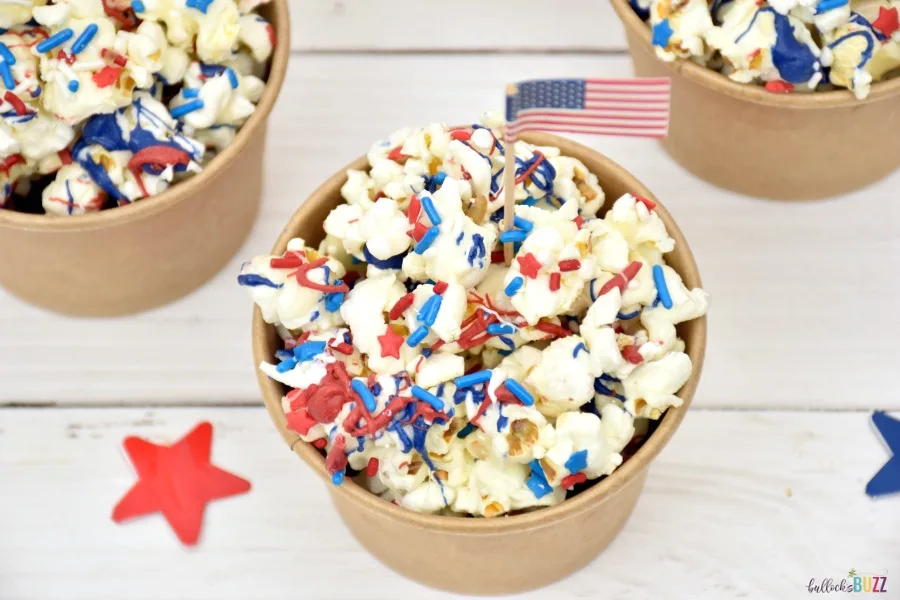 MORE POPCORN RECIPES
If you love popcorn, you should also try these delicious Witches Brew Halloween Popcorn, Valentine's Day Flamin' Hot Popcorn, and Pistachio Chewy Bite Popcorn Balls recipes!
LOOKING FOR MORE PATRIOTIC RECIPES?
The 4th of July is one of my favorite holidays and I just have to share my other recipes and crafts with you. Be sure to check these out!

Did you make this tasty red, white, and blue patriotic popcorn recipe? If so, I'd love to see how it turned out!
Nothing makes me happier than seeing your take on my recipes. So please be sure to tag me on Instagram @bullocksbuzz or using #bullocksbuzz!
And finally, if you get a chance, please comment and leave me a ⭐⭐⭐⭐⭐ rating on the printable recipe card below!
LET'S BE FRIENDS! STAY UP TO DATE ON ALL BULLOCK'S BUZZ FUN BY FOLLOWING ME ON:
FACEBOOK | TWITTER | PINTEREST | INSTAGRAM
Enjoy this post? Subscribe to our newsletter (form in the sidebar) so you'll never miss another!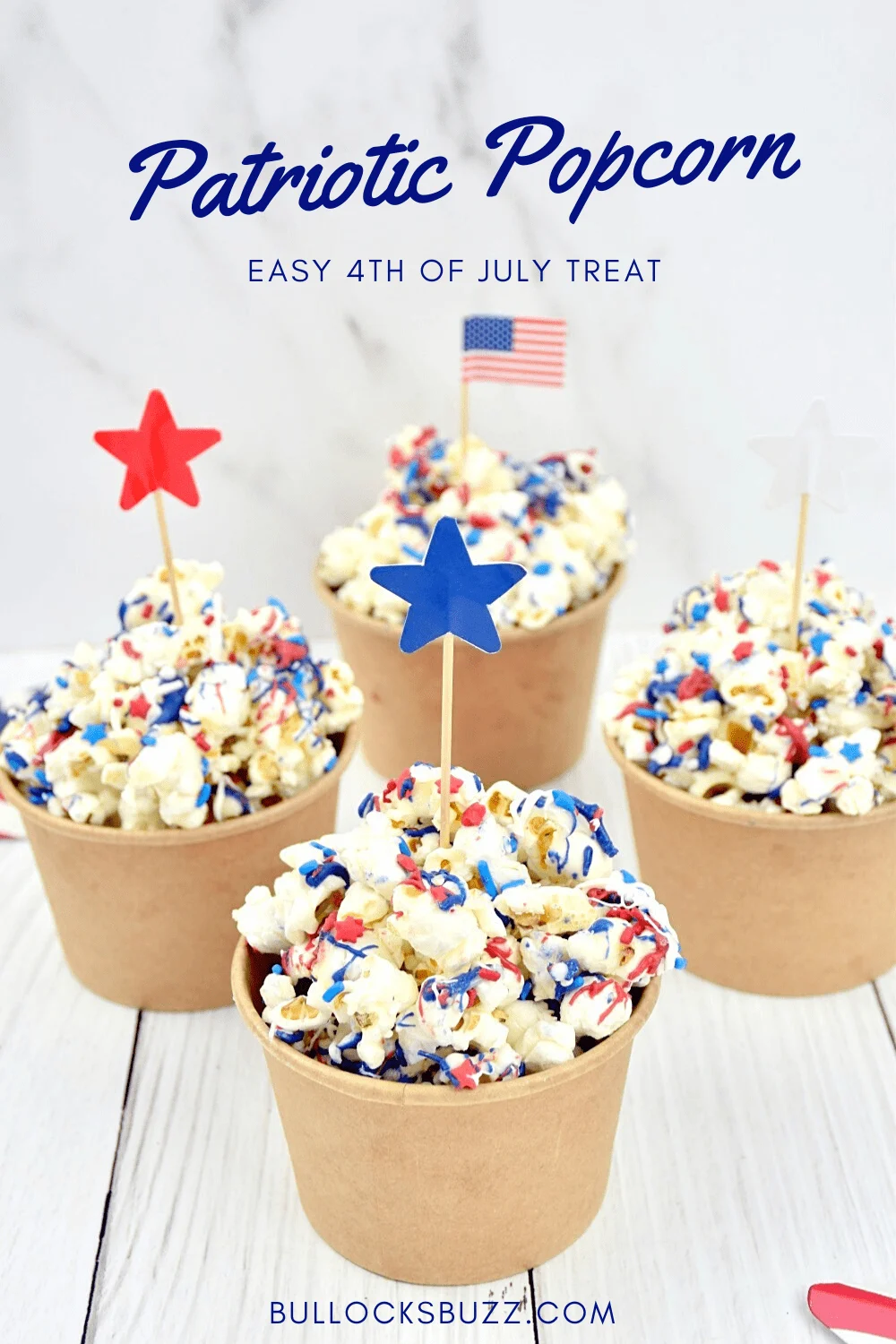 PRINTABLE PATRIOTIC POPCORN RECIPE
Yield: 10 servings
Patriotic Popcorn Recipe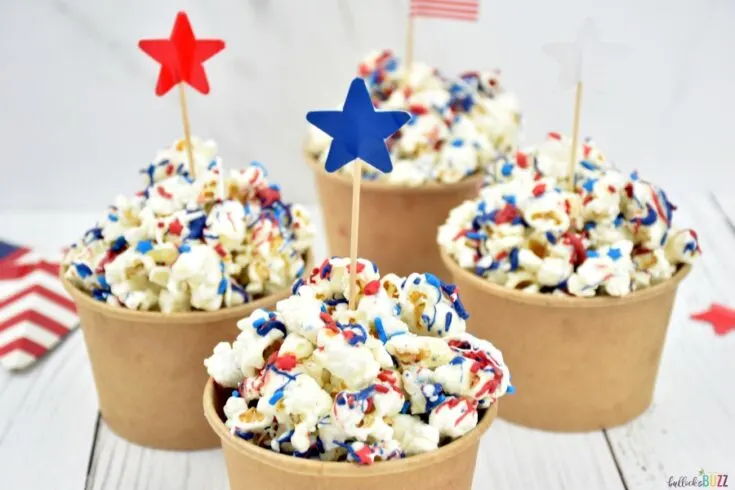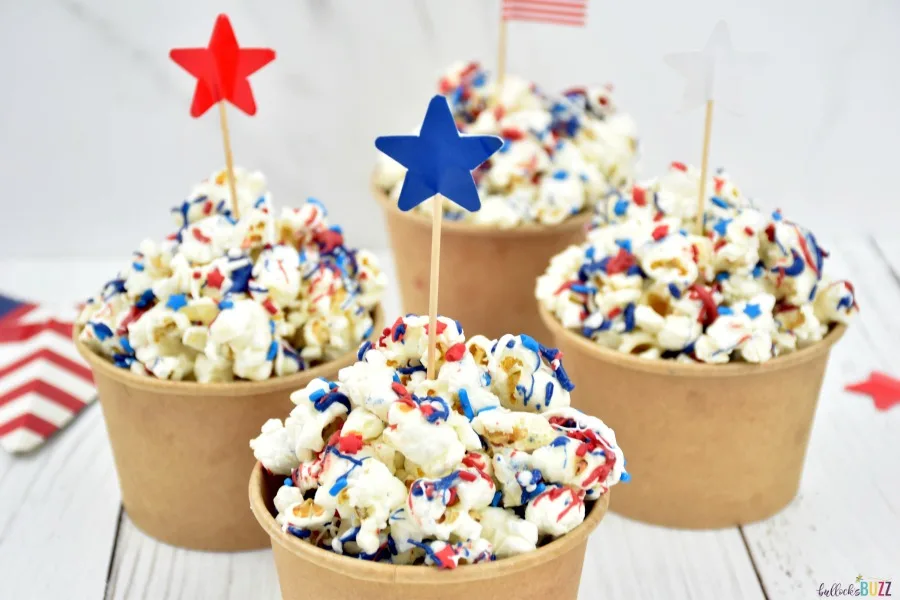 4th of July Popcorn is a simple, yet delicious patriotic treat that's packed with salty and sweet deliciousness! This Patriotic Popcorn recipe is quick, easy, and perfect for all holidays red, white, and blue!
Ingredients
10 cups popcorn (plain), popped
3 tbsp butter, salted
3 cups mini marshmallows
3 tbsps Patriotic Sprinkles
¼ cup Wilton candy melts, Red
¼ cup Wilton candy melts, Bright White
¼ cup Wilton candy melts, Royal Blue
salt
Instructions
Line a cookie sheet with a Silpat Mat, foil, or parchment paper.
Prepare the popcorn, then add it to a large bowl and salt liberally.
In a small saucepan, melt the butter, then add in the mini marshmallows. Stir until the marshmallows are completely melted and creamy.
Slowly pour about ¾ of the melted marshmallows over the popcorn, gently folding the popcorn with a spatula or spoon until most of the popcorn are covered. Hold on to the remaining marshmallow until the next step!
Spread the coated popcorn onto the prepared baking sheet in an even layer. Drizzle the remaining marshmallow over the popcorn mixture, and immediately add about ½ of the patriotic sprinkles.
Melt the red candy melts using either a candy melting pot, double boiler, or in the microwave. Using a spoon, drizzle on top of the popcorn. Immediately sprinkle a little bit of the remaining patriotic sprinkles on top of the melted blue chocolate.
Repeat with the Royal Blue Candy Melts and the Bright White candy melts, making sure to add a small amount of sprinkles after each color chocolate.
Allow the candy popcorn to set before breaking it up in pieces. Serve and enjoy!
Notes
*Nutritional information is an estimation via verywellfit.com
Nutrition Information:
Yield:
10
Serving Size:
1 cup
Amount Per Serving:
Calories:

207
Total Fat:

7g
Saturated Fat:

3g
Trans Fat:

1g
Unsaturated Fat:

4g
Cholesterol:

9mg
Sodium:

164mg
Carbohydrates:

36g
Fiber:

1g
Sugar:

21g
Protein:

1g
Nutritional information is automatically calculated with ingredients and serving size and may not be accurate. Please always double check with your own nutritional apps as well.