Tech Armor ActivePower 20800mAh Powerful Power Bank for Tech On-the-Go
Please note, this post may contain Amazon affiliate links to make shopping easy. If you make a purchase through these links, I'll make a small bonus at no extra charge to you.
As a blogger, I am constantly using my laptop, tablet, and iPhone for emailing, checking posts, sharing on social media, picture-taking and more. Because of this it seems like I am always on the hunt for a wall outlet to charge my devices. I've also learned from experience that nothing is worse than going to a conference and pulling out your tablet or iPad only to have the battery die right in the middle of note taking. The Tech Armor ActivePower 20800mAh Power Bank has changed all of that.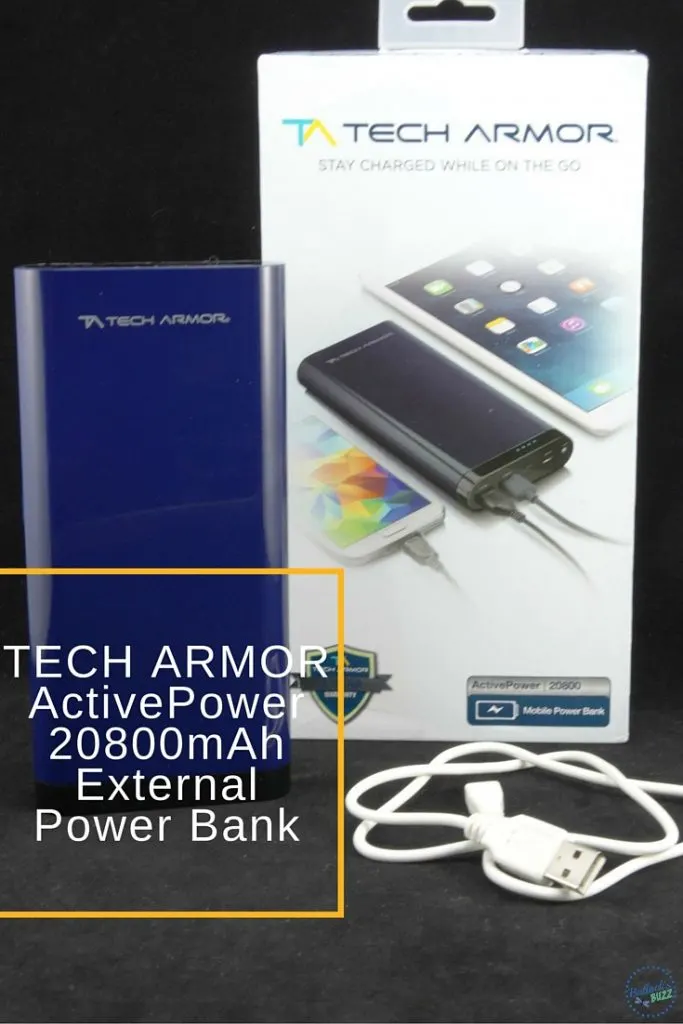 Tech Armor ActivePower 20800mAh External USB Power Bank
The Tech Armor ActivePower 20800mAh External USB Power Bank is a pretty serious external battery. At 6.49 x 3.15 x 0.9in (165mm x 80mm x 23mm) and weighing 0.9 pounds (15.73 oz), it is a bit large and heavy; therefore, it is probably not the best choice for carrying in your purse just to use as casual backup power when your phone battery gets low. However, it is the perfect power bank for those who use technology for work and are always on-the-go.
The ActivePower 20800mAh is not only capable of charging two devices at once, it can also provide multiple charges before needing to be recharged itself. It can be used to charge smartphones, tablets, cameras, MP3's, and many other devices. It comes in a sturdy cardboard box along with a micro usb to usb cable, and a simple instruction booklet. Unfortunately, the ActivePower does not come with any type of carrying case, nor does it come with an ac adapter, but that doesn't really surprise me considering its affordable price.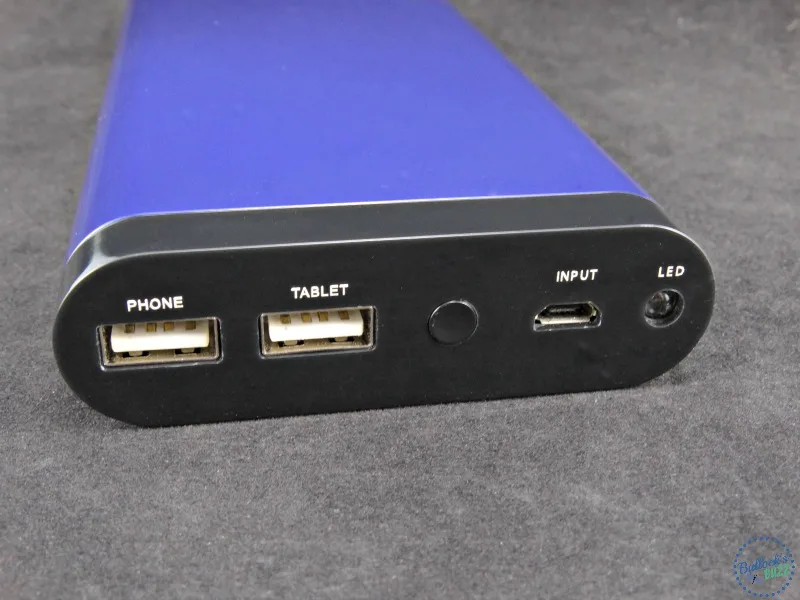 Sleek Design
The ActivePower's case is dark blue in color, with a smooth, sleek design. It is contoured with smooth, rounded edges. Although it is made of plastic, it does not feel or look cheap. In fact, it actually feels quite sturdy.
Dual USB
On the top edge of the ActivePower 20800mAh are two input slots, one marked 'tablet' the other marked 'phone'. According to the instruction booklet, the input slot marked 'tablet' has an output of 2.1a/5v, and the slot marked 'phone' has an output of 1.0A/5v. It also has an input port which can be used to either charge the battery pack itself or to charge a device which has a micro usb port. Furthermore, the ActivePower has a handy built-in LED flashlight which can be powered on or off by holding the power button for about 2 seconds.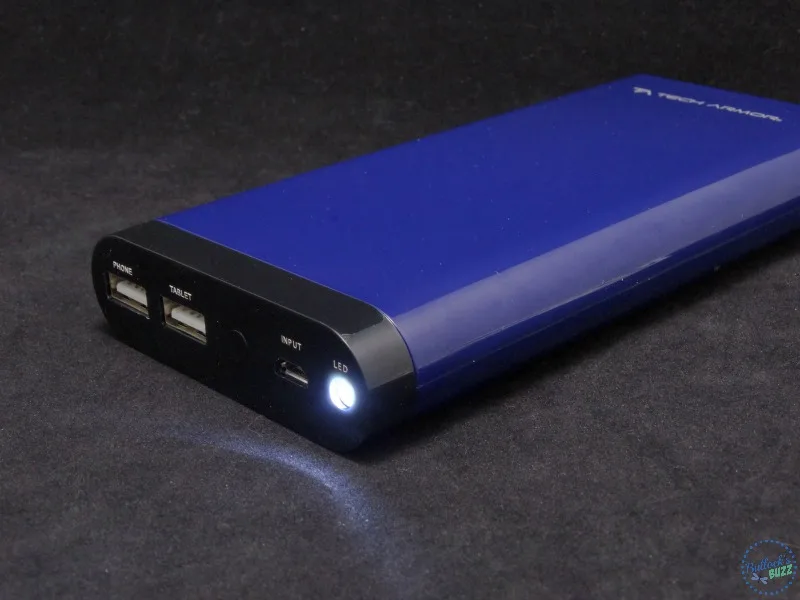 Using the Tech Armor ActivePower
To use the ActivePower to charge your phone or tablet you simply connect it to the power bank with either the included cable or the one that came with your device. The included cable is about 2 feet in length which long enough to get the job done. Once your phone or tablet is connected to the ActivePower, quickly press the on/off button once to start charging it, and then once again to stop charging it. Remember, if you hold the power button down for longer than 2 seconds, it will cut on the built-in flashlight.
LED Indicator Lights
The first time you turn the power bank on it will already have a small charge on it. You can check to see how much of a charge by pressing the power button and checking the four LED indicator lights at the top of the power bank. One flashing LED means there is less than 1 – 5% power left, and you should charge the ActivePower immediately. One steady light means the ActivePower has a 5% to 25% charge, two steady lights means a charge of 25% to 50%, three lights indicate anywhere from a 50% to 75% charge, and four steady lights indicate a 75% to 100% charge.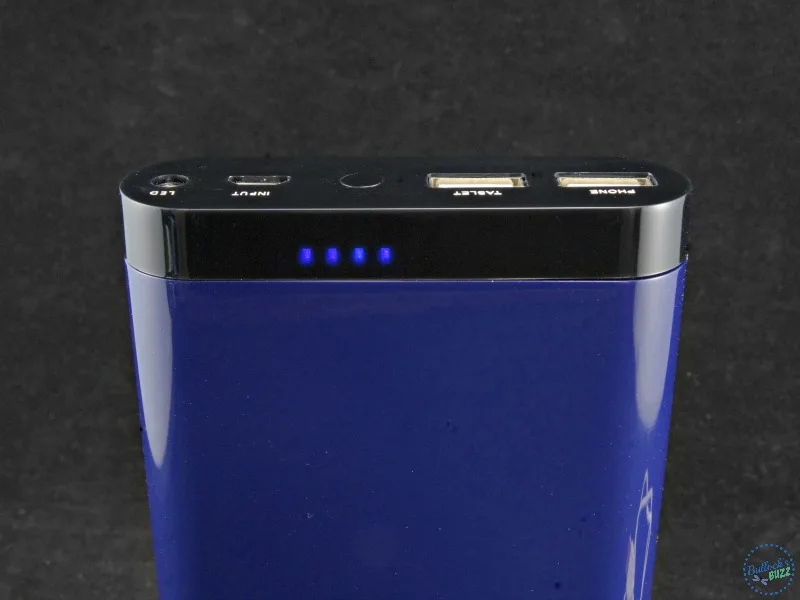 Capable of Charging Multiple Devices Multiple Times
The ActivePower 20800mAh itself can be charged by connecting to either a usb AC adapter or a computer. I've found it takes about 10 to 11 hours to get a full charge from the power bank being almost completely drained, but the amount of charging power it provides is well worth it! Once the ActivePower is fully charged, it can charge multiple devices multiple times. In fact, according to the manufacturer, the ActivePower 20800 can charge a smartphone 7+ times, a mini tablet 2.7+ times, and a full-sized tablet 1.5+ times. Of course the exact number of charges you can get depends on your device's battery size, but this power bank definitely provides enough charging power to keep you online and active for a short trip! Because of the long charging time, I recommend charging it each night, especially if you know you may be needing it the next day.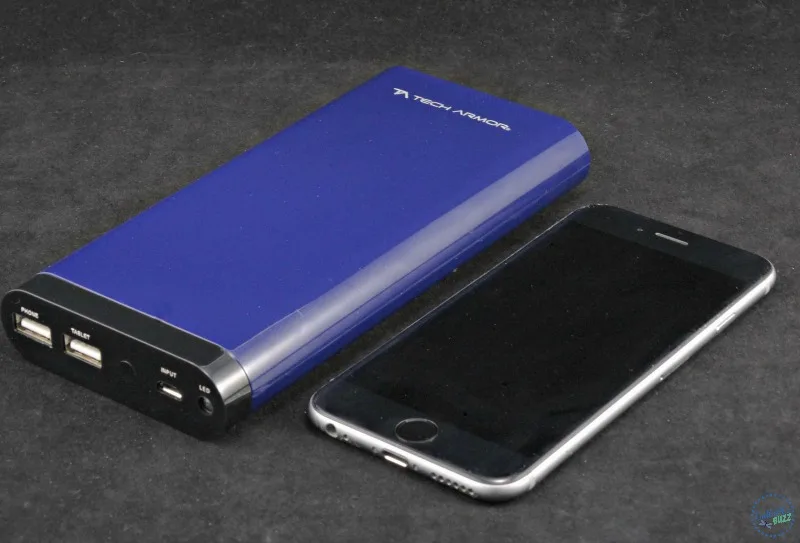 Does it Really Work?
I was able to charge my iPhone 6 a little over seven times, and my iPad Air 2 three times – both from less than a 10% charge. The charging time using the ActivePower is pretty close to the same as you would get from a wall outlet.
The Tech Armor ActivePower 20800mAh is compatible with many devices including iPhones (4S up to 6 Plus), iPads (1- 4), iPad Airs (1 -2), iPad Minis (1 -3), Samsung Galaxy (S3 – S5), Samsung Note ( 3 – 4), LG3, HTC One and many other smartphones, tablets, gaming devices, cameras, and MP3 players.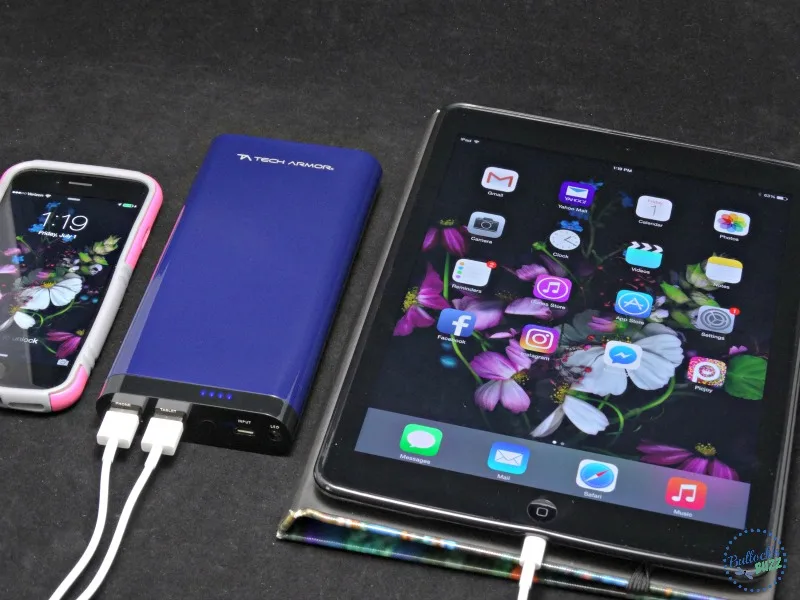 Where To Purchase The Tech Armor ActivePower 20800mAh
In addition to working great, the Tech Armor ActivePower 20800mAh also comes with a hassle-free Two-Year Warranty. That along with the affordable price, make this power bank a great deal! If you are constantly using your device and are in need of a dependable and effective power bank, I definitely recommend the ActivePower 20800mAh. If you are looking for one to carry around to keep a charge on your phone, check out some of TechArmor's smaller powerbanks. It's also ideal for students! You can purchase this Tech Armor ActivePower 20800mAh External USB Power Bank (aff. link) on Amazon.com for $59.00.