The best water bottles should be convenient, functional, and safe from harmful chemicals. The Zoku Stainless Steel Water Bottle is not only sleek and stylish, but it's also double-walled vacuum insulated, free from harmful chemicals, has a nifty lanyard for easy carrying, and much more!
For those of you who read my blog often, I'm sure you are well aware of how much I enjoy products made by Zoku. From their Neat Stack Nesting Storage Containers to their Reusable Pocket Straw, I've yet to come across one of their products that I do not like. Today I'm sharing another product that I really enjoy, the Zoku Home Vacuum-insulated Water Bottle.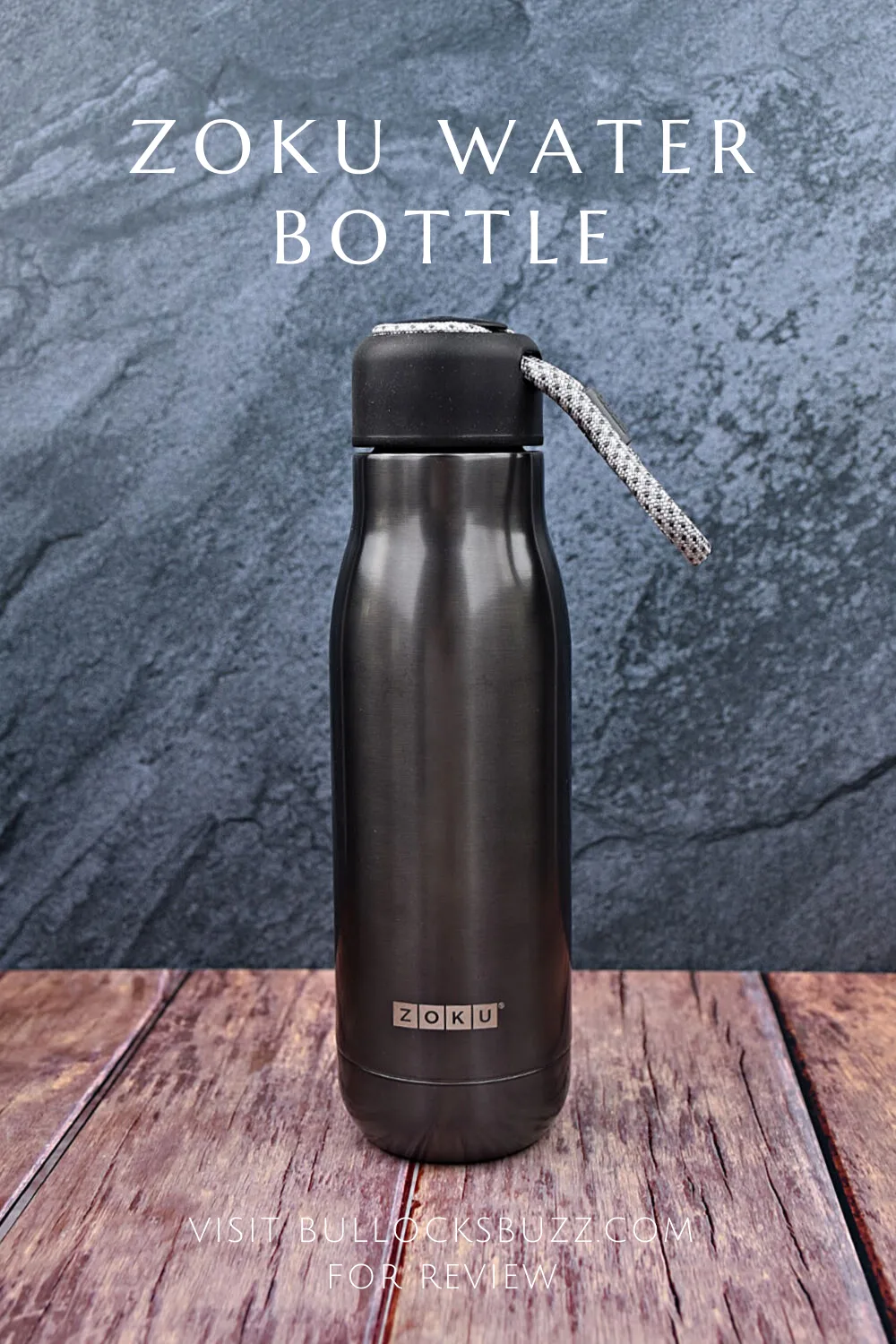 I received product and/or compensation in exchange for an honest and unbiased review. All opinions are 100% my own.
If you like me have way too many water bottles, now is the perfect time to weed out your collection and keep the best ones. For me, the best water bottles should be convenient, functional, and safe from harmful chemicals. Which makes it an easy choice for me to keep my Zoku Water Bottle. Here're a few more reasons why I love the Zoku Vacuum Insulated Stainless Steel Water Bottle.
1 It's Vacuum-Insulated
First of all, the Zoku Water Bottle is vacuum-insulated. Double-Walled Vacuum Insulated as a matter of fact. This means it will keep your cold drinks cold and your hot drinks hot. In fact, one of the first things that caught my eye was the claim that it will keep cold drinks cold for 40 hours, and hot stuff hot for 12. At first, I was skeptical, but y'all, it really does!
While I didn't exactly time it, I did leave it out on the counter with cold water in it overnight and it was still nice and cold the following afternoon. And it has no problem keeping my coffee warm for hours!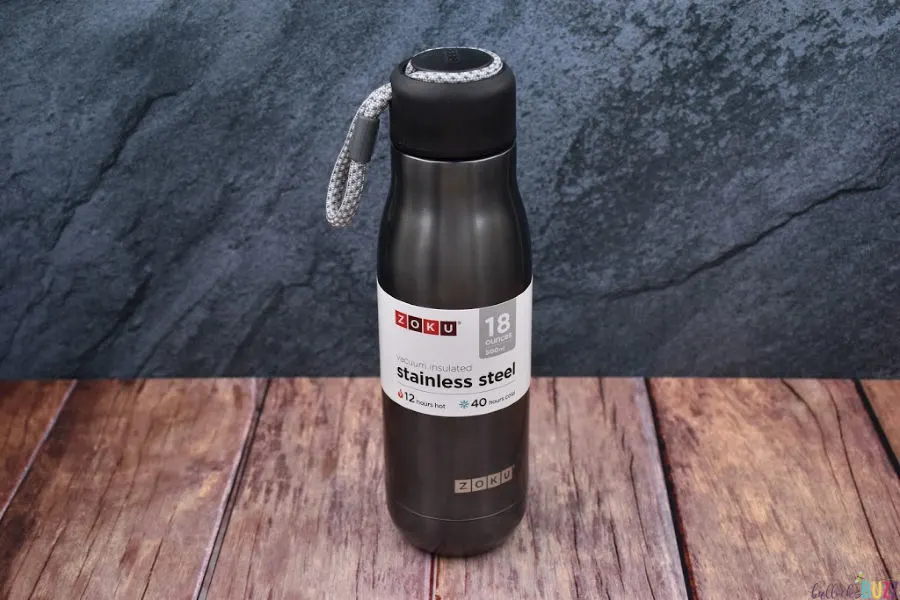 2. It Has a Durable Stainless-Steel Body
The Zoku Stainless Steel Water Bottle is incredibly durable. Made of food-safe 18/8 stainless steel, this water bottle won't easily dent, not even after being dropped on the ground and rolled around on the floorboard of a car. No dents. No scratches.
The stainless-steel design also gives this water bottle a bit more weight than most water bottles I've used. I'd say it weighs around ¾ of a pound, which is actually a pretty nice weight.
It also makes it more stable than a typical water bottle helping to prevent spills. Plus, it also really comes in handy if you're tired of water bottles toppling out of your cabinet and bouncing off your head.
And did I mention that the water bottle is also BPA-free and phthalate-free?!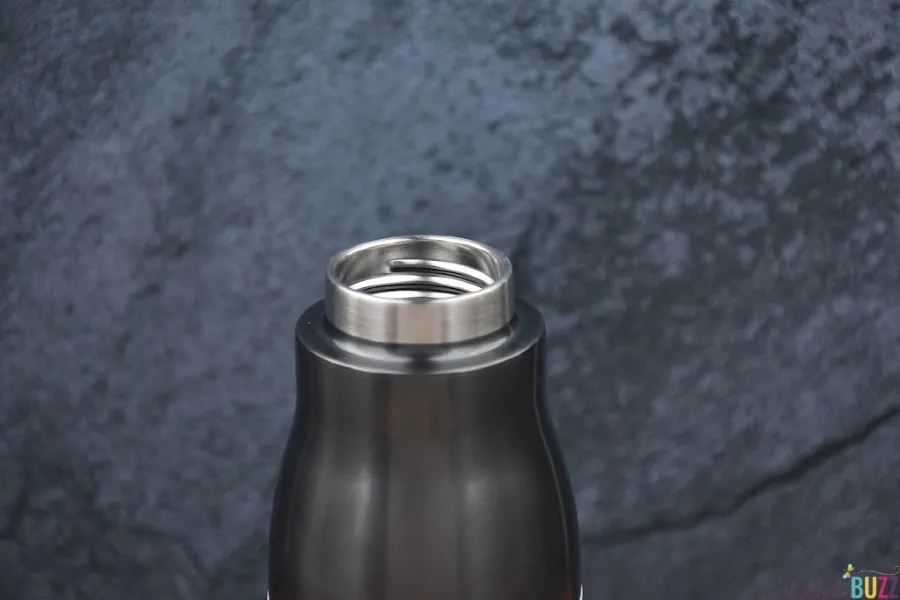 3. The Zoku Water Bottle is Leak-Free and Dribble-Free
Another cool thing about the Zoku water bottle is that the threads on the mouthpiece are recessed (on the inside) which makes for a smooth mouthpiece and a clean and dribble-free drinking experience that I really like. And you will too if you happen to have that drinking problem where you miss your mouth on occasion. 😉
The threads on the lid are also recessed which goes a long way to prevent leaking.
I also like that the bottle has a no-slip elastomer grip around the lid which makes it easy to open and close even if you're hands are damp.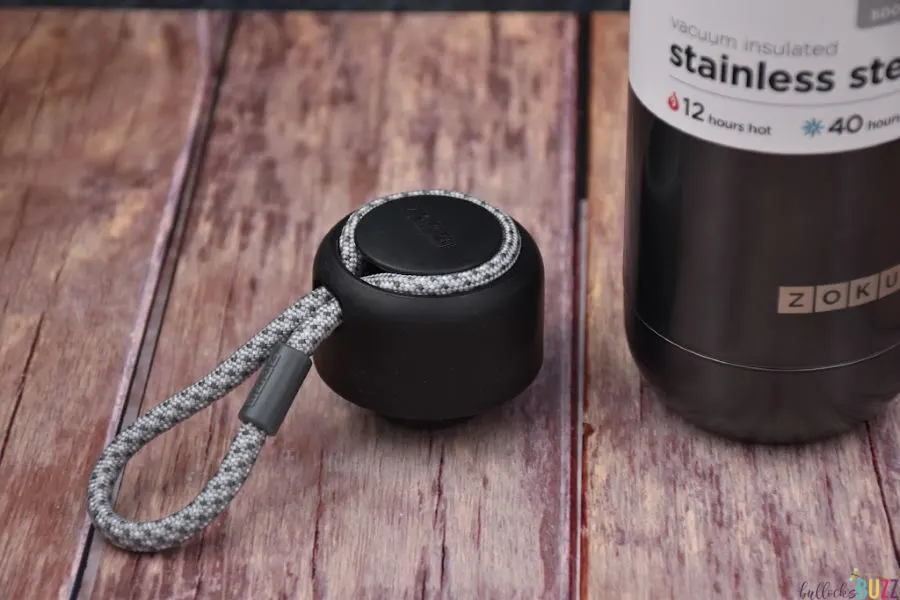 4. It Looks Great!
Another reason I love this bottle is that it looks really nice! It has a sleek, modern shape, and at 9.5-inches tall by 2.75-inches in diameter (for the 18-ounce bottle), it's a great size, too. Plus, it slides easily into a vehicle cup holder or an elasticized backpack pouch.
I also love that it has a soft, paracord lanyard attached to the handle for easy carrying. And when it's time to clean the bottle, the lanyard is a cinch to remove.
Speaking of cleaning, the Zoku water bottle is not safe for the dishwasher. You should hand wash it only.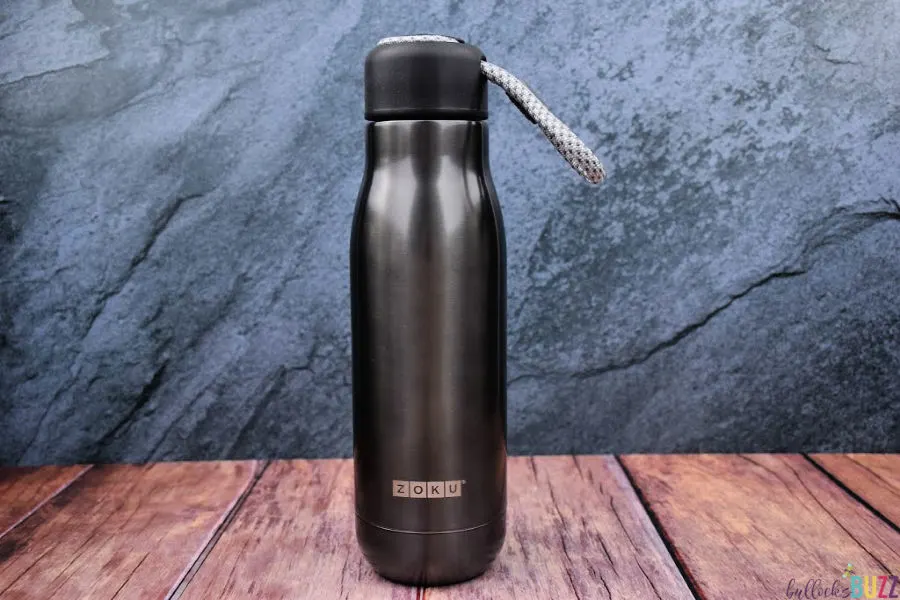 5. It Comes in a Variety of Sizes and Colors
Last, but not least, Zoku's water bottle comes in three convenient sizes including 12 ounces, 18 ounces, and 25 ounces. It's also available in a great variety of colors and patterns. For example, the 18-ounce bottles come in 10 solid colors, four ombré shades, and lots of cool patterns like Paradise, Modern Calligraphy, Black Camo, and White Camo. The 25-ounce bottles come in six solid colors, and the 12-ounce bottles come in 10 solid colors.
Where To Buy the Zoku Stainless Steel Water Bottle
Zoku's water bottles can be purchased online through the Zoku website as well as on Amazon. Suggested retail prices range from around $25 to $35.